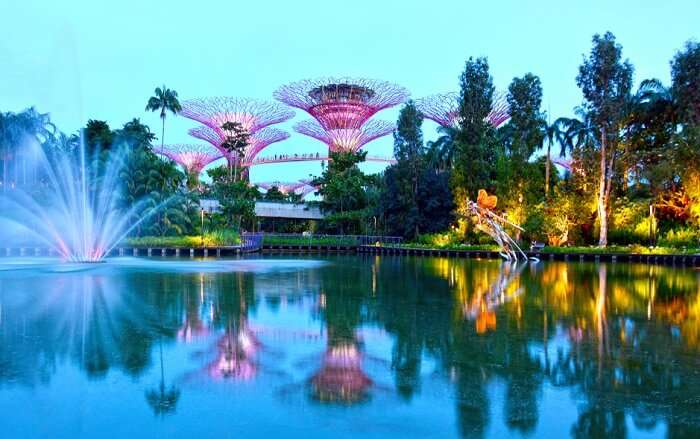 The glittering island-city of Singapore is not just one of Asia's hottest travel destinations, but also a land of immense possibilities and ever-new adventures. With its unmatched range of experiences, magnificent theme parks, Michelin-star restaurants and high-street shopping extravaganza, there is never a dull moment. Along with fast-track development, Singapore is also relentlessly pursuing its dream of being a 'City in a Garden'. National Parks in Singapore are oases amidst the concrete jungle, complete with nature trails, jungle bridges & wildlife. With over 300 parks and 4 Nature reserves, Singapore national parks map is a testament to its high green quotient. Let's amble along some of the famous national parks in Singapore for a breath of fresh air!
10 Singapore National Parks For Getting Up Close To Nature
If you're visiting Singapore anytime soon, then these 10 parks are what you ought to explore. They are perfect for getting up close to nature and relaxing your mind and soul.
1. Bukit Timah Nature Reserve
2. Singapore Botanic Gardens
3. Sungei Buloh Wetland Reserve
4. Labrador Nature Reserve
5. East Coast Park
6. Bukit Batok Nature Park
7. Pasir Ris Park
8. Chestnut Nature Park
9. Dairy Farm Nature Park
10. Fort Canning Park
1. Bukit Timah Nature Reserve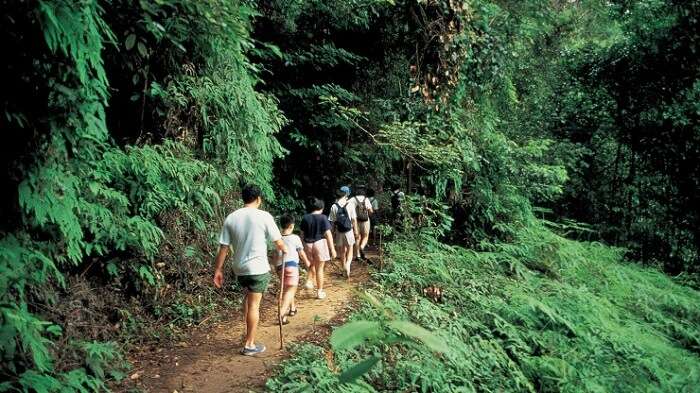 Right within the city limits this pristine pocket of equatorial forest offers the perfect escape from the hustle-bustle of the city. Spread over 163 hectares, this nature reserve is home to Singapore's highest point on the Bukit Timah Hill. It's a great place to soak in the sounds & smells of the forest along well-marked hiking trails as well as mountain biking paths. Amongst the best 4 nature reserves in Singapore, it's wonderful for family outings too wherein children can explore the native flora & fauna.
Location: Hindhede Dr, Singapore 589318
Timings: Daily, 7AM-7PM
Must Read: Best Hill Stations Near Singapore To Escape The Metropolitan's Maddening Crowd
2. Singapore Botanic Gardens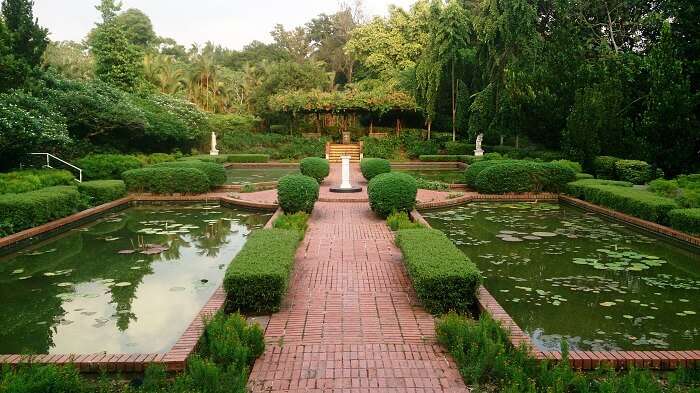 This lush tropical garden in the heart of the city is undoubtedly one of the most popular national parks in Singapore, and the only one that has earned UNESCO world heritage site status. Perfect for a leisurely stroll, a family picnic as well as an invigorating nature walk, Singapore Botanic Gardens are a must-visit. Prepare to be awestruck by the sweeping vistas, lovely lakes with swans and a stunning Orchid Garden as you stroll along this plant paradise.
Location: 1 Cluny Rd, Singapore 259569
Timings: Daily, 5AM-12AM
3. Sungei Buloh Wetland Reserve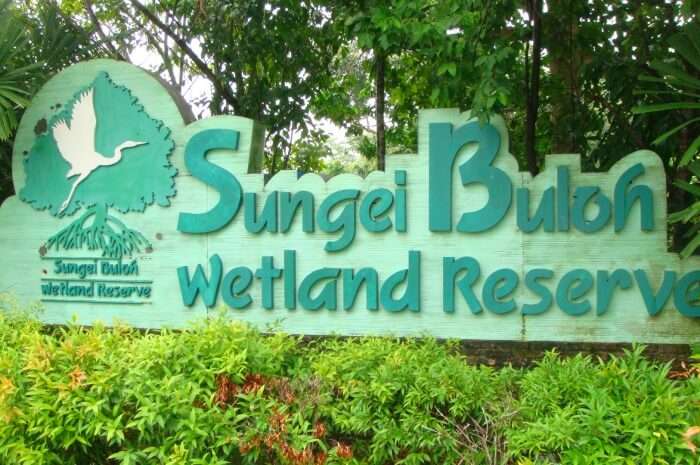 Singapore's first ASEAN heritage park is a haven for nature lovers with its rich biodiversity and thriving ecosystems. Covered with vast mangrove forests, it is one of the best national parks in Singapore to unravel the mysteries of nature with its 150 species of rare and exotic birds within the wetlands. Traverse the many trails spread across this ecological gem to spot mudskippers, water snakes, birds and monitor lizards. The rangers are quite friendly and the kids are sure to have a great time exploring this amazing place.
Location: 301 Neo Tiew Cres, Singapore 718925
Timings: Daily, 7AM-7PM
Suggested Read: 15 Singapore Travel Tips You Must Follow For A Value For Money Experience!
4. Labrador Nature Reserve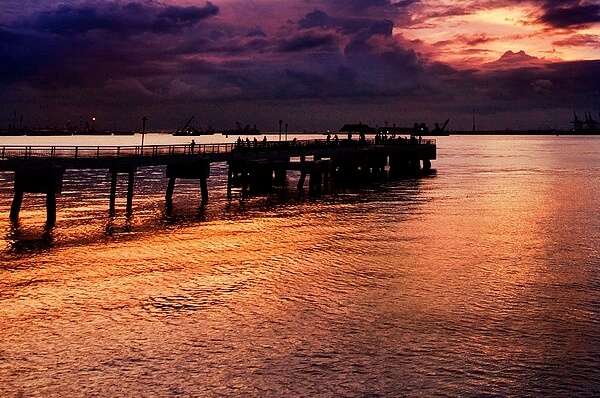 This is amongst the best parks maintained by national parks board in Singapore, which offer a picturesque sea view along with an oasis of tranquillity amidst the sounds of the city. Labrador Nature Reserve is a great for an evening stroll or a leisurely ride on your bike while listening to the sounds of forest birds and rustling leaves. Easily accessible by public transport, this hidden gem is wonderful for jogging, fishing and splendid sunset views. There are two small children's playgrounds as well to keep the little ones busy.
Location: Labrador Villa Road, Singapore 119187
Timings: Open 24 hours
Suggested Read: 10 Best Hostels In Singapore That Are Perfect For A Budget Holiday In The City Of Riches
5. East Coast Park

This fantastic beach park is one of the best places to spend a wonderful time with family and friends. Always buzzing with activity and offering myriad recreational opportunities, this is amongst the coolest national parks in Singapore. With separate walking and cycling trails, forest chalet available for rent, a pristine beach for relaxing and barbecue pits, this is the perfect weekend getaway. Those looking for some thrill and action can indulge in water sports, cable skiing, beach volleyball, etc. There are restaurants and fast food outlets for a quick bite while you enjoy the lovely sea breeze.
Location: E Coast Park Service Rd, Singapore 449876
Timings: Open 24 hours
6. Bukit Batok Nature Park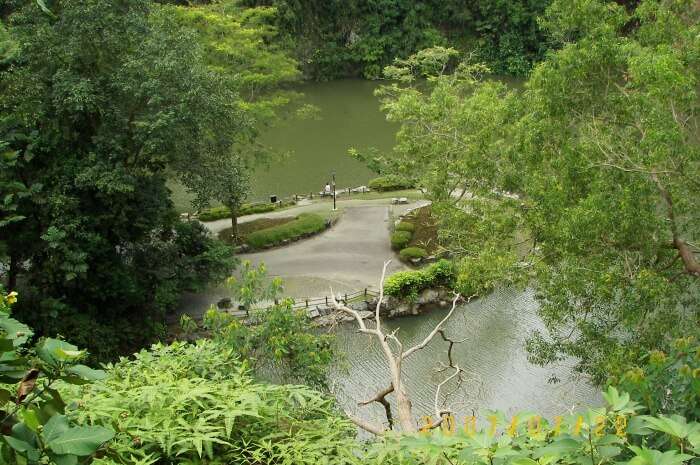 This lovely park built on the site of an old quarry is the perfect choice for stealing away a few hours in the wilderness. You can stroll along the meandering paths or hike into the forest trails to soak in the serenity and lush greenery. There are couple of viewing points offering breathtaking views of the surrounding areas. The beautiful pond at the entrance, right at the base of cliff is a lovely spot. Spend some tranquil moments in the quiet park and also pay tribute to World War 2 victims at the memorial inside.
Location:' Bukit Batok East Avenue 2 and Bukit Batok East Avenue 6, Singapore 659761
Timings: Open 24 hours
Suggested Read: 8 Islands near Singapore That Make A Quick Weekend Escape
7. Pasir Ris Park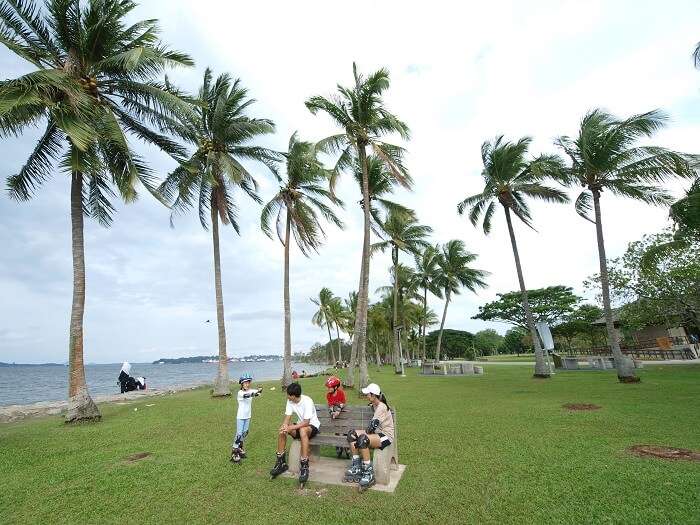 Another one of coastal national parks in Singapore, this green stretch of nature is just perfect for a rejuvenating break with the entire family. You can stroll along shady paths, enjoy the cool sea breeze and indulge in water sports while the kids have a great time at the superb playgrounds. You can also pitch a tent in the camping ground for a fun night in the park, with fishing and barbecue options right there. There's a tranquil mangrove boardwalk for a quiet walk through the forests and plenty of interesting food options at the food court.
Location: 98 Pasir Ris Central, Singapore 519639
Timings: Open 24 hours
8. Chestnut Nature Park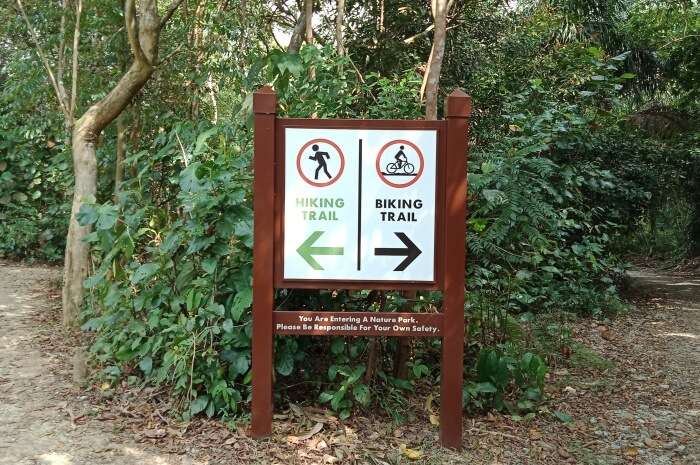 Amidst so many nice national parks in Singapore, this one stands out as the largest nature park in Singapore sprawled over 81 hectares. Divided into north and south sections, this lush green park has separate trails for bikers and hikers on both sides. Very popular amongst mountain bikers, there are graded trails, bike rentals and washing facilities too. It is also a lovely place to discover variety of flora and fauna as you stroll through the tropical forest.
Location: Chestnut Avenue, Singapore 679514
Timings: Daily, 7AM-7PM
Suggested Read: 10 Scenic Gardens In Singapore For A Heavy Dose Of Awesomeness
9. Dairy Farm Nature Park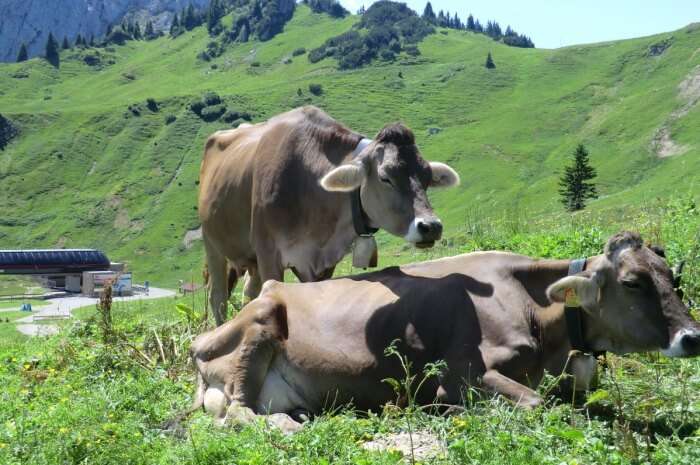 One of the only national parks in Singapore with an educational centre for the children, Dairy Farm Nature Park is a great choice for escaping the concrete jungle for a while. Take a walk along the meandering hiking trails with the kids who will be delighted to spot beautiful butterflies, squirrels and pretty birds in their natural habitat. At one end of the park is the erstwhile Singapore Quarry, now transformed into a beautiful wetland with a viewing platform overlooking a pond and cliffs.
Location: 100 Dairy Farm Rd, Singapore 679057
Timings: Daily, 7AM-7PM
10. Fort Canning Park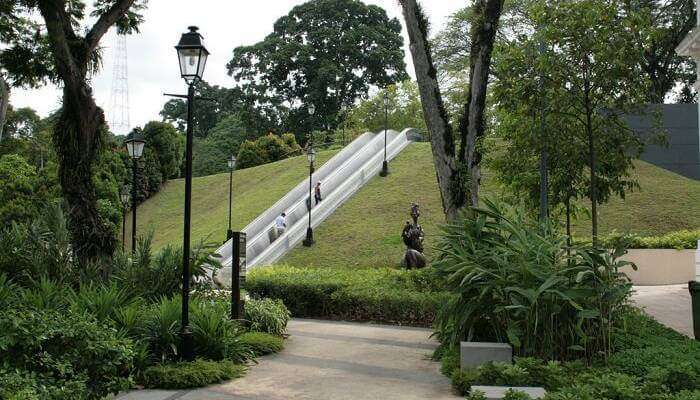 When you need a quick break from touristy spots, head to this lovely park for the perfect dose of history and nature right in the heart of the city. This iconic hilltop landmark is a tranquil oasis of lush greenery, strewn with historic sites and heritage experiences. You can spot many war relics and also take the battery Box tour to get a glimpse into Singapore's history. It is also one of the most popular national parks in Singapore for music festivals & concerts as well as a relaxing picnic place with great photography spots.
Location: River Valley Rd, Singapore 179037
Timings: Open 24 hours
Further Read: Top 5 Water Parks In Singapore That Let You Beat The Heat In The Lion City, In Style!
With the ever-growing list of national parks in Singapore, this buzzing metropolis is also a great place for nature lovers and hiking enthusiasts. Be sure to visit a few of these green oases on your next Singapore trip with TravelTriangle!
---
People Also Read:
Singapore In April Singapore Travel Experience National Parks In Malaysia