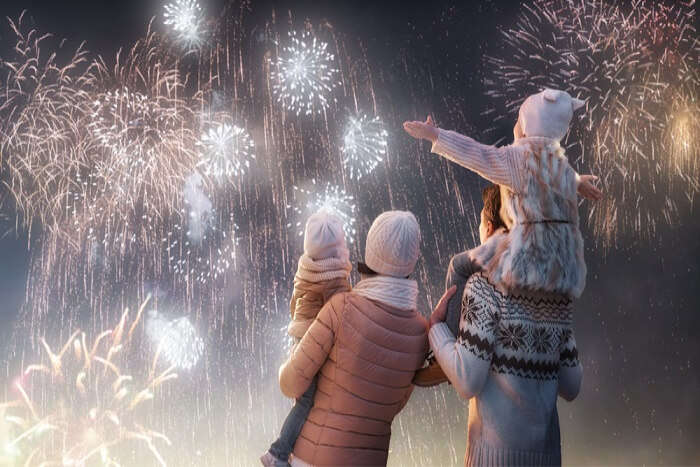 While the very famous and well sought after Christmas Day is spent hanging around with relatives generally by the Finns, visits to friends and gathering of energy for December 31 are done in the days that follow. New year's eve in Finland probably makes up the most happening party night annually, not only in Finland, but also as in many other places as well. It is also noted that natives of this place get even more wilder. This is popularly called as the May day's eve. People, hang out in restaurants, attend special gala dances, host guests at home and enjoy lively concerts.
10 Best Ways To Have New Year Celebrations In Finland
Take a look at the best ways to celebrate new year in Finland to begin the new year with the utmost joy and excitement!
1. Santa Park: Meet Mr. and Mrs. Claus
Christmas delights such as an Elf School meeting Santa and Mrs. Claus is made possible. They will teach how to make gingerbread treats. In the Calligraphy School you can pen a letter to Santa. At the post Office the elves will show you all the mail they have received till now during the course of the year.
Location: Rovaniemi in the north of Finland
Pricing: free, free and free!
Highlight: Arctic Circle by passing an underground tunnel, that is exciting as it sounds
Must Read: 12 Most Fascinating Places To Visit In Finland, The Unspoilt Paradise
2. Siida Museum: Learn Some History!
This activity is purely devoted to raise your knowledge about the semi nomadic tribe: the Laplanders of Finland or the Sami. At the Museum nature displaying as well as photographic memories could be found. Also interactive information sections help to get more insight knowledge.
Location: Lake Inari in Inari
Pricing: free, free and free!
Highlight: galleries chart the history of the Sami from ancient times until the modern day.
3. Aanaar: Authentic Dining
Delicious plates are the first and the foremost reason for the thing that people being the tourist or native look for. These plates are seasoned or contain native ingredients. This makes up for the reason why locals and visitors alike gather here. These are the less well known products.
Location: in Inari is Restaurant Aanaar
Pricing: starting from INR 340/-
Highlight: smoked beetroot and the creamy butter, prepared from unimaginable nettle.
Suggested Read: 10 Best Airports In Europe For An Enjoyable Journey To Your Dream Destination
4. Olavinlinna: Explore The Palace!
Famous for its three dominating towers, this castle is placed epitomly on a rock. This is placed right in between of the glassy lake. This was done to provide it more safety from enemies. You will need to walk across a series of creaking bridges to get to the castle. It contains inside a maze of ornate towers and the serene chapels.
Location: Savonlinna
Pricing: free, free and free.
Highlight: history of daily life in the castle in the days of old
Suggested Read: This Sled Hotel In Finland Lets You Move Around For The Best Views Of Northern Lights!
5. Suomenlinna: Go For A Picnic!
The fortress takes the prime sets among the UNESCO World Heritage Site and was made in the year 1748. It was erected originally by the Swedes. This was all that happened before the place was taken under the authority by the Russians and then being regained by the Finns.
Location: Suomenlinna Fortress
Pricing: free, free and free.
Highlight: 6 museums where you can learn all about Finland's history
6. Levi's Skiing
124 miles of beautiful trails of this area include cross country ski portions along with the black runs for downhill skiers. There is also a snowboarding park in the heart of the resort, if you like snowboarding. A perfect combination of various activities is set here to enable you enjoy every moment which include husky sled rides and a cute reindeer park, for those who doesn't ski.
Location: Levi
Pricing: Starting from NR 260/-
Highlight: 6 museums where you can learn all about Finland's history
Suggested Read: Glass Igloo In Finland: A Dream Stay That Must Be In Your 2022 Bucketlist
7. Helsinki Zoo: Meet the vivid wildlife
The island covers 52 acres and have animals as diverse as wolverines, monkeys, camels, bears, and lions. Segregated into sections, zoo is including the various wildlife Amazonia, and the Africasia, and the Borealia.
Location: Helsinki Zoo, Korkeasaari Island
Pricing: Starting from NR 300/-
Highlight: 150 different species of animals as well as 1,000 kinds of plants.
8. Lampivaara Amethyst Mine
Either hike or a snowmobile through the Pyhä-Luosto National Park, could help in getting to the mine The mine is situated along the hillside. It is a great way to know and absorb about the history of amethysts, at this place.
Location: Lampivaara
Pricing: free, free and free!
Highlight: Amethyst: the rare and strange flock of people.
Suggested Read: 12 Most Fascinating Places To Visit In Finland, The Unspoilt Paradise
9. SantaPark Admission Ticket
Add to this holiday season more fun. Two-day admission ticket to SantaPark in Rovaniemi, can add more fun to one's holiday. It is perfect for the big or small families, and meet amazing Santa himself. Kids can also hand Santa a wish list in his own office.
Location: Home Cavern of Santa Claus
Pricing: From 2871.90/-
Highlight: Both big and small families can have the fun.
10. Santa Claus Villages
Santa Claus Village in Rovaniemi is the best place to spend time in Christmas. This is a much extended trip which gets covered in almost eight hours from Levi. Enjoy most of the attractions independently. Meet the great man of the day or the Santa. Enjoy the elves' workshops, restaurants, outdoor activities, and shop.
Location: Santa Claus Village Levi Ski Resort
Pricing: From 8362.30/-
Highlight: Meet Santa Claus in his log cabin office
Further Read: This 'GoT' Ice Hotel In Finland Is The Ultimate Place To Live Like The Lady or Lord Of Winterfell
If this post has made you plan a trip to Finland, Congratulations! Being our trustworthy reader, here is an additional trip hint for you to get the most of the new year in Finland 2020! Never miss the chance to look out for the amazing discount passes available on the various Finland tourist sites. So get your traveler inside motivated and start planning for an amazing and lovely trip to Finland right away!
---
Looking To Book An International Holiday?
Book memorable holidays on TravelTriangle with 650+ verified travel agents for 65+ domestic and international destinations.
---