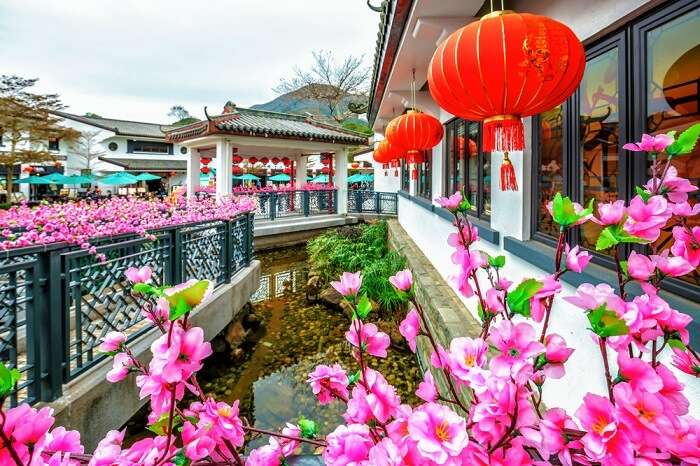 Ngong Ping Village is located in the western part of Lantau Island. It was built on the top of the Ngong Ping Plateau, mainly for accommodating the influx of tourists flocking in huge numbers to see Tian Tan Buddha and to experience the land, sky, and sea together on an exciting Ngong Ping Village cable car ride. It is an artificially designed village with Chinese style architectural elements complete with tea houses, souvenir shops as well as the food outlets which serve both authentic Asian and Western delicacies.
All the modern facilities are well accommodated by the village, making it the central point for the many tourist attractions and highlights of the area and it also serves as a major transportation hub.
Best Time To Visit Ngong Ping Village
The temperature in Ngong Ping Village in Hong Kong varies greatly throughout the year with the hottest months being June, July and August. In the month of June, humidity in the air is at its maximum and it is minimum in the month of October.
The busiest months of tourism in this area are April, September, and October as the Ngong Ping Village weather during this time is ideal for exploration. Hotel and flight rates will be at its peak during these months of the year, so make sure you book in advance. This area is least crowded in December when Ngong Ping experiences very low temperatures.
Must Read: Lantau Island Hong Kong Guide: Places To Visit & Things To Do On Your Honeymoon!
How To Reach Ngong Ping Village?
The most common ways of reaching the village are by bus or by Ngong Ping cable car. If the visitors prefer going to Ngong Ping Village by bus, Bus 23 can be taken from Tung Chung Bus Terminal, which is a 50 minutes ride.
The cable car ride is preferred by most of the tourists than reaching the Ngong Ping Village by bus or ferry. It is advisable that tourists buy their tickets online well in advance unless they want to wait in long queues. Tung Chung town center can be easily reached from any part of Hong Kong by using the MTR.
From here one can book a cable car ride from the Tung Chung Cable Car Terminal, which is adjacent to the MTR Tung Chung Station, and reach Ngong Ping Cable Car Terminal in about 30 minutes. From the terminal at Ngong Ping, one can easily get to know how to get to Ngong Ping Village by following the markings along the way leading to the village.
Suggested Read: Try Your Luck At These 10 Casinos In Hong Kong For A Fun Night In The City!
Ngong Ping Village Cable Car Price
There is no Ngong Ping Village entrance fee, but there are charges for the cable car that gets you to the village. The per person cable car ticket rates are as follows:
Single Standard:
Adults – INR 1350
Children (3 to 11 years) – INR 650
Senior citizens (+65 years) – INR 880
Single Crystal Cabin:
Adults – INR 1850
Children – INR 1200
Senior citizens – INR 1390
Round-trip Standard:
Adults – INR 1950
Children – INR 930
Senior citizens – INR 1300
Round-trip Crystal:
Adults – INR 2690
Children – INR 1670
Senior citizens – INR 2040
Standard + Crystal:
Adults – INR 2460
Children – INR 1440
Senior citizens – INR 1800
The long waiting queues can be avoided by booking the Crystal Cabin which has a VIP queue.
Suggested Read: Hong Kong Wetland Park: Here's Everything You Should Know Before You Visit
Ngong Ping Village Opening Hours
The timings for the cable ride and the village itself are 10 AM to 6 PM on weekdays and 9 AM to 6:30 PM on weekends. Keep in mind the cable car and bus timetables so that you can reach this place well in time and explore and experience all that this Chinese paradise has to offer before leaving. Save your time by booking the Crystal Cabin cable car ride which will be worth every penny you spend!
Things To Do In Ngong Ping Village
Ngong Ping Village is a one-stop destination for several popular attractions waiting to be explored. Don't miss the chance to see the famous Po Lin Monastery and the 34 m tall Tian Tan Buddha (The Big Buddha). Visitors should take some time to view the Ngong Ping village map at the entrance to find out what attracts them the most.
1. Po Lin Monastery: Walking With Buddha tour
The multimedia attraction, Walking Buddha, famously known as the "Trail Of Enlightenment", takes the visitors on an immersive journey through the life stages of Siddhartha Gautama. The journey begins at the courtyard, where a short video about how Buddha got enlightenment under a tree and reached supreme awareness. The visitors are then taken to the temple where they are each offered a Bodhi Leaf on which thoughtful words are written. At the final stop of the journey, one can rummage into the origins of Buddhism and track its spread across the globe.
Suggested Read: 5 Best Hong Kong Water Parks For A Rejuvenating Holiday
2. Monkey's Tale Theatre: Learn about Buddhism
This place offers a theatrical performance of the Buddha's story with computer-generated sounds and effects. This animated storytelling attracts the kids and keeps them hooked to the show. This is the best place for making the young generation aware of Buddhism and how it generated.
Suggested Read: 10 Most Instagrammable Places In Hong Kong That Are Must Visit
3. Cable Car Gallery: Take pictures with varieties of cable cars!
While walking towards the Ngong Ping Piazza, one will notice several replicas of cable cars from different countries including Germany, China, Switzerland, Austria, Brazil, Italy, France, and Spain. These eight uniquely decorated cable cars in the International Cable Car Gallery makes for a very good photo-taking spot.
Suggested Read: Victoria Peak In Hong Kong: A Guide To The Epitome Of The Country's Beauty!
4. Bodhi Shrine: Make a wish!
The Bodhi Wishing Shrine is located right in the middle of the village where visitors can write their wishes on wood or a piece of paper and put it up on the Wishing Tree. The Wishing Tree is artificially made out of concrete and looks impressively magnificent.
Suggested Read: Hong Kong Street Markets: 10 Wonders Of The City For Shopping Freaks!
5. HK Love Shop: Cast divinatory sticks
Visitors are interested in seeking traditional Chinese customs can visit this place. However, the divination seeking in this village is only a fun game just to give an introduction to this part of Chinese culture to the tourists. This fun-filled activity involves wishing for something or someone and picking up the divinatory stick from divinatory holders and getting the answer from the HK Love Shop.
6. Li-nong Tea House: Taste Hong Kong's famed tea
The Li-nong Tea House in Hong Kong offers a very unique platter of refreshments. It is the perfect place to experience a typical Chinese tea ceremony. A wide variety of refreshing teas and delicious cakes are served here. The artistic flower tea first originated here and this place is the proud owner of 6 national patents for the techniques of tea production and the product appearance. Other than this, there are several dining options available at the Ngong Ping Village restaurants ranging from authentic Chinese cuisine to International Western cuisine. In Ngong Ping Village, food options are numerous.
Further Read: 5 Enchanting Monasteries In Hong Kong To Attain The Eternal State Of Nirvana!
One can know about the Chinese Buddha, learn a little about the Chinese culture, devour on exquisite Chinese tea and snacks, and do so much more in Ngong Ping Village. Add this to your Hong Kong tour itinerary and get exclusive offers by booking with us!
---
Looking To Book An International Holiday?
Book memorable holidays on TravelTriangle with 650+ verified travel agents for 65+ domestic and international destinations.
---