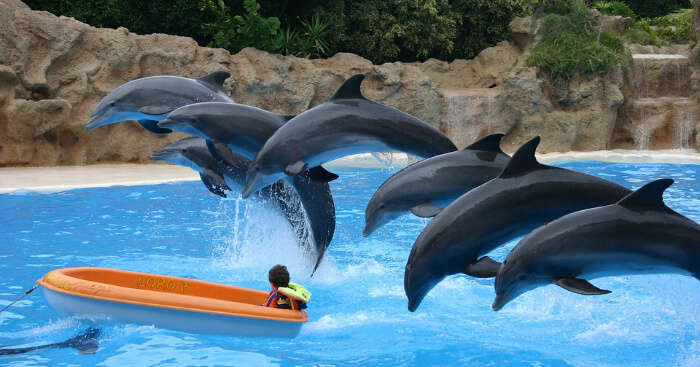 Have you ever played in water? The very feeling of splashing and getting drenched in it is so refreshing and exciting, isn't it? But when was the last time you actually played in water? As we grow, we move away from the real joys of life. Especially, if we are living in a city like Hong Kong, where people follow a fast lifestyle. This is where these 5 best Hong Kong water parks step in as our life savers.
Best time to visit Hong Kong
The summers in Hong Kong is generally hot, humid and wet. Whereas the winters are mild and comparatively dry. Thus, the month between October to December are the best time to visit Hong Kong.
5 Best Hong Kong Water Parks
Shopping, food, modern architecture, night life, the happening Hong Kong has it all for you. But there's another level of fun that this city offers. The highly exciting water parks in the city save your day from traffic, sun and boredom. Enjoy the thrilling water rides and splash into the pools at these top 5 water parks in Hong Kong:
1. Ocean Park, Aberdeen

If you are at Ocean Park in Hong Kong, you have every right to get super excited because valla, you are in Asias largest water theme park. Started in the year 1977, Ocean Park has expanded and advanced over the years. In 2014, further 30 rides were installed in the park. Spread across 80,000Sqm, Ocean Park is bigger than the Hong Kong Disneyland.
In 2011, a world-class marine themed area was opened. Hold your breath as you enter this Grand Aquarium. This is a huge underwater aquarium with a 13-metre wide acrylic viewing panel fixed inside a giant pool. The pool is the home for 5,000 fishes from 400 different species. And if you are curious to touch the sea creatures like sea cucumbers and starfish, theres a touching pool for you. Not just marine, this park also houses other Asian animals like pandas and Chinese alligators.
Timings: 10.30am – 7pm
Entry fee: INR 3,200
Location:
Must Read: 13 Festivals In Hong Kong That Best Showcase The City Culture
2. Hong Kong Disneyland, Lantau Island

Disneyland always tops the list of theme parks but when it comes to water parks, theres an interesting twist. Spread over 310 acres of land, the Hong Kong Disneyland resort is inspired by the original one in California. The park covers four lands based on fantasy, space, adventure and Americana, namely – Fantasyland, Tomorrowland, Adventureland and Main Street USA.
On seeing your favourite Disney characters walking around the street, you will make you jump in excitement like a kid, no matter what age you are. Imagine yourself giving a big cuddly hug to Mickey Mouse, Minnie Mouse, Donald Duck, Chip & Dale and many other cartoon characters you loved. But the excitement doesnt end here because the Hong Kong Disneyland has much more to offer. Giving a spin to the regular water park rides, Disneyland offers you rides like Jungle River Cruise and rafts to Tarzan's Treehouse. Enjoy cruising through the adventurous water routes on a junky boat.
Timings: 10.30am – 7:30pm
Entry fee: INR 4,600
Location:
Suggested Read: 8 Best Hong Kong Temples Every Traveler Should Visit To Explore Their Spiritual Side
3. Core Aqua Park, Tai Po Kau

Opened in July 2018, Core Hong Kong is the biggest inflatable water park in Hong Kong. Located in Tai Po Kau village, it is a multi-purpose, state of the art community centre which is a great place to connect with your people. Set up amidst the natural beauty of the village and the fresh water lake, Core is an effort to pose as an ideal recreational site, away from the hustle bustle of the city. The recreation centre offers a variety of activities for children and adults.
The Aqua Park ensures the safety of its visitors by deploying lifeguards on the site. The duration of your stay in the park is limited to a 1 hour session during which you will be given a safety briefing also. There are 600 lockers for the visitors to keep their belonging safe. The cushioned inflatable water-play area has interesting paths, slides, bridges, etc in a playful colour theme of white, red, blue and yellow. The place also boasts to have the only two tower cable in Hong Kong. You can also enjoy some delicious BBQ dishes along with the beautiful lake view.
Timings: 9.30am – 6pm (Mon-Fri) / 10am – 6pm (Sat-Sun)
Entry fee: INR
Location:
Suggested Read: Destination Of The Month: 10 Reasons Why Hong Kong Is Perfect For A Family Vacation

4. Tseung Kwan O Outdoor Swimming Pool

Tseung Kwan O Outdoor Swimming Pool is a popular place among the kids and adults of Hong Kong. With eight pools in toal, this place can be a called a mini-water theme park. The best thing about Tseung Kwan O is that it caters to all levels of swimmers and is also much affordable than other water parks. With even a paddling pool for toddlers that has tiny safe slides and a 50m pool with lanes, this place engages and entertains the entire family.
There are at least five more slides of various lengths and speeds catering to children with different levels comfort in the water. This place is truly a water playground with sprinklers in the centre, constantly spraying water in all directions and a number of giant water pistols and levers to maintain the amusement level. The twisting water slides excite the teens. The main is heated during the Winter season making this place feel like a heaven during the chilled-season. Tseung Kwan O outdoor swimming pool have vast changing rooms and also provide lockers (INR 50) to keep your belongings safe, while you enjoy in the pool. After you have made the most of this water in this place, enjoy some delicious snacks at the small caf- (with seats under umbrellas) located here.
Timings: 6.30am(first session starts) – 10pm(third session ends) / April – Oct (closed on Monday)
Location:
Suggested Read: 7 Wonders Of Hong Kong That Will Leave You Jaw Dropped!

5. Tai Po Aquatic Center, Hong Kong

The Tai Po Aquatic Center has has the longest slides in Hong Kong. With the recent introduction of a Trio of Translucent Slides the excitement has doubled. The translucent Polin body slides colored blue, yellow and purple all produced with the closed molded RTM (Resin Transfer Molding) technology are becoming a thing among the visitors. These new slides highlight the new age of waterslide technology. The slide here are superior, shiny and smooth with a glassy look.
Timings: 6.30am(first session starts) – 10pm(third session ends)
Entry fee: INR I60 (weekdays) & INR 170 (weekends)
Location:
Further Read: Disneyland In Hong Kong: A Tailor-Made Guide To Endless Fun For Everyone!

You totally deserve quality time out with for yourself, with you kids or the entire family. Visit any of these water parks in Hong Kong and relive your childhood days. Make sure you visit any of these water parks when you tour to Hong Kong. Plan a trip to Hong Kong now!
People Also Read:
Hong Kong Itinerary For 7 Days Water Parks In Singapore Family Trip To Hong Kong