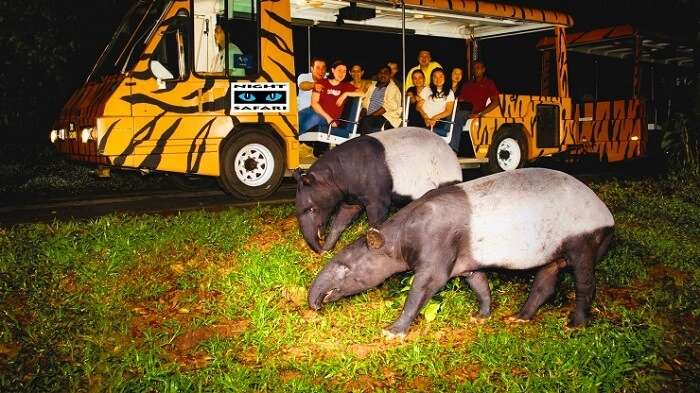 Singapore Night Safari is the first night safari in the world. Being the first, it is legendary too. It makes you venture into the world of animals – both cute and ferocious – during the darkest hours of the night.
Pioneer among nocturnal zoos, the safari is quite enjoyable and enthralling. All safety aspects are completely taken care of, so you don't need to worry about that. It's a completely safe expedition that allows you to live your dream of encountering the wild, though in an artificial habitat.
Our take, don't miss this golden opportunity to venture into the wild during your trip to Singapore.
How To Reach

Located on the Mandai Lake Road, the Night Safari is easily accessible by public transport as well a hired cab. If your prefer MRT, take the Red line to the nearest stations – Choa Chu Kang (NS4), Ang Mo Kio (NS16), Marsiling (NS8), Woodlands (NS9). From all these stations, you get connecting buses to the park.
If you take a hired cab, you take either of the two routes – one via Central Expressway, and the other through Pan Island Expressway. The drive from the city takes merely 30 minutes.
Must Read: 10 Best Jurong East Restaurants That You Need To Dine At On Your Singaporean Holiday
---
Singapore Holiday Packages On TravelTriangle
Go on a luxurious Singapore holiday and visit Universal Studios, Singapore flyer, Gardens by the Bay, Marina Life Park, and Marina Bay Sands. Packages Inclusive of airport transfer, 4 star hotel stay, breakfast, visa, sightseeing, & more at unbelievably affordable rates!
---
Opening Hours
The safari normally operates between 7:15 pm to 12 midnight daily. Restaurants and retail shops open from 5.30pm.
PS: Tickets are available till 11:15 pm.
Duration of the Tram Safari Ride: 40 minutes
The Night Safari Experience – What To Expect?
Did you know that this unique night safari is the 12-time winner of best attraction category awarded by Singapore Tourism Board? Well, now you do. It is much more than a tram ride in the zoo that houses some animals and birds. It is actually a delightful multi-sensory exploration that takes you through exhilarating experiences and gives you a close look of the zoo's active wildlife habitat.
The safari is a guided tour with running commentary in English, Japanese, Mandarin, and three other languages. It takes you through seven geographical zones, namely – Himalayan Foothills, Indian Subcontinent, Equatorial Africa, Indo-Malayan Region, Asian Riverine Forest, Nepalese River Valley and Burmese Hillside. An amazing nightspot in Singapore, the safari ensures complete enjoyment for the entire family.
Suggested Read: 54 Remarkable Places To Visit In Singapore In 2022 Where A Wandering Heart Finds Peace
Before You Meet The Wild
Right at the entrance are two sentries of Singapore's night safari – Thumbuakar Show and Creatures of the Night Show. The shows are a warm welcome greeting and help you acclimatize to the dark. While one is full of energy, the other imparts golden pearls of knowledge.
1. Thumbuakar Show – A tribal welcome with fireworks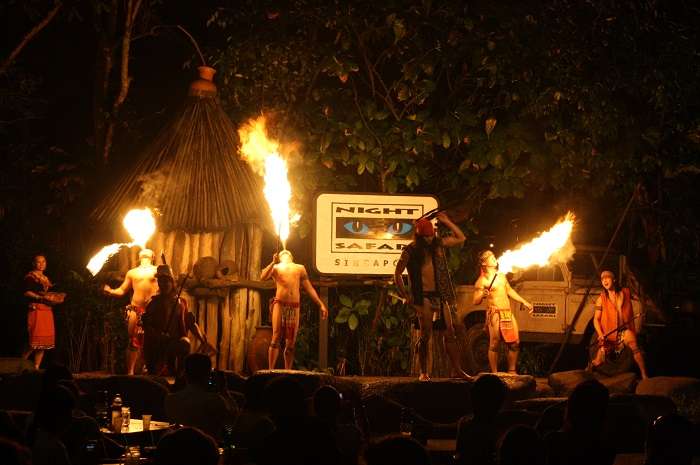 A troop of pyro warriors greet you to the illustrious world of nocturnal animals in Singapore. Their rhythmic energies are as much fiery as their fire-eating skills. And tribal dance has something hypnotic about it. Dancing in sync, clad in the bare minimum, throwing fire in the air, swallowing gallops of burning heat – it is an electrifying welcome to the night safari in Singapore.
Venue: Area between the eating joints – Bongo Burgers and Chang Chawang Bar.
Timings of the show: 7 pm, 8 pm, 9 pm, and sometimes, 10 pm too, but only if the weather is permitting.
Operational days: Friday evenings, Saturday evenings, and eve of all public holidays.
Suggested Read: Reasons Not To Miss Sentosa Underwater World On Your Singapore Trip
2. Creatures of the Night Show – A rendezvous with the beings of the wild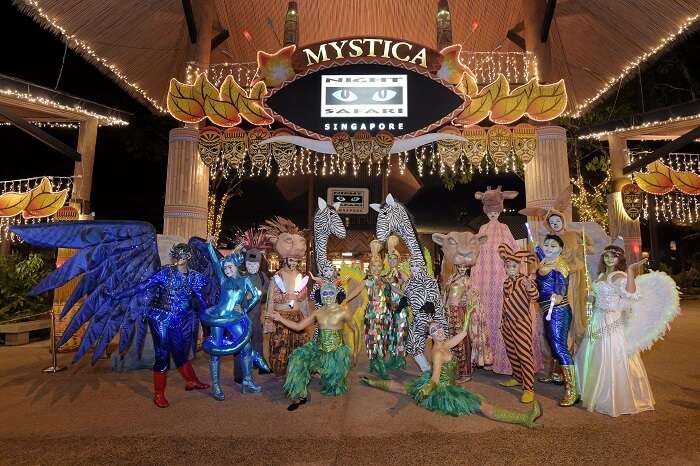 The 20-minute mesmerizing Creatures of the Night Show is an animal extravaganza that takes you deep into the mysterious world of superstars of the night. It is an interactive show that highlights natural abilities of wild being such as otter, binturong and civet.
Venue: Amphitheatre
Timings of the show: 7.30 pm, 8.30 pm, and 10.30 pm
Operational days: Every day
The 7 Geographical Zones Of The Tram Safari

Image Source
As mentioned above, there are seven geographical zones of the world that you cover on your tram safari route. Here's a look at what each of these have to offer:
1. Himalayan Foothills
The journey through the 7 geographical zones start with the Himalayan Foothills. The rocky terrains, steep slopes, and arid vegetation – all things native to the Himalayan Range are depicted very well here. High mountains and gushing mountain streams greet you, where you can see Himalayan Tahrs, Bharals, Markhors, and Mouflons grazing peacefully or performing their nightly routines.
2. Indian Subcontinent
Just after the Himalayan Foothills, comes the Asian Subcontinent. Watch out for Barasingha Deer, Striped Hyena, Gir Lions, Sloth Bear, and other animals indigenous to the continent. High forests and lush vegetation mark the beginning of the zone.
3. Equatorial Africa
A slight turn from the Asian Subcontinent and you are in the midst of Equatorial Africa. Open grasslands and medium-sized vegetation depict the zone where herbivores like Grant's Zebra, Cape Giraffes, Oryzes, and Stretched Cats await you here. Other animals like Nile Hippos and Bongos are in plenty too.
4. Indo-Malayan Region
Enter lush rainforests and mangrove habitats of Indo-Malayan Region, directly from Equatorial Africa. Red River Hogs are the dominant animals in this geographical zone. 16 species of these hogs form divergent groups with their stunning members.
5. Asian Riverine Forest
Out of the Indo-Malayan Region, into the Asian Riverine Forest. The meandering rainforests of Southeast Asia are quite welcoming after the grasslands. Free-roaming Malayan Tapir and Asian Elephants are the favorite here. Also, you might catch a glimpse of Chawang, Bull Elephant, Red Dholes, Bearded Pigs, and Wild Dogs.
6. Nepalese River Valley
Wet marshlands and low-lying terrains mark the start of Nepalese River Valley. Sambar, Axis Deer, Sarus Cranes, Indian Wolf, Asian Rhinoceros, and Giant Cats can be found here.Shining moonlight and low terrains go hand-in-hand to enrich the experience.
7. Burmese Hillside
The last zone in the tram ride, Burmese Hillside is action packed. Moist tropical forests and dry-subtropical deciduous jungles are indigenous to the zone. Here, you can spot Bantengs and Gaurs, besides Asiatic Black Bears, Viking Cattle, Tamins, Malayan Tigers, and Spotted Panthers.
Suggested Read: 25 Free Things To Do In Singapore In 2022 We Bet You Didn't Know About
Walking Trails To Explore After The Night Safari Tram Ride
The end of the tram safari means you can venture out to the beautiful, yet deadly jungles of Singapore Night Safari. There are four walking trails which lead you to the different parts of the wilderness. Take a look at the individual offerings of these trails to understand them better.
1. Fishing Cat Trail

The Fishing Cat trail takes you on the intricate trek through Singapore jungles. Many predators can be found roaming around here, just like in their natural habitats. Highlight of the trail is an exhibit pertaining to fishing cats and other species of hunter cats. You may find Indian Gharials, Barking Deer, Binturongs, Mouse Deers, Otters, Loris, Pangolins, Palm Civets and Flying Foxes here, apart from the graceful hunter cats.
2. Leopard Trail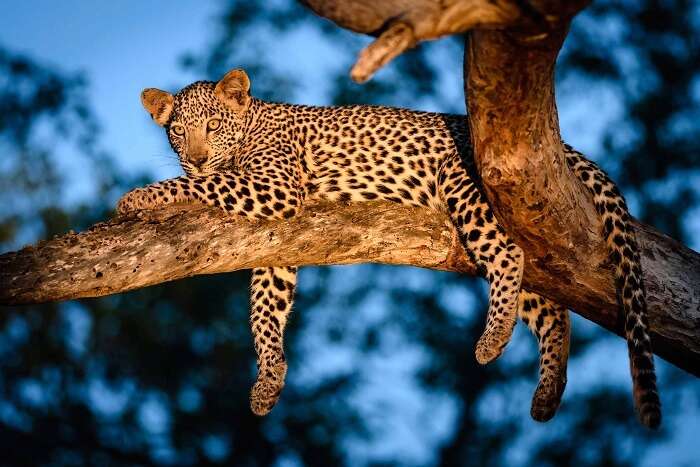 One of the most popular walking trails in Singapore's Night Safari is the Leopard Trail. It is said to have the largest collection of wildlife natives of Southeast Asia. The trail is largely dedicated to small and medium-sized cats of Asia. This spectacular trail offers you the up-close encounter with beasts, which might result in your death in the outside world. Look out for Leopards, Clouded Leopards, Gir Lion, Panthers, Golden Cats, Malayan Civet, Small-toothed Civet, Slow Loris, Giraffes, Oryxes, and Zebras.
3. East Lodge Trail

Designed around the natural habitats of Asia and Africa, the trail is an intriguing mix between Savannah and Tropical forests. The highlight of the trail is glass-sectioned habitat of Malayan Tiger, one of the biggest beast cats in the world. It's token feeding sessions wonder many. Apart from the beastly animal, there are Babirusa, Red River Hogs, Bongos, Spotted Hyenas, Servals, Civets, Chestnut Antelopes, and Predator Bubs.
4. Wallaby Trail

The newest addition to the walking trails of Night Safari in Singapore is Wallaby Trail. Being the shortest and least dangersome, the Wallaby trail has been seeing many takers. It showcases the fascination nocturnal wildlife indigenous to Australia. It takes you through the habitats of Asia and Naracoorte Caves. Their are plenty of Scorpions, venomous Centipede, Owls, Possums, Sugar Gliders, Tawny Frogmouths, and White-lipped Pythons, apart from the cute Wallabies of Australia.
Entry To Singapore Night Safari

Singapore's Night Safari's entry cost is SDG 37.80 for an adult and SDG 25.50 for a child. The cost is just for admission to night safari park. Even if the cost is not to high, we still suggest multi-park tickets for a more economical deal.
See here for more details.
Best Time For Night Safari In Singapore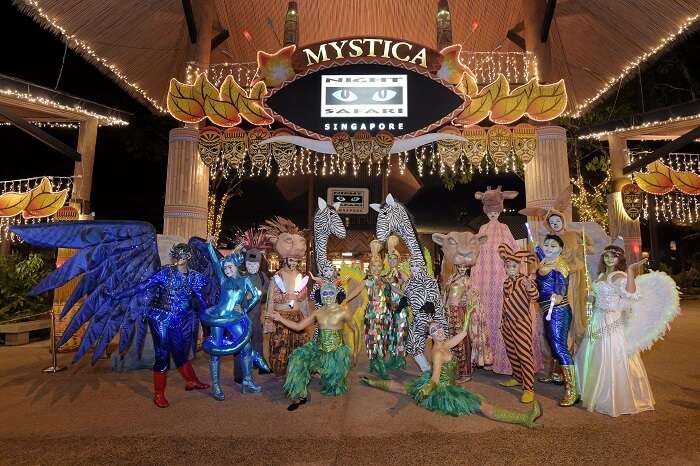 Night Safari in Singapore has takers all year around. However, for the prime experience, pleasant months from November to February are recommended. The nocturnal animals are at their ease and most active during these months.
Dining Options

a) Ulu Ulu Safari Restaurant: Located at the Entrance Plaza, this restaurant opens for 5.30pm – 11.00pm. You can pick from buffet and ala carte menus in the rustic interiors or the alluring al fresco setting.
Must try: Chilli Crab, Biriyani, and Chicken Tandoori
b) Bongo Burgers: The alfresco restaurant is the main vantage point to enjoy the fiery Thumbuakar Performance. Besides, its delicious food take the familiar food experiences to another level.
Must try: Gourmet Burgers, Creamy Shakes, Chunky Fries, and Crispy Wings
c) Casa Italia: Oh what a better way to explore the wilderness with pure delight in your hand..Tamper your ice cream pangs at Casa Italia with its premium range of Italian Gelato icecreams.
Must try: Hazelnut flavors, Vanilla based flavors, and Gelato
d) Chang Chawang Bar: Another prime view-point for fire eating performances, Chang Chawang Bar is the one where they cap a night full of wilderness and thrill. Just a couple of steps away from Bongo Burgers, it has a premium collection of mouthwatering drinks and food.
Must try: Cocktails, Tap Beer, and finger-food
e) Safari Sizzles: Titillate your taste buds with their fine selection of sizzling snacks and hot fried Hot Dogs. A great place to have a sudden snack or a light dinner!
Must try: Gourmet Hot Dogs
5 Things To Remember On Singapore's Night Safari
There are two ways to take it to the Night Safari in Singapore. You can either go for the safari directly after a day tour of Singapore Zoo. This option will be economical as well as more fruitful, as it will leave you with ample of time to enjoy the 'Creature of the Night' show.
Or you can directly choose to go for the night safari where you will be lead to the gates, without much fanfare.
Wear comfortable footwear if you want to literally want to go out in the wild.
Wear non-blingy clothes so as not to startle the wildlife.
Carry your own water bottle as once you are into the wild, there will be no vending machine to sate your thirst or quench your hunger.
Put your phones on either airplane mode or silent mode to not disturb the nocturnal animals.
For complete Safari visit guide, see here.
Further Read: 16 Best Adventurous Activities in Singapore To Make You Scream In Thrill In 2022!
Already excited? Pack your bags and Book your next trip to Singapore with TravelTriangle and explore the fascinating night safari.
---
Looking To Book An International Holiday?
Book memorable holidays on TravelTriangle with 650+ verified travel agents for 65+ domestic and international destinations.
---