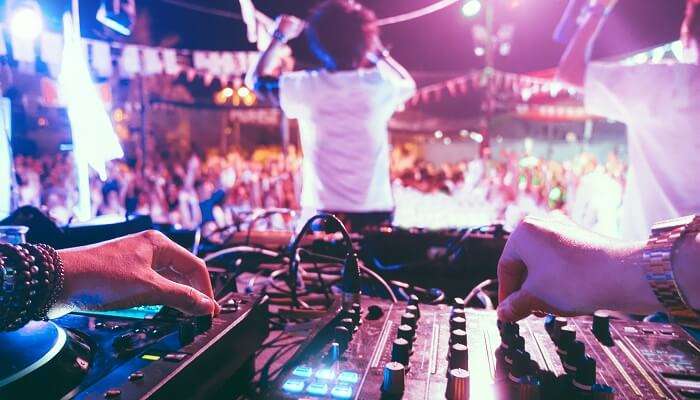 Lying on the west coast of India, Daman city in the union territory of Daman and Diu. The intriguing history, scintillating beaches, Portuguese colonial architecture, soulful churches, and nightlife in Daman are a few elements that offer vacationers a perfect holiday. The destination is now emerging as a new hotspot to enjoy nightlife entertainment. While being home to an array of bars, clubs, movie theaters, cozy cafes, restaurants, Daman lets you enter into a whole world altogether when the sun goes down. The overnight events and beach parties offer a perfect abode for couples and honeymooners as well. Here are some of the best experiences to witness the lively nightlife in Daman.
Best Experiences To Enjoy Nightlife In Daman
Whether you are on a family vacation or a honeymoon, there's a lot you can explore in Daman at Night. Find all the deets below.
1. Explore Nightclubs, Pubs, and Bars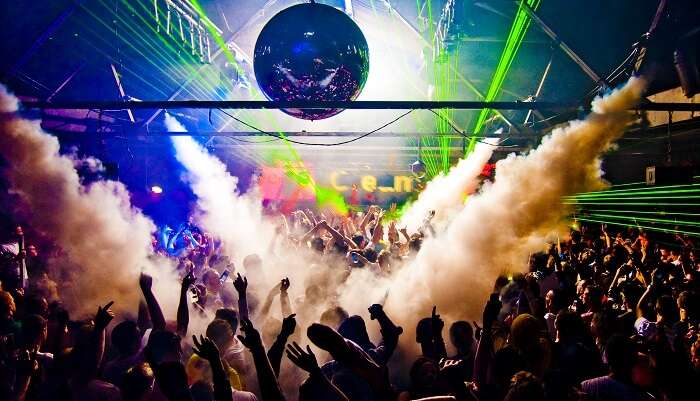 Daman is replete with a plethora of bars, lounges, cafes and nightclubs that attracts locals as well as travelers coming from all parts of the country. A number of clubs are open 24/7 and offer liquor at economical prices while paying heed to guests' requirements. The booze, feet tapping music, and high-spirited ambiance offer party lovers a perfect base to ward off all the stress and fatigue.
Manpasand Bar and Restaurant, Bluesky, Alishan Bar and Restaurant, Apana Bar, Mayank Bar, Poison, and Kings Ladies Dance Bar in Daman are a few spots that will surely rejuvenate your senses.
1. Bluesky
USP: A perfect place to spend saturday night
Timings: 8:00 to 11:30 pm (Friday and Saturday); closed from Sunday to Thursday
Location: Opp deltin mg road nani 396210, Varkund
Cost for two: ₹1,500 approximately
2. Manpasand Bar and Restaurant
USP: Ideal spot for families & couples, offers North Indian cuisine
Timings: 11:00 am to 10 pm (opens throughout the week)
Location: Coastal Highway, Nani Daman, B/H Patalia Checkpost, Daman, Daman and Diu 396210
Cost for two: ₹500 approximately
3. Daman Culture
USP: Rooftop bar, groovy music
Timings: 12:00 pm to 11:00 pm (opens throughout the week)
Location: Survey No 65, 1, Jampore Beach Rd, Jampore, Dadra and Nagar Haveli and Daman and Diu 396220
Cost for two: NA
4. Cafe Sheesha food Lounge
USP: An energetic and fun environment with DJ nights
Timings: 12:00 pm to 12:00 am (opens throughout the week)
Location: Level 5 hotel casa de damao, Khariwad, Daman, Dadra and Nagar Haveli and Daman and Diu 396210
Cost for two: NA
6 Places Near Daman One Must Visit To Enjoy The Paradisiacal Beauty Of The City!
2. Attend Beach Parties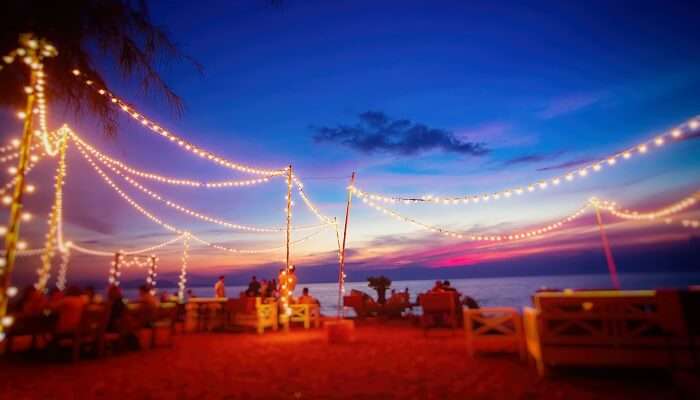 Beach is another element to witness the nightlife In Daman. There are several beaches in Daman, some of which are famous for night parties and DJ nights. Cidade de Daman is one of the most popular spots to enjoy the nightlife of Daman. Just a stone's throw away from Devka beach, this high-end resort hosts DJ nights by the beach.
Dancing your heart out while feeling the cool sea breeze and sipping some refreshing drinks is an experience worth going for. Besides this, Jampore beach is another spot where beach parties frequently happen. The timings and days of the parties may vary, so cross check the same with the resort, pub, or club to avoid any misinformation.
3. Stroll Along The Shore & Enjoy Shopping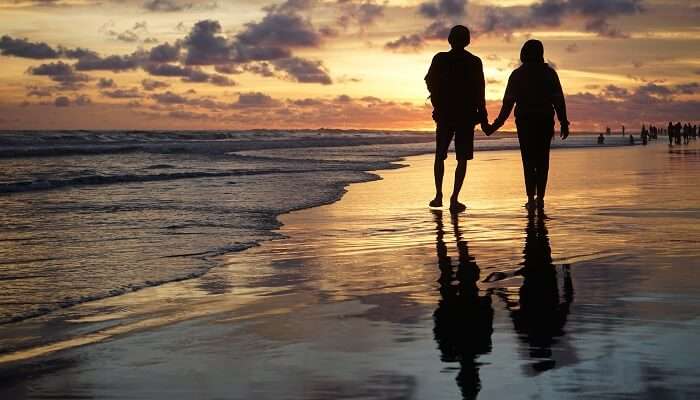 Couples can enjoy a leisure walk along the shore or indulge in a romantic candlelight dinner at the seaside restaurants. Besides this, shopping by the beach is one of the best things to do in Daman at night. Grab some knick-knacks and souvenirs for your loved ones from the brightly lit stalls. If you wish to enjoy the beach nightlife, find accommodation near the beach where most of the parties take place. Silver Sands Beach Resort, The Fern Seaside Luxurious Tent Resort, Hotel Sea Rock Villa, and Kostamar Beach Resort are a few options to consider.
7 Quixotic Homestays In Daman That You Can Opt For An Opulent Stay In 2023
4. Go on a gastronomic tour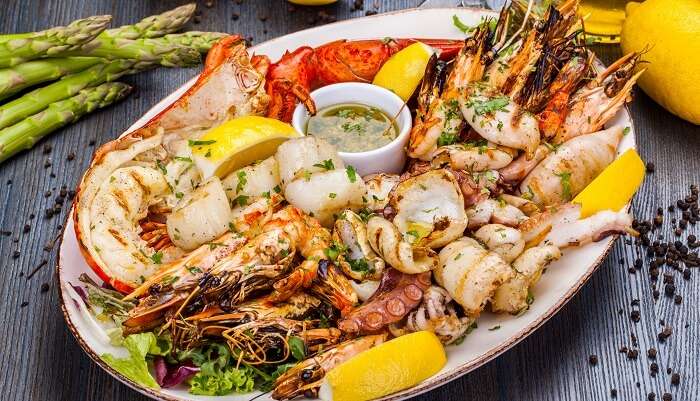 Daman is an ultimate hub for epicures as it is known for an array of delicacies including seafood. Most of the recipes have a Gujarati and Parsi touch along with Portuguese influence as well. There are a multitude of street side food stalls and restaurants where travellers can enjoy both vegetarian and non-vegetarian preparations.
Jagjit Veera's Dhaba, Annapurna Restaurant, Daman Delite, Sukh Sagar Restaurant, Fish & Barrel Restaurant, Infinity Café & Multicuisine, Pakwan Pure Veg Restaurant, Kinara Restro And Bar are a few options where you can satiate your taste buds with authentic recipes. Besides this, you can also relish mouth-watering dishes while relaxing on shacks at Jampore beach that showcases a perfect scene of nightlife in Daman.
5. Enjoy Late Night Shows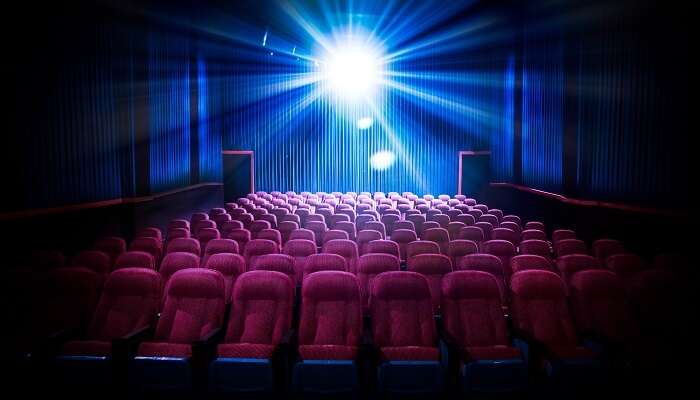 Watching a movie after a tiring day of sightseeing is a relaxing experience like no other and also a unique way to witness the nightlife in Daman & Diu. Apart from being a medium of entertainment, movies give you the space to spend some quality time with your loved ones.
Whether you are bored of going to clubs or wish to ditch the parties, watch a late-night show to conclude the day on a perfect note. Somnath Multiplex and Daman Talkies are the two most famous cinema halls in Daman where you can spend 2-3 hours of absolute entertainment while watching latest releases or the blockbusters.
20 Amazing Places To Visit In Diu That Should Be On Your Bucket List In 2023
The charm of Daman is not only confined to beaches and natural beauty. There's a lot more that one can enjoy in this serene destination. Especially when it comes to nightlife in Daman, you are in for a treat for sure. So, while you plan your next Daman trip, indulge in the above experiences when the sun goes down. Find the best packages at TravelTriangle and customize it your way Happy vacation!
For our editorial codes of conduct and copyright disclaimer, please click here.
Frequently Asked Questions About Nightlife in Daman
How can I enjoy the nightlife in Daman?
Here are some of the best things to do at night in Daman:
1. Attend beach parties
2. Stroll along the shore
3. Have a candle light dinner by the beach
4. Gorge upon local delicacies at top restaurants or street side stalls
5. Explore night markets and buy some souvenirs
Which are the best bars and nightclubs in Daman?
Some of the best pubs, clubs, and bars to enjoy the nightlife in Daman are:
1. Manpasand Bar and Restaurant
2. Daman Culture
3. Bluesky
4. Alishan Bar and Restaurant
5. Apana Bar
6. Mayank Bar
7. Poison
8. Kings Ladies Dance Bar
Can I visit Daman during the current Covid situation?
Yes, you can plan a visit to Daman during the current Covid situation. However, make sure that you are completely vaccinated and always carry your vaccination certificate. Besides this, you need to follow government protocols that include wearing a mask when in public, sanitizing hands at certain intervals, and maintaining social distance.
When is the best time to visit Daman?
Daman is a year-round destination, hence you can plan a trip whenever you wish to. However, the weather between October and April is quite pleasant and that will make your outdoor experiences all the more enjoyable.
How many days are enough for exploring Daman?
A trip of 3-4 days would be enough to witness the best of Daman. To enjoy your vacation, you can go sightseeing and indulge in outdoor activities.
People Also Read: