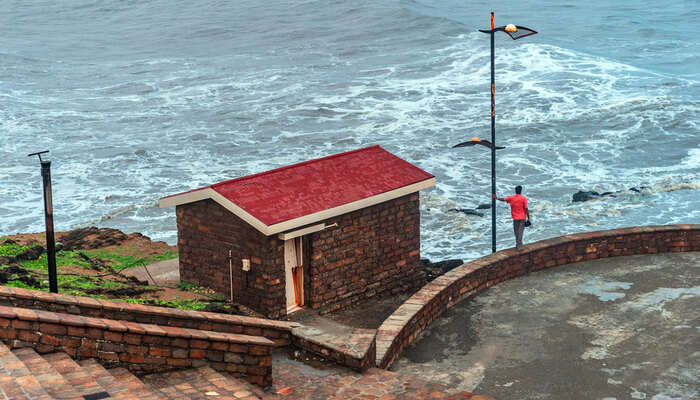 India truly is incredible. It is home to some of the most beautiful and unique places and one such place is Daman and Diu. Out of all the tourist destinations in India, Daman has earned its reputation and the visitors who have been there are for sure to visit the place again. Being the capital of the Indian union territory of Daman and Diu. It is diversified in nature and the downtown area is known to behold the major hospitals, supermarkets and some renowned & recognized residential areas. It is well connected to many nearby places and Vapi in Gujarat is the nearest city. Daman has always been an exciting weekend getaway spot, especially for the youth. Saying that guests with family or friends and even couples do visit Daman widely. Throughout the years there has been a massive growth in the number of visitors resulting to which many homestays in Daman have grown to improve and enhance their services and other benefits.
7 Best Homestays In Daman
Let's go ahead and read the following to understand and get some details of some of the famous homestays in Daman where you can plan your stay at.
1. JAS Exotica
If someone has ever searched for top homestays to stay in Daman, they must have for sure come across JAS Exotica. It is very well known to have air-conditioned rooms which are decently spacious and they are very well maintained and are kept in utmost hygiene. To describe a little further in details, JAS Exotica owns 3 bedrooms and 1 bathroom which includes almost every basic amenity to give the guest a convenient and pleasant stay. For refreshment, every unit is enabled with a flat-screen TV with satellite channels. It is often been praised and is known to be a haven for couples owing to its amazing environment and jaw-dropping surroundings where you can see love floating in the air. Many honeymoon couples are seen visiting the place as well. There is an in-house bar for the guests which can for sure to be accessed for the purpose of 'rejuvenation after a tiresome day and it has a lovely terrace which offers a great view of the surroundings and you can for sure find calmness and pleasure watching the nearby view right from the property itself.
Highlights: Offers free Wi-Fi, parking, a garden, a bar, a swimming pool, private beach area and a terrace.
Location: Jas exotica naroli Rd, 396230 Silvassa, India.
Price: INR 25000/- and above.
Must Read: 20 Amazing Places To Visit In Diu That Should Be On Your Bucket List In 2022
2. VITS Kamat Resort Silvassa
This homestay is so far considered to be one of the most popular and highly visited homestays in Daman. Almost every guest who had visited this heavenly accommodation has nothing but words of praises. The staff here are absolutely patient, humble, very well trained and are well versed with the term 'customer ethics. Besides free Wi-Fi, every room is air-conditioned which includes a desk and a TV with cable channels. A shower and free toiletries definitely define the concept of a perfect bathroom. It is a perfect stay for a guest with friends or family. It won't be a bad idea for couples to take refuge here either. It features a fitness centre, a spa and a wellness centre. As an addon, the property owns a garden what is equipped with an outdoor pool for its guests to have a decent and pleasant time during their stay. In short, this accommodation is nothing but simply perfect for the visitors those who are in pursuit of happiness or refreshment and looking for a memorable stay.
Highlights: Offers free Wi-Fi, parking, spa and wellness centre, a bar, a swimming pool, outdoor pool and a terrace.
Location: Naroli Road, Village – Athal, 396230 Silvassa, India
Price: INR 4900/- and above.
Suggested Read: 5 Best Beach Resorts In Diu For Experiencing Luxury On A Budget
3. Damanganga Valley Resort
If there was an election to decide the best homestay based on guests votes, my money would have been on the absolutely amazing Damanganga Valley Resort. Located in Silvassa, this paradise has a lot to offer to the guests. To start with, the outdoor swimming pool is something to talk about as a lot of couples have pretty good things to talk about it. It actually is one of the best homestays in Daman.The fitness and the spa left alone the wellness centre does add a lot of importance to the property adding much more value in making the guest's stay of more worth than it already is. Guests here can also have the pleasure to put their hands on a game of billiards, dart or maybe table tennis if anyone would desire to. The rooms at the property are air-conditioned enabled with a cable TV, a minibar and of course a seating area for relaxation. A private bathroom that comes with a shower and basic toiletries is just perfect if not great. There are an in-house restaurant and 24-hour front desk who are pretty good in assistance any hour of the day. Out of all the different activities offered on-site, horse riding is comparatively the best as per almost every guest feedback. Surat Airport is the closest airport from the property about 120 km to be precise.
Highlights: Offers free Wi-Fi, parking, a bar, a swimming pool, outdoor pool and a tea/coffee maker in every room.
Location: Opp. Vandhara Garden Naroli Road, U.T. of Dadra & Nagar Haveli, 396230 Silvassa, India.
Price: INR 6500/- and above.
Suggested Read: Tanmay's Honeymoon Trip To Diu: Witnessing The Unspoilt Glory Of Gujarat
4. Keys Select Ras Resorts Silvassa
As mentioned above, there are many homestays in Daman which are popular because of their features and other amenities which they had to offer to their guests. This certain homestay which goes by the name Key Select Ras Resorts Silvassa seems to surpass every level of excellence in terms of services, features and hospitality and is highly recognised and recommended to visitors without a sense of the argument. Along with an outdoor pool for the adults, it owns children pool too which is quite amazing on its own. As an addon, the property boasts a spa centre and sauna while there is an in-house restaurant where the guests can enjoy a great meal. The rooms here are air-conditioned and are equipped with a flat-screen TV with cable channels. Some units offer a seating area for the guests' convenience. Certain rooms do allow the guests to have a mesmerising view of the river or the garden. Lastly, the rooms include a private bathroom that is equipped with a shower which can simply be a cherry on the cake. Guests can play tennis at the property.
Highlights: Offers free Wi-Fi, parking, a bar, swimming pool, outdoor pool and a spa/wellness centre.
Location: 128 (P) (I), Silvassa Naroli road Silvassa, 396230 Silvassa, India.
Price: INR 6900/- and above.
Suggested Read: A Guide To Seychelles In March 2022: For An Ultimate And Enjoyable Exploration
---
Planning your holiday but confused about where to go? These travel stories help you find your best trip ever!
---
5. Hotel Divyaraj Spot
It is one of the homestays in Daman and Diu that is beautiful yet comes at a reasonable price. They got decent rooms which include a TV with cable channels and of course a private bathroom with toiletries. It includes a wardrobe too as an addon. There is breakfast served at the property every morning and is said to be really delicious. The property offers some great or to be precise, let's say magnificent views from some of its rooms to give the guests an added happiness as a compliment during their stay and almost every visitor who has stayed here does have some great words of appreciation for the accommodation. Even their staff are so well trained and are known for their services and hospitality. The front desk will be always on toes to assist the guests and the blend of the reasonable cost with great accommodation and all those value-added services simply makes this property nothing but one of the decent homestays that one can likely decide to hop in and they wouldn't be disappointed for sure.
Highlights: Offers wardrobe/closet and free toiletries.
Location: Mamakwada, Silvassa, 396235 Silvassa, India
Price: INR 800/- and above.
Suggested Read: 18 Places To Visit In Bhuntar In 2022: Popular And Charming Attractions That Spell Peace
6. Hotel Meghavi
Situated in Silvassa, this is another one of the famous homestays in Daman which is amazing yet affordable which wouldn't dig a hole in your pocket. Hotel Meghavi comes with a bar and a garden for their guests which are actually required if not necessary during a vacation or a holiday trip. We all know that refreshment and rejuvenation are the utmost integral part during a holiday trip which is not to be ignored and this very homestay takes this pretty seriously. They got very beautiful and well organised air-conditioned rooms with a TV enabled with cable channels, a fridge, a coffee/tea machine and a wardrobe. A private bathroom with free toiletries does add up a lot of comforts and the a la carte breakfast served at the property is nothing but the best of delicacies one can only expect. There is a 24-hour front desk service for assistance and the staff here are absolutely helpful and are aware of their duties hence the guests are welcomed and served with great hospitality. Being an affordable yet amazing accommodation, this property has sure been a hot spot for a lot of visitors through the years and continues to go on to even increase and enhance with each added day in the calendar year.
Highlights: Offers family rooms and a bar.
Location: Krishna Factory Road, Samarvarni, Silvassa, 396230 Silvassa, India
Price: INR 1300/- and above.
Suggested Read: 15 Best Mcleodganj Homestays Ideal For Your Next Vacay In The Hills
7. Hotel Apex Inn
Last but not least, Hotel Apex Inn is known to provide a very comfortable and a pleasant stay to their guests and is one of the top homestays in Daman. The staff here are very efficient in their work and utmost dedication to their service towards the guests. Well if we talk about the accommodation, the rooms here are absolutely clean and are known for hygiene. Each room is fitted with a desk, a flat-screen TV and a private bathroom with basic toiletries and other amenities. There is a dedicated 24-hour front desk and room service who wouldn't disappoint you. All units are certainly having a seating area which is really required to relax and get refreshed after a tiresome day. There is an in-house restaurant which serves decent food at a price that is truly worth the taste if not less. As Asian or halal breakfast is sure not to miss. Almost every guest has given good reviews about this property and one can certainly have a good view of the nearby surroundings right from the accommodation itself.
Highlights: Offers free Wi-Fi and parking.
Location: GIDC Char Rasta, Near VIA Above Asopalav Restaurant, Silvassa Road, 396195 Vapi, India.
Price: INR 1800/- and above.
Further Read: 12 Most Exciting Things To Do In Dalhousie On Your Himachal Vacation In 2022!
With many visitors's confessions and taking into consideration the mesmerising scenic beauty all over the place, if it's a vacation, it has to be Daman or none. Well, saying that Daman being a place diversified in cuisine and culture is for sure a great place for holidays or vacations in layman language. Many couples can be spotted here taking selfies or enjoying their blessed togetherness. The place is a real beauty and with some amazing company beside you, it can be nothing but more of a paradise if we need to put it down in words. Nevertheless, Daman is for sure a place to visit. Pack your bags and plan your trip to Daman and Diu with your family to enjoy and capture the most important memories of your life.
Frequently Asked Questions About Homestays In Daman
Is Daman worth visiting?
Yes, Daman is worth a visit due to its beauty in diversity. It is very popular when it comes to holidays/vacations or honeymoon trips.
Where is Daman located?
Daman is located in Western India, right on the mouth of the Daman Ganga River which is bounded on all sides by the state of Gujarat.
What is the best time to visit Daman?
There is no such particular time of the year when it comes to visiting Daman. This beautiful and heavenly place is always ready and open to welcome all the visitors with its wide arms open. However, the winters are said to be comparatively better.
What is Daman known for?
Daman is widely known for its diversity in culture and cuisine. Precisely, the jetty area in Daman is well known for Indian street food such as Pav Bhaji, Chats and many more. Being nestled between Gujarat and Maharashtra, it is natural and obvious to have some amazing delicacies which it has to offer to the visitors.
What are some of the best homestays in daman?
JAS Exotica, VITS Kamats Resort and Damanganga Valley Resort undoubtedly top the chart when we have to list out the best homestays in Daman.
Which are the most romantic homestays available in daman?
JAS Exotica and Keys Select Ras Resorts are often referred and recommended as the most romantic homestays here in Daman.
What are some of the budget homestays available in daman ?
Hotel Apex Inn, Hotel Meghavi and Hotel Divyaraj Spot are known to be the most affordable homestays which aren't just reasonable but are absolutely beautiful and comfortable indeed.
---
Looking To Book An International Holiday?
---
People Also Read: