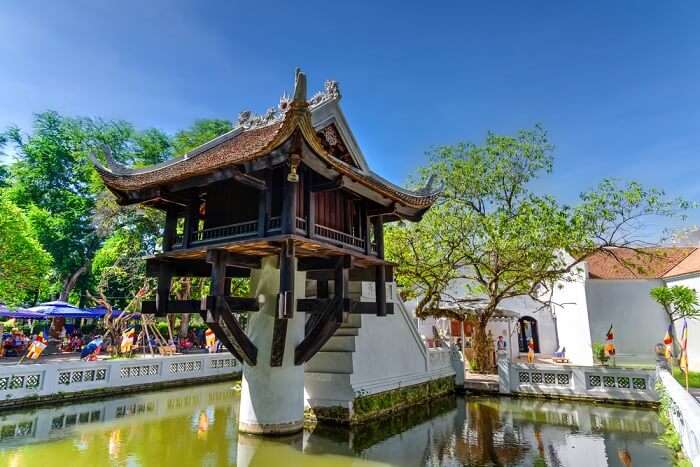 Vietnam is regarded as a country of astounding natural beauty with megacities and hill-tribe villages. But little do we know about its cultural complexities and how it has huge influence on its architecture. Vietnam is a country full of tourists attraction and all the limelight is stolen by Vietnamese pagodas. Culturally, people of Vietnam visit the pagodas regularly – for prayers, receiving blessings, or in case of any events or festivals. Unlike Chinese pagodas – which are massive and imposing, the Vietnamese pagodas are relatively small, commonly constructed with wood, tiles and bricks. They are usually close to rivers, lakes or ponds. Among numerous pagodas in Vietnam, there is one pagoda that stands out from the rest – the One Pillar Pagoda.
Famously known as 'the most unique pagoda in Asia', one pillar pagoda holds unique architectural structure. The pagoda looks like a lotus flower which also happens to be the national flower of Vietnam. The pagoda is in the lake with a square structure lying on a stone pillar. As all the pagodas, the best time to visit this pagoda is in the morning, but do remember to check out one pillar pagoda timings before you visit. Built in the 10th century, the pagoda is currently located inside ho chi minh mausoleum and attracts millions of tourists each year.
About One Pillar Pagoda

As wonderful as the history behind the pagoda is, the one pillar pagoda architecture in itself is marvelous. The One Pillar Pagoda which was built in 1049, was entirely constructed with wood on a pillar made of single stone. It is designed to resemble a lotus blossom which a Buddhist symbol of purity. After its destruction in 1954, the Ministry of Culture rebuilt the pagoda by Nguyen Ba Lang architecture in 1955. Though the small size nature of the pagoda, it itself consists of an important human philosophy making the architecture totally different from any other pagodas. The two circles in the one pillar pagoda represents Yin and Yang, the inner being Yin.
This is also considered as the circulation of universe. Even after almost around a thousand years and its multiple changes throughout, one pillar pagoda still holds on to the spirit of ancient Thang Long. As the pagoda looks like a lotus flower growing from the water's surface, it is also called "Lien Hoa Dai". The pillar is 1.25m in diameter and 4m in height. There are two blocks in the stone pillar, but are joined together with great skill to look like one. Just like the lotus petals, 8 wooden petals are placed in the upper part of the pillar while the roof is astonishingly decorated with dragons. Unlike its size, the one pillar pagoda hold great value of the Vietnamese religious culture.
Standing erect in the middle of the pond, the pagoda is surrounded by small walls. A styrax plant was planted in February 1958 as a gift from Indian president R. Prashant for Uncle Ho. One pillar pagoda is considered as the pride of ancient Thang Long, Vietnamese Buddhism and as of the whole Vietnamese race it self. Together with Ho Chi Minh tomb and Ho Chi Minh museum, one pillar pagoda frames a critical but complex cultural history of Hanoi, Vietnam and is responsible for attracting tourists from all around the world in every season.
Must Read: 10 Glam Wedding Venues In Hanoi That Are Perfect For Your Big Day
One Pillar Pagoda History

One pillar pagoda was originally named Dien Huu tu which translates to 'long lasting happiness and good luck'. According to the history, the Goddess of Mercy Quan Am appeared to king Ly Thai Tong in his dreams. Emperor Ly Thai Tong (1028-1054) was without a child then. In the dream, the goddess handed him a son while she was seated over a lotus flower. Later, he married a peasant girl who bore him a son. As a symbol of appreciation and gratitude, he asked the monk, "Thiền Tuệ" to build the temple as like he dreamt of in 1049. However, the pagoda is much over its 1000 years of one pillar pagoda history, the one pagoda pillar has be destroyed and rebuilt many times. During the initial period, the temple was located in Tây Cấm Garden in Thạch Bảo, Vĩnh Thuận district in the capital Thăng Long which is now popularly known as Hanoi.
In the one pillar pagoda temple, the monarch held Buddha-bathing ceremony every year bringing in a lot of monks and other people during the ceremony followed by monarchs freeing a bird. The first renovation of one pillar pagoda was done by Emperor Ly Nhan Tong in 1105. In 1109, the emperor ordered a bell installation in the temple. At that time, the bell was hugely appreciated and considered as one of the four major capital works on Vietnam. The installation was however unsuccessful due to its size and heaviness.The bell was later moved to the countryside and installed in the farmland near the Nhất Trụ Temple. In the year 1954, before withdrawing from Vietnam after the First Indochina War, the French Union forces completely destroyed this pagoda. Thus, the one pillar pagoda is standing tall for almost a century and is considered one of the oldest pagodas in Hanoi. There is even a replica build in Thủ Đức in Saigon which makes one pillar pagoda history even richer.
It's unique structure, heart touching history and warmful culture makes one pillar pagoda one of the most significant symbols of Hanoi and a great destination to visit. The power of words is insufficient to describe the one pillar of Hanoi. So, we recommend you to just get out there and see every nook and corner of the one pillar pagoda hanoi for yourself.
Suggested Read: 5 Utterly Thrilling Water Sports In Hanoi That Are Sure To Give You An Adrenaline Rush
Things You Must Know About One Pillar Pagoda

Ready to visit the beautiful one pillar pagoda in Vietnam? Below are a few other information that will help you while visiting it. Make sure you know all the facts beforehand.
Dress Code
As long as you look decent – clothing that covers your chest, shoulders and legs, you are allowed in the one pillar pagoda and in most other pagodas in Vietnam. However, carrying a scarf is recommended, just in case. Having said this, the Vietnamese are one of the friendliest people you will ever meet.
Entrance Fee
There are many Ho Chi Minh mausoleum tickets and tours available which come with a package of meal and transportation which may make your trip more comfortable. However, even if you get in the Ho Chi Minh mausoleum without a tour package, One Pillar Pagoda entrance fee is completely free.
Opening Hours
The pagoda is located in Ba Dinh District of capital Hanoi and is easy to visit by public vehicles from the inner city of Hanoi. One Pillar Pagoda opening hours are from 8am to 11.30am daily and from 2pm to 4pm Tue-Thu, Sat and Sun
Further Read: Places To Visit In Da Nang: 10 Places To Put On Your Vietnamese Holiday Checklist
Also, you are a tourist in one of the most relaxing cities in the world, feel free to check out other pagodas in Vietnam like the Perfume pagoda, Quan Su pagoda, Thien Mu pagoda, Linh Phuoc pagoda, etc- each one holding a story of its own. So, pack your bags and book your trip to Vietnam for a serene and divine experience amid the scenic pagodas of this land!
People Also Read
Places To Visit In Bangkok Places To Visit In Jakarta Places To Visit In Singapore
---
Looking To Book An International Honeymoon?
Book memorable honeymoon on TravelTriangle with 650+ verified travel agents for 65+ domestic and international destinations.
---