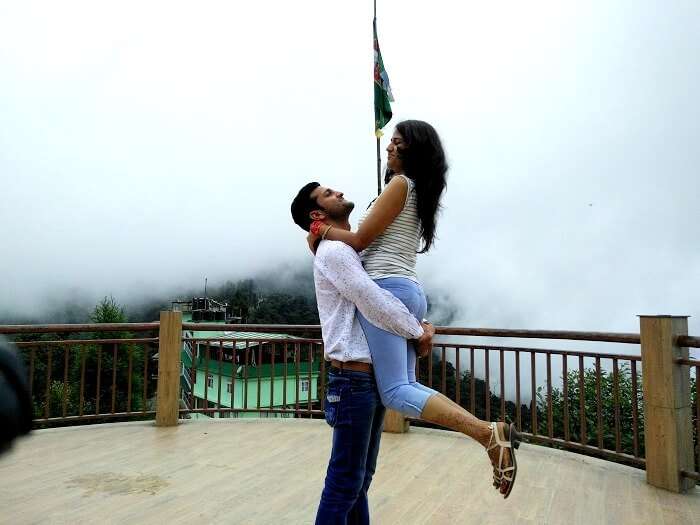 Pawan discovered a perfect balance of love, adventure, and beauty in the charming hills of Sikkim and Darjeeling. He was left awestruck by many aspects of the Eastern Hills that he didn't even know existed. They booked their package via TravelTriangle for INR 33700 and it covered their breakfast, sightseeing, transfers, and accommodation.
After planning to go to Kashmir for my honeymoon, I had to cancel my plans due to political unrest happening in the area. At the eleventh hour, my friend suggested Sikkim as a possible destination since it too boasted of great scenic attractions and culture. Thus, I started searching for packages.

Upon searching on Google for a little while, I landed on the TravelTriangle page which provided customized tour packages. And so after raising a request for a honeymoon trip to Sikkim and Darjeeling, I waited.
Soon a travel representative from the company contacted me and understood my requirements. He then got me connected to various local travel agents on board for multiple competitive quotes and customization.
'Travel Sahyog' gave me the best package along with a suitable price and itinerary and thus was chosen as our preferred agency.

Finally, after all the last minute planning and rush to get things in order, we were ready to go for our romantic honeymoon in the hills.
Day 1: Witnessing the beauty in Sikkim

Our journey to Gangtok wasn't a straight one. We boarded our flight from Indore to Delhi where we had a three-hour layover. From Delhi, we boarded our flight to Bagdogra, which is the closest airport to Gangtok. We arrived in Bagdogra at 4.30pm and a taxi was present to receive us and take us to the hotel in Bagdogra.
We were informed that the drive to Gangtok takes 4 hours, but due to weather conditions and landslide, it took us 6 hours to reach. We checked in the hotel around 10 pm and retired for the night.
Day 2: The incredible Gangtok city tour

Suggested Read: 48 Places To Visit In Sikkim: Extraordinary Realms In The North East
We woke up next morning in Sikkim to pleasant weather. After having an early breakfast, we got ready for the city tour. Our taxi was present at the hotel to pick us up and soon the tour began.
First up for us was Tashi view point and Ganesh Tok flower show which was an amazing scenic experience. Later on, as we were exploring the city of Gangtok, we were surprised to see that the clouds had descended to ground level. The mystical ambience brought in by the clouds was a very welcome change from our daily city life and portrayed the pristine beauty of the hills.  

Our taxi later dropped us off at MG Road, Gangtok at 4pm. We decided to eat, shop, and explore the MG Road area which was very popular road in Gangtok. After arriving back at the hotel at 10pm, we straight away went back to our rooms and called it a night.
Day 3: Visiting Tsomgo Lake and Baba Mandir  

Suggested Read: 22 Cozy Budget Hotels In Gangtok For Your Exhilarating Trip To Sikkim
This day we woke up early in the morning, had our breakfast, and then got ready for our visit to the famous Baba Mandir. However, as we started our 3-hour journey that was to end at 13000 ft, my wife started feeling nauseous in the beginning.
It was an uncomfortable moment for her as she was feeling scared about going to the temple due to the altitude sickness that could kick in anytime again. However, we reached Baba Mandir and to lighten my wife's mood, I presented her with a ring in the style of a proposal at an army operated cafe. It cheered her up and soon the moment turned extremely romantic for us when everyone started clapping.

This was probably the best moment of our honeymoon where I was able to bring a smile back on my wife's face. Later on, we proceeded towards the Tsomgo Lake where we saw a giant Mahadev Statue at 13,000 ft. On our way back to Gangtok we decided to click some pictures and go for a yak ride. We reached back to the hotel at 7pm and called it a night.
Day 4: Gangtok to Kalimpong

We started our journey early in the morning for Kalimpong. After checking out from the hotel, we got into our car and proceeded to our destination. Our day started with a visit to the Buddhist Temple and Delo Hill Nursery.
Kalimpong is a very spiritual and religious town. And more than the scenic beauty there, we saw amazing temples and monuments dedicated to Buddhism which was truly fascinating. Later on, we checked into our hotel in Kalimpong and rested for the remainder of the evening.
Day 5: Kalimpong To Darjeeling

This day, post breakfast, we proceeded towards our next stop- Darjeeling. We checked out of the hotel in Kalimpong and started the 3-hour journey to Darjeeling in our taxi.
On the way to Darjeeling, we stopped by the Ghoom Monastery which is a very famous tourist attraction. The positive vibes and the calm ambience in this monastery recharged our minds for the rest of our vacation. Later on, as we were passing by in the taxi, we also caught glimpses of the world famous tea gardens.

We also could not visit the Tiger Hill due to unstable weather conditions. But deciding not to be disheartened, my wife and I went on to explore the mall road instead.
It felt nice taking a stroll with my wife at the Mall Road in Darjeeling and with the greenery and mountains all around, it was a quite a romantic experience. Afterwards, we went back to the hotel, had dinner, and retired for the night.
Day 6: Darjeeling Sightseeing

As my wife was uncomfortable visiting places with extreme altitude, we decided to skip watching the sunset over Mt Khangchendzonga. We left the hotel after having breakfast to visit the tea gardens of Darjeeling instead .
My wife and I were very curious about getting to see and know the reasons behind the worldwide fame of Darjeeling Tea. The lush green tea plantations covering the hills made for a very scenic landscape around Darjeeling.

Later on, we had lunch and proceeded to visit the Ava Art Gallery and Japanese Temple. In the evening, we had dinner in our hotel and then retired for the night in readiness for a flight back home the next day.
Day 7: Departure

On the final day of our honeymoon, we left for Bagdogra very early in the morning around 7 am. We reached Bagdogra at 11.30am and then boarded our flight back home to Indore.
Sikkim and Darjeeling filled our hearts with fond memories and unforgettable experiences that will linger with us for a long time to come. It turned out to be a very peaceful and romantic place for us since it gave us a break from the daily hustles and also proved to be an excellent destination to start a new chapter in our lives.
High Points:
Our very own Bollywood moment at the cafe in Baba Mandir

Shopping at the MG Road in Gangtok



Low Points :Cab driver overcharged us by 500 just for taking us via a detour which was longer by 1km.
Tips for Travelers:
People should carry adequate medicines for altitude sickness when traveling to Sikkim and Darjeeling.
The mystic and foggy mountains of Sikkim sound their calling. For an experience unlike no other, Book your package to Sikkim now!
---
Looking To Book Your Honeymoon Package?
Book memorable honeymoon on TravelTriangle with 650+ verified travel agents for 65+ domestic and international destinations.
---