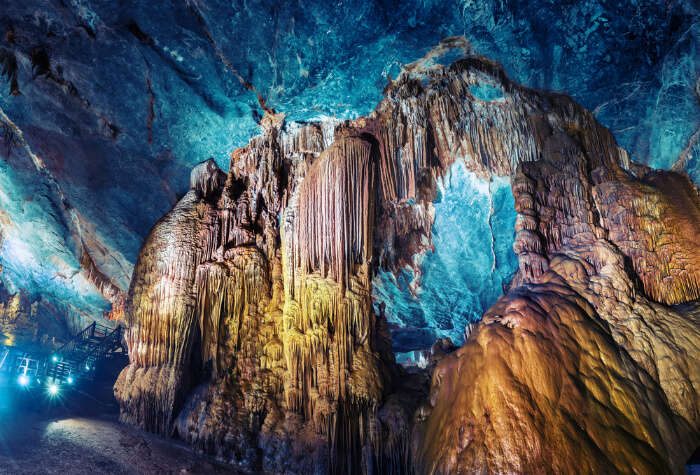 Phong Nha Cave is located in Phong Nha National Park in the Quang Binh Province in Vietnam and is also a designated UNESCO world heritage site. It is one of the largest caves and is also the most famous among the numerous caves in Vietnam. Phong Nha Cave is a must visit attraction and below is all that you need to know about this enthralling cave.
All About The Phong Nha Cave
Phong Nha Cave is 7729m long and contains 14 grottoes, several chambers, and an underground river which is the largest underground river in the world. Its rock formations are very popular and some of them have been named the "Fairy Caves", the "Lion", and the "Buddha". This cave is also voted among the most beautiful caves in the world due to its numerous aspects like the rock-formations, stalactites, and stalagmites, beautiful sandbank and reef, longest water grottos, and more. Scientists have surveyed only 44.5km of the grottoes and the tourists are only allowed to view and explore 1500m of the cave. There are other numerous grottos and smaller caves which include the Phong Nha Cave system, Vom Cave Systems, Thien Duong Cave, and the Tien Son Cave which you can see in the Phong Nha caves map.
Must Read: New Year In Vietnam: 14 Experiences For A Lit Beginning Of 2022
Interesting Facts About The Phong Nha Cave
The cave was first written about by a Vietnamese man named Duong Van An in 1550.
In the late nineteenth century, the cave was explored by Leopold Michel Cadiere who was a French Catholic Priest.
In 2003 the Phong Nha-ke Bang National Park was named after the Phong Nha Cave and was declared as a UNESCO heritage site to protect the cave along with the ecosystems of the limestone forest.
There are numerous archaeological sites and people have found Neolithic artefacts, hieroglyphic script, alters, and steles in some of the caves along with Champa inscriptions and ceramics.
The cave was also used as a hospital and storage as well as a hiding place during the American war and later the Phong Nha Caves in Vietnam along with the whole National Park area was heavily bombed.
Best Time To Visit Phong Nha Caves In Vietnam
The area has a tropical monsoon climate and experiences rainfall from September to March and is dry from April to August, making it the best time to visit. During the months from September to December the area experiences heavy rains and the caves are closed during that time hence it is best to visit the national park during the dry season.
Suggested Read: These 8 Waterfalls In Vietnam Are Beautiful Enough To Sweep You Off Your Feet!
How To Reach Phong Nha Cave?
The National Park is located 50 kms north of Dong Hoi and 450 kms south of Hanoi. One can book a flight to Dong Hoi and from there one can take a local bus to Phong Nha which will cost less than 40,000 dong. One can also reach Dong Hoi by train from cities as far away as Hanoi and Ho Chi Minh City.
Things To Do And See
1. Phong Nha Cave tours
The only way to get to the inside of the cave is by boat. One can hire a boat with other tourists and book a tour which will take you inside the Phong Nha cave as well as other caves for some sightseeing. It costs 150,000 dong for entry to the Phong Nha cave and 80,00 for Tien son caves and a separate amount for the tour or renting a boat which is recommended to book together with others to decrease the price.
Suggested Read: Enjoy Authentic Vietnamese Hospitality In These 10 Cheap Homestays In Hanoi
2. Phong Nha Cave camping
Book a tour of the Hang En Cave which lasts around 2 days and it includes a hike through the jungle to the cave, camping on the beach within the cave, swimming in the natural pool, sightseeing inside the cave, grilled dinner, and a hike back the next day.
3. Phong Nha Dark Cave
If you are feeling adventurous then you can visit the Dark cave or Hang Toi which is a part of the Phong Nha cave system. You can reach the cave by kayaking to the entrance or by a 400m zipline and you can explore the cave either by taking a tour with other tourists or independently. The cave has no lighting and is pitch black and there is an area where you can go for a swim and even take a mud bath. It costs 450,000 dong and includes everything.
4. Paradise Cave
You can also visit Thien Duong Cave which is known as Paradise Cave and is considered among the most beautiful caves in the park. You can book an electric cart to take you to the entrance of the cave or you can walk the length of 1.6 km. Inside the cave there are wooden pathways to help you sightsee. Only 1 km of the cave is open to tourists and the entry costs 250,000 dong.
Suggested Read: 10 Best Places For Shopping In Hue On Your Vietnam Tour
5. Son Doong Cave
One of the longer and memorable treks is the journey to Son Doong Cave and exploring the world's largest cave takes around 5 days and 4 nights and consists of trekking, hiking, camping, climbing, and more. It is recommended for people who are fit and like adventure. The whole tour costs around 3,000 UDS and is considered a level 6 on the Oxalis Adventure level.
Suggested Read: Top 5 Beaches In Hanoi: Indulge The Water Baby In You On Your Vietnam 2022 Trip
Where To Stay Near Phong Nha Cave?
There are many cheap hotels where you can stay, close to the national park. Heritage by Night Hotel is right in the centre of Phong Nha Town of Vietnam and offers comfortable rooms, swimming pool, and a good view along with being just 5 minutes away from the Phong Nha Tourism Centre. Phong Nha Midtown Hotel is also conveniently located and offers big rooms, good service, and is a cheap accommodation. Paradise Hotel is walking distance from the Phong Nha Cave entrance and offers good rooms and service along with tasty food and all of this at a very affordable price.
Further Read: Paragliding In Vietnam: Top 10 Places That Are Perfect For An Enthralling Vacay In 2022!
Visiting Phong Nha Cave along with the national park is an amazing experience and is a trip to take for both adventurers and those looking for a peaceful and tranquil stay. Go on a trip to Vietnam now and explore the cave and other natural wonders. 
---
Looking To Book An International Honeymoon?
Book memorable honeymoon on TravelTriangle with 650+ verified travel agents for 65+ domestic and international destinations.
---