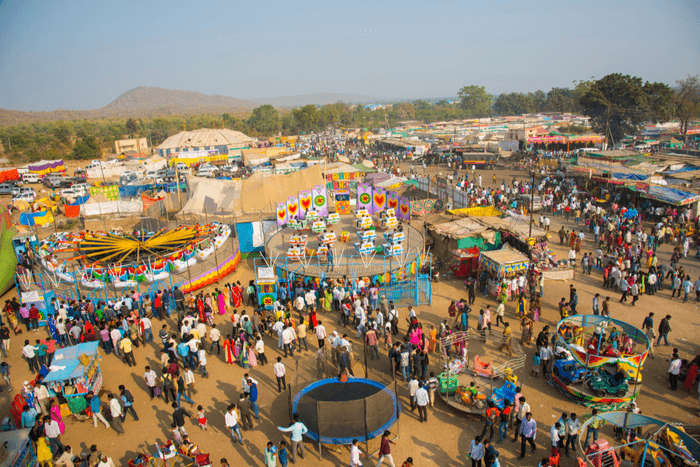 Few parts of India can claim such a range of heritage beauty as Amravati. From Buddhist stupas and historical landmarks to a cultural metropolis lined by quintessential hill-stations, the city is also a home to some of the best religion-based architecture you will ever come across: We're talking countless ancient temples, the majestic Ambadevi Mandir, and modern masterpieces like the Osmania Masjid.
And while no list of "must-visit" or "top attractions" from among the million possibilities can be definitive, we have brought to you the best places to visit in Amravati.
The best part? Whichever place you decide to start your journey with, it's sure to be a hit in this city.
The 10 Best Places To Visit In Amravati
The question isn't which places to visit in Amravati, but rather how to decide. With so many marvelous and not to be missed attractions, it can be difficult to plan an itinerary, whether you are a curious historian, adventure lover or gastronomy buff. Let our guide help: Here's a list of some of the best places to visit in Amravati that one simply must not miss.
Wadali Talav
Chatri Talao
Ambadevi And Ekvira Devi Mandir
ISKCON – Amravati
Bamboo garden
Upper Wardha Dam
MelGhat Tiger Reserve
Gawilgarh Fort
Malkhed Dam
Chilkahrada Wildlife Sanctuary
1. Wadali Talav

Image Credit : Dean David by unsplash
Located near the Chandur rail road, the quaint suburban reservoir is a picture-postcard oasis for residents and travelers alike. Originally built to provide a supply of fresh water to the nearby neighborhoods, the water body is a perfect spot for weekend family picnics. Come for a relaxing setting, water-sports, sightseeing, or just to admire the quiet landscape set in nature. The best time to visit will be during the golden hours of sunrise and sunset to observe the transition of colors in the sky.
Must Read: 35 Places To Visit In Mahabaleshwar For A Refreshing Maharashtra Trip In 2022!
2. Chatri Talao

Image Credit : Aleksey Milov by unsplash
Built in 1888, the Chatri Talao Amravati is nestled on a prime stretch of land, a heritage site that is also of great historical significance. Located at less than one kilometer from Dasturnagar Square, it shares the common goal of providing fresh water with Wadala Talav. Ranking high on the list of places to visit in Amravati, this glistering body of water began its journey with a small spring called 'Kali Nadi.' Today, the Upper Wardha Dam is renowned for supplying water to this attraction. While visiting, take a stroll on the edge where the grassland ends and the Talao begins, and drown yourself in natural bliss.
Suggested Read: 8 Best Places To Visit In Maharashtra In June One Must Explore To Enjoy A Great Time!
3. Ambadevi And Ekvira Devi Mandir

This religious Hindu temple honours Goddess Ambadevi, a divine deity worshipped across the state of Maharashtra. The timeless historic structure is standing tall for thousands of years. Devotees from all around the world flock the premise during high-standing festivities like the Navratri. A few hours at this temple is often recommended for travelers to understand the part it played in major historical events like Rukmini Haran.
Adjacent to the Ambadevi is the Ekvira Devi Mandir. Built in 1960, the temple holds a shared story of origin with Ambadevi and is frequently visited by travelers and pilgrims.
Suggested Read: Check Out The 10 Best Places For Camping In Maharashtra For A Time Away In The Lap Of Nature!
4. ISKCON – Amravati

For hundreds of years, Hindu believers found both a sense of belonging and spiritual connection in temples that celebrate tales of powerful deities. Located in Saraswati Colony, Rathi Nagar, it is a significant landmark and famous place in Amravati to visit with family and friends. The serene atmosphere of the place can be credited to the many volunteers and travelers who often stay behind to help with the daily activities.
Suggested Read: 10 Places To Visit In May In Maharashtra That Will Make Your Next Trip Unforgettable!
5. Bamboo Garden

Image Credit : Conikal by unsplash
Stop into Bamboo Garden for an exhibition of India's largest collection of bamboo plants with 134 species and a dedicated bamboo nursery. Established in 2017, the garden also surprises its visitors with an impressive selection of 300 species of cactus. This place makes a perfect weekend getaway for kids as they boast a 20 feet high sky-wall alongside many other fun activities available to enjoy on the premises. Also, don't forget to get yourself a Bamboo-made souvenir before you head back.
Entry Fee: INR ₹20
Suggested Read: 7 Beautiful Places To Visit In Maharashtra In July For A Refreshing Getaway In 2022!
6. Upper Wardha Dam

If you are looking to venture into the suburbs in Amravati to capture the local ambiance, make your way to Simhora town. It is a small establishment with a regional market with authentic food places and a view of the Wardha Dam. The straight gravity dam is gigantic and is a major water source for the city of Amravati. An interesting fact about the dam is that at its live capacity, it can hold 564,000 million liters of water.
Suggested Read: See Why River Rafting In Maharashtra In 2022 Will Give You An Adrenaline Rush Like Never Before!
7. Melghat Tiger Reserve

From several species of Indian bison to serpent eagles, the Melghat Tiger Reserve is one of the best places to visit in Amravati with your kids and family. There is an attractive variety of flora and fauna that one can explore in the reserve and the destination makes for a perfect day-trip from the central district of Amravati.
Suggested Read: 7 Zoos In Maharashtra That Will Let You Spend Time With Nature's Loved Ones In 2022!
8. Gawilgarh Fort

The 300-year-old fortified structure sits on the north of the Deccan Plateau, a short trip from the Melghat Tiger Reserve, Amravati District, Maharashtra. This is a true reflection of the Maratha Empire and showcases some brilliant carvings from the period of the Nizams. Stroll around the landmark and observe the various scripts written in numerous languages on its wall and fascinate yourself with its history and importance in Maharashtrian culture.
Suggested Read: 5 Refreshing Waterfalls In Mahabaleshwar That Makes The Monsoon In Maharashtra Fun-Filled In 2022!
9. Malkhed Dam

Image Credit : Kristel Hayes by unsplash
Malkhed Dam is an earthfill dam built on the Kholad river near Chandur. Rent a boat in the afternoon with a packed lunch and enjoy an outdoor meal with your family and friends. There is a nearby park for kids and a toy train that can be boarding for a short tour. The dam was originally built for irrigation and water supply but now ranks popular among the many must visit places in Amravati.
Suggested Read: Top 6 Wildlife Sanctuaries In Maharashtra To Get Closer To The Most Enigmatic Species!
10. Chikhaldara Wildlife Sanctuary

Image Credit : Tobias Adam by unsplash
In 1823, Captain Robinson of the Hyderabad Regiment decided to develop a tourist attraction in the region that could remind them of their homeland in England. Initially, the sanctuary was called Keechakadara Wildlife Sanctuary as it was believed to be the exact spot where Bhima, one of the five Pandavas killed Keechaka. The place was later renamed and now serves as a hiking and adventure spot. Also, if you have an affinity for taking photographs, make sure you pack your gear before you head towards this place.
Further Read: 6 Places To Visit In Bhandardara That Prove Its Prominence In Maharashtra
Amravati is one of the most underrated travel destinations in the western peninsular region of India. Do plan a trip to Maharashtra as aside from showcasing a varied range of cultural and natural attractions, the idyllic scene is quite vibrant during spring and autumn. Religious traditions are observed through some of their important festivals, there are some great city markets for thrifting, and the weather is generally pleasant for roaming outside and enjoying the slight chill after sundown with a classic cup of Chai. The city of Amravati is also surrounded by some of the best hill stations, perfect for a weekend escape. So, for those looking for places to visit in Amravati, finding yourself in a landscape filled with outdoor-sy and spiritual spots, enchanting gardens, and a bustling architectural scene can be a pretty awesome prospect.
Disclaimer: TravelTriangle claims no credit for images featured on our blog site unless otherwise noted. All visual content is copyrighted to its respectful owners. We try to link back to original sources whenever possible. If you own the rights to any of the images, and do not wish them to appear on TravelTriangle, please contact us and they will be promptly removed. We believe in providing proper attribution to the original author, artist or photographer.
Frequently Asked Questions About Places To Visit In Amravati
What is Amravati famous for?
Amravati is the second largest city after Nagpur in the state of Maharashtra known for its vibrant Hindu and Buddhist temples and landmarks. The popular art and architectural scene attract spiritual travelers and historians all year round.
What is the best time to visit Amravati?
The best time to visit Amravati is from April to September when the temperature is mild and the religious places are flocking with tourists from all around the world.
How much time should I spend in Amravati?
You need at least four days to explore all the monuments, temples and art history scene, through a "popular attractions only" tour could be done in a three-day Amravati itinerary.
How much should I budget for a trip to Amravati?
A weeklong excursion in the city can cost you around 20,000 INR for 7 full days, and a 3-4 day itinerary will cost you less than 10,000 INR per person.
Is it better to visit Amravati during weekdays or weekends?
It is better to visit Amravati during weekends as most religious temples and monuments are open, including parks and food markets. The atmosphere is buzzing as everyone comes out for unwinding from the weekday. Some temples even host special 'pujas' or religious praying ceremonies on weekends.
People Also Read:
Places To Visit In Saputara Places To Visit In Mahabaleshwar Places To Visit In Coorg