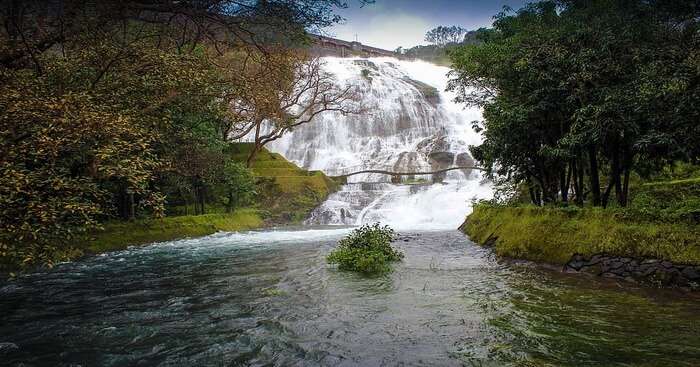 The state of Maharashtra has the right balance of nature's blessings as well as the hustle-bustle of urban life, as it is home to numerous resort towns and busy cities. The various resort towns or villages in the state are considered to be ideal getaways. One such place is Bhandardara, a village established near Igatpuri on the banks of River Pravara. The village has some wondrous spots for tourists that are sights worth beholding. The different places to visit in Bhandardara make it a worthwhile destination for tourists. With countless natural and historical wonders, this village in Maharashtra, a special travel experience is assured.
7 Best Places To Visit In Bhandardara
Here's a list of some of the most spectacular Bhandardara tourist spots that you must visit if you want to have a comprehensively amazing travel experience.
1. Wilson Dam

Image Credit: yogesh kurhe for Wikimedia Commons
Established over the vast Parvar River, Wilson Dam is one of the most enthralling sites in Bhandardara since 1910. Surrounded by dense greenery, this dam is a sight worth looking at. When looking for a place where you can go for a peaceful picnic with family or friends, Wilson Dam can be the perfect spot to visit.
Things to do: Picnicking, walk in nature, sightseeing
22 Absolutely Breathtaking Places To Visit In Monsoon In Maharashtra In 2022
2. Umbrella Falls

Image Credit: Bimalesh for Wikipedia
The formation of these majestic falls happens during the monsoon season right under the Wilson Dam. The shape of this waterfall is the reason why it is called the Umbrella Falls. The aggressive flow and the breathtakingly huge size of these falls make it one of the best places to see in Bhandardara. To enjoy the best view and cool sprinkles of these falls, you can even stand on the uniquely built footbridge.
Things to do: Sightseeing, walk in nature
3. Randha Fall

Image Credit: Jakec for Wikimedia Commons
Enveloped within rich foliage, this waterfall too is a major reason why people love visiting the village of Bhandardara. Randha Fall too is a waterfall of the Pravara River, plummeting from the height of 170 feet. If you want to witness the best sight of these falls, visit this attraction of Bhandardara during the monsoon season. While underrated, it is one best places to visit in Maharashtra in summer.
Things to do: Sightseeing, walk in nature, kayaking, camping
5 Refreshing Waterfalls In Mahabaleshwar That Makes The Monsoon In Maharashtra Fun-Filled In 2022!
4. Arthur Lake

Image Credit: Shimjithsr for Wikimedia Commons
If you want to spend some time in tranquility, then a visit to Arthur Lake will be one that will satiate you. This lake is known to be one of the most frequented tourist sites in the village and people come here to boat or simply stroll around during the evening hours. The source of this lake is the Pravara River. The location of this lake will leave you mesmerised, as it is surrounded by misty mountains and vast grasslands. A stroll through this area is one of the best things to do in Bhandardara.
Things to do: Boating, sightseeing, walk in nature
5. Mount Kalsubai

Image Credit: Mvkulkarni23 for Wikipedia
Highest amongst the Sahyadri Range, is Mount Kalsubai. A sight of this magnificent peak can be seen from the village. From the village, you can even go for an adventurous trek to this peak. You can even take the stairs if you find the trek to be a bit hard. Setting an awe-striking backdrop, the Kalsubai Peak is the omnipresent sight that will make your Bhandardara trip unforgettable.
Things to do: Sightseeing, trekking
See Why River Rafting In Maharashtra In 2022 Will Give You An Adrenaline Rush Like Never Before!
6. Agastya Rishi Ashram

Image Credit: Achyuta T. Madabushi for Wikimedia Commons
If you want to make your Bhandardara trip more interesting and would like to go a little beyond this village, then you can plan a visit to this ashram. This is a renowned ashram that has also been referred to in the amazing epic, Ramayana. It's mentioned in the text that both Lord Ram and Lakshman visited this ashram in order to receive Agatsya Rishi's blessings.
Things to do: sightseeing
7. Ratanwadi Village

Nestled near Bhandardara, Ratanwadi Village is one of the most offbeat places you can explore in Maharashtra. Home to the popular Ratangad fort and Shiva temple named Amruteshwar, find yourself trekking through countryside regions as you explore the history and architecture in the village.
Things to do: Sightseeing, trekking
Bhandardara Camping: Take A Break And Plan A Vacation To This Place In Maharashtra Amidst The Woods!
Maharashtra is one of the most surprising states in the country, as you get to explore and experience everything beyond your imagination. Bhandardara is one of those places in the state that will surprise you to no end. This list of places to visit in Bhandardara will definitely come in handy during your Maharashtra vacation. So, pack your bags and make the most of it!
For our editorial codes of conduct and copyright disclaimer, please click here. 
Frequently Asked Questions About Places To Visit In Bhandardara
How far is Bhandardara from the city of Mumbai?
The distance between the bustling city of Mumbai and beautiful Bhandardara village is around 190 kilometers. You can reach the village via road or railways without any hassle.
What's the best way to reach Bhandardara?
The best way to reach the village of Bhandardara is via train. The village is located near Igatpuri and this is where you'll find the closest railway station. A bus or a taxi is easily available from the station.
What is considered to be the best time to visit Bhandardara?
You can visit the village of Bhandardara any time of the year but to make the most of your travel experience, make your plan between the months of June and September - during the monsoon season.
People Also Read:
Places To Visit in Mumbai Places To Visit In Thanjavur Places To Visit In Varkala