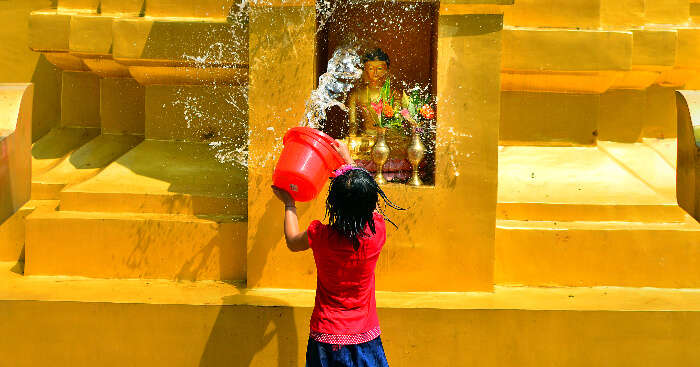 On the shoulder of the awesome Assam sits this beautiful land called Dibrugarh. Located in North – East corner of the world renowned tea – state of India, Dibrugarh has a Subtropical Monsoon type of climate. A kind of climate that appeals to wildlife. Lush green pastures and adventurous dense forests, this high range will seem like a place just out your fantasy. So, the next time you crave for an escape from your busy city life, these places to visit in Dibrugarh can come to your rescue.
10 Places To Visit In Dibrugarh
If you really explore the secretive woods of this region, you will realize how rich a state Assam is. Here, you will witness the romance between wildlife and culture. Dibrugarh also reflects the characteristics of its parent state, Assam. Visit this chilling small town at least once in your lifetime if you don't want to miss out on a splendid experience. So, shut your laptops, pack your bags and go! But before that, have a glance at the list of places to visit in Dibrugarh.
1. Dehing Patkai Wildlife Sanctuary

Spread over 111.19 sq. km, Dehing Patkai is the only rainforest in Assam. Located partly in Dibrugarh and partly in Tinsukia district, it has three parts: Dirok Rainforest, Upper Dihing River, and Jeypore. It also falls under two elephant reserves: Dehing Patkai Elephant Reserve & Dibru – Deomali.
This four-layered rainforest has a humongous variety of flora and fauna including species of Orchids and wild Bananas making it the foremost choice for Dibrugarh sightseeing. Put in numbers, more than 293 bird species, 47 species of mammals, 30 species of butterflies, and 47 reptile species, increase your probability of coming face-to-face with the wildlife. Look around for Pig Tailed Macaque, Hoolock Gibbon, Capped Langur, Asiatic Elephant, Black Panther, Tiger, Black Bear and Clouded Leopard.
Best Time To Visit: September to March is the best time to visit. If you come in February then you can also attend the Dehing – Patkai festival too.
How To Reach: The best way to reach this place is to rent a taxi or drive yourself.
Must Read: 7 Temples In Assam For A Spiritual Awakening In The Northeast
2. Joypur Rainforest: Green Paradise

Joypur Rainforest is a paradise spread over an area of 108 sq. km. Blessed with rains almost throughout the year, this forest tops the list of Dibrugarh tourist attractions for its biodiversity. Come here to find yourself surrounded by 102 species of Orchids and tall Holong trees reaching up to the height of 50 meters. Ajae, Segun, Nahar, Bohot, and Sam are the other common trees found here.
The ambience of this forest is highly favourable for the animal species residing here including Elephants, Hornbills, Leopards, Flying Squirrels, Pythons, Spotted Deer, and Langurs.
Best Time To Visit: the Second week of February is the best time to visit as you can participate in the Rainforest Festival and enjoy a number of adventure activities like rafting, camping, trekking, elephant riding and bird watching.
How To Reach: Rented cars are available from Naharkatia. Regular buses also run from Naharkatia, Guwahati and other nearby cities and towns. This is the cheapest option too.
Suggested Read: 18 Top Things To Do In Assam That Guarantee The Best Northeastern Holiday
3. Namphake Village: Glimpse Of Nirvana

If you are visiting Dibrugarh then you can't miss out this place. Just 37 kms away from the city is this settlement called Namphake Village, a home for many Tai Phakey families. Set up in the middle of abundant natural beauty and next to the river Burhi Dihing, you will get the vibes of this place the moment you step here.
The people living here are followers of Buddhism and Namphake speaks for itself. The beautiful Buddhist monastery in the village, considered a meditation center, is a major reason why Namphake is one of the most popular tourist places near Dibrugarh. A significant spot in the monastery is the Ashokan Pillar and the Buddhist Pagoda. The main temple also houses a statue of Lord Buddha made in gold and a holy water tank named Mucalinda Tank.
Best Time To Visit: October to March are the ideal months to visit as you can also enjoy many festivals including Poi-Nen-Chi festival in March and Poi-Nun-Hok dedicated to Lord Buddha. A chance of seeing traditional dance performances by village women comes as a perk of visiting during this month.
How To Reach: You can travel via Naharkatia which is the nearest town to Dibrugarh. Rental cars and cab services are available directly from Mohanbari to Namphake Village. Other local transports like rickshaws and taxis also run from the nearby local spots.
Suggested Read: 15 Best Assam Food Options For The Foodies Traveling To North East
4. Naharkatia: The Tea Town

If you have sipped at least one cup of tea in your lifetime then Naharkatia will be a "Know how do they make it?" kind of experience for you. A commercial town of the Dibrugarh district, this place has many tea gardens and villages. Naharkatia got its name from a historical tragic incident in which Prince Nahar was beheaded by an Ahom noble named Kalia.
Today, this town is emerging as a popular picnic spot in Dibrugarh district. You can also visit the beautiful villages, including Namphake, Sasoni Gojpuria, Merill Eco-Tourism, and Gobhuro Dolong, located in the close vicinity of the town. Another interesting spot in the town, the Vainavi Satra founded by Sriram Ata, is a religious site. Naharkatia also consists of the oldest oil pool of the state of Assam.
Best Time To Visit: Winters is the best season to visit Naharkatia but if you happen to be here during the Durga Puja Festival you will get to see the town beautifully illuminated with lights and the procession on the last day of puja.
How To Reach: You can board a train and reach the Naharkatia Railway Station directly. There are many private buses also that link Naharkatia to other nearby places including Dibrugarh, Namrup, Moran, Sibsagar, and Jorhat.
Suggested Read: 10 Beautiful Hill Stations In Assam One Must Visit To Rejuvenate The Senses
5. Radha Krishna Temple: Embracing Peace

If you are looking forward to having some spiritual peace, the Radha Krishna Mandir is where you must go. It is a white, Hindu shrine surrounded by beautiful green gardens located in Jalan Nagar. The serenity of this place will relax your mind. The temple's unique and defined architectural style is an add on to the reasons why people like to spend time here.
Apart from Radha Krishna Temple, there are other spiritual spots that you can visit in Dibrugarh that include: Koli Aai Thaan and satras like Dehing Namtii Satra, Garpara Satra, and Dehing Satra.
Best Time To Visit: Winter months are the most suitable time to visit Dibrugarh as the temperature drops to even 7-degree celsius.
How To Reach: Since this temple is located near the Assam Medical College which is a prominent spot in Dibrugarh, any local mode of transport like rickshaw or taxi will drop you here.
Suggested Read: 10 Beautiful Hill Stations In Assam One Must Visit To Rejuvenate The Senses
6. Shri Jagannath Temple: Replica Of Puri

Shri Jagannath Temple of Dibrugarh is a replica of the Jagannath Temple in Puri, Odissa. Located near the Mahatma Gandhi Park at Khanikar, this temple is also known as Shikshetra Dhaam.
Dibrugarh has many other temples in the city. The Raidongia Dol is one of the main shrines in the town and had 24 statues on the wall out of which only 14 can be seen today. The statues are about 45 feet high. This temple was established by Swargodeo Pramatta Singha in the 700 AD. Initially, it was dedicated to Lord Vishnu but later it came to be known as the Shiva Dol.
Best Time To Visit: One can visit this temple regardless of what month it is. Still, people prefer to explore Dibrugarh in the winter season due to the low temperature.
How To Reach: It is not far from the city centre and can be reached by taking any local transport.
Suggested Read: North East Trip: Explore The Seven Sisters, One Brother, And A Neighbor
7. Barbarua Maidam: Remains Of The Brave

The Barbarua Maidam is an exception in Dibrugarh's places to visit list because it is a graveyard. 14 kms away from the city, this place has two main graves of two high-rank officials from Ahom Dynasty. The size of their graveyard is huge and there are graves of other small ranking officials too. The structure of these graves is an interesting thing to see.
Best Time To Visit: Although it can be visited at any time of the year, people mostly head here in the winter season.
How To Reach: The Barbarua Maidam is located close to the NH37. You can take any local bus that goes on this route which will drop you at a walking distance from the spot. Rickshaws and taxis are also available in this place.
Suggested Read: Kaziranga National Park, Assam – Off To The World's Largest Home Of Rhinos
8. Dinjoy Satra: Get To Know About Assamese Culture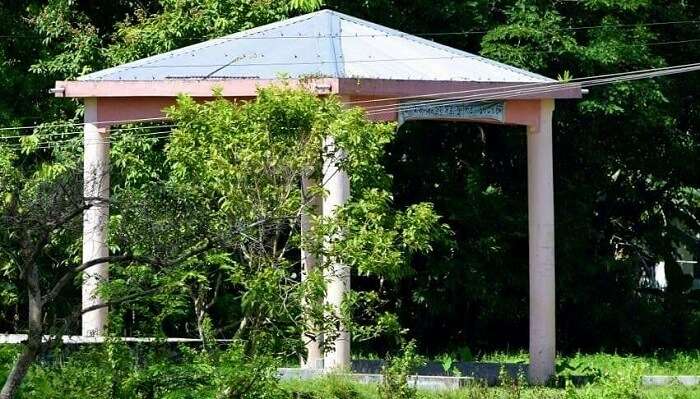 Initially established by Aniruddha Dev, Dinjoy Satra has been relocated several times but now it has settled to its present place. Like other Satras, this one too offers a chance to know the Assamese history and take a plunge into its culture. It now serves as one of the most top places to visit in Dibrugarh which is why this place is perfect for people who want to get in-depth knowledge about Assamese culture.
Best Time To Visit: Dinjoy Satra can be reached at any time of the year.
How To Reach: You can rent a cab from Naharkatia and reach Dinjoy Satra without any hassle. Or you can also find some rickshaws to travel as it is not far away.
Suggested Read: River Rafting In Assam: A Thrilling Experience In The Heart of Brahmaputra
9. Dehing Namti Satra: Calm Your Senses

Image Credit: Debasish Roy for Wikimedia Commons
Disclaimer: The image is for representation purposes only.
Dehing Namti Satra is nestled on the shore of the Disang River and it is one of the famous places to explore. It used to hold cultural significance during the Ahom Kingdom. When you explore this Satra, you can find some ancient relics from the time of Ahom. The history of this place will fascinate you which makes it an amazing place to visit. Moreover, the green surroundings calm your mind and allow you to breathe in the fresh air.
Best Time To Visit: One can visit Dehing Namti Satra at any time of the year. Though, people prefer to visit this place during winters when the temperature is low.
How To Reach: The only way is to drive yourself to the place.
Suggested Read: 6 Wildlife Sanctuaries In Assam For Spending A Day With The Nature
10. Jokai Botanical Garden: Explore North-East Flora & Fauna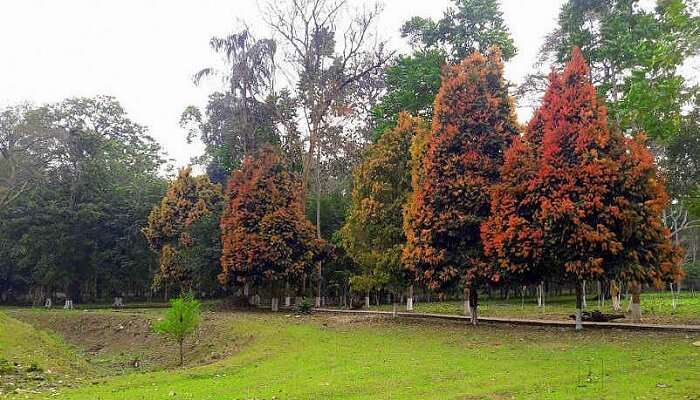 If you are a nature person then one of the best places to visit in Dibrugarh is Jokai Botanical Garden. It houses a wide variety of both flora and fauna species. From medicinal plants to orchids and aromatic plants, you might find everything here. To explore the Jokai Reserve, you can also opt for elephant rides and opt for boating. During the migratory season, you can also witness a range of birds in the reserve.
It is a perfect amalgamation of flora and fauna which makes it a perfect place for a weekend getaway from families. Jokai Botanical Garden is an ideal place to witness the rich flora and fauna of North-East India. It is the best place to soothe your eyes and to indulge in some nature therapy.
Best Time To Visit: Except monsoon, this place can be visited any time of the year. To get a glimpse of the migratory birds, the best time is in the migratory season.
How To Reach: If you are taking your own car with you then the best way is to drive yourself. Or you can head to the nearby town and hire a taxi to reach the botanical garden.
Suggested Read: 5 Picnic Spots Near Guwahati That Encompass The Beauty And Charm Of Assam!
How To Reach Dibrugarh?

There are several ways to reach Dibrugarh and they are – airways, railways, roadways, and waterways. Take a look at the detailed information here!
Airways: Mohanbari Airport is the nearest airport located 15 km from the city. There are direct flights available from Delhi and connecting flights between Delhi via Kolkata and via Guwahati.
Railways: The first North-Eastern railway service had started in Dibrugarh. Trains from Dibrugarh Town Railway Station connect the city with all the major cities of India including New Delhi, Bangalore, Chennai, Kochi, Quilon, Trivandrum, Kolkata, Kanyakumari and more.
Roadways: Dibrugarh has three bus terminals:- ASTC bus terminus (Chowkidinghee), Murlidhar Jalan Bus Terminus (Malakhubasa) and AMCH bus terminus (Borbari). Volvo and other buses run at frequent intervals to areas within Assam and nearby states.
Waterways: Dibrugarh has a developed waterway system known as National Waterway 2 which extends from Bangladesh Border to Sadiya. There are luxury cruise services also available to Dibrugarh linking Tezpur and Kaziranga National Park.
Further Read: 15 Best Assam Food Options For The Foodies Traveling To North East!
You may fall short of holidays but you will never have enough of this paradise. And if you still have some time left, go on a shopping spree for silk products. Being a part of Assam which is well known for silk, Dibrugarh also has the best quality and wide collection of silk clothing and products available on stores. This rejuvenating holiday will recharge you much enough to face your Monday blues. There are so many places to visit in Dibrugarh. Don't wait anymore, pick this guide up, get packed, plan your Assam vacation and just get-set-go to this heaven in the upper Assam.
For our editorial codes of conduct and copyright disclaimer, please click here
Frequently Asked Questions About Places To Visit In Dibrugarh
Is it safe to visit Dibrugarh in the upcoming weeks or months?
The tourism industry is slowly reopening, so you can visit most of the above-mentioned places and more in Dibrugarh. But don't take our word for it, just make sure you travel in a small group and keep updating yourself about the latest news and guidelines concerning Covid-19.
What is Dibrugarh famous for?
Dibrugarh is known for its tea and oil industries. There are also many great places to visit in Dibrugarh which it is quite famous for.
Which river flows through Dibrugarh?
The Brahmaputra River flows through Dibrugarh. Dibrugarh also has a great waterway network that extends from Sadiya to Bangladesh border.
Which city is known as the 'Tea City of India'?
Dibrugarh is known as the 'Tea City of India' because it is the gateway to the three tea producing areas of India.
Does Dibrugarh have an airport?
Yes, there is an airport named Dibrugarh airport which is just 15 kilometres away from the town.
Are there good places to visit in Dibrugarh?
Yes, there are many exciting places that you can visit in Dibrugarh. Joypur Rainforest, Shri Jagannath Temple, and Dehing Patkai Wildlife Sanctuary are some of those.
What is the best time to visit Dibrugarh?
The best time to visit Dibrugarh is from October to March. The weather is pleasant and you would be able to explore the destination comfortably.
What can I shop for in Dibrugarh?
Handicrafts, slippers and pickles are some of the popular things that you can shop for in Dibrugarh
---
People Also Read:
Places To Visit In Jammu Places To Visit In Srinagar Places To Visit In Konkan