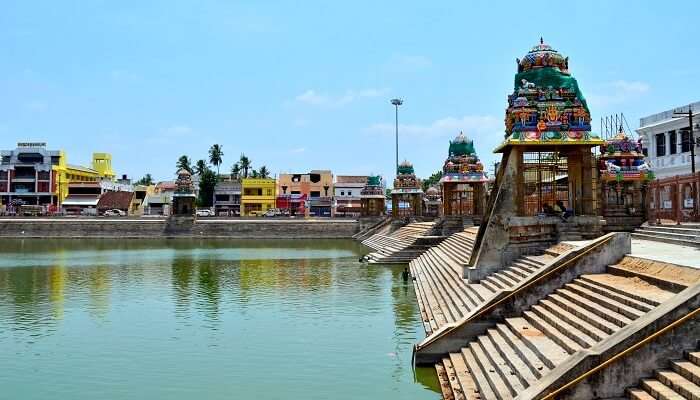 Kumbakonam is an exhilarating town nestled in the Thanjavur district. Famed as the City of Temples, Kumbakonam is an abode of enchanting temples. During the British Raj, Kumbakonam was called the Cambridge of South India as this city was the main centre of Hindu culture and European education. With a plethora of impressive tourist attractions, Kumbakonam makes for an incredible destination for an elating escape. Not only the places to visit in Kumbakonam will keep you busy the whole day but they will ecstatically please the inner travel enthusiast in you! Before leaving for your reviving vacay, check out this guide that'll make everything super easy for you!
11 Best Places To Visit In Kumbakonam
The City of Temples has a lot to offer to all travellers and the best way to make the most of your vacation is by exploring all the best places to visit in Kumbakonam. Here is a list of the best ones that you must pay a visit to. Take a look!
1. Raja Raja Cholan's Memorial

Image Credit: tamilnadutourism.com
Located in the quaint village of Udayalur in Kumbakonam, Raja Raja Cholan's Memorial is dedicated to the great ruler of the Chola dynasty called the Raja Raja Chola I. This brave ruler expanded his territory till Sri Lanka and was a famous ruler. It is believed that Udayalur was the place where Raja Raja Chola peacefully rested in the end days of his life. Though the circumstances of his death are unknown, a memorial was built in Udayalur village under a tree to commemorate his death.
Location: Udayalur, Kumbakonam
Suggested Read:50 Best Tourist Places In Tamil Nadu Ensuring The Most Awesome Vacay
2. Adi Kumbeswarar Temple

Image Credit: Ssriram mt for Wikimedia Commons
Kumbakonam is known as the Land of Temples and any visit to this town will be incomplete without exploring the most beautiful temple. Adi Kumbeswarar Temple is one of the most popular places to visit in Kumbakonam and was built while the Chola Dynasty ruled. The main deity worshipped in Adi Kumbeswarar Temple is Lord Shiva and you can spot a lot of pilgrims at this temple. A Lingam was made in the temple that represented Adi Kumbeswarar or Lord Shiva. This temple has an iconic structure and you can witness the mesmerizing lingam at the main shrine located in the center.
Location: Thanjavur Main Road, Kumbakonam, Tamil Nadu
Main Deity: AdiKumbeswarar, Mangalambigai
3. Nageswaraswamy Temple

Image Credit: Richard Mortel for Wikimedia Commons
Considered as one of the prettiest places to visit in Kumbakonam, Nageswaraswamy Temple was constructed by Aditya Chola in the 9th century. Lord Shiva is worshipped in the form of Nageswaran in this temple. Nageswaraswamy Temple is a paragon of building technology, astronomy, and architecture style followed in the Chola Dynasty. This temple is one of the main Shiva temples in Kumbakonam where the Mahamaham festival is celebrated. To calm your body and mind, you should visit this temple in the morning and attend the morning prayer.
Address:: Nageswaran N St, Gandhi Adigal Salai, Valayapettai Agraharam, Kumbakonam, Tamil Nadu
Deity: Nageswaran
Suggested Read:7 Festivals Of Tamil Nadu That'll Take You Close To The Traditions Of The State
4. Mahamaham Tank

Image Credit: Shanze1 for Wikimedia Commons
Situated in the heart of Kumbakonam, Mahamaham Tank is the largest tank in Tamil Nadu. Being one of the most famous places to visit in Kumbakonam, Mahamaham tank attracts a lot of travelers every year. On the Masimaham festival, around 1 lakh tourists visit this tank. This festival is celebrated in a grand way at the Mahamaham Tank in Kumbakonam. Shaped as small springs, this tank has 21 wells and each of these wells is dedicated to a god or goddess. To attend the Masimaham festival you must visit this town in February or March. Kumbh Mela festival is another wonderful festival that is celebrated at this tank once in every 12 years.
Location: Kanmani Devi Nagar, Kumbakonam, Tamil Nadu
Architectural Style: Dravidian
5. Kasi Viswanathar Temple

Image Credit: Wikimedia Commons
Kasi Viswanathar Temple is another ancient temple that deserves a spot on your list of places to see in Kumbakonam. Located on the banks of Mahamaham tank, the presiding deity in this temple is Lord Shiva and he is worshipped as Kasi Viswanathar. An idol of goddess Parvati or Visalakshi is also present at this temple. Kasi Viswanathar temple is locally known as Nava Kanniyar' temple and is a serene place where you can meditate in the morning or evening. Attend the evening aarti, and meditate to replenish your soul.
Location: Lal Bahadur Sastri Rd, Anna Nagar, Kumbakonam, Tamil Nadu
Deity: Kasi Viswanathar; Visalakshi
Suggested Read:Monsoon In Tamil Nadu: See The 8 Most Wonderful Places To Explore
6. Kumbakonam Town Hall

Image Credit: The EnforcerOffice for Wikimedia Commons
Kumbakonam Town Hall is located in the heart of the city. The town hall is an extremely ravishing white structure that will catch your attention by its charm. It is not a tourist attraction but one of the best places to see in Kumbakonam while you are taking a stroll around the city. As soon as you enter its premises you will see an idol of Lord Krishna in the centre and in the background is the impeccable white structure. Click pictures at the town hall for making your vacation memorable.
Location: Dr Besant Rd, Anna Nagar, Kumbakonam
7. Sarangapani Temple

Image Credit: Wikimedia Commons
Sarangapani Temple in the Thanjavur locale of Tamil Nadu pays an ode to Lord Vishnu. This destination is just 2.4 km from the railroad station at Kumbakonam and you can take a cab or taxi or local transport to arrive at this temple from the station. This is considered as one of the 108 Divya Desams in the Hindu culture and the 12 holy people, otherwise called alwars, have sung many commendations of the sanctuary in their works. This place is also one of the key temples of Maha Vishnu in southern India.
Location: Valayapettai Agraharam, Kumbakonam, Tamil Nadu 612001
Suggested Read:12 Honeymoon Places In Tamil Nadu For A Romantic Getaway
8. Arulmigu Chakrapani Swami Temple

Image Credit: Wikimedia Commons
Located at a distance of 2 km from the Kumbakonam Railway Station, Chakrapani Temple is a Hindu temple where visitors can observe prayers dedicated to Vishnu situated in Kumbakonam.
Location: Chakrapani Sannathi Street, Kumbakonam, Tamil Nadu 612001
9. Airavatesvara Temple

Image Credit: Wikimedia Commons
This Hindu temple of Dravidian is situated in the town of Darasuram, close to Kumbakonam in Tamil Nadu. Constructed by Rajaraja Chola II in the twelfth century CE is a UNESCO World Heritage Site.
Location: Gurunathan Pillai Colony, Dharasuram, Kumbakonam, Tamil Nadu 612702
Suggested Read:7 Airports In Tamil Nadu For An Awesome Flying Experience
10. Thenipuriswarar Temple

Image Credit: Wikimedia Commons
Thenupuriswarar Temple is an establishment that pays an ode to God Shiva situated and located near the town of Patteeswaram. While the primary deity that people worship in this temple is Patteeswarar or Thenupuriswarar, there are also ceremonies dedicated to Goddess Parvati or Palvalainayagi.
Location: W8FV+WW7, Patteeswaram, Tamil Nadu 612703
11. Swamimalai Murugan Temple

Image Credit: Wikimedia Commons
Swamimalai Murugan Temple is a Lord Murugan sanctuary in Swamimalai close to Kumbakonam. Nestled on the banks of a feeder of the Cauvery river stream, it is one of the Arupadaiveedu, one of the six principle habitations of Lord Murugan.
Location: 10, Vatampokki Street, Taluk, Swamimalai, Kumbakonam, Tamil Nadu 612302
Suggested Read:12 Honeymoon Places In Tamil Nadu For A Romantic Getaway
How To Reach Kumbakonam
Take a look at the best ways that you can reach this town in Tamil Nadu for your next vacation. Choose the one that suits your budget and comfort level so that you enjoy the whole experience!
By Air: The nearest airport to Kumbakonam is Tiruchirappalli International Airport. You can hire a taxi to the town from this airport and reach in around 2 hours.
By Train: Kumbakonam railway station is connected to all the cities in Tamil Nadu and you can book a train and reach it easily.
By Bus: The local bus stand is connected to all the major cities and if you prefer to travel on a bus then you can book your ticket to the Kumbakonam bus stand.
Suggested Read:Mahabalipuram In Tamil Nadu: Explore The Unique Culture Of Southern India
Best Time To Visit Kumbakonam
To explore the superb tourist places in Kumbakonam, you must plan your visit at the right season. The summers and monsoons are really hot and the best time to visit Kumbakonam is in the winter season. The weather in the winter season is pleasant and the nights are cooler. Plan your trip from November to March and get ready to experience bliss in Kumbakonam. The temperature during these months normally ranges between 20°C and 26°C.
An invigorating town in South India, Kumbakonam offers all solace seekers a chance to visit the stupendous temples where they can meditate and relax. Are you ready for a soul-satisfying vacation in Tamil Nadu? Do check out this list of remarkable places to visit in Kumbakonam for making your escape an unforgettable experience. Carry your cameras to capture the beauty of this town and cherish the memories with your friends and family back at home!
For our editorial codes of conduct and copyright disclaimer, please click here.
Frequently Asked Questions About Kumbakonam
Which are the best hotels in Kumbakonam?
The best hotels in Kumbakonam where you can enjoy a relaxing stay are listed below! 1. Indeco Hotels Swamimalai 2. Kyriad Prestige 3. Hotel Riverside Resorts & Spa
Which are the most famous restaurants in Kumbakonam?
Some of the most popular restaurants where you can dine on your vacay are Sri Mangalambika Vilas, Mangalambiga Coffee and Tiffin Center, and Hotel Shanmuga.
Is Kumabakonam safe?
Kumbakonam is located in the Thanjavur district. and attracts a lot of travelers. Yes, it is a completely safe town for a vacation.
How many days are enough for exploring Kumbakonam properly?
To visit all the temples and other tourist attractions in Kumbakonam, you must plan your vacation for at least 3 to 4 days.
People Also Read:
Places To Visit In Belur Places To Visit In Sakleshpur Places To Visit In Karnataka