In the southern region of the Andaman Islands lies the stunning Neil Island, a small yet picturesque island located just 37 km away. With pristine coral reefs, diverse flora and fauna, white sandy beaches and lush tropical forests, it is a must-visit destination for tourists seeking a serene getaway in the Andamans. Known as the "vegetable bowl" of the region, most of the places to visit in Neil island are perfect for eco-friendly tourists looking for a peaceful retreat. Connected by a daily speedboat from Port Blair and a soon-to-be-operated seaplane service, Neil Island offers a refreshing escape from the hustle and bustle of everyday life. The entire island can be explored on foot in just two hours, making it an ideal spot for a relaxing stroll along its long, tranquil beaches.
Top-rated Places To Visit In Neil Island
If you are looking for the best places to visit in Neil Island, read our expert-curated guide below:
1. Howrah Bridge

Image Credit: Ankur Panchbudhe for Flickr
Nestled in the heart of Neil Island lies a natural wonder that has been drawing travellers from far and wide—the Howrah Bridge. This stunning formation is made up of two living natural corals, sculpted into the shape of a bridge, and is a popular spot for visitors to witness the beauty of the island. Originally named Rabindra Sethu by early Bengali settlers, it has since been referred to as the Howrah Bridge. If you are already planning to cover the distance from Port Blair to Neil Island, this place is a must-visit.
Winter In Andaman: A Guide To An Awesome Vacation In 2022!
2. Laxmanpur Beach

Image Credit: Ankur Panchbudhe for Flickr
Laxmanpur Beach on Neil Island is a stunning stretch of sand that is split into two parts, each with its own unique appeal. Laxmanpur Beach I is the perfect spot to witness the stunning sunset views that are so beloved by tourists from around the world. Meanwhile, Laxmanpur Beach II is home to two natural arch bridges, affectionately called Howrah Bridge.
3. Bharatpur Beach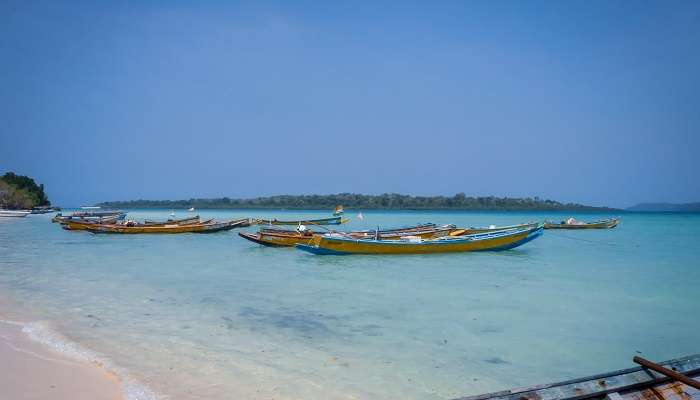 As you step off the Neil Jetty, the magnificent Bharatpur Beach awaits you with open arms. With a long stretch of soft sand and picturesque views, it's no surprise that tourists from all over the world are drawn to this paradise. The beauty of this beach is simply unparalleled and is also the hotspot for all kinds of exciting water sports activities on Neil Island.
Our Port Blair In December Guide Will Give Flight To All Your Tropical Dreams
4. Sitapur Beach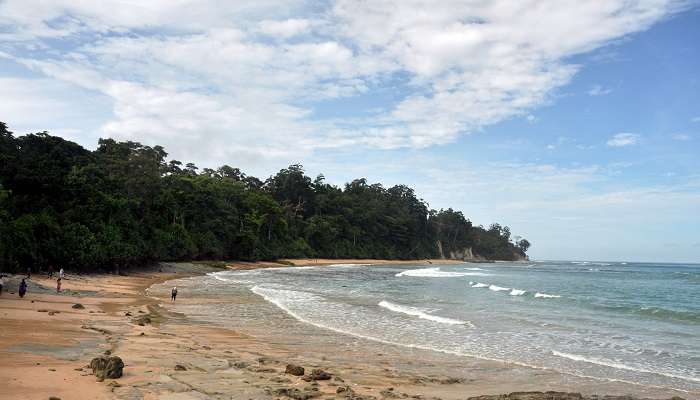 Image Credit: Biswajit Majumdar for Wikimedia Commons
Sitapur Beach, located on the southern tip of Neil Island (Shaheed Dweep), is a hidden gem that offers a peaceful and serene experience to travellers. Spanning 5 kilometres, the beach is cocooned by lush greenery on three sides, while the fourth opens up to a breathtaking view of the vast sea. Unlike the mainstream beaches, Sitapur Beach has managed to stay relatively undiscovered, preserving its natural and raw beauty, and making it one of the best tourist places in Neil Island.
5. Ram Nagar Beach

Image Credit: Himanshu Jariyal for Unsplash
Ramnagar Beach, located in the village of the same name, offers a serene escape for travellers seeking a quiet and tranquil experience. Located 70 kilometres away from Mayabunder, and 35 kilometres from Diglipur, this pristine beach is perfect for swimming and offers a refreshing break from the hustle and bustle of city life. Ramnagar Beach is also renowned for turtle nesting, making it a popular spot for nature lovers.
Water Sports In Neil Island: A Handy Guide On What Not To Miss Out On
From the places to visit in Neil Island to thrilling things to do inland and beyond, the Andaman Islands beckon travellers from around the world with their unspoiled sandy beaches and pristine natural beauty. Explore our Andaman tour packages to learn more.
Cover Image Credit: Ravigopal Kesari for Unsplash
For our editorial codes of conduct and copyright disclaimer, please click here.
Frequently Asked Questions About Places to Visit in Neil Island
What are the top tourist attractions in Neil Island?
The top tourist attractions in Neil Island are the natural rock formation Howrah Bridge, Bharatpur Beach, Laxmanpur Beach, Sitapur Beach, and Natural Bridge.
What is the best time to visit Neil Island?
The best time to visit Neil Island is from October to May, as the weather during these months is pleasant with less rainfall and calm sea conditions.
How do I reach Neil Island?
To reach Neil Island, one needs to take a flight to Port Blair, and then a ferry or speedboat from Phoenix Bay Jetty in Port Blair to Neil Island. The journey takes about 2-3 hours.
What is the ideal duration of a trip to Neil Island?
A 2-3 day trip is enough to explore the major tourist attractions in Neil Island. However, if you wish to take things at a leisurely pace and experience the island life, you can extend your stay to up to a week.
What are the popular activities to do in Neil Island?
The popular activities to do in Neil Island are scuba diving, snorkelling, swimming, sunbathing, cycling, and exploring beautiful beaches and natural attractions. Visitors can also enjoy local cuisine and shop for souvenirs.
People Also Read:
Places To Visit In Dandeli Places To Visit In Nainital Places To Visit In Alleppey