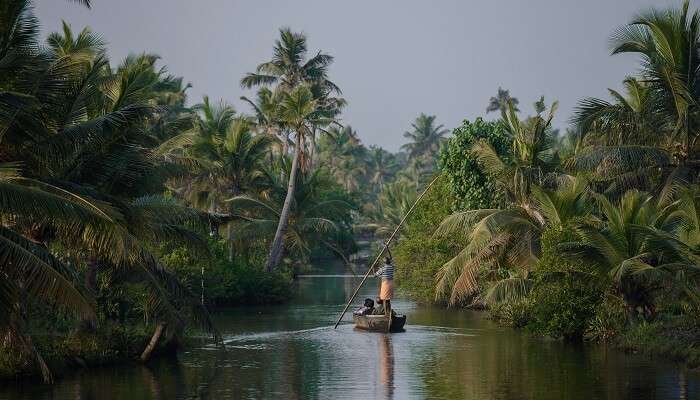 Munroe Island is a hidden gem among the beaches of Southern India, and part of us wishes to keep it that way! Tucked away off the coast of Kerala, Munroe Island is a small, unspoiled paradise with limited commercial development. As a result, the beaches are serene, and the few resorts offer an exclusive experience, with countless things to do in Munroe island. The long stretches of soft sand provide the perfect setting for light water activities like kayaking and stand-up paddle boarding, while the coral reefs in close proximity to the shore are great for snorkelling. Boating in Munroe island is a highly recommended one. Munroe Island's charming downtown area is lined with seaside cafes, and for history buffs, there are plenty of opportunities to explore the local culture.
The Best Things To Do In Munroe Island
If you are exploring the southern stretches of India, we absolutely recommend adding to your itinerary the below-mentioned things to do in Munroe Island:
1. Climb up to the top of the Munroe viewpoint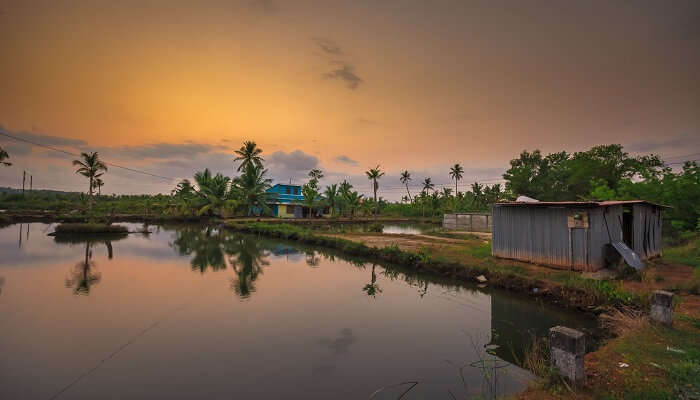 If you're looking for a breathtaking view of Ashtamudi Lake, then the S-curve viewpoint which is also known as the Munroe viewpoint in Munroe Island is the perfect spot for you. From here, you can hire boatmen for an unforgettable canoe tour of the surrounding waters. These expert guides offer a range of packages, each with varying time durations and types of boats to suit your preferences. A straight road leads you to the backwaters, where you can soak up the stunning natural beauty of the area, making it one of the best things to do in Munroe island.
57 Best Places To Visit In Kerala For A Vacation To Remember In 2023
2. Tour the AD 1878 Dutch Church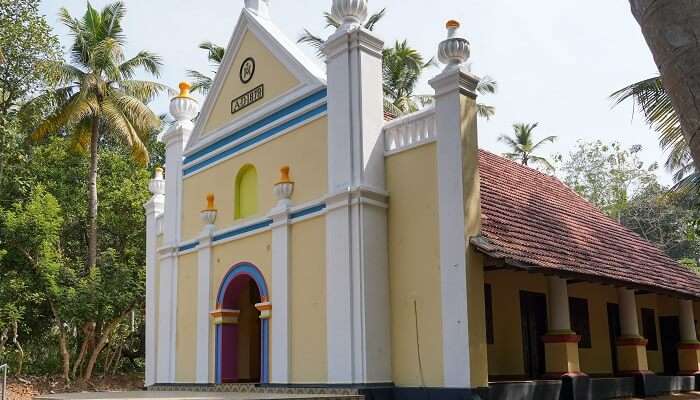 Image Credit: Timothy A. Gonsalves for Wikimedia
In Munroe Island, Kollam, the Dutch Church stands as a testament to the region's rich cultural history. Originally built by the Dutch in 1878, this red brick church on the shores of Lake Ashtamudi showcases a unique blend of Dutch-Kerala architecture. Today, it is looked after by the only Christian family in the area, with the annual church festival being celebrated with the support of the local Hindu community.
3. Take a canal cruise through Munroe Island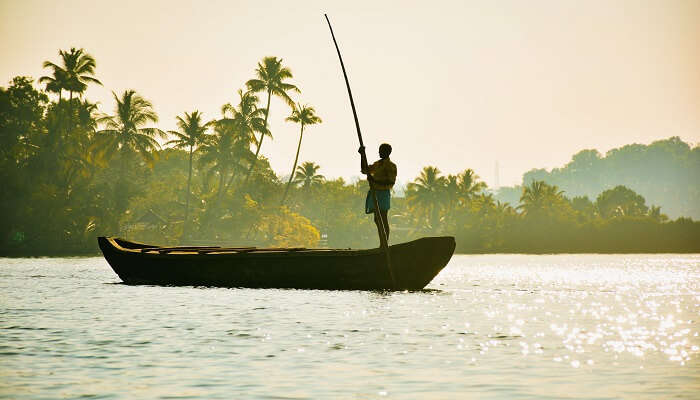 To truly experience Munroe Island, taking a canoe ride is highly recommended, though travellers should be mindful of low bridges spanning the narrow canals. Along the way, prawn farms and mangrove forests offer captivating scenery. While the island used to be a leading producer of coir and coir products, nowadays it's become a popular destination not just for tourists, but also for photographers and birdwatchers, thanks to its breathtaking views. Kayaking in Munroe island is also a popular activity. If you are looking for creative places to stay in Munroe island, you can also book a houseboat.
35 Charming Places To Visit In Alleppey, Kerala For A Perfect Vacay In 2023
4. Experience local southern delicacies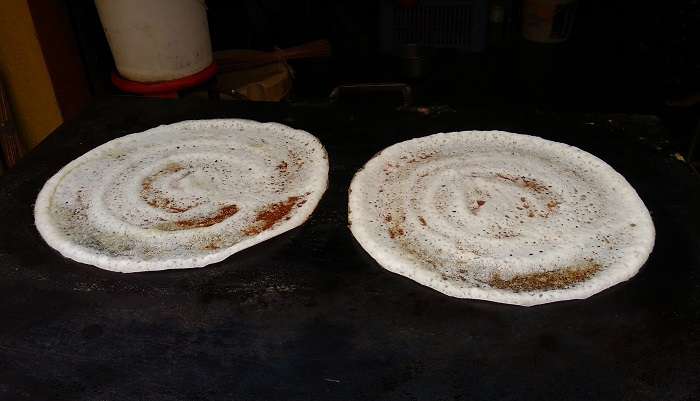 Munroe Island cuisine is influenced by the local Kerala cuisine and features a variety of delicious seafood dishes, including fish curry, prawn fry, and crab roast. The region is also known for its unique rice dishes, such as the fragrant biryani and the savoury ghee rice. Coconut is a prominent ingredient in many dishes, adding a sweet and nutty flavour to the cuisine. The food is one of the best parts of a Munroe island tour.
5. Watch the sunset from the Perumon railway bridge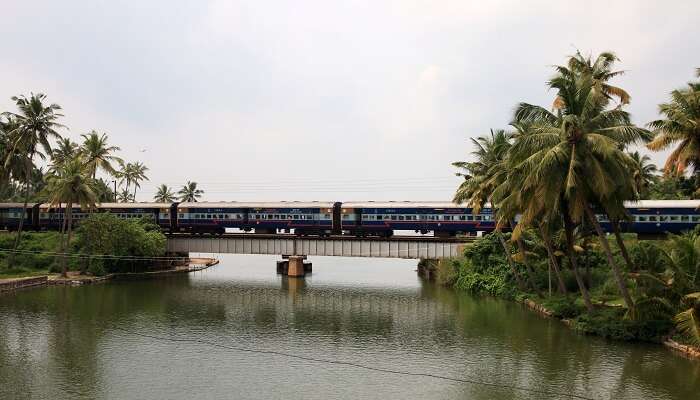 The Perumon railway bridge in Kollam, Kerala provides a stunning backdrop for a picture-perfect evening. Climb up the bridge to watch the colours change and enjoy a local snack while spending some quiet time reflecting on the destination and your day.
An Ideal Post-Covid Travel Guide To Kerala: Sojourning The Land Of Backwaters Again
6. Drink up at Munroe Mocktail

Image Credit: Markus Winkler for Unsplash
The Munroe Mocktail is a local shop serving refreshing and unique drinks in Munroe Island, Kerala. Made with locally-sourced ingredients, including coconut water and fresh mint, this place offers a delicious taste of the region's flavours. Mocktails are often served in a tall glass and garnished with a slice of lemon or lime, it's a perfect way to cool off on a hot day while enjoying the island's scenic beauty.
How To Reach Munroe Island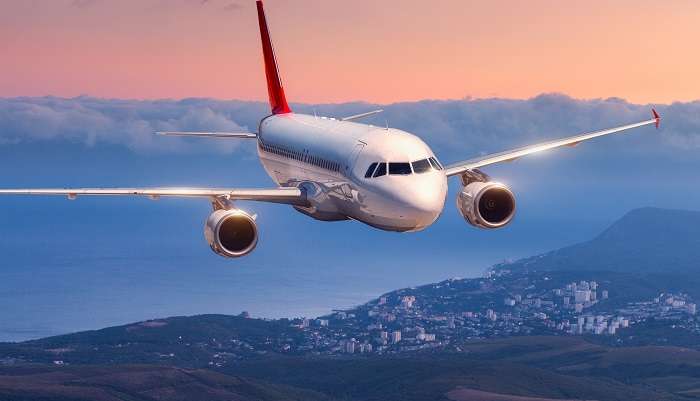 In order to reach Munroe Island, one can travel by road, air, or rail. The distance to be covered varies depending on the starting location. Those opting for a road trip can enjoy village life and scenic views en route. Trivandrum Airport is the nearest airport, with flights from all over India. From there, it's an 80km journey via taxi or bus. Kollam junction railway station is the closest railway station, with trains from all over the country. Flight and train options from various cities like Delhi, Mumbai, Kolkata, and Bengaluru are available.
If you are looking for how to reach Munroe island from Varkala, you can hire a taxi or take a bus from Varkala to Kollam, which is the nearest major city to Munroe Island. From Kollam, you can hire a taxi or take a local bus to Munroe Island.
Kovalam In December 2022: Explore This Touristy Seaside Town In Kerala
The many things to do in Munroe Island are both filled with adventure and culture-driven, resulting in tranquil beach experiences that provide an idyllic setting for a much-needed retreat. Explore our Kerala tour packages to learn more.
For our editorial codes of conduct and copyright disclaimer, please click here.
Frequently Asked Questions About Things to Do in Munroe Island
What is Munroe Island?
Munroe Island is a small island located in the backwaters of Kollam district in the Indian state of Kerala. It is named after Colonel John Munroe, a British Resident who served in the erstwhile princely state of Travancore.
How to reach Munroe Island?
The nearest airport to Munroe Island is the Trivandrum International Airport, which is approximately 80 kilometers away. From there, you can hire a taxi or take a bus to reach the island. The nearest railway station is Kollam Junction, which is around 25 kilometers away. From there, you can hire a taxi or take a bus to reach Munroe Island.
What are the popular tourist attractions in Munroe Island?
Some of the popular tourist attractions in Munroe Island include the Kallada Boat Race, which is held in the month of September, the Munroe Island backwaters, the Munroe Island canal cruise, and the Munroe Island village walk.
What are the best activities to do in Munroe Island?
Some of the best activities to do in Munroe Island include taking a canoe ride through the backwaters, enjoying a traditional Keralan meal, watching the sunset over the backwaters, and exploring the small villages and temples around the island.
When is the best time to visit Munroe Island?
The best time to visit Munroe Island is between the months of October and March, as the weather is pleasant and there is less chance of rainfall. The monsoon season, which runs from June to September, can make the backwaters swell and the roads muddy, which may make it difficult to travel around the island.
People Also Read:
Things To Do In Goa Things To Do In Odisha Things To Do In Jim Corbett