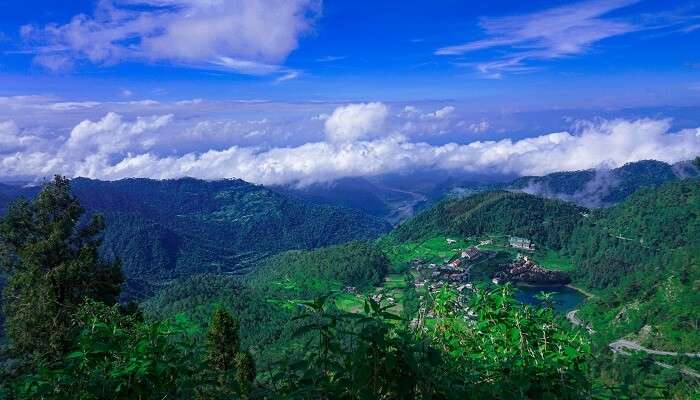 Lying in Kosiyakutoli tehsil of Nainital district in Uttarakhand, Pangot is a hillside hamlet known for its diverse bird population and serene surroundings. The destination lies around 12 km from Nainital and makes a perfect haven for bird watching enthusiasts and nature-lovers. Surrounded by the dense forested area, Cheena Peak Range, places to visit in Pangot offer a striking variety of flora and fauna. While visiting here, travelers can spot 200-300 species of bird. While the destination is home to a few attractions, nearby places like Nainital, Bhimtal, Naukuchiatal features an array of tourist spots you can club with your Pangot trip. Check out the hand-picked ones below and head on a soulful journey with your loved ones.
6 Best Places to Visit in Pangot
Before you plan a trip to Pangot, do give a check to the below listed places and incorporate them into your itinerary to enhance your vacation.
1. Kilbury Bird Sanctuary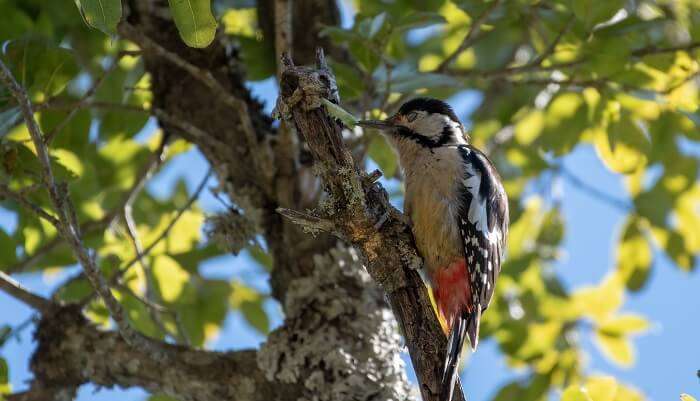 Positioned in the soulful village of Pangot, Kilbury Bird Sanctuary is a treat for nature enthusiasts and bird lovers. To witness the best of it, plan a visit during the early hours of the morning. Enjoying the surroundings of pine, oak, and rhododendron forests, the sanctuary is a perfect place to detoxify your soul. Moreover, you can also spot birds like Forktails, Collared Grosbeaks, White-throated Laughing Thrushes, Brown Wood-Owls. The chirping birds make the sanctuary one of the best places to see in Pangot.
15 Best Things To Do In Nainital For An Amazing Holiday
2. Naina Peak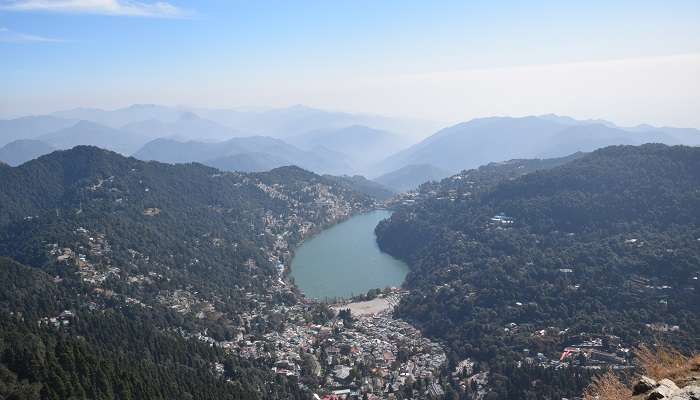 Positioned at a height of 2,615 m above sea level, Naina Peak offers a magnificent view of Nainital. The spot offers photography and adventure opportunities for vacationers. The lush green route will take you through the dense forests of cypress, pine trees, oak, and deodars. You can complete the 6 km trek in an hour or two. So, if you are a trekking enthusiast, add Naina peak to your Pangot sightseeing.
3. Nainital Lake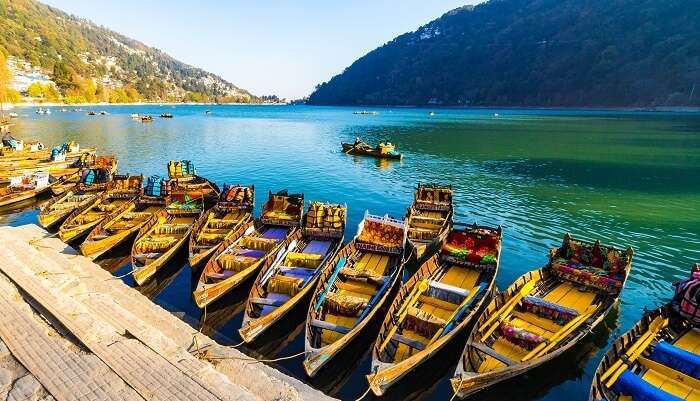 Lying amid the town of Nainital in Kumaon, Nainital Lake is the biggest lake in the region. Surrounded by lofty hills, the lake offers a majestic view of the nearby areas. While visiting here, you can either spend your day by the lake and adire its charm or take half or a full boat ride to enjoy the view from all sides. Notably the timings for boating are from 6:00 am to 6:00 pm.
32 Best Places To Visit In Nainital For An Incredible Vacation
4. Snow View Point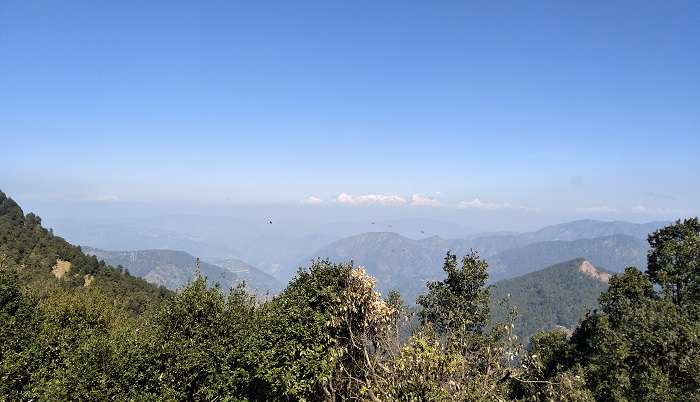 Lying just 2 km from Nainital, Snow View Point is a perfect place to enjoy the picturesque vistas of the snow-clad Himalayan tops. At the snow point, you will find some gigantic binoculars offering a clear view of the Nanda Devi peak, Nanda Kot peak and the Trishul peak. Besides this, the binoculars will also show you a snow-capped temple residing images of Lord Shiva, Lord Rama, Lord Lakshman, Goddess Sita, Lord Hanuman, and Goddess Durga.
5. Goddess Naina Devi Temple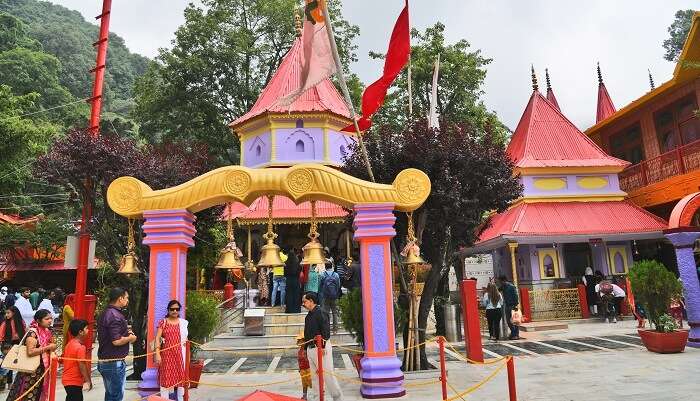 Positioned on the Northern end of the Nainital lake, Naina Devi temple is a holy site dedicated to goddess Naina Devi. The temple receives a huge influx of travelers from far and wide owing to its reputation for being one of the 51 Shakti Peeths. Inside the temple is a self-formed Pindi and a Ganesha idol which lies on the main entrance. Besides this, there's also a sacred fig that is said to be in existence for many sanctuaries.
13 Best Places To Visit In Bhimtal For The Peace Loving Mountain Traveler
6. Tiffin Top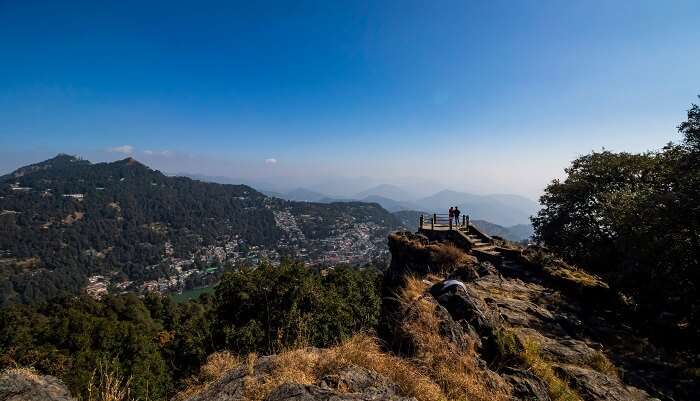 Also known as Dorothy's Seat, Tiffin top is a hilltop offering a striking view of the city and nearby Kumaon mountains. The spot lies 2290 m above sea level and makes a perfect base for spending a picnic and clicking some breathtaking nature's shots. To reach the top you can either head for a 4 km easy trek or go for a pony ride that will cost you around INR 600. Besides this, the hours between 8:00 am and 5:30 pm are favorable to witness the best of this place.
Pangot is a destination in Uttarakhand which is still unknown to many. Although there are a few places to visit in Pangot, the vibe of this place is enough to keep you glued. Moreover, you can visit nearby destinations like Nainital, Naukuchiatal, and Bhimtal which are just a few kilometers away. So, if you are planning an Uttarakhand Trip, spare a few days to this hidden gem and get your soul rejuvenated.
For our editorial codes of conduct and copyright disclaimer please click here.
Frequently Asked Questions About Places to Visit in Pangot
Which are the best places to visit in and around Pangot?
Some of the best attractions you can visit in and around Pangot are:
1. Pangot and Kilbury Bird Sanctuary
2. Naina Devi Bird Reserve
3. Naina Peak
4. Nainital Lake
5. Snow View Point
6. Goddess Naina Devi Temple
7. Tiffin Top
When is the best time to visit Pangot?
Pangot is one of those destinations where you can travel year round. However, the months from March to June and September to November allow you to witness the best of it. During these months, you will get to witness an array of colorful birds.
Does Pangot experience snowfall?
Yes, you can witness snowfall in Pangot between the months from December to February.
Where can I stay in Pangot?
Here are some best places to stay in Pangot:
1. Pangot Himalayan View
2. Moksham Himalayan Campsite
3. Hotel Aranya Virasat
4. Hotel Monal Inn
5. The Oak Trails Eco Lodge
6. Janardan Resort
Which is the nearest airport and railway station to Pangot?
The nearest train station from Pangot is Kathgodam Railway Station which is around 52.4 km away. Besides this, Pantnagar Airport is the closest Airport from Pangot lying at a distance of 86.4 km from it.
People Also Read:
Places To Visit In Uttarakhand Places To Visit In Haldwani Places To Visit In Nainital