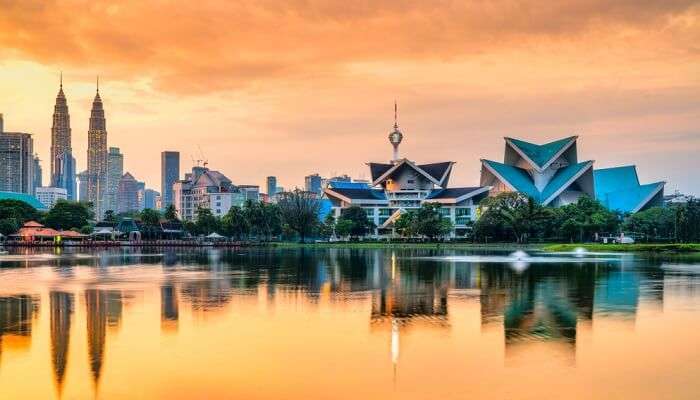 Friends and fun go hand in hand and are as inseparable as spices and food. Literally, the first thing that comes to mind as soon as someone mentions friends is a hell lot of fun, good food and maybe some drinks too(wink) and a lot of good memories and the embarrassing ones. A group of friends in itself means fun and we absolutely agree with that. Just saying, a friends trip means all of this plus an unexplored land and some cherishable memories. Taking a friends' trip to Malaysia is what you should be doing. We kid you not, it's one of the best things that you can do to yourself and your group. Malaysia is home to a beautiful city named Petaling Jaya or as the locals like to call it, PJ. There are just so many places to visit in Petaling Jaya with friends that you will only be thinking one thing and that would be, 'Why didn't I visit it earlier?' Thank us later.
Petaling Jaya got the status of a city in 2006 and since then this beautiful destination has only progressed, in terms of tourism and everything else. It offers so many fascinating places to explore that one simply cannot resist the charm. From temples to theme parks you will find everything in Petaling Jaya which will make your Malaysian vacation a hundred times better. You will just want to keep going back to Malaysia for once is never enough and especially not for the great places to visit in Petaling Jaya. We tell you all this because we want you to have the most amazing friends' trip to Malaysia and you shouldn't be missing out on the best. Without further ado let's just jump to the point for which you are here. Let's talk about the best places to visit in Petaling Jaya.
5 Best Places To Visit In Petaling Jaya With Friends
Petaling Jaya is all about beauty and some really cool experiences. We can't put into words how much fun you are gonna have. Petaling Jaya is one of those beautiful places that will leave a lasting impression on your memory and will be etched in your heart forever. From the ever so beautiful Tasik Biru Seri Kundang to the very exciting Petaling Street Market, there are so many places to visit in Petaling Jaya with friends that you will be surprised. 
1. Sultan Abdul Samad Building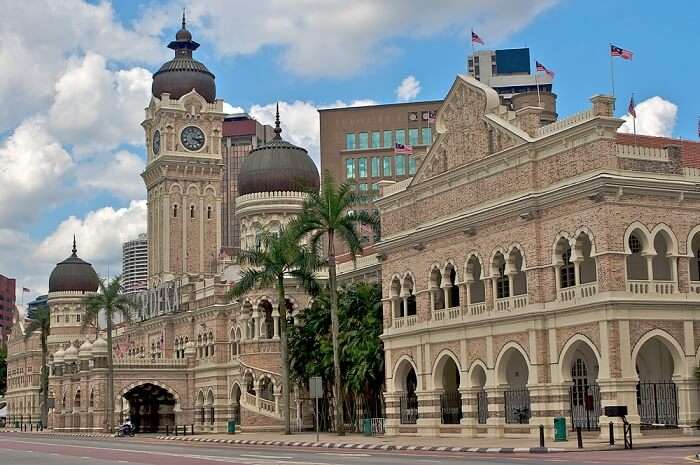 Built in 1897, Sultan Abdul Samad Building is one of the oldest Moorish style buildings in KL. Today, even though it doesnt hold any official importance, the building is one of the most reverred places to visit in Petaling Jaya with friends. Its undefinable grandeur and rich heritage make it a historical landmark in the city.
Constructed entirely of bricks, the landmark building features strong, western and Moorish influences in its architecture. There is a wrap-around imposing porch, complete with 42 m high clock tower, towering arches, curved portico topped with copper domes. Named after the then reigning Sultan of Selangor, the Sultan Abdul Samad Building is one of the truly remarkable places for Kuala Lumpur sightseeings and draws in a lot of history buffs and architecture enthusiasts.
Timings: 10 am to 6 pm, daily
Entry fee: None
PS: Its mesmerizing evening lighting and decoration make it one of the must see places in Kuala Lumpur at night.
19 Best Places To Visit In Kuala Lumpur In 2022: The City Of Lights
2. Aquaria Klcc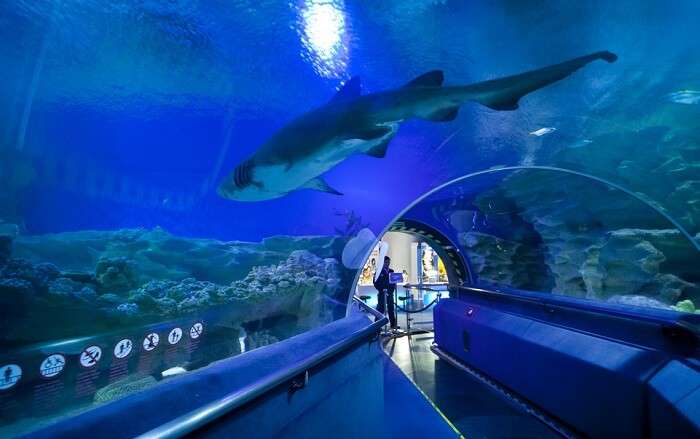 Located in Kuala Lumpur Convention Centre, Aquaria KLCC is an extensive oceanarium in Malaysia. This is one of the most interesting places to visit in Petaling Jaya with friends. Home to more than 150 species of aquatic fauna, this 5,000 square feet aquarium is one of the best places to visit in Kuala Lumpur. Beyond just big tanks full of water, it houses various landscapes and biospheres which take you through coral reefs, marshlands, jungles, highlands, Amazon basin, and open ocean. Cute and deadly marine creatures like piranha, arapaima, grouper, gar fish, elephant nosed fish, electric eel, giant catfish, tiger sharks, seahorses, blue rays, sea snakes, and others decorate the see-through aquariums of Aquaria KLCC.
Not just a submerged tunnel aquarium, but Aquaria also has Amazonian forests, DNA live tanks, dive-in with sharks, Waters of Africa, Scream Park, Extreme Park, Amusement Park, Wildlife Park, and Coral Discovery Section. You can watch the sea animals being fed and might get to feed some, if you are lucky. Since it takes few hours to cover all these levels, it suits the itinerary of those who are open to explore the best places to visit in Kuala Lumpur in 3 days or more.
Timings: From 10.30 am to 8 pm, daily
Entry fee: MYR 46 per adult, MYR 35 per child, and MYR 35 per senior citizen
41 Amazing Malaysia Tourist Attractions For An Adventure Of A Lifetime In 2022
3. Jalan Alor
This is the best hawker food you can ever get and is also one of the best places to visit in Petaling Jaya with friends! And this is no exaggeration, we are just stating the fact. From air-conditioned restaurants to food hawkers to street side carts, Jalan Alor has it all. Just a whiff of the aromas wafting from this street is enough to tempt and draw you to the delicious food.
At Jalan Alor, taste different cuisines of Malaysia including delicacies like barbecued meat, sprinkled satay, spiced-up seafood, and messy finger-food. Delishness of the dishes goes up tenfold as you savor them amidst the atmospheric breeze and strung up Chinese lanterns. Florescent lights and spaced trees enrich the experience all the more.
For those who dont like the heat emanating from furiously crinkling grills can opt for covered air-conditioned restaurants. While the experience will be altogether different, the foods taste will be equally relishing and fulfilling. Needless to say, it is one of the best places to visit in Kuala Lumpur.
Must try dishes: Beef skewers, barbecued meat, crispy noodles, Chinese woks, fried oyster eggs, crispy omelet, briny prawns, chili dogs, chicken satay, and soy marinade with chicken rice.
Timings: None; you can visit the food street anytime but the real liveliness erupts at nights.
27 Kickass Things To Do In Malaysia: Water Sports, Boat Safari, Food & More For Your 2022 Vacay
4. Petaling Street Market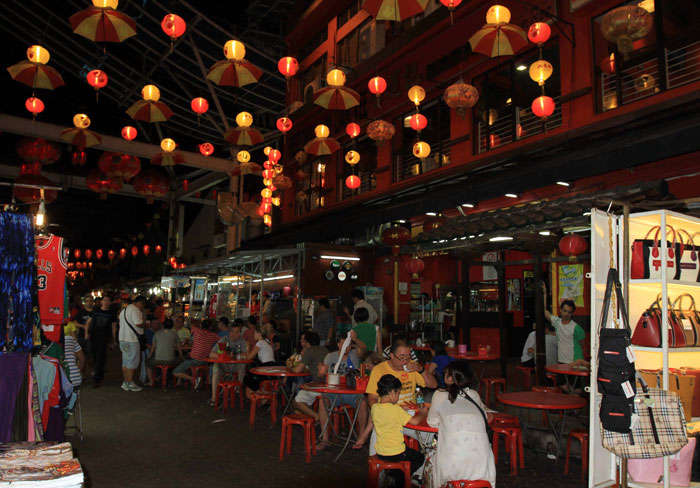 One of the most popular street markets of the region, Petaling Street is a vibrant and exuberant shopping place. It is one of the most fun places to visit in Petaling Jaya with friends. Thousands of sellers and vendors offer a huge variety of products of Chinese make like handbags, watches, clothes, shoes, knick-knacks, and household items. When you are done with enough shopping, try and feed your tummy with delicious local cuisine available at a dimes price. This could be an unconventional Malaysian nightlife experience for shopaholics.
Whats special: It is open during the daytime also. So, you can add it in your day itinerary, too.
Timings: 6 pm to 1 am
Location:
Tip: Be prepared to bargain your lifes worth.
8 Places Every Backpacker Must See On Their Trip To Malaysia
5. Tasik Biru Seri Kundang

Located in the Selangor area of Malaysia, Tasik Biru Seri Kundang is also known as The Blue lake and is famous among travellers as it offers many recreational activities and water sports. A weekend getaway for travellers who are interested in jet skiing and canoeing, the blue lake is one of the must visit places to visit in Petaling Jaya with friends. Near the lake are many restaurants where you can hang out with your family and enjoy the recreational activities on your weekends.
8 Serene Lakes In Malaysia Which Cannot Be Missed On Your Next Getaway!
With so many great experiences and such exciting places to visit in Petaling Jaya with friends your gang is gonna be so thrilled. You will be taking on an adventure and the best one of your life. If you are people who love food then you have no idea about how much you are gonna love Jalan Alor. Basically all we are saying is just plan for that always postponed escapade to Malaysia and have the time of your life.
---
Looking To Book An International Holiday?
Book memorable holidays on TravelTriangle with 650+ verified travel agents for 65+ domestic and international destinations.
---