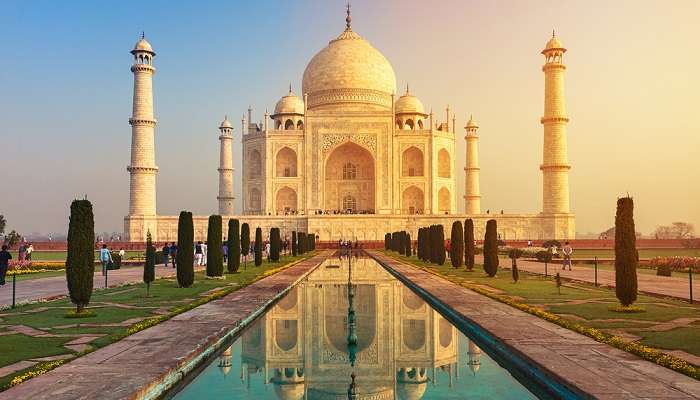 Lying in the north-central part of India, Uttar Pradesh basks in its glorious cultural heritage that can be witnessed in its monuments, museums, palaces, and other historical edifices. For history buffs, pilgrims, as well as nature lovers, there are various places to visit in Uttar Pradesh. While being the origin of India's famous classical dance, 'Kathak' and home to one of the world's seven wonders, the 'Taj Mahal', Uttar Pradesh gained its reputation with numerous such factors. Be it the extravagant Nawabi style of Lucknow, the legacy of the Mughal Empire in Agra, or the sanctity of Varanasi & Mathura, every city has got something to treat its visitors. Not to forget the handicrafts and famous kebabs that captivates travellers from far and wide. So, be ready to find out the speciality of each prime tourist destination of Uttar Pradesh and plan a vacation with your loved ones.
1. Lucknow

Nestled on the banks of river Gomti, Lucknow is the capital and the largest city of Uttar Pradesh. Famed for its history, culture, and architecture, the place attracts millions of vacationers every year. The city is divided into two parts by centrally-located Rumi Darwaza that is a Mughal Gateway. The old Lucknow welcomes you with bustling streets, Mughlai delicacies eateries, and numerous outlets where you can find Chickankari clothes. When it comes to New Lucknow, expect to see the contemporary side of the city with high-rise buildings, parks, shopping malls, and other elements to complete your experience. So, if you are looking for best places to visit in Uttar Pradesh in summer , don't forget to spend some days in Lucknow.
Major attractions: Bara Imambara, Dr. Ambedkar Park, British Residency, Chhota Imambara, Lucknow Zoo, Hazratganj
Top 6 Picnic Spots Near Agra That Are Perfect Majestic Getaways For 2022
2. Agra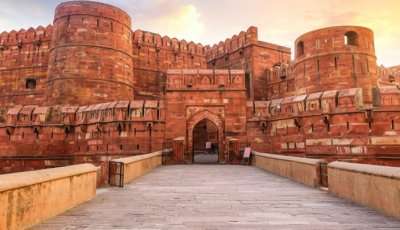 Home to the Taj Mahal that is counted among the seven wonders of the world, Agra is one of the places to see in Uttar Pradesh. Located on the banks of River Yamuna, this historically rich destination offers one a glimpse into the legacy of the Mughal empire with its numerous monuments. While the Taj Mahal impresses with its marble construction, the Agra Fort leaves one in awe with its red-stone architecture. Agra forms a part of the Golden Triangle with Jaipur and Delhi offering an eclectic blend of old and modern world charm. old with a dash of the modern.
Major attractions: Taj Mahal, Itmad-Ud-Daula, Agra Fort, Wildlife SOS, Fatehpur Sikri, Aram Bagh, Sikandara
3. Mathura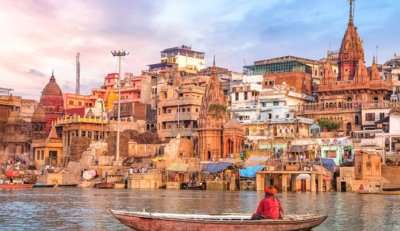 One of the seven sacred places for Hinduism followers, Mathura is the birth region of Lord Krishna. This holy city is replete with numerous temples that belong to several ages. While Varanasi is famed for Ganga Aarti, Mathura is equally revered for the Yamuna Aarti which also makes it one of the best places to visit in Uttar Pradesh and one of the most famous pilgrim sites in India. Boasting a rich history, this ancient town receives a huge influx of visitors, especially during Holi and Janamashtami. Apart from this, if you are a street food lover, make sure to gorge upon chaat, aloo-puri, kachori, gulab-jamun, and jalebi.
Major attractions: Krishna Janma Bhoomi Mandir, Kusum Sarovar, Kans Qila, Jama Masjid, Dwarkadhish Temple, Radha Kund
An Ideal Post-Covid Travel Guide To Uttar Pradesh: Navigating Through The Heritage Land
4. Varanasi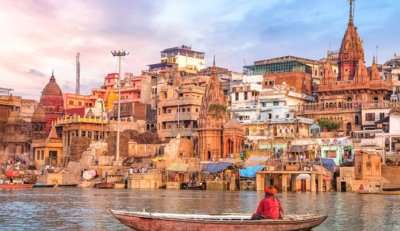 Famously known as the "Religious Capital of India", Varanasi is an ancient city that is frequently visited by pilgrims. Since it lies on the banks of the river Gangs, the entire city is immersed in a soul-soothing ambience. This sacred city of Varanasi is more than 3000 years old and is considered one of the oldest living cities in the world. Moreover, it is here where you can visit one of the 12 Jyotirlingas, Kashi Vishwanath Temple. What makes the city all the more soulful are the 88 ghats and most of them are known for holy baths and puja ceremonies. If you want to visit famous places in U.P where tranquillity prevails, take no time to plan a trip to Varanasi.
Major attractions: Kashi Vishwanath Temple, River Ganges, Archaeological Museum, Sarnath, Manikarnika Ghat, Man Mandir Ghat
5. Kanpur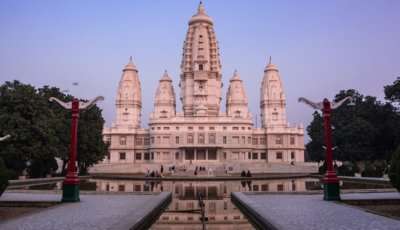 A renowned industrial centre located on the banks of river Ganga, Kanpur is a destination where you can stumble upon numerous religious and historical sites. There are several places to visit in Kanpur that cater to travellers of all age groups. From boating in Moti Jheel to watching a live cricket match at Green Park Stadium, and spending some refreshing time at Blue World Theme Park, there are numerous activities to enjoy on your trip. For wildlife lovers, there's no better place than Kanpur Zoological park where one can witness Tigers, Orangutans, Spotted Deers, and Hamadryas baboons.
Major attractions: Kanpur Zoological Park, Moti Jheel, Khereshwar Shiv Mandir, Allen Forest Zoo, Anandeshwar Mandir
10 Temples In Mathura For A Religious Tour In This Holy City In 2022
6. Jhansi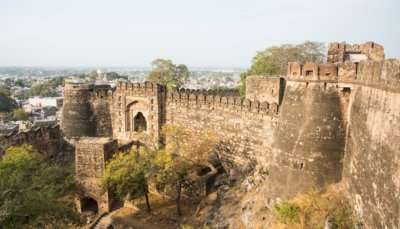 Snuggled between the Pahunj and Betwa rivers, Jhansi is a historic city that is primarily known for the gallantry of Rani Laxmibai, a Maratha queen who saliently participated in the 1857 revolt. The intriguing history of the city displayed by several monuments and significant landmarks makes it one of the best places to visit in Uttar Pradesh. Start off your sightseeing tour while heading to Jhansi Fort located atop a hill that is famous for its granite walls and archaeological museum. For a complete historical tour, there's no better spot than the Government Museum where you will find numerous archaeological gems including statues, paintings, manuscripts, weapons, and sculptures.
Major attractions: Jhansi Fort, Government Museum, Rani Mahal, Maharaja Gangadhar Rao Ki Chatri, Chirgaon, Parichha
Boasting rich history and culture, Uttar Pradesh is a place that offers you a sneak peek into the legacy of the Mughal era. With this list of the best places to visit in Uttar Pradesh, you can plan your itinerary wisely. If you are already intrigued by the above-mentioned places, get ready to embark on a wonderful Uttar Pradesh trip and gather memories for a lifetime.
For our editorial codes of conduct and copyright disclaimer, please click here.
Frequently Asked Questions about Places to Visit in Uttar Pradesh
Which are the famous places to visit in Uttar Pradesh?
The top places that you must add to your itinerary include Lucknow, Agra, Varanasi, Kanpur, Allahabad, Mathura, Jhansi, Ayodhya, Fatehpur Sikri, Kushinagar, Vrindavan, and Sarnath. Make sure to include these places in your itinerary for the best experience of Uttar Pradesh.
Which are some traditional foods of Uttar Pradesh?
Some of the most famous regional foods you can gorge upon while visiting U.P include Baati Chokha, Bedhai, Pedha, Tehri, Petha, Baigan Ki Longe, Galouti Kebabs, and Bhindi Ka Salan. You will find all these delicacies at most of the restaurants.
Is it safe to visit Uttar Pradesh during Covid times?
Yes, it is perfectly safe to visit Uttar Pradesh during covid times, as it has a relatively low number of covid cases. But don't take our word for it: check up on the latest travel advisory, Covid-19 measures, and the number of cases before your departure. It is safer to undertake solo travel or with a small group of people to somewhere that is not overly crowded at the moment.
What is the distance between Mathura and Vrindavan?
Mathura is located at a distance of 13.5 km and to reach from one destination to another, it just takes around 21 minutes via NH19/NH 44. If you are planning to visit Vrindavan from Mathura, then you can either travel by a car, or by bus.
Which are the popular religious sites in Uttar Pradesh?
Some of the most sought after religious destinations in Uttar Pradesh are Krishna Janmabhoomi Temple, ISKCON Kanpur, Prem Mandir, Chandrika Devi Temple, Banaras Ghats, Shri Radhakrishna Temple, Gorakhnath Temple, and Shri Kashi Vishwanath Temple.
How many days are required for Uttar Pradesh?
Uttar Pradesh is one of the best destinations in India and includes various amazing attractions that you can explore during your stay. If you are planning to visit Uttar Pradesh then it is suggested that you plan at least a 7-8 days tour to explore various exquisite attractions that it has on offer.
What is Uttar Pradesh known for?
Uttar Pradesh is one of the oldest states in India that is known for having numerous places for worship which makes it one of the popular pilgrimage destinations as well. Uttar Pradesh provides a raw experience of Indian culture that can be relished by exploring the streets of places such as Lucknow and Kanpur.
Which are the best months to explore Uttar Pradesh?
The best time to visit Uttar Pradesh is from September to December when the destination is pleasantly cold and it would be fun to explore it. Make sure to plan your tour during these months for a hassle-free holiday experience.

People Also Read:
Places To Visit in Thekkady Places To Visit in Goa Places To Visit in Mumbai