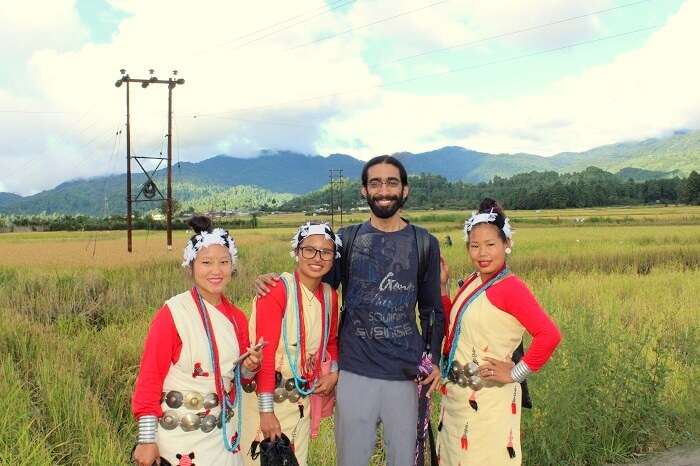 The true essence of music is often enjoyed by going back to its roots. On one such four-day music extravaganza, Pranav traveled to the far reaches of Northeast India to visit the vibrant and energetic Ziro Music Festival Arunachal Pradesh showcasing the best of independent music artists from all around the world.
I always felt that as we became more and more used to music, we became more tribal and loyal to a certain brand of music pertaining to a genre, style, or language. However, what that fan loyalty did was commercialize music to produce for the masses and eventually lose its melody and purpose.
As an avid solo traveler, music has always been an important companion on all my travels that has kept me motivated to explore that little bit extra. However, in all my travels I had never been to a music festival. Primarily because I felt that music festivals were too commercialized or they didn't cater to the kind of music I liked.
When I read about the Ziro Music Festival Arunachal Pradesh, it caught my attention for its stunning location and inspiring objective of promoting artists from the underground music scene. Pretty soon I was looking at videos of the previous editions of this festival and I was completely convinced that I had to be there this year.
Important details of my trip to Ziro Music Festival Arunachal Pradesh
Trip Duration: 5 nights 6 days
Trip Cost (all inclusive): INR 31,000
Event Dates: 28th September- 1 October 2017
Event Venue: Ziro Valley, Arunachal Pradesh
My Ziro Music Festival Itinerary
Day 1: Arrival in Guwahati and train to Naharlagun
Day 2: Cab ride from Naharlagun to Ziro
Day 3: Leisure day and festival events
Day 4 & 5: Exploring Ziro in the morning and festival events
Day 6: Departure to Delhi
It was a festival that I had heard a lot about but didn't know anyone around me who had been there. Therefore, my research for everything had to be very detailed and I couldn't leave much room for impromptu plans in Arunachal Pradesh.
Firstly, I bought the four-day festival pass (INR 5,000) and a Bring-Your-Own-Tent pass (INR 3,000) from the official website of Ziro Festival of Music. It was not only the first time I was attending a full-fledged music festival, it was also my first time of carrying my own tent on a vacation.
After some research on Google, I came to a conclusion that the most convenient way to reach Ziro Valley in Arunachal is to go on a three-legged journey that would include:
Flight from New Delhi To Guwahati
An overnight train journey from Guwahati to Naharlagun
Followed by a three-hour taxi ride from Naharlagun to Ziro
Day 1: Flying into Guwahati
After taking a morning flight from New Delhi, I landed in Guwahati at 1 pm. Upon reaching there, I managed to bump into some other travelers who were also headed to Ziro. They advised me that taking a train to Naharlagun is the best way to go to Ziro.
That very instant, I booked a train ticket to Naharlagun and then figured that I would have plenty of travelers who would want to pool in a cab till Ziro. In the meanwhile, I had 8 hours to kill until the train left Guwahati. I decided to book a small guesthouse, dump my enormous backpack and explore the city.
I boarded the train, only to realize that the train is 90 % filled with people going to the Ziro Music Festival Arunachal Pradesh. To my surprise, not only fans but even all the artists were on the same train to Naharlagun. During my journey, I had a very nice conversation with a few performing bands like Alaska Snack Time and Kathmandu Killers. Turns out there was nothing celebrity-like about them and all of them are pretty down-to-earth people.
Day 2: Let the music play!
The train reached Naharlagun station at 5 am. By then, I had befriended a few people who were ready to split a cab fare with me to Ziro. Since smaller cabs weren't available, we managed to club a group of 10 people heading to Ziro in one large van.
The road journey from Naharlagun to Ziro was bumpy, but the scenic hills, pristine flowing river, and occasional waterfalls made the ordeal an enjoyable one. After being cramped in a van for four hours, we finally arrived in Ziro to a splendid view of golden colored rice fields.
We barely started to admire the view when not so surprisingly, it started to rain just as we were deboarding our cab. It didn't take long before all of us were drenched. Welcome to Ziro I guess!
The heavy rain finally persisted after two hours and that gave us a chance to pitch our tent in the festival grounds. Around 3 pm, the sun peeked out of the clouds just in sync with the opening festival performances. The music, festivities, and the food stalls started running and just like that it went time for Ziro Festival of Music 2017!
Day 3: More festivities, more rain, and Kathmandu Killers!
The hangover from the first day of the event was barely over when the rain would wake me up by petering all over the outsides of my tent as early as 6 am. If the day before was wet, then this day was absolutely drenched.
Six hours of non-stop rains had turned the festival ground into a mud-themed entertainment park for pigs. I hadn't bought gumboots yet (despite being warned many times by locals), and two days into the fest I could see why they were so important. Therefore, I finally gave in and rented a pair for the sake of my feet and a clean tent.
During my time in Ziro, I met a lot of inspirational people and artists, and one of them was Kathmandu Killers- the Ska (a fusion of Reggae and Punk) band from Nepal. Their approach towards life and not only music was so inspirational that I felt that there was so much to learn from their struggles.
The build-up to the second-day evening line-up was intense. This evening, bands like Aswekeepsearching, Kathmandu Killers, and Alaska Snack Time absolutely lit up the event with some smashing tunes.
Day 4&5: Respite from rain, and more funky music
The third day of Ziro Music Festival Arunachal Pradesh had as usual started with a morning spell of showers. After the rain persisted around noon, I had a few hours to spare in which I thought of walking around Ziro, exploring this unspoiled place, and click pictures of the scenic rice fields.
The third-day line-up had two artists, Vivek Arora and Reggae Rajahs, from New Delhi. So, I almost felt obligated to cheer and watch them perform in this epic festival. In the end, both of the artists, the former a rapper and the latter a Reggae band won the crowd over with some energetic performances.
The final day of Ziro Festival of Music 2017 began with a welcome change in weather. No rain, and just bright sunshine. As I woke up each day, the view outside my tent of the pristine rice fields looked better every day. To be honest I, like other music and travel lovers here, had fallen in love with this place.
As the final few performance drew this incredible festival to a close, I tried enjoyed and living the moment even more, for times like these are impossible to replace and relive.
Day 6: Farewell Ziro and see you in 2018!
This day, it was time to pack my stuff, fold my tent and head out back home. The return journey, although the same, was going to be tougher knowing that staying in this incredible place forever wasn't possible.
Four days of exceptional music, countless friendships, and stunning landscape is what I brought back from my incredible adventure in Arunachal. Ziro Festival Of Music celebrated music and performances that transcended boundaries of gender, country, religion, and language. It felt glad to know there are still a ton of talented musicians out there that care about the music first and making money later.
Must try things on a trip to Ziro Music Festival Arunachal Pradesh
Locally fermented Rice beer or "Kala Apung" is as common as a drink you would have back home. Be sure to also try the different varieties of wine such as mulberry, peach, and kiwi wine sold across all stalls in the festival.
Pork is the most common type of meat consumed in the Northeast. Naturally, Arunachal is no exception to that and pork-on-barbeque with prawn chutney is a treat in itself.
"Laal Chai" is a local brand of tea that is a must try for all individuals.
Best moments from my trip to Ziro Music Festival Arunachal Pradesh
It was incredible to see so many new forms of music and instruments that independent artists have mastered to create high-quality music
The thing that made Ziro different from other music festivals was that all the artists mingled a lot with fans and locals. It would very common to see artists hanging out with fans, or travelers a few hours before their performance just chilling or having a cup of tea.
The friendly nature of the local Apatani people in Ziro was heartwarming to see.
If the music didn't win you over already, the stunning location of the festival and the rice fields in Ziro will mesmerize any traveler.
With bands like Kathmandu Killers and Alaska Snack Time, Day 2 evening was by far the best lot of performers out on this festival.
Important tips for travelers going to Ziro Music Festival Arunachal Pradesh
Don't forget to carry an umbrella and a raincoat as the festival happens during the rainy season. In the six years of this festival's history, there hasn't been a single edition when there hasn't been at least a single day of heavy rains.
Due to the rains, the festival ground gets very muddy, slippery and almost impossible to navigate with normal shoes or sandals. Do not hesitate to invest INR 500 for gumboots.
If you are pitching your own tent in the festival grounds, bring some ready-to-eat foods as the meals aren't included in your stay and options for breakfast are very limited.
The nearest functioning ATM is a 20-minute car ride away in a small town called Hapoli. Make sure you get adequate cash before arriving in Ziro as card payments aren't accepted inside.
Arunachal Pradesh and Northeast, in general, are very safe for solo female travelers. If need be, people (girls especially), often walk alone at night to wherever they need to be.
As public transport is virtually non-existent in Ziro, people often hitch a ride and locals are equally willing to help you reach where you need to be.
Swing to the rhythm, and dance to the tunes of independent music North East tour package and enjoy a beautiful musical journey!
---
Looking To Book A Holiday Package?
Book memorable holidays on TravelTriangle with 650+ verified travel agents for 65+ domestic and international destinations.
---