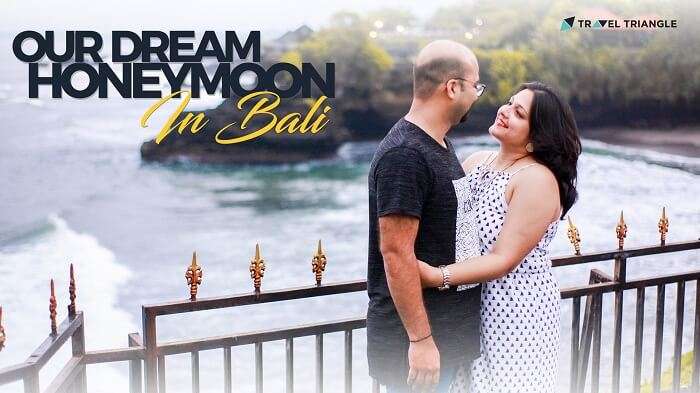 Countless waves, natural sites and an essence of romance, Bali has off late made it to the top charts when it comes to honeymooners. Beautiful views with world-class adventure activities and classic stays, this magical island lures honeymoon couples to indulge in the charm and enliven their love all over again. Prashant and Pragya, seeking such solace and serenity planned a Bali itinerary of 5 days for their honeymoon. Undoubtedly, the island gave them lifetime memories and beautiful moments that will stay with them forever. Watch them share their experience of their romantic trip to Bali.
Package Details Of Our Romantic Bali Trip
Cost: INR 1,31, 500
Duration: 5 Days
No. of people: 2 Adults
Inclusions: Hotels, Breakfast, Airport Transfers, Airfare in Economy, Tour & Sightseeing, Honeymoon Freebies
Exclusions: Lunch, Dinner, Visa, Travel Insurance
Travel Agent From TravelTriangle: Perfect O Holiday
Amidst all the beauty and colors of Bali, here is what made our 5 days Bali itinerary all the more fun. Our itinerary had a perfect blend of adventurous and relaxing things to do in Bali in 5 days which brought us closer to each other.
"This experience has been good for us which we are sure will be staying with us lifelong."
                                                                                                                                          – Prashant & Pragya
Stay At The Exquisite Bali Hotels And Villas
Our stay in the hotels and villas in Bali was dipped in royalty. The pool view rooms at Swiss Belhotel Segara were comfortably spacious and elegantly furnished. Every morning we felt blessed to wake up to such serene views. Another luxurious property that made our stay all the more special was at Legian Kriyamaha Villa. The signature floating breakfast was a great way to start our day in style. In our very own private pool, the butler 'set sail' to the gourmet breakfast which was a delight.
Balinese Traditional Massages
Traditional Balinese massage is a must-have experience while on a holiday in Bali and we were lucky enough to have been able to include it in our package. Prashant and I were super excited for this 90 mins massage session. The fragrance of scented oils immediately made us feel at ease and soon we were enjoying every bit of this soothing massage. All our stress seemed to just vanish and we were revived for the rest of our holiday.
Bali Sightseeing
With so much to see, it becomes impossible to visit every attraction on the island as Bali has some of the best places to visit in Bali in 5 days. However, we managed to cover most of the places on our trip. The Kintamani Volcano View tour was what both of us liked the most. We got this handsome opportunity to view the magnificent Mount Batur Volcano. The visit to the Tegalalang Rice Terraces and Coffee Garden was a tour full of sightseeing and amazing clicks. Surrounded by towering cliffs and blue ocean we had a fun time at the Dreamland beach. The sunset and sunrise tours were also amazingly beautiful. Besides a visit to the various temple tours in Bali like Taman Ayun Temple and Tanah Lot Temple gave a holy twist to our adventure.
Water Sports In Bali
Both me and my husband being adventure junkies were eagerly looking forward to this part of our holiday. Bali is not only full of serenity and natural beauty but also has the right remedy for your adrenaline rush. A glass boat ride to the Turtle Island blew our minds. We were able to observe the underwater life very clearly. Other water sports included snorkeling and banana boat riding.
After experiencing most of Bali on this trip, we feel that 5 days in Bali for couples are just enough to get a taste of everything here. From lavish stays at luxurious accommodations to indulging in various watersports, everything was just beyond perfect.
ThankYou very much TravelTriangle for handcrafting the best 5 days Bali itinerary for our romantic getaway.
If you too are looking forward to a fantastic honeymoon in Bali with superb arrangements as per your choice, book a customizable Bali honeymoon trip and let TravelTriangle do the planning for you!