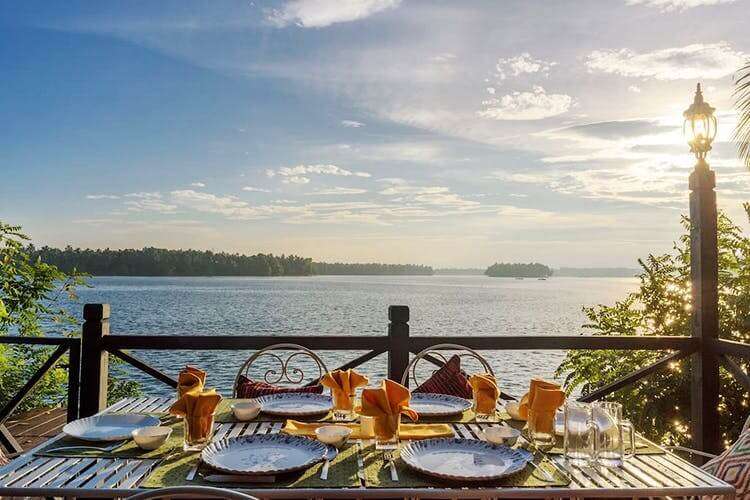 All those bitten by the travel bug, it's time to rejoice! You don't have to book expensive flight tickets for a vacation in a private island anymore. Karnataka's new river island will greet you with nature's bounty and luxury at its only homestay. When we say private, we mean it! You're not sharing this space with anyone else, just the ones you love (even your pet) – or maybe you can plan a solo escapade if that's what you like.
Suvarna Sangam, the property is a secret well-kept on the Suvarna River surrounded by coconut groves. This waterfront villa features a gazebo, where you can sit to admire the views and savor the delicious seafood served. You have three rooms, one on the first floor and two on the ground floor.

If you're wondering how you will reach, nearest major city from the property is Mangalore, located just 45 minutes away. When it comes to sightseeing, you'll love that too, as you get to visit the iconic 13th-century Sri Krishna Temple and Corporation Bank Heritage Museum. During your stay you will enjoy home-cooked meals and extra meal charges vary between INR 300 and 350, paid by cash.
The colors and decor of the villa will help you relax, as you take a break from the world. But that does not mean you cannot connect with the people during your stay, the WiFi ensures an unstoppable browsing experience. There are many things to do which you can look forward to during your stay, such as a day trip to Udupi, sunset viewing at Malbe Beach, trekking and backwater ride.

So, of course an international trip can take a break for a while, because an exclusive experience awaits in your own country! For that you can browse through our Karnataka tour packages and customize them as per your liking and budget.
Further Read: Ecotourism Found New Meaning As Karnataka Unveiled 30 Foot Tall Canopy Walk