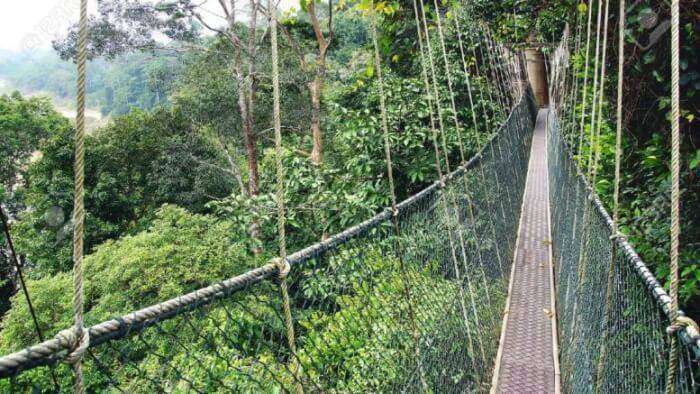 Chances are, you have the canopy tour of Gardens by the Bay in Singapore jotted in your bucket list since a while now. But guess what? You don't have to travel overseas for this experience, thanks to Karnataka tourism department! The much-awaited Canopy Walk opened on 17th February 2018, in Kuveshi, near Castle Rock.
Walk above rich rainforest in Western Ghats, on a 240-metre canopy perched at a height of 30 foot. The designer of the project, Vinay Luthra stated that the idea was to allow visitors exploration of the verdant rainforest which covers a massive area in the Western Ghats. In a statement, an ex-chairman of Karantaka tourism department said "In a rainforest, not much grows on the forest floor since sunlight does not reach it. On the other hand, the treetops are brimming with plant and animal life: mammals, birds and a variety of endemic plants".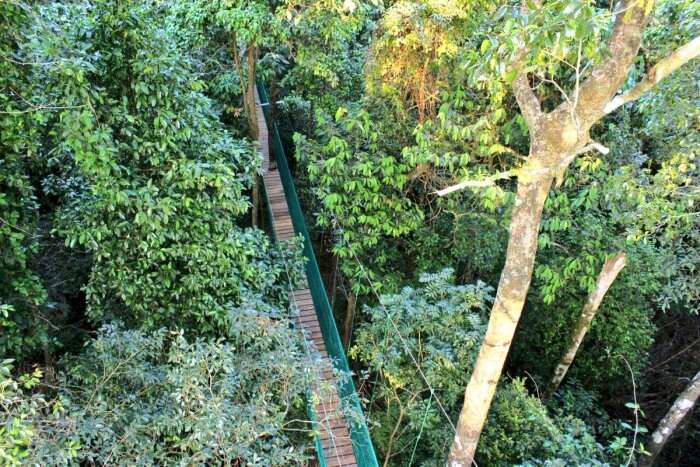 The canopy can hold upto ten people at a time and there are multiple platforms, allowing access to different regions of the forest. The project does not only focus on exploration but will also create awareness regarding the biodiversity of the environs.
As you tour, you'll very likely come across a rich biodiversity. This is a perfect place for birdwatching, where you can expect to spot kingfisher, Malabar squirrel, hornbill, lion-tailed macaque, Malabar squirrel, woodpeckers, butterflies, and white bellied treepie, to name a few. There are some trees which are over a hundred years old; eucalyptus, tamarind, silver oak, cinnamon and bamboo are some of the trees that grow here.
Seems like Karnataka tourism is all set to bloom double the time it has even bloomed with this project and introduction of Jatayu Adventure Camp as well.
Further Read: Discover 6 Incredible Rain Forests In India For A Memorable Wildlife Adventure In 2022!