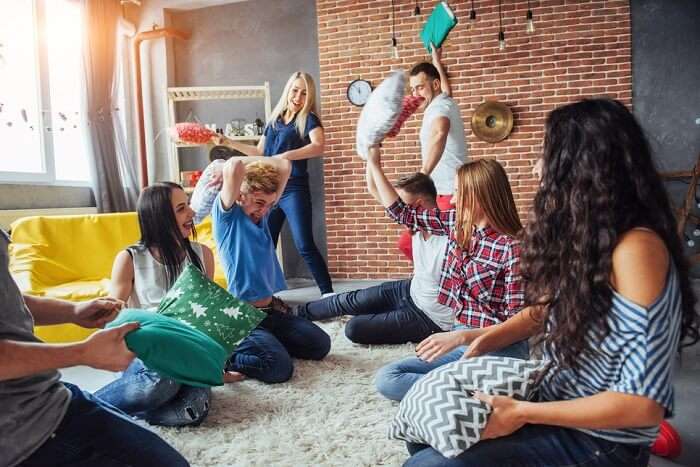 The world's oldest gold treasure dating back to the 4,200-4,600 B.C. put Varna on the map. The city, historically named as Odessos, has been a crucial destination right from the Roman Empire and whose remains can be seen even today, at the Varna Necropolis. Today, the city situated on the Black Sea coast is Bulgaria's summer capital where Bulgarians come to soak in the sun and enjoy the sea breeze. The beaches have golden sands, and the resort town of Golden Sands makes for the perfect getaway! From ancient sites like the Roman Baths to modern attractions like the Sea Garden and Varna Cathedral, Varna is a destination you should not miss in Bulgaria. And if budget is a constraint, then these hostels in Varna will provide the best accommodation without compromising on comfort.
10 Best Hostels In Varna
Budget travel to Bulgaria? Pick from these most comfortable and hospitable Varna hostels for your backpacking adventure in Varna:
1. Yo-Ho Hostel

Yo Ho Hostel in Varna has become synonymous with travel in the city. The happening hostel is a recognizable name in the tourist circuit and has been a favorite place for backpackers for more than a decade. Apart from the historical attractions of Varna, the city is known for an adventure enthusiast's haven. The hostel conducts special tours for bungy jumping (52m bridge), Boat trip with fishing expeditions, Scuba Diving classes, and Kite and Board surfing along the beach. The hostel itself is colorful and filled with graffiti and art. It's one of the few hostels in Varna that hosts live music and is a place of meeting for artists of all kinds.
Location: Ul. Ruse 23, 9000 Varna Center, Varna, Bulgaria
Starting price: INR 480/-
TripAdvisor Rating: 4.0/5
Website | TripAdvisor Reviews
Must Read: 10 Villas In Bulgaria That'll Ensure You Have A Luxurious Stay
2. Avocado Hostel

One look at the external facade of the historic building of the Avocado hostel in Varna might confuse if you are entering a hostel or a museum, it's so pretty and authentic! However, step inside, and you will find clean and modern interiors with comfortable beds and squeaky clean toilets. The hostel is located right between the Varna Cathedral and the Archaeological Museum which makes it the ideal place to explore Varna. Every other attraction is within walking distance, and you don't ever need to worry about transport. The big plus is that the hostel also offers a free breakfast, which is super convenient if you are a solo traveler or traveling on a budget. The pretty garden backyard is perfect on sunny days when you can relax and catch on some reading!
Location: 31, 9000 Varna Center, Varna, Bulgaria
Starting price: INR 900/-
TripAdvisor Rating: 4.0/5
TripAdvisor Reviews
3. Central Hostel

The Central Hostel in Varna is a great mix of hostel and budget hotel. The prices are really low for what is a single room that has both single and double occupancy. The rooms are a bit small but its better than a dorm and perfect for people who love their privacy. This hostel is suitable for couples and those who do not enjoy the loud noise and partying that often accompanies hostels. Plus, the biggest advantage of Central Hostel is the location. It is bang in the center of the city, and you can choose, and if you want public transport, you can quickly get it. The shared toilets are clean, and the rooms are air-conditioned.
Location: ul. "Stefan Stambolov" 15, 9000 Greek Neighborhood, Varna, Bulgaria
Starting price: INR 1,000/-
TripAdvisor Rating: 3.0/5
Website | TripAdvisor Reviews
Suggested Read: 13 Beaches In Bulgaria You Must Visit For A Laidback Experience
4. Nomado Hostel

Every guest at the Nomado Hostel goes back happy! It's just one of those places where guests are taken care of really well; the owner gives special attention to the working of the hostel. The hostel has bright and airy rooms, and they all come with a desk which is excellent for digital nomads and those who work on the go! The location is also a big plus; it is 500m away from Varna Cathedral and about 3.5KM from the nearest beach. It is one of the few hostels in Varna with its terrace and garden; it is good for relaxation after a busy sightseeing day. What's more, the hostel is pet-friendly, of course, your pet should make peace with the cat that resides in the hostel!
Location: ul. "Nikola Kanev" 7, 9000 Hristo Botev, Varna, Bulgaria
Starting price: INR 1,000/-
TripAdvisor Rating: 5/5
TripAdvisor Reviews
5. Hostel Musala

The Hostel Musala is one of the finest hostels in Varna. The hostel itself is located within an art-deco building and is one of the oldest buildings in the city. Inside, the hostel is completely different and is done up in elegant vintage decor with a modern touch. Even the dorm rooms are beautiful and steer away from the loud decor. This makes the Hostel Musala a perfect accommodation option for older solo travelers, couples and even families, who can choose to stay in the private rooms. All the rooms have windows and let the sun in during the day. The hostel is run by travelers themselves who have put in a lot of thought into each detail of the hostel.
Location: ul. "Musala" 1, 9000 Varna Center, Varna, Bulgaria
Starting price: INR 500/-
TripAdvisor Rating: 4.5/5
Website | TripAdvisor Reviews
Suggested Read: 12 Things To Do In Bulgaria That Will Keep You Engaged Throughout The Trip
6. Hostel Rayska Yabalka

The Hostel Rayska Yabalka gives you a sense of living in a local community. You will find it located in a quaint house on a leafy street with apple trees. The small front yard even has a swing! The hostel has rooms with a shared space. However, there is no common area. Usually, the host will check you in, so make sure you are there at the right time! The hostel is peaceful, ideal for those looking for a quiet holiday but have budget constraints. The location is good, not too far from the center of the city's attractions. If you are traveling with kids, there are board games and special TV channels that will keep them occupied. The shared toilets are clean and are regularly maintained, ensuring you don't have to worry about a thing!
Location: ul. "Stefan Karadzha" 33, 9002 Varna Center, Varna, Bulgaria
Starting price: INR 900/-
TripAdvisor Rating: 3.0/5
TripAdvisor Reviews
7. Hair of the Dog Hostel

Yes, it is hands down the weirdest Varna hostel names! Earlier this hostel was known as X Hostel but has now been taken over by new management. The new hostel is one of the trendiest hostels in the city and is known for its hip and young crowd. It is located between the city center and the Golden Sands area which makes it convenient to travel either way. The hostel conducts regular pub crawls and fun drinking games with parties on the beach. If you are looking for somewhere fun to stay in Varna, then this is where your search ends! You will find lots of international tourists at this hostel, who often get together and plans trips around the country.
Location: Center Evksinograd, 9006 Varna, Bulgaria
Starting price: INR 800/-
TripAdvisor Rating: 4.5/5
Website | TripAdvisor Reviews
Suggested Read: 21 Spectacular Places To Visit In Bulgaria That Are A Treat To Your Eyes
8. Flag Varna Central Hostel

The Flag Varna Central Hostel is one of the rare few hostels in Varna that offer a home-like atmosphere. The hostel is small, and has three rooms with about four beds in each, which means that if you stay for a few days, you will end up getting to know everyone! Mike who runs the hostel is an expert on Bulgaria and the region; he is the go-to guy for all things related to Varna. The hostel itself is located in the city center with access to all the restaurants and pubs. You can enjoy the day and come back to relax in a friendly hostel where you can sit down and watch a movie from the extensive library or get talking with your fellow hostel mates.
Location: Bratya Shkorpil 13, 4th floor, 9000 Varna, Bulgaria
Starting price: INR 800/-
TripAdvisor Rating: 3.5/5
TripAdvisor Reviews
9. Hostel Del Mar

A stay at the Hostel Del Mar will make you feel like you are visiting cousins! The beautiful hostel comes with a garden and a view that looks onto the Black Sea. The location is convenient, just 3 KM away is the Asparuhovo Beach and is the best place for beach bums! You can choose from the varied accommodation options, from three-bedroom apartment to dormitory beds, there is something that suits every kind of traveler. It's one of the hostels in Varna that ensures all your needs are taken care of and it includes free Wifi, free bed linen and towels, cable TV, and free access to the kitchen and all its utensils. Really, it feels like a relative's home doesn't it?
Location: Ul. Krajbrezhna 29, 9021 Galata, Varna, Bulgaria
Starting price: INR 1,000/-
TripAdvisor Rating: 3.5/5
Website | TripAdvisor Reviews
Suggested Read: Bulgaria In Winter: 10 Things To Do To Make Your Vacation Memorable
10. Hostel Casablanca City

Comfort is the main motto for the folks at Hostel Casablanca City. The hostel is decorated in cheerful tones and hardwood floors, lending a pleasant atmosphere to the interiors. It has all sorts of rooms, including a five-bed dormitory. But, the best part is their large room which can accommodate up to five adults and has a quaint balcony that looks out onto the main street. The hostel has shared spaces, including a kitchen and common toilets. The hostel staff ensures thorough cleaning of the hostel is done to provide a clean and comfortable living space. The hostel strives towards making sure that you don't miss your home too much due to a lack of comfort!
Location: 1 Krastio Mirski Str., 9000 Varna, Bulgaria
Starting price: INR 600/-
TripAdvisor Rating: 3.0/5
TripAdvisor Reviews
Further Read: Long Weekends In India 2022: Enliven Your Vacay Vibes!
Surprised at the variety of hostel options in a small city like Varna? From elegant accommodations to basic hostel living, these hostels in Varna cover every kind of taste and budget. So, what are you waiting for? Plan your next holiday in Europe right now! Get in touch with TravelTriangle's experts to brew you a sweet retreat in Varna at the lowest price possible.
---
Looking To Book An International Holiday?
Book memorable holidays on TravelTriangle with 650+ verified travel agents for 65+ domestic and international destinations.
---