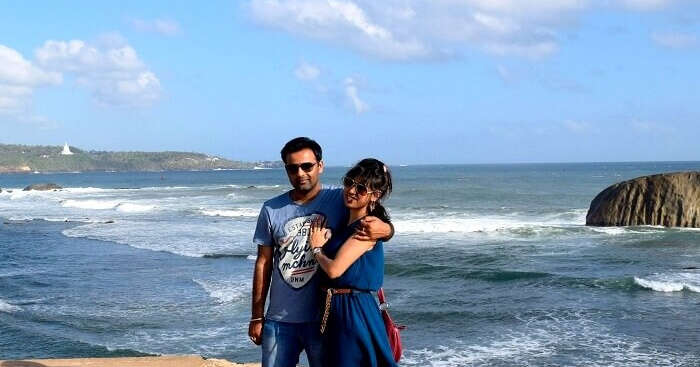 Curiosity often leads people to unforgettable places. Priyanshu ventured on a romantic trip to Sri Lanka and came back with tales that withstood the passage of time. Read about his engaging vacation which cost him a total of INR 29,500 that included his transfers, accommodation, breakfast, and sightseeing.
In my mind there was always some curiosity about Sri Lanka through Ramayana stories. I also heard from people that Sri Lanka is called as the paradise of "Flora and Fauna". To add to that, the short distance from Bangalore was a factor too.
I came across TravelTriangle while browsing on the internet for Sri Lanka tour packages. They provided an impressive option of customizing itinerary according to our needs.
I submitted a query on the TravelTriangle website and promptly got a call from their travel representative. He understood my requirements and connected to me to multiple agents who provided me with various deals for Sri Lanka. The Sri Lanka tour package given to me by ' Self Holidays' agency was perfect.
A childhood filled with mythical tales of Ramayana, was about to a have a nostalgic realization of the place I had been wanting to visit. Sri Lanka was surely a destination that begging to be explored.
Day 1: Exploring Sweet Kandy
We boarded our flight from Bangalore around midnight and arrived in Colombo at 3 am. The taxi driver was present to receives us. As it was late, we decided to have a short stay at a hotel in Colombo. We woke up rested and charged for our adventures ahead. At 8am, we departed for Kandy. We were given a well maintained and spacious car with a very good driver. He helped us blend into the country and enjoy our experience to the max.
On our way to Kandy, we were scheduled to stop at multiple places for sightseeing. The first stop was at the Pinnawala Elephant Sanctuary. It was an incredible experience meeting and greeting the humble giants who are adored and revered in this country.
Next up, we visited a spice garden where we witnessed rare herbs and spices grown in Sri Lanka. Later on, we indulged in an ayurvedic therapy session at the same place. The therapy opened up my senses and made me feel energetic for the entire trip.
Finally, we visited the Temple of Tooth relic in Kandy and took blessings from the almighty. We arrived in Kandy late evening and proceeded to check into the hotel. After having dinner, we rested for the night.
Day 2: A big water splash in Bentota
Must Read: Jaswanth's 5N/6D Adventure Trip to Sri Lanka Will Make You Fall In Love With The Emerald Island
Post breakfast, we started the next day with a visit to a Hanuman temple. Afterwards, the driver took us to a tea factory. My wife and I spent few hours in the beautiful landscape where this factory was located. The factory tour operators were kind enough to make us one of the best cups of tea we had in a long time.
One of the top things to do in Sri Lanka for me was to visit the Ramayana trail. So we went to Seeta ji Temple and also Ashok Vatika where Ravana had kept Goddess Sita. The child inside of me was jumping with joy.  
Post lunch, we checked out of Kandy and proceeded towards Bentota. We reached the Laluna resort in Bentota by later afternoon. It was a very beautiful river side resort which had water sports activities.To make things adventurous, my wife and I went for some tube riding and jet skiing. Initially, after being a bit hesitant, I felt more confident on the jet ski.  
Once you cross the river in Bentota by a boat, there was a beautiful beach on the other side. We visited the beach for the evening and enjoyed a majestic sunset. Later on, we returned to the hotel for the evening and called it a night.
Day 3: Boat Cruise in Bentota
We started our day very early in Bentota by going for a boat safari in Madhu river that also included fish therapy. The fish therapy was a tingling, yet great experience. It felt like little angels nibbled on our feet as they cleansed our skin. The river has an umpteen number of small crocodiles. However, we were not lucky enough to spot a crocodile.
While cruising in the Madhu river, we visited various islands coming in between while doing boat safari. Post lunch, we got off the boat and visited a Gem & Jewellery place where they mined and polished a rare blue moon stone. I was amazed upon learning that Sri Lanka is the only place in the world where this rare stone is found.
Afterwards, we visited Bentota Fort beach. It was a nice way to end an adventurous day with a fort in the background and panoramic views of the Indian Ocean. Once it grew dark, we nestled back into the hotel for the night.
Day 4: Shopping time in Colombo
Suggested Read: Perfect Family Bonding On A 9 Day Trip To Sri Lanka
On the final day, we relaxed till afternoon at the beautiful Laluna resort and at around 11:30 am proceeded to Colombo. We reached Colombo at 1 pm, and spent some time at Independence Square & Galle Face Green.
We both were keen on shopping, so we explored some local shopping streets in Colombo. Our bags were packed with souvenirs and it was time for us to catch our flight. Our driver dropped us at the airport and we took our late night flight to Bangalore.
Our trip might have been short and limited. But, Sri Lanka will always hold a special place in our hearts. My wife and I enjoyed every bit of what Sri Lanka offered. With humility, respect and love, we were welcomed in a foreign land which felt no less than home.
High Points :
  

Boat Safari & Fish Therapy in Madhu River.
  The visit to Pinnawala Elephant Sanctuary was memorable
Tips to Travelers :
Give your inputs about what you want to do on your trip to TravelTriangle & after that you will definitely get some wonderful itineraries.
Planning to venture out on the Ramayana Trail? Book a trip to Sri Lanka now and experience the beautiful emerald Island