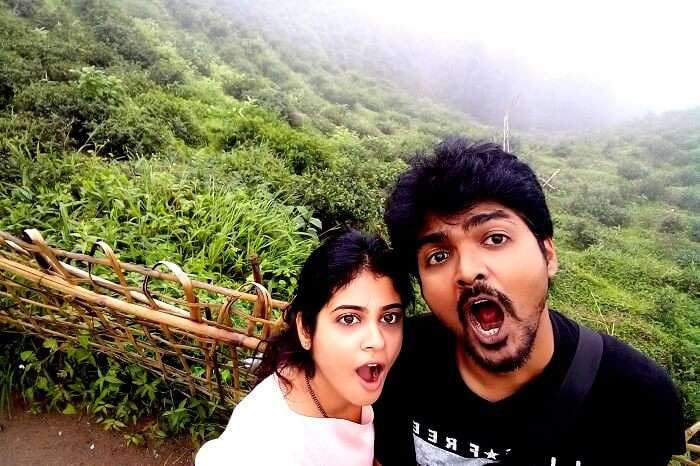 Exploring and venturing out in the unknown is not a first for Rahul and his wife. Read the account of their trip to Sikkim and Darjeeling which was fueled by the desire to see beautiful places irrespective of culture, distance or difficulty. The trip cost them 26000 INR which included meals, accommodation, transfers and sightseeing. 
My wife and I always wanted to travel to North-eastern India. So we thought, this would be a perfect opportunity to plan a honeymoon trip to Sikkim & Darjeeling.
I heard about TravelTriangle from a friend who already had a pleasant experience booking a holiday package with them. The option of customizing a tour package according to your need sounded attractive.
I raised a query with them for a trip for my wife and I. Soon enough, I got a call from their travel consultant who understood my requirements and connected me to various agents who can meet my requirements. I started getting various quotes from multiple agents, out of which I selected one with the most competitive price.
Day 1: Landing in Bagdogra
We boarded our flight from Bangalore and arrived in Bagdogra at 2pm. On our arrival, a taxi guy was present to greet and drive us to the hotel in Gangtok. After a long and tiring journey from Bagdogra, we finally arrived in Gangtok at 8 pm.
After check into the hotel, we had dinner and then proceeded to give our tired bodies rest during the night.
Day 2: Sightseeing in High Altitude
Suggested Read: 48 Places To Visit In Sikkim: Extraordinary Realms In The North East
The day began with an early breakfast, as the driver was ready to pick us up from the hotel for a sightseeing tour. The tour began with a journey to the Nathula Pass. Located at more than 14000 ft, it was our first chance to see an Indo-China border.
Although, this day it was raining throughout, but  reaching at that altitude to see such a significant place kept our spirits up. We made a few friends over at Nathula Pass, had some nice conversations and enjoyed regardless.
On our way back from Nathula Pass, we visited Baba Mandir and Tsomgo Lake. A simple thing like having a cup of coffee felt like heaven after visiting these places where we were drenched with rain and feeling cold.
We arrived back at the hotel around 6 pm. We had a candlelight dinner scheduled for us, which was brilliant. After that, we decided to rest for the night.
Day 3: Gangtok to Darjeeling
Suggested Read: 22 Cozy Budget Hotels In Gangtok For Your Exhilarating Trip To Sikkim
The next morning, we were scheduled for a half-day Gangtok sightseeing tour. The tour began with a visit to the Monastery and Banzakhri Falls. It was a peaceful and pleasant experience to visit and meditate in the monastery.
At the Waterfalls, we spent a good amount of time and clicked a lot of pictures. After the sightseeing tour, we continued with our habit of trying out some local cuisine for lunch, which was delicious.
Afterwards, around 3 pm, it was our time to check out of Gangtok and move towards Darjeeling. The journey to Darjeeling, which lasted 4 hours, was a lovely journey as the sun was out and beaming. It gave us a good view of the mountains and the valley.
Day 4: Darjeeling Sightseeing
We woke up early in the day, as we were scheduled to go Tiger Hill to watch the sunrise over Mt. Khangchendzongha (World's 3rd highest peak). However, our luck caught us again, and it started to rain in the morning.
We missed the sunrise in the morning, but on our way back we visited the Ghoom Monastery and Batasia Loop. I also wanted to go on the toy train tour, but for some reason it was not operational for that day (luck wasn't really on our side on this trip).
Post lunch, we visited the Zoo, Tea Gardens and the Mountaineering Institute. After the sightseeing, we visited the local market in Darjeeling for some souvenir shopping. We also were lucky to see a few artists perform in front of the Old Clock tower.
In the evening, we had dinner and proceeded back to the hotel for the night.
Day 5: Departure to Bagdogra
We checked out of Darjeeling at 9 am and the taxi driver took us to Bagdogra. We reached the airport and boarded out flight back to Bangalore by 3pm.
High Points:
The trip to Nathula Pass was adventurous.
Low Points:
TravelTriangle should provide a real time seasonal update to the places which are open in which month.
Tips To Travelers:
To use the customize feature of TravelTriangle effectively, don't book a vacation in a rush.
Experience the charm and serenity of Sikkim and Darjeeling. For an experience unlike no other, Book your package to Sikkim now!