Cover Image Credit: Booking.com
Cochin – heralded as the queen of the Arabian Sea never ceases to amaze us with its scenic beauty and architectural wonders. There are various tourist places in Cochin that will enthrall you with their simplistic beauty.
To start off your journey to God's Own Country – Kerala, Cochin serves as the perfect 'gateway' to your sunshine time. Though there are many budgets stays in Cochin, you must indulge yourself once in a while. And that's where our roundup for the 17 most luxurious and captivating resorts in Cochin will come in handy.
17 Best Luxury Resorts In Cochin
Cochin is a chirpy city of Kerala and you cannot afford to miss visiting this place on your trip to the 'God's own country'. These top 17 luxury resorts in Cochin will bring the best of the backwater paradise to you:
1. Ramada Resort, Kumbalam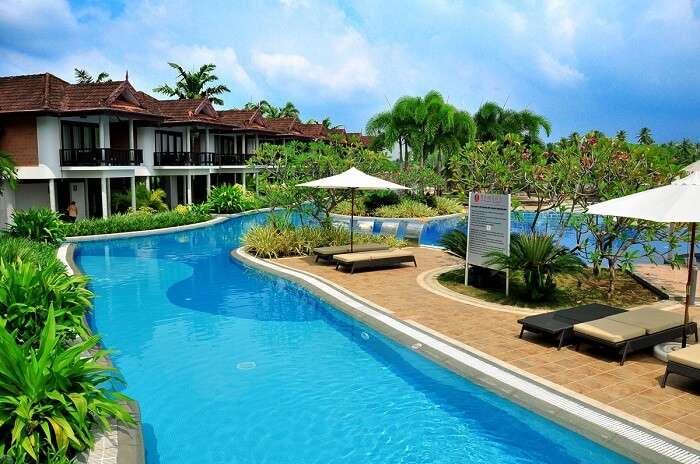 Image Source
Amidst an ambiance of complete serenity and picture-perfect surrounding, Ramada is a luxury retreat in a massive sprawling area of 8 acres. A short drive from Cochin, yet far away from the hustle of the capital city, it is a pure haven for the urban dwellers. Termed as the top-line of the best resorts in Kochi, it offers the best of both worlds – extreme luxury and calming rejuvenation. Ramada Resort is the most popular choice among travelers for a relaxing, luxurious stay.
What's special: 105 m long lazy-river swimming pool, Kerala's biggest spa, sunken pool bar, and floating pool villas
Suggested suite: Presidential Suite Room ensures a luxurious stay. Also, you can indulge a little and enjoy the perks of floating pool villas.
Tariff:  INR 12,000 per night, onwards
Must Read: 45 Fascinating Tourist Places To Visit In Cochin In 2022 For A Fun-Filled Vacay
2. Aquatic Resort, Puthankary

Image Source
This floatel – floating hotel – and resort is conveniently located near Kochi, within 30 acres of sprawling backwaters of Cochin. Laced with soothing green belt of mangroves and coconut palms, the Aquatic Resort is an ideal hideout. It offers one-of-its-kind floating retreat. This resort, being a marvel of expression, artistry, creativity and technical superiority, will ensure that you leave with a sated and calm look on your face. Trust, it will truly be an experience of a lifetime.
What's special: Floating Infinity Pool and  submerged rooms
Suggested suite: Premium cottage as it's the most equipped suite in this resort
Tariff: INR 8,500 onwards, per night
Suggested Read: Nightlife In Cochin: 12 Best Experiences For A Dazzling Night In 2022!
3. The Poovath Heritage, Fort Kochi

Image Source
Merely a minute's walk from the Fort Kochi Beach, The Poovath Heritage Resort is actually a restored Dutch palace from the colonial era. Being a cultural melting pot, the resort's surroundings have a lot to say to the history buffs. The idyllic setting of the verandah is perfect for informal 'at-home' dining experience. This heritage palace would bring you closer to history and make you procrastinate going back to routine. For its strategic location, it is conveniently close to almost all the tourist attractions in Cochin.
What's special: Fishing tour, 'catch-of-the-day' is a must try. Broadway walk, Elephant Kraal visit, sunset cruise at backwaters, cycling, and riding on rental bikes make the experience all the more worth-while.
Suggested suite: Sea-View Room for its mesmerizing panoramic views
Tariff: INR 8,200 onwards, per night
Suggested Read: 10 Surprisingly Good Budget Hotels In Cochin
4. SAJ Earth Resort, Nedumbassery

Image Source
Located near Cochin International Airport, SAJ Earth Resort is set at the beautiful countryside. The rooms in the resort are strategically set around the swimming pool to offer a wavefront view, away from the grittiness of the sand. SAJ Earth Resort surely brings guests closer to nature, making it a perfect gateway to Kerala's magnificent mountains and sun-kissed beaches.
What's special: Horse riding at the paddy fields make it a special experience. Playing table tennis and pool to have some lazy, fun time is also not bad.
Suggested suite: Island rooms and balcony pool-view rooms are best for a serene view and seclusion
Tariff: INR 6,000 onwards, per night
Suggested Read: 7 Cochin Guest Houses For A Memorable Vacation In 2022
5. Cherai Beach Resorts, Vypin Island

Image Courtesy: Booking.com
A rare blend of beach, backwaters, and greenery – this tropical paradise will cast a spell on you with its charisma. Beautifully decorated with water canals and lush-green paddy fields, it is one of the best beach resorts in Cochin, probably the best too. The water flowing around the heritage cottages, be it beach, backwaters, or swimming pool is mind-numbing. Experience the glorious sunrise and let their pleasing settings soothe your mind, body, and soul.
What's special: Hammocks and swings around backwaters, and sunbathing facilities with sunbeds
Suggested suite: Sunrise Villas for their blissful morning views
Tariff: INR 4,800 onwards, per night
Suggested Read: 10 Surprisingly Good Budget Hotels In Cochin
---
Planning your holiday in Kerala but confused about what to do? These Kerala travel stories help you find your best trip ever!
---
6. Bolgatty Palace Island, Mulavukad

Image Courtesy: Booking.com
Amidst the intricacies of Bolgatty Island lies this oldest existing Dutch mansion – Bolgatty Palace, which is a well preserved converted resort. The rooms facing the marina, with 'one-and-9-hole' golf course on the other side, are refreshing even to the direst of souls. Apart from luxury, the resort ensures a refreshing stay.
Bolgatty Palace has now emerged as a popular choice for honeymooning couples. If you are planning for a romantic trip, stay at this one of the best beach resorts in Kochi for a memorable time. And don't miss the panoramic view from the harbor.
What's special: Boating, Golfing, and Bird Watching
Suggested suite: Lake-front, golf-view rooms as they provide the best views of the lot.
Tariff: INR 3,100 onward, per night
Suggested Read: 12 Hotels In Cochin That Will Make You Want To Extend Your Vacation
7. Lake Symphony Resort, Panangadu Kumbalam

Image Source
Set on the shores of Kaithapuzha Backwaters, Lake Symphony is perfect for an ideal vacation. Aesthetic terra-coated cottages, spacious lush green lawns, picturesque landscaped gardens, and beautiful lake view makessure you have a pleasant stay. The lakeside lawns are perfect to spend some precious time with your family. You can look over the stunning sunrises and sunsets against the lake while lounging on the garden swing. With such steal deal in rates, most of the people prefer Lake Symphony Resort than other budget hotels in Cochin.
What's special: Campfire, Yachting, and Kerala Backwater Cruise
Suggested suite: Lake-view Royal Suite
Tariff: INR 3,000 onwards, per night
8. Michaels Land Resort, Kumbalangi

Image Source
Located at one of the most peaceful locations, this secluded 12-acre peninsula resort is perfect for a getaway. Experience tranquility amidst the coconut trees, warm river water, and the onshore pleasant breeze. Amazing panoramic views, complete privacy, excellent service, and various leisure activities makes Michaels Land Resort a popular choice for many travellers. However, all these things do not set it apart; what indeed sets it apart is it budget. Every one of these facilities are available at such a measly price that you won't feel even a small pinch to your pocket.
What's special: Dinghy-rowing and angling are the major water sports organized by the resort. Also a tour to crab nets, a game of tug of war, play-at-hand of carom, a throw of frisbee, and hitting the volleyball are worth enjoying. If nothing else, lounging on the hammocks, and  lazy boating in the sea are equally enjoyable.
Suggested suite: Sea-facing rooms are the best for their nearness to the shore
Tariff: INR 2,500 onwards, per night
9. Kadalkkara Lake Resort, Cherai Beach

Image Source
The Kadalkkara Lake Resort is one of the most economical resorts in Cochin. If you are trying to escape from the chaotic city life, but are not ready to shell out big bucks, this is the resort for you. Close to nature, closer to everything fun in Cochin, and closest to the beautiful Kadalkkara Lake, this resort is truly a reprieve to many. Nestled amongst the green surroundings, and whispering water, this retreat boasts of its cottage style rooms. There are private as well as shared rooms for you to choose from. Now, this is a great option for bachelors and backpackers.
The resort has a well-furnished and fully equipped conference hall where meetings and seminars can be conducted. This makes it an ideal place for team outings. Furthermore, you can enjoy beach games, fishing, boating and backwater cruises. This place also organizes sightseeing trips in and around the resort on request.
There are several places of tourist interest closeby. The city of Kochi itself is a wonderful place to visit and explore. Famous spots include the Periyar Wildlife Sanctuary, the Jewish synagogue, the Dutch Palace, the Santa Cruz Basilica, the Chinese fishing nets, Kaladi, and the Catholic Church at Malayattoor.
What's special:  Shared rooms, tranquil environment, budget-friendly stays, and spots for team outings
Suggested suite: Valiyaveedu Room and The Suite for their amenities and best views
Tariff: INR 2,100 onwards, per night
10. Vedic Village Resorts

This is one of the best resorts in Cochin and offers a laid-back stay facility. The place provides a unique tropical experience and houses a number of well-furnished cottages and the designers who designed this place had an eye for the rugged wilderness around, which is evident from the surrounding landscaping work. The resort has its own line of delicacies for visitors and provides a huge balcony that looks over an ayurvedic spa. If you're willing to jump into the outdoor pool, then this might just be the right place for you. The travelers and families that visit this place are always satisfied with the vibe it offers. Clearly, it can be said to be one of the best resorts in Cochin.
What's Special: Swimming Pool, Backwater Cruise. Ayurvedic Spa, Airport Transfer
Tariff: Starting from INR 3,500 per night.
Location: VP Island, Near Moothakunnam, N.Paravur, Kochi, Kerala 680667
11. Sea Lagoon Health Resort

The Sea Lagoon health resort is yet another beautiful resort that offers a backwater region for visitors to relax. The resort provides astonishing views and a number of amenities that are quite rare. A traditional architecture pattern is hosted here that provides comfort to the visitors and makes the visitors feel like they are in their home. The resort beholds the colorful part of Kerala and respects the heritage and culture of the place. The sea lagoon is one of the finest sites here and can be soothing for the clients as well. A number of furnished rooms are offered to the visitors of this place alongside a long balcony. If you're interested in accompanying your friends and family in a retreat and a peaceful time away from city life then this might be the right choice for you.
What's Special: Free Wi-Fi, Minibar, Poolside Cafe, Poolside Restaurant, Multi-cuisine restaurant, Infinity Pool
Tariff: Starting from INR 6,500 per night.
12. Le Meridien Resort

Le Meridien resort is yet another amazing resort that provides banks of calm backwaters and offers a 5-star experience to its clients. The estate provides more than 223 rooms and all of them are very luxurious. This is one of the finest hotels in Cochin and is not located too far. The place is quite convenient for visitors. The 14 banquet halls that spread over 65,000 square feet is something that people will fall in love with. The resort has a capacity of housing more than 2500 guests and in case you're looking forward to having a taste of mother nature combined with exquisite luxury, then this is the right choice for you.
What's Special: Ayurvedic Spa, Fitness Centre, Swimming Pool, Kids' Pool, Non-Smoking Rooms, Junior Suites, Backwater Views, Minibar.
Tariff: Starting from INR 6,000 per night
13. Silver Tips Spice Heritage Resort

This is one of the oldest resorts that exist in Cochin and is a salute to the traditional styles of Kerala architecture. The old-age customs are being practiced here and are rich in heritage. The Kerala people feel like they are at home here and the wooden craving and artifacts are designed to impress the guests. The homely vibes and modern facilities are combined with an amazing aroma of the spa that will be ideal for a relaxing day. One can simply sit here and admire the scenery surrounding this place. The Silver Tips Spice Heritage resort is from where heritage and luxury starts.
What's Special: Free Wi-Fi, Swimming Pool, Conference Room, Aroma Spa, Pure Veg Restaurant, Indoor Game Room, Guided Tours
Tariff: Starting from INR 8,000 per night.
14. Sealine Beach Resort

This resort lies on the coast of Cherai Beach and offers a magnificent coastline view. The Arabian sea accompanies the resort in providing visitors with a tropical vibe and the unique beauty of Kerala completes the whole package. This is claimed to be one of the best resorts in Kerala and has some of the best facilities for its clients in terms of hospitality. If you're looking forward to a memorable beach stay, then this place will be perfect for you. The rest provides an Ayurvedic spa to its visitors as well, alongside a full course meal restaurant. One can simply sit alongside the beach and look at dolphins and have an amazing time. The rooms that are available here are a deluxe, executive, etc. the different budget rooms are something that will make your stay even more pleasant.
What's Special: Foreign currency exchange, Ayurveda Center, Yoga, Rooftop Restaurant, Beach View.
Suggested Suite: 2BHK suite.
Tariff: Starting from INR 3,000 per night.
15. Les 3 Elephants Resort

Here is yet another beautiful boutique-style resort that lies on the laps of Cochin. The place is quite massive and that is why it got the name Elephant resort. The different varieties of bamboo make the place look authentic and a lot of greenery here ensures that environmental stability is maintained. The place has been built to complement mother nature and along with all that, there is a homely comfort vibe that will make the stay memorable for people. The cross-ventilation room systems and private balconies are something that makes people eager to visit this place. During the cold seasons, the solar heaters will keep the rooms warm enough for a comfortable stay.
What's Special: Ayurveda centre, fully operating restaurant.
Suggested Suite: 3 BHK suite.
Tariff: INR 4,500 one night.
16. Bolgatty Palace & Island Resort

If you're willing to stay in luxury, then here comes one of the most luxurious places in all of Cochin. The Bolgatty Palace Island is yet another good-looking resort in Bolgatty. The resort has been equipped with four large rooms and has been built in the late 17's. Here you will find a beautiful balance between mother nature and luxury. A canopy of beautiful and green shelters makes the place look even more alluring. Apart from all the top class luxuries, the place is situated in one of the most beautiful locations in Cochin.
What's Special: Authentic dishes, good staff, heated rooms.
Suggested Suite: 2/3 BHK suites
Tariff: INR 3,000 per night.
17. Whispering Waters Resort

This resort lies near the Kondanad Elephant Rearing centre and has one of the finest bird sanctuaries near it. This is one of the most scenic resorts in Cochin and is a 30-minute drive from the international airport. The 20 iconic design rooms come with private balconies and offer a peaceful environment as well. The stay here will be quite eventful and the full responsibility of that is taken by the hotel staff. If you're willing to experience a beautiful sunset, the riverside stay will assist you in escaping from the daily hassle of life.
What's Special: heater rooms, close to airport, greenery, peaceful environment.
Suggested Suite: Villa style suite.
Tariff: INR 4,000 per night
Further Read: 45 Fascinating Tourist Places To Visit In Cochin
Which one of these have you chosen for your next retreat in Cochin? Tell us in the comments below and plan a trip to Cochin ASAP. The God's own country is calling you!
Disclaimer: TravelTriangle claims no credit for images featured on our blog site unless otherwise noted. All visual content is copyrighted to its respectful owners. We try to link back to original sources whenever possible. If you own rights to any of the images and do not wish them to appear on TravelTriangle, please contact us and they will be promptly removed. We believe in providing proper attribution to the original author, artist, or photographer.
Frequently Asked Questions About Resorts In Kochi
What is Kochi famous for?
Kochi is famous for spices and its significant location. The most famous places to visit in Kochi are Fort Kochi, Cherai Beach, Mattancherry Palace, and St. Francis CSI Church.
Is Kochi and Cochin same?
Yes, Kochi and Cochin are the same places. Though the difference in name creates a lot of confusion for travelers. Officially, it was named as Kochi by the government in the 90s.
Why did Kochi turn into Cochin?
The word 'Kochi' is derived from a Malayalam word Kochazhi which means 'small estuary'. British used to call it Cochin, however, locals remained to call it Kochi.
What can I buy in Kochi Kerala?
Kochi, the spice hub of India is quite popular for its exquisite quality of spices throughout the world. For spices, you can head to Bazaar Road at Fort Kochi for the best deals. Apart from spices, there are numerous other things to buy in Kochi such as antiques like snake boats, wooden temples, spice box, wall decoratives, etc. You can also buy light clothing from here made up of fine cotton. Kairali is a government emporium from where you can buy interesting handicraft items. Mattancherry Island is also famous in Kochi for spices and other shopping items.
Why is Kochi the Queen of Arabian Sea?
Kochi, the mesmerizing gateway of Kerala which is located on the western coast of India is called as the Queen of Arabian Sea as it is an important center for the trade of spices and has remained significantly important since the 14th century. Apart from trade, the place is also important due to its connectivity to the other parts of the state of Kerala. This beautiful place has A. the Western Ghats on one side and the Arabian Sea on the other, making it the 'Queen' of this serene location.
Is Kochi a good place to live?
Yes, Kochi is one of the most beautiful places in Kerala to settle down.
---
Looking To Book A Holiday Package?
---