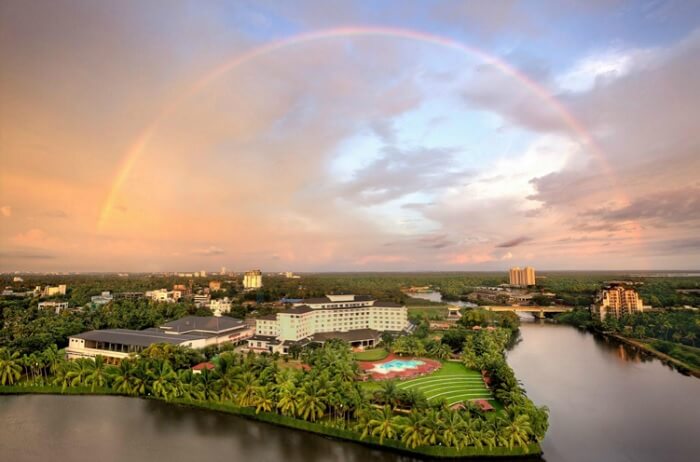 For those who wish to explore the real treasures of Kerala, here we go with the list of places to visit in Cochin. Beaches and backwaters, tea plantations and spice estates, hot steaming appams with stew and vibrant Kathakali performances – these and much more epitomise the God's Own Country, Kerala on the global tourism map.
However, Cochin stands out. Cochin has an altogether different signature – history and tradition woven together with modernization. The tourist places in Cochin, especially the best ones, are absolutely captivating, and sure to leave you with a bag full of beautiful memories and aspirations.
History of Cochin
Before starting with the list, let's share a brief history of Kochi, previously and more popularly known as Cochin. It is an important port of south-west coast of India and was once a significant spice trading hub. If we go back to history, we see Greek, Roman, Portuguese, Arabic and Jewish settlements in Cochin for trade and commerce purposes. The city is also referred to as Ernakulam.
Today, Cochin stands as an important city and tourist place in Kerala. It is also popular with tourists heading South for religious tour. Each one of the mesmerizing places to visit in Cochin has some kind of historical and colonial significance to it.
1. Mattancherry Palace – The Dutch palace, much like a typical Kerala house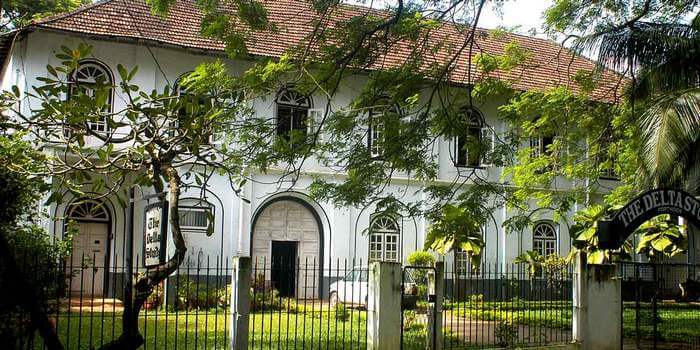 Mattancherry Palace, located in Palace Road and built by the Portuguese as early as 1557, is considered to be one of the important places to visit in Cochin. Popularly known as Dutch Palace, it has the style and architecture that resembles a typical traditional Kerala house with four individual wings and a patio in between.
Don't miss: Like every Kerala house, Mattancherry palace also has a courtyard in the center. The courtyard has a beautiful temple of Bhagavati, the protective deity of Kochi community. There are two other temples of Shiva and Krishna inside the palace. Also the collection of frescos and paintings covering a large portion of the palace walls is worth seeing. However, don't restrict to the interiors of the palace. Take in the beauty of its famous sprawling gardens and manicured lawns, that earned it a spot among the best tourist places in Kochi.
Opening hours: 10 am to 5 pm.  In between, the palace is closed from 1 pm to 2 pm for lunch. The Palace is closed on every Friday. Plan accordingly.
Entry fee:  INR 2 per head. Yeah, read again to believe.
---
Kerala Holiday Packages On TravelTriangle
A holiday in Kerala will fill you with memories. Witness pristine backwaters with comfortable houseboats, lush green hill stations, waterfalls, and plantations of tea and spice. Indulge in an ayurvedic massage or taste exotic cuisines. Book a Kerela holiday on TravelTriangle. Best prices guaranteed.
---
2. Indo-Portuguese Museum – An amalgamation of Indian and Portuguese culture
The Indo-Portuguese Museum is an amalgamation of Indian and Portuguese culture and architecture. Located in Fort Kochi area, it was built by former Bishop of the city, Joseph Urethra. The museum is divided into 5 wings exhibiting Altar of Furniture, Treasure, Procession, Civil Life and Cathedral.
Don't miss: The museum houses some prized artefacts like Processional Cross made of silver and wood, Indo-Portuguese Monstrance, and Coat of Arms of the Francis.
Opening hours: 10 am to 5 pm. The museum is closed on every Monday and public holidays.
Entry fee:  INR 10 for Indians and INR 25 for foreigners. However, if you happen to visit on the first Thursday of the month, entry is absolutely free.
Suggested Read: The Ultimate Guide to Top Tourist Places in Kerala
3. Paradesi Synagogue – The Jewish church is among the b'ful places to visit in Cochin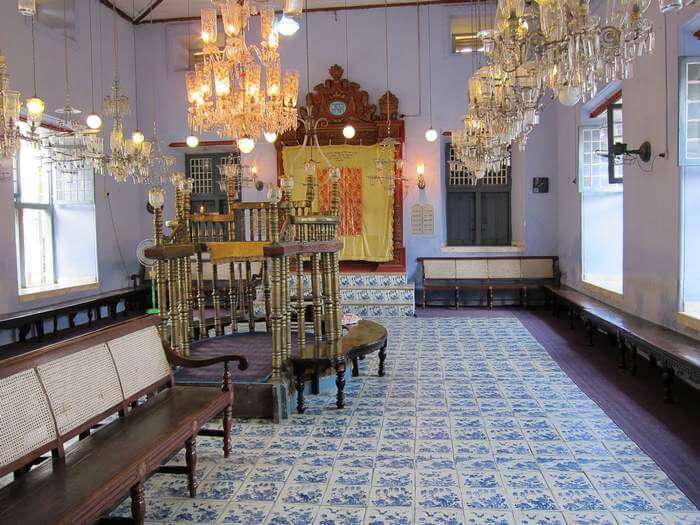 Built in 1568, Paradesi synagogue or the Jewish synagogue is the oldest one amongst all commonwealth countries. Jewish synagogue is located in Jew Town area of Cochin and was built by Cochin Jewish group or Malabar Yehudan people.
Don't miss: Paradesi synagogue houses very rare and appreciated antiques like carved teak ark with four scrolls of Torah (the first five books of Old Testament), silver and gold crowns, chandeliers made of Belgian glass, century old copper plates, hand-woven oriental carpet and a clock tower.
Opening hours: 10 am to 12 noon, and 3 pm to 5 pm. It is open all days of the week.
Entry fee: Entry is free inside the synagogue.
4. Hill Palace – A heritage museum dedicated to the Maharaja of Kochi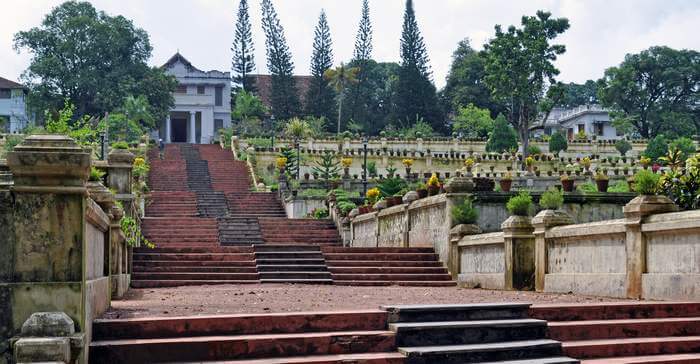 Hill Palace is a heritage museum and houses many archaeological relics and imperial belongings of the Maharaja of Kochi. The palace was constructed in 1865 and comprises 49 buildings. The beautiful gardens and refreshing outer facade of the museum are added bonus, besides the real knowledge and artefacts huddled inside the buildings.
Don't miss: Along with modern-day art gallery, other popular objects worth seeing are Kudakkallu (tomb stone), Thoppikkallu (hood stone), granite & laterite memorials, rock-cut armaments of the Stone Age, wooden temple replicas, and plaster cast prototypes of objects of Mohenjodaro and Harappa of the Indus Valley Civilisation. If you a history or culture buff, Hill Palace is certainly among the best places to see in Cochin.
Opening hours: 9 am to 12 noon, and 2 pm to 4.30 pm.  The adjoined Children's park is open till 6 pm. Mondays are weekly offs for the palace.
Entry fee:  INR 30 per head
5. Folklore Museum – An interesting museum with an interesting facade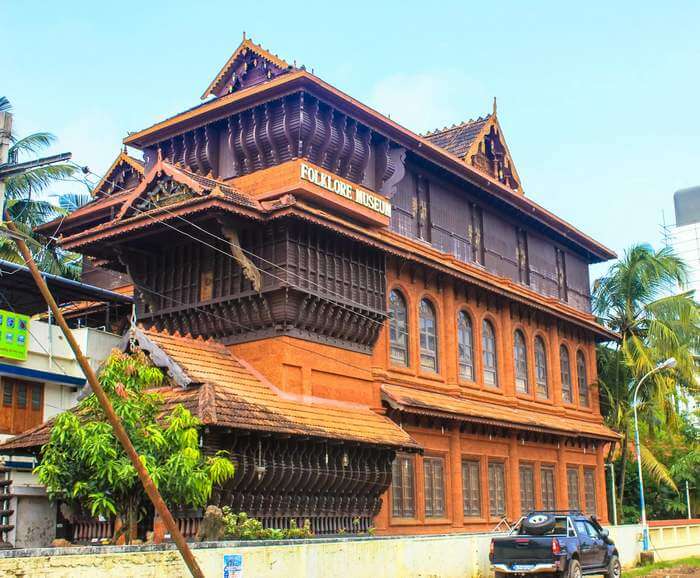 Kerala Folklore Theatre and Museum is one of the popular tourist places in Cochin. It displays cultural exhibits and folk-tribal objects of the state. The museum is a 3 storeyed building, inaugurated in 2009 and representing the real legacy of Kerala. The building's facade had a very strong Malabar architectural influence.
Don't miss: Folklore Theatre and Museum displays traditional Kathakali masks, costumes, sculptures, musical instruments, ornaments, and utensils which belong to the historic stone age. Do not miss the manichitrathazhu, a traditional ornate door lock of Kerala while you enter the building.
Opening hours: 9.30 am to 7 pm.
Entry fee: INR 100 per head
6. Veegaland – The most fun of all the places to visit in Cochin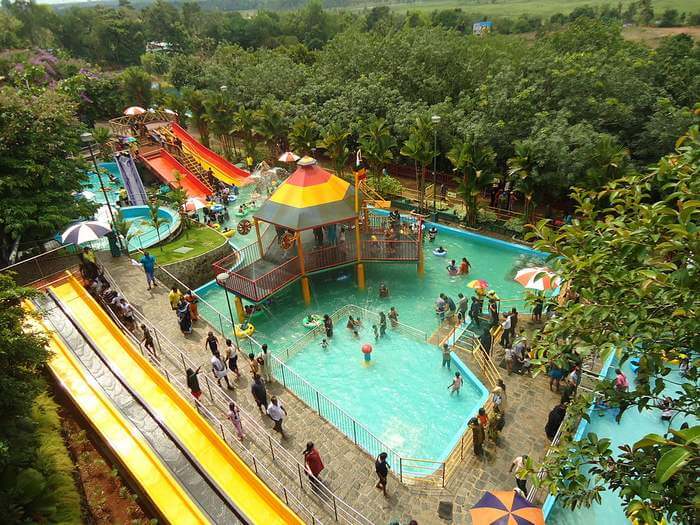 Popularly known as Wonder La Amusement Park, Veegaland is the country's first theme park and one of the most happening places to visit in Cochin. Located on hill top, Veegaland is famous for thrilling and fun filled rides, thus making it a perfect for a family outing.
Don't miss: The park comprises exhilarating land and water rides. One can enjoy bumping cars, dancing cars, musical fountain, flying ammu, convoy – the toy train for kids, balloon tower, castle jet, wonder splash, rapid river, boomerang, water coasters and much more. If you like adventurous rides, go for twin flip monster, vintage tornado, thunder fall, space gun and maverick. Show the world how daring you are!
Opening hours: 11 am to 6 pm on weekdays, and 11 am to 7 pm on weekends and holidays.
Entry fee: Veegaland has a concept of Regular and Fastrack tickets. The latter allows tourists to enjoy rides with shorter queue and lesser hassle. However, it costs more than the price of regular tickets. Also, fastrack tickets are limited to 500 PAX in a day, so it basically serves the first-come-first-serve purpose.
Moreover, ticket prices increase on weekends and public holidays. Know more here.
7. Mangalavanam Bird Sanctuary – A biosphere heaven for nature enthusiasts and bird-lovers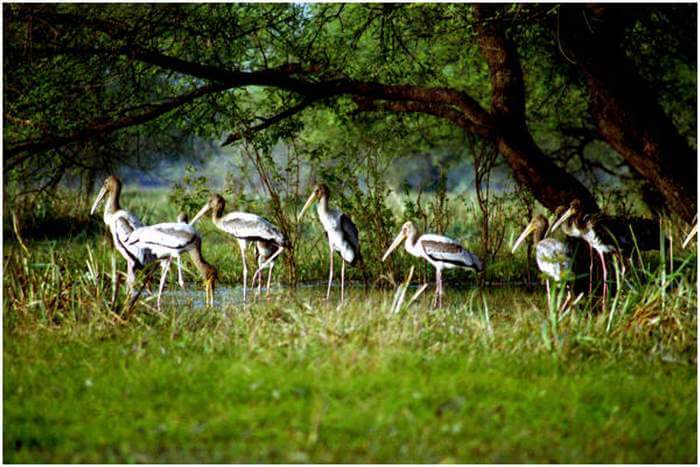 This biosphere reserve located at Central Cochin is a natural habitat to many endangered and regular species of local and migratory birds, as well as mangrove vegetation. The sanctuary encircles a tidal lake which is connected to the backwaters and one of the imperative places for sightseeing in Cochin especially for nature lovers. It is a also a home to several species of fishes.
Don't miss: In 2006, Mangalavanam Bird Sanctuary was home to 194 birds of 32 species. Consider yourself lucky if you happen to spot redshank, greenshank, brahminy kite, white breasted water hen and marsh sandpiper. The beautiful landscape of the sanctuary has earned it a spot on the list of best tourist places in Cochin.
Opening hours: 9 am to 6 pm
Entry fee: None. However, carry your own water bottles and snacks as the eateries inside are far less and random.
Suggested Read: 10 Most Offbeat Kerala Backwaters You Should Explore
8. Santa Cruz Basilica – One of the oldest tourist places to visit in Cochin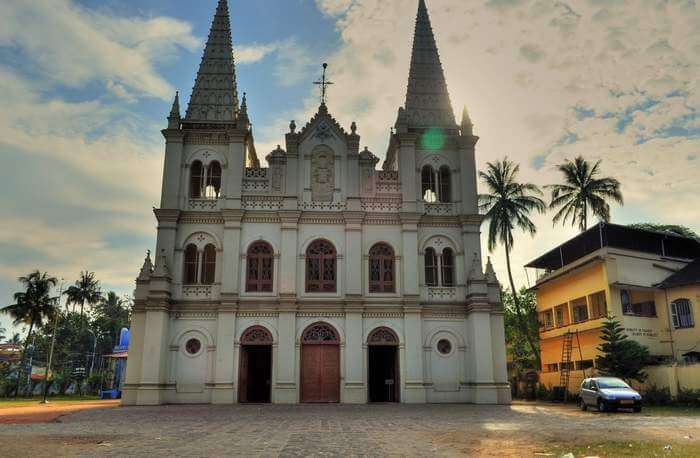 One of the most ancient churches in India and one among the 8 Basilicas, Santa Cruz Basilica is truly one of the oldest and the most beautiful places to see in Cochin.  It reflects historical glory and pride. This is the Cathedral church of the Diocese of Cochin and is considered as one of the heritage sites of the state.
Don't miss: Explore the true Gothic pattern of architecture, both on the interior and the exterior. Magnificent historical paintings on the walls of the church must be missed.
Opening hours: 7 am to 6.30 pm from Monday to Saturday, and 8 am to 6.30 pm on Sundays.
Entry fee: None
---
Planning your holiday in Kerala but confused about what to do? These Kerala travel stories help you find your best trip ever!
Real travel stories. Real stays. Handy tips to help you make the right choice.
---
9. St Francis Church – See it for its grandeur and old-world charm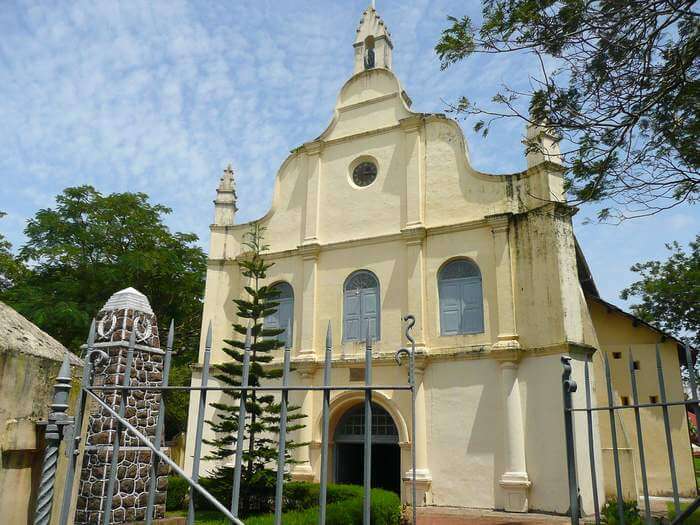 St Francis Church is one of the oldest churches in India, built by the Europeans. It is well-known for its beautiful surroundings, serene environment, and stunning design.
Don't miss: The extraordinary exterior structure with stepped pinnacle on two sides and the interior with pinnacle, chancel roof along with the baptism platform, book rests, offering and confessional stage are worth seeing. All these reflect the grandeur and charisma of the old-world and its traditions.
Opening hours: 7 am to 6.30 pm on all days, except Sundays. The timings are from 8.30 am to 6.30 pm for Sundays.
Entry fee: None
10. Cherai Beach – One of the most tranquil tourist places in Cochin
A tranquil and pristine beach, Cherai is dotted with lush green swaying coconut plantations. There are golden sandy beaches, happening beach shacks and plenty of sea shells. A perfect spot to enjoy either your own company or a lover's hug, away from all the city noises. The serene piece of beauty, Cherai Beach is located at Vypin Island.
Don't miss: Explore the surrounding, especially the backwater, fishing nets, thick coconut grooves and paddy fields. You may be lucky enough to spot dancing dolphins
Opening hours: The best part about this beach is that it's accessible 24*7. However, we recommend to refrain from entering the water during high tides.
Entry fee: None whatsoever.
Suggested Read: 10 Beaches In Kerala You Should Visit For A Romantic Vacation
11. Veeranpuzha Beach – See the gorgeous sunset views here!
A typical Malabar coastal topography with serene beaches, lush green bordering vegetation, fisherman settlements and sandy shore line sums up the picture of Veeranpuzha Beach. The beach and its backdrop are among the most placid tourist places in Cochin. Certainly a stop that assures calmness, peace and quality time with your near ones.
Don't miss: Explore the surroundings, walk on the beach and visit the fishermen villages to know more about their work and working styles.
Opening hours: It's accessible to public 24*7. However, please respect the privacy of fishing villages and their homes.
Entry fee: None
12. Gowreeswara Temple Cherai – One of the prime religious places to see in Cochin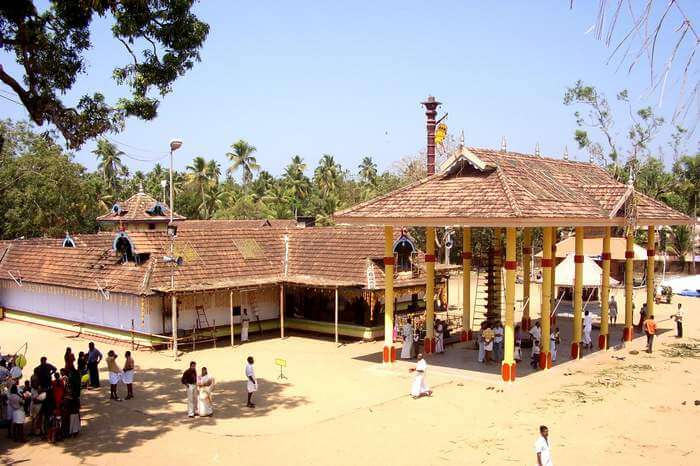 Gowreeswara Temple Cherai located in the Cherai village area is one of the prime Hindu religious places to see in Cochin. It is locally called Malyala Palani and Muruga Temple. The main God worshipped here is Lord Subrahmanyan. Though the nomenclature is after Lord Gowreeswara, Lord Subrahmanyan's father.
Don't miss: This is the only temple in India with Chaturmukha Kovil, which is a Dravidian architecture style with doors on all four sides. If you happen to visit in the last two weeks of January and first two weeks of February, watch out for caparisoned elephant march, which is a part of the Cherai Gowreeswara Temple Festival.
Opening hours: 3.30 am to 11.30 am, and 4 pm to 8 pm on every day of the week.
Entry fee: None
13. Shiva Temple – One of the 7 royal temples in Kochi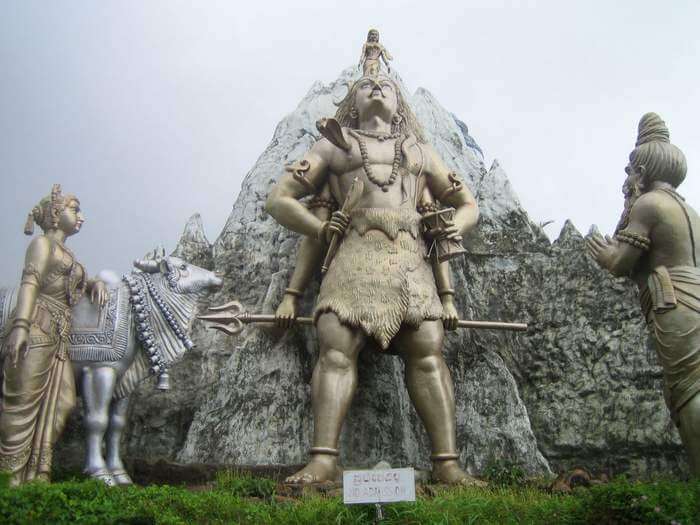 Located in the downtown Cochin, Shiva temple is also known as Ernakulathappan Temple. It is one of the seven royal temples of Kochi Maharaja and is considered as the one which protects the entire city. This temple is a popular tourist place in Cochin, not only among locals but also among inter-state visitors.
Don't miss: Observe and marvel at the traditional temple structure that reflects the Malabar heritage, especially the finely sculptured walls, sanctum complex and delicately decorated gates or gopuram.
Opening hours: 03.30 am to 8 pm on all days of the week
Entry fee: None
14. Ernakulam Mahadeva Temple – An ancient temple in Kochi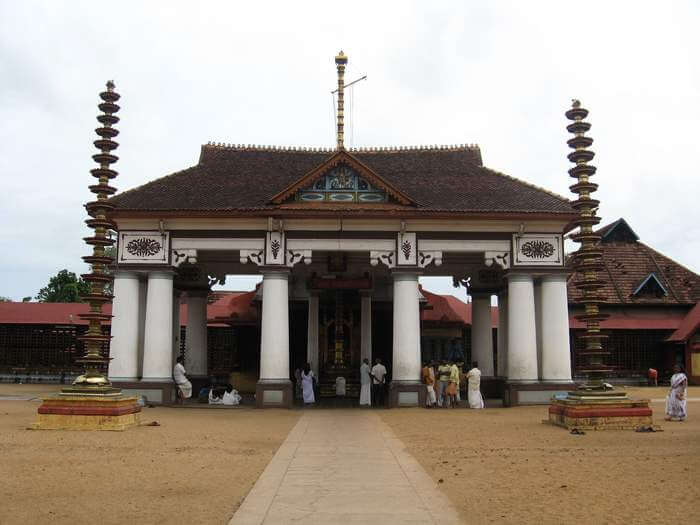 Ernakulam Mahadeva Temple is located in the heart of Cochin city. It is one of the ancient Hindu temples dedicated to Lord Shiva. The significance of this temple is that it's the only pilgrimage in South India where the idol of the deity is facing towards the west.
Don't miss: The typical Kerala style architecture and temple pattern. The use of wood, stone and metal on the exterior, as well as interior is truly remarkable.
Opening hours: The temple is open on all days of the week from 5 am to 12 pm, and 4 pm to 9 pm
Entry fee: None
Cochin with its never ending treasures for tourists has a lot to offer. Each place with its traditional glory and magical scenic beauty will make your trip delightful and enchanting. And if you are enchanted and delighted enough, please share.
Further Read: 20 Amazing Things To Do In Kerala For An Incredible Holiday
---
Looking To Book A Holiday Package?
Book memorable holidays on TravelTriangle with 650+ verified travel agents for 65+ domestic and international destinations.
---
Comments
comments