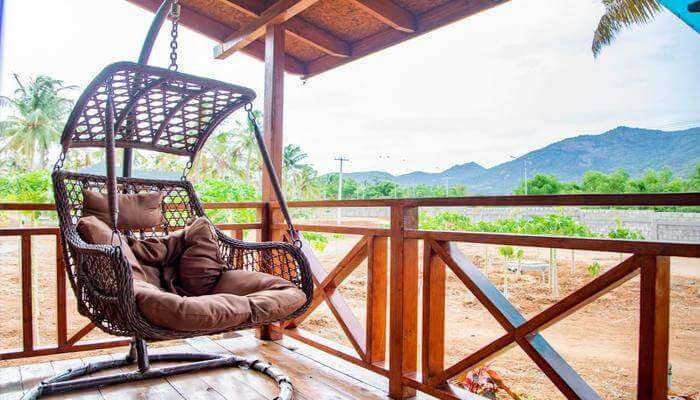 Rameshwaram is a small town in the southern region of Tamil Nadu which is known for its pristine beaches, temples and other attractions that are perfect for a getaway. Apart from the beaches and temples, Rameshwaram also has excellent resorts nearby which are an ideal spot for vacation as well as provide an atmosphere of comfort and relaxation that makes you forget all your worries and switch your vacation mode on!
The resorts near Rameshwaram are located near some of the other famous cultural and heritage sights that one can visit during their vacation. These resorts serve as catalysts to a successful trip as you can explore the places nearby as well as explore the premises of the resorts- both of which are equally exciting and thrilling!
5 Resorts Near Rameshwaram
Resorts near Rameshwaram are often near the sea and provide a lot of other activities that can be enjoyed by people of all ages. Some of the best resorts near Rameshwaram are listed below, and tourists can choose them based on the kind of things they are looking for in their vacation.
1. Tycoon Resorts
Image Source
Located in Madurai, this resort offers almost everything that one needs for a peaceful getaway from the city. It is an eco-friendly resort and has various exciting activities that can engage the young and old alike, including swimming pool, library, space for indoor and outdoor games, spa, yoga room and the list is endless. For nature lovers, there are places like bird aviary, butterfly garden, trekking trails, and plantations – all within the resort.
Location: Usilampatti Taluk, Madurai
Approx price per night: Approx INR 6000
Distance from Rameshwaram: 200 kilometers
15 Places To Visit Near Madurai: The Gateway To Enjoying South India's Beauty In 2022
2. Heritage Madurai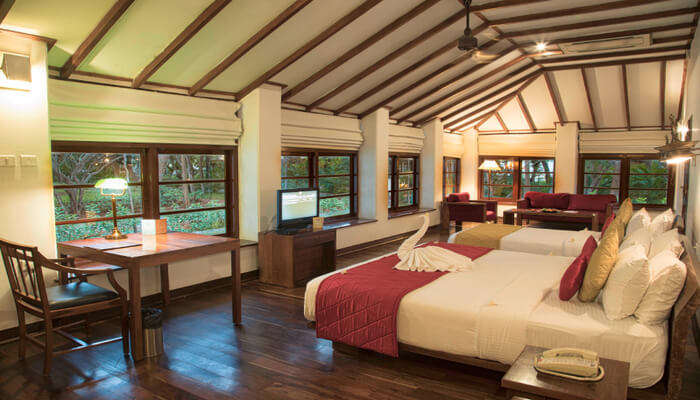 Image Source
This resort is located at the heart of the ancient Tamil city, Madurai and is almost a hundred years old. Situated near the prime tourist spots of the town, this resort also has a wide variety of amenities for tourists who wish to relax in the resort as well. There is a well-maintained swimming pool to take a dip, gaming room and a gym/fitness center for those who are health-conscious. The resort also has conference rooms ideal for business meetings and other events.
Location: Melakkal Main Road, Madurai
Approx price per night: INR 11000
Distance from Rameshwaram: 177 kilometers
3. Aqua Outback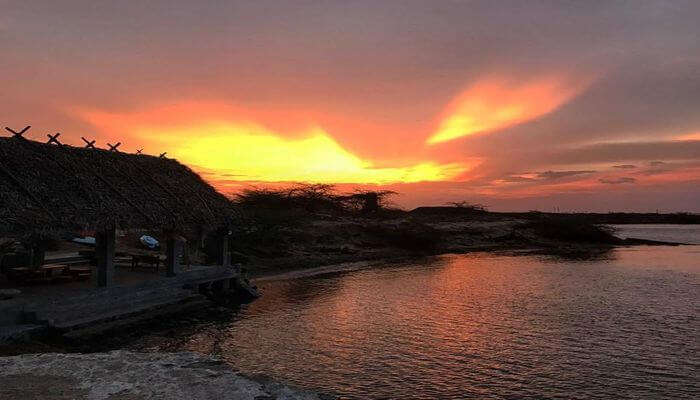 Image Source
It is one of the most popular beach resorts near Rameshwaram that offer a variety of water sports activities at reasonable prices. Modeled after traditional south Indian homes, the rooms contain furniture that resonates with the spirit of the coastal town of Tuticorin. The resort is famous for its communal dining experience where the guests can interact and socialize with one another. The resort is pet-friendly and offers airport pickup/drop services as well. Some of the activities provided by the resort that comes with select packages are Kitesurfing, Scuba diving, Wakeboarding, Kayaking, Snorkeling, Stand up wakeboarding, and Birdwatching.
Location: Toovipuram, Tuticorin
Approx price per night:
Single room – INR 6000
Double room – INR 9000
Triple room – INR 12000
Quadruple room – INR 15000
Distance from Rameshwaram: 176 kilometers
50 Best Tourist Places In Tamil Nadu Ensuring The Most Awesome 2022 Vacay
4. Sathya Parks And Resorts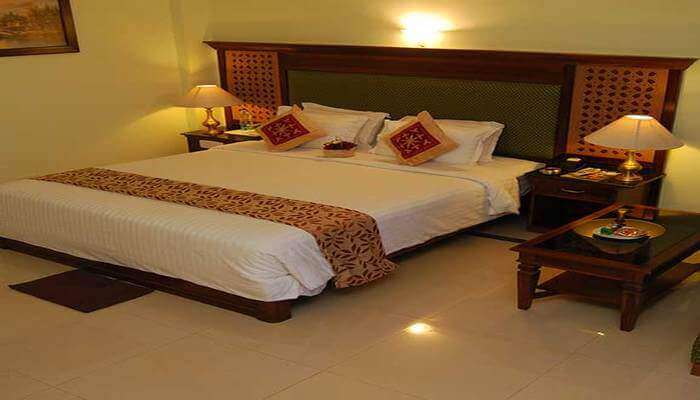 Image Source
Located in the commercial part of the city, this resort offers a perfect getaway from the busy and hectic hustle of the city. The resort offers a swimming pool, fitness center/gym for the health nuts and also a wide range of activities for children as well. The cost of the room is inclusive of breakfast and also has conference rooms that can be used to host business meetings and other functions.
Location: Maravanmadam, Tuticorin
Approx price per night: INR 3000 per night
Distance from Rameshwaram: 187 kilometers
5. Chettinadu Mansion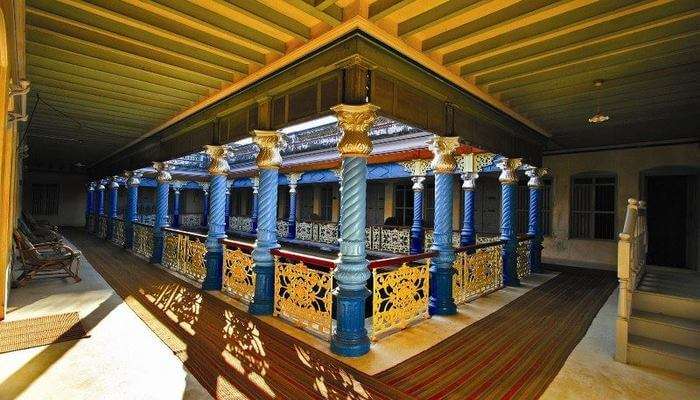 Image Source
This mansion/resort has been declared as a Heritage Village by the Government of India because it has been in existence since 1902. Spread over nearly 80,000 square feet, this opulent mansion must be one's choice of stay if they want to have the ultimate Chettinadu experience. With just twelve rooms that have been maintained like it was built in the 1900s, this mansion is a must-try for all the history buffs who want to immerse themselves in Chettinadu culture. The villa offers various activities like swimming, spa, visiting the museum in the mansion, bullock cart rides around town, bicycle rides and demonstration of the mouth-watering Chettinadu cuisine.
Location: Kanadukathan, Karaikudi
Approx price per night: INR 6000 per night
Distance from Rameshwaram: 155 kilometers
11 Adventure Places In South India That'll Get Your Heart Racing On Your 2022 Vacay
Travelling can soothe one's mind and alleviate all tensions and make one ready to hustle harder. It is true, mainly if the vacation involves the sea and beautiful resorts that offer the best kinds of services. Staying at the resorts near Rameshwaram can do that because it is not only near the sea but also provides a variety of services and activities that can get one's adrenaline pumping. These resorts are comfortable spaces of recreation, where you can enjoy as well as have fun. So, when you plan your trip to Rameshwaram, do check out these amazing resorts to make your trip easy and breezy.
For our editorial codes of conduct and copyright disclaimer, please click here.
Frequently Asked Questions About Resorts Near Rameshwaram
When is the best time to stay at the resorts near Rameshwaram?
The best time to stay at the resorts near Rameshwaram is between the months of October to April when the weather is calm and enjoyable.
Are there any hill stations to visit near Rameshwaram?
Some of the hill stations near Rameshwaram that one can visit are: 1. Munnar 2. Coorg 3. Ooty 4. Devikulam 5. Yercaud 6. Ponmudi
How can one reach the resorts near Rameshwaram?
One can reach the resorts near Rameshwaram by air ( closest airport is Madurai), by train ( closest stations are in Coimbatore, Trichy, and Chennai), and by road.
Where can couples stay near Rameshwaram?
Some of the most romantic resorts where couples can stay near Rameshwaram are: 1. Hyatt Place 2. Cabana Coral Reef 3. Daiwik Hotels 4. Hotel Pearl Residency
When is the best time to stay at the resorts near Rameshwaram?
The best time to stay at the resorts near Rameshwaram is between the months of October to April when the weather is calm and enjoyable.
Where can I go for a getaway near Rameshwaram?
Yes. Some of the hill stations near Rameshwaram that one can visit are: Munnar, Coorg, Ooty, Devikulam, Yercaud, Ponmudi.
People Also Read:
Resorts Near Ahmedabad Resorts Near Bangalore Resorts Near Nandi Hills