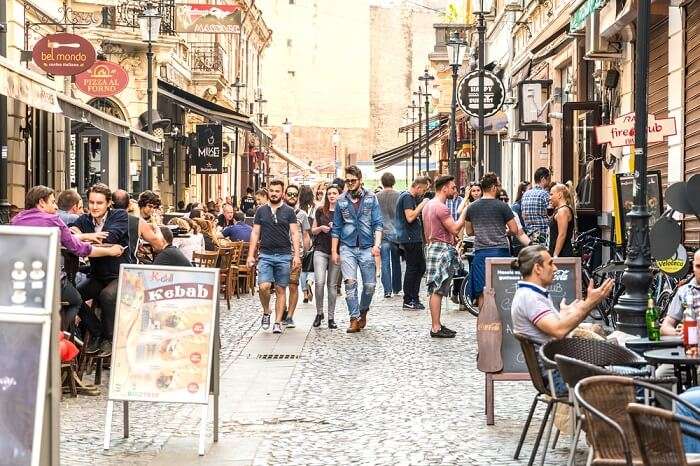 Bucharest is the largest city of Romania and is also its capital. The city serves as the cultural, financial, and industrial center. There are a number of places to visit in Bucharest. This is a city layered in history that one can't ignore or avoid. While you travel the city and take in all that it has to offer, you might get a bit hungry. So. here's a list of some of the best restaurants in Bucharest.
12 Best Restaurants In Bucharest
Here's a list of some of the best restaurants in Bucharest of Europe that would take care of your hungry stomach. Alongside tasty food, these places offer amazing experiences too.
1. Bistro Guxt

It is a cozy bistro that you should definitely try. This is a perfect option for all kinds of customers. You will find fine dishes that are well complimented with an amazing collection of drinks. It is probably the best place to eat in the entire town of Bucharest. Don't take our word? Try it out for yourselves then. This is a small place that offers the best dishes. The restaurant is situated in a very secluded place, far away from the public eye. Chicken liver mousse is highly recommended. You should also try the tender octopus and the pork. Simply, the best!
Location: 37, Strada Dimitrie Racoviță, București 030167, Romania
Google rating: 4.8/5
2. the ARTIST

The name itself is catchy, isn't it? This is a restaurant that is a favorite of the crowd. Everyone who has tried the food here says amazing things about this place. From the entrance, you will be ushered in the most professional way. The entire building looks sophisticated and refined. There is a good assortment of wine and cocktails on the menu. They perform like a Michelin star restaurant. It would be an amazing experience if you happen to visit here. The cucumber sorbet is a must. Try the amuse bouche as well.
Location: Calea Victoriei 147, București 010073, Romania
Google rating: 4.8/5
Must Read: Bucharest In Winter 2022: An Ultimate Guide To Enjoy The Chilly Weather At The Romanian Winterland!
3. Maize

This is a restaurant that is run by some amazing young chefs. They offer amazing and interesting Romanian food that might be the best you ever had. The restaurant has some intimate and intense ambiance that spreads the comfort around the place. They try to alter the way a food lover thinks and also take the time to make their own interpretations on some of the classic food recipes. Oh, and you can see the chef working, thanks to the open kitchen. The Romanian burger is recommended. The Meteoritical Bulz can be tried as well.
Location: Strada Paris 61A, București 011815, Romania
Google rating: 4.7/5
4. Blue Margarita

This amazing Mexican restaurant offers food along with some of the best margaritas! They offer amazing customer service as the staff always welcomes you with a warm smile prompting you to visit the place again and again. The live music provided here offers a cozy and relaxed atmosphere to all the customers. The Latin American vibe is quite strong and positive here. Anything from here is highly recommended; be it burritos, enchiladas, nachos or fajitas. This is truly a Mexican haven. The Strawberry Daiquiri(cocktail) should be tried as well.
Location: Strada Mihai Eminescu 188, București 020085, Romania
Google rating: 4.8/5
Suggested Read: Summer In Bucharest: 10 Things To Do For A Refreshing & Rejuvenating Vacation!
5. Yuki

This is probably one of the best Japanese restaurants here. The staff is extremely lovely and the whole setting inside the restaurant is perfect. Here you will have an authentic Japanese experience. In order for a full Japanese feel, the food is served by waiters in kimonos. Yuki is the name of the owner and you can actually meet him at the restaurant. The place is not just about sushi, but more than that. The salmon teriyaki is much appreciated. So is the wasabi sauce shrimp.
Location: Strada Puțul Lui Zamfir 5, București, Romania
Google rating: 4.7/5
6. La Pescaria Dorobantilor

This is a small restaurant that specializes in seafood and they are the best at what they do. They try to make their restaurant perfect in every way and they do it mostly by keeping the place prim and proper and giving detail to minute matters. They take customer satisfaction quite seriously. Since it is a small restaurant, it isn't crowded with people, hence you can take your time to enjoy whatever is served for you.
They serve the best and delicious food which is prepared with much love and attention. The restaurant passes as the most intimate, casual and cozy place as there are no decorations or other ornamentations highlighting the restaurant. They serve amazing food and that is their call sign. Grilled octopus with boiled potatoes is highly recommended. You can also ask for seabass Sawamura.
Location: Intrarea Tudor Ștefan, București 011656, Romania
Google rating: 4.8/5
Suggested Read: Bucharest In Winter 2022: An Ultimate Guide To Enjoy The Chilly Weather At The Romanian Winterland!
7. Beca's Kitchen

This is one of the best places around the town. You can also get to meet the namesake here when she tries to make you chose the selections available and you feel special because of the personal treatment. The restaurant feels like a home rather than a place to consume food. This homely feeling is the highlight of this charming restaurant. The place is very cozy and comfortable. They care about their customers so much that they interact with you like you are special to them; which you are. Pasta with shrimps is highly recommended. The duck breast with broccoli and a dressing of carrot mousse is also recommended. You should try the fish carpaccio too.
Location: Strada Mihai Eminescu 80, București 020081, Romania
Google rating: 4.7/5
Suggested Read: 5 Best Beaches Near Bucharest For A Perfect Day Trip
8. Paine si Vin

This is a new wine and bar in Bucharest. This is a simple place that celebrates local products and an amazing selection of wines that will definitely please you. They soothe the customers by playing music while you calmly enjoy your meal. This cozy feel makes the place really amicable and friendly. They concentrate on the many kinds of bread like flatbreads, home-baked loaves of bread and more. You can eat delicious food at a reasonable price here. Artichokes pizza is strongly recommended. You also need to try baked feta and their truffle butter.
Location: Strada Ion Brezoianu 4, București 050023, Romania
Google rating: 4.6/5
Suggested Read: Bucharest Nightlife: All About The Glamorous Nightclubs & Electrifying Parties!
9. Sharkia

Excellent meals and great service is what is waiting for you at Sharkia. They serve Lebanese food too. You can guarantee a very attentive staff that always tries to make you comfortable and happy. They also have that vibe that makes you want to visit the place again and again. The quality they offer is just perfect. Hummus with lamb is strongly recommended. Kofta is really popular here. Shredded beef is also recommended.
Location: Strada Luterană 2-4, București 010162, Romania
Google rating: 4.5/5
10. Mica Elvetie

They have everything with them to make you the happiest customer in the whole world. The place offers well above average food in Bucharest. The atmosphere is very relaxing and comfortable inside the restaurant, with some live music to calm the mood. The service they offer is impeccable and wonderful. You are also assured to get some delicious food. The steak tartare is strongly recommended, like the beefsteak tartare and tuna tartare. The cheese fondue and meat fondue are also delightful.
Location: Strada Franceză 60, București 030106, Romania
Google rating: 4.6/5
Suggested Read: 10 Mountains In Europe That Will Put To Test The Adrenaline Junkie In 2022
11. SARA Restaurant

This wonderful restaurant offers a wonderful culinary experience to all those who visit here. They are very organized and are pretty much vigorous in their functioning. It is a small, cozy setting that is really friendly to all the unassuming customers who want to snack on an amazing range of food from here. They offer great wine in support. The music provided enhances the ambiance of this small restaurant. Pasta with Italian sausage and mushrooms is highly recommended. Pizza also tastes amazing here.
Location: Strada Popa Petre 5, București 030167, Romania
Google rating: 4.7/5
12. Nor Sky Casual Restaurant

Enjoy your food with the best view of the city from the 36th floor; that is a truly amazing experience. The view is even more amazing at night, with the city all lighted up. The good food is complimented with a nice range of cocktails. The service is amazing too. The eggplant salad is highly recommended. The duck confit is also good. The tuna steak and the Nor burgers would be good for you.
Location: Strada Barbu Văcărescu 201, București 077190, Romania
Google rating: 4.5/5
Further Read: 13 Frolicsome Beaches In Europe For All The Excited Beach Bums Across The Globe
The list doesn't end there. There are many more restaurants in Bucharest that offer you good food and amazing service. Book your trip to Europe with TravelTriangle and see the culture and also taste the amazing cuisine through these restaurants and many others you might find on the way. Explore the city, its culture and also it's food habits.
---
Looking To Book An International Holiday?
Book memorable holidays on TravelTriangle with 650+ verified travel agents for 65+ domestic and international destinations.
---