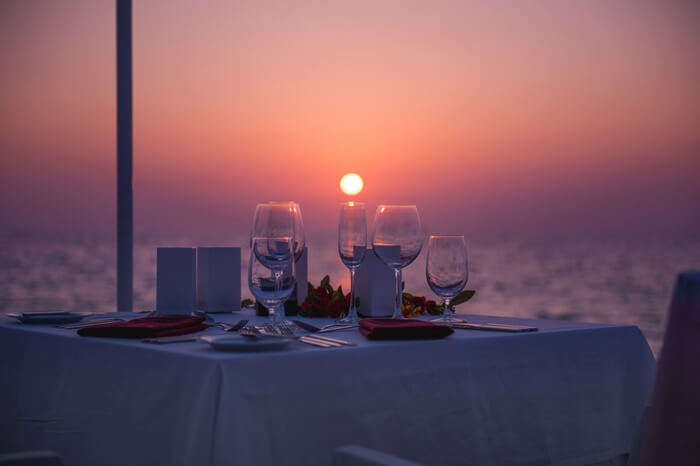 What attracts people from all over the world to Sri Lanka is the wide range of beaches as well as the whole picturesqueness of this country. The country has an open culture and people have the time of their lives in this country. Tourism in the country of Sri Lanka considerably contributes in the economy and welcomes people from different regions of the world. The unique nightlife in different cities of this Asian country makes it one of a kind and gives the tourists a platform to get introduced to the Sri Lankan culture as well as people. One such city is Mirissa. Bars, pubs, and restaurants in Mirissa are so many that choosing one of them becomes a task!
Established in the south coast of the country of Sri Lanka, Mirissa is quite a small town that lies in the Matara District of the Southern Province. This town is also known for its beautiful beaches
With golden sands and azure waters! This is why it is one of the most popular destinations in the country, especially when it comes to nightlife and beaches!
Top 12 Restaurants In Mirissa
Imagine yourself indulging scrumptious food and that too amidst a beautiful beach with palm trees hovering over your head, keeping you under their cool shade and beholding the vast azure sea before your eyes! This is what you get when you're sitting in one of the restaurants in Mirissa.
Zephyr Restaurant And Bar
Central Beach Inn Restaurant
Mirissa Eye
Secret Beach Bar
Kama Mirissa
Barista
Papa Mango
Roti Shop Mirissa
Adora Mirissa Beach Restaurant &Bar
Mirissa Inn Restaurant
Palm Villa
Little Tuna Sushi Cafe
1. Zephyr Restaurant And Bar

Enjoy a glass of booze whilst absorbing the glorious sea at this amazing Zephyr Restaurant Mirissa. This place will give you the right idea about the culture of the country of Sri Lanka. The various cuisines will make you want to stay here for a longer time. The restro-bar has a huge variety of drinks that you can choose to have a night full of amazing memories.
Specialty: Passion fruit mojito
Location: 7, Bandaramulla, Matara Road, Mirissa 81740, Sri Lanka
Google Rating: 4.2/5
Must Read: 10 Best Villas In Mirissa To Soak In A Mesmerizing Sri Lankan Holiday Like Never Before!
2. Central Beach Inn Restaurant

This restaurant too allows you to enjoy your food and drinks while enjoying the breathtaking view of the sea, sand, and palm trees. This restaurant is known for its scrumptious snacks that are available in huge variety. Have them with your favorite drink and make the most of your visit to Central Beach Inn Restaurant. Make sure you visit this place during the happy hours – 5 pm to 10 pm!
Specialty: Chilled beer with some snack
Location: AH 43, Mirissa 81740, Sri Lanka
Google Rating: 4.2/5
Suggested Read: Everything You Want To Know About Scuba Diving In Mirissa
3. Mirissa Eye

This ones counted amongst the best restaurants in the city of Mirissa. This is one of those places for eating that tourists prefer visiting during their time in this city of Sri Lanka. This place is quite crowded most of the times and it is suggested that you reserve your table around one hour before your arrival.
The ambiance is pretty inviting with groovy music playing in the backdrop. Here, you can enjoy scrumptious meals as well as the mesmerising beauty of nature that comes in the form of tall palm trees as well as vast azure ocean.
Specialty: Mahi Mahi Fish
Location: 11 Matara Road, Mirissa 81740, Sri Lanka
Google Rating: 3.6/5
Suggested Read: The Complete Guide To Mirissa Shopping: What To Shop And Where
4. Secret Beach Bar

The name of this bar is enough to tempt the guests when theyre exploring the city of Mirissa during the nighttime. This bar has a lit atmosphere right from the evening that lasts till late night hours. Watch the Indian Ocean in all its glory and lose yourself while sipping some of the best booze available in the city of Mirissa.
Specialty: Beer
Location: Mirissa Beach, Mirissa, Southern Province, Sri Lanka, Sri Lanka
Google Rating: 3.5/5
Price Range: INR 416 – INR 1,179
Suggested Read: 9 Places To Go To To Enjoy The Nightlife In Mirissa
5. Kama Mirissa

This restaurant too is known for making you undergo the best nightlife experience in the country of Sri Lanka. When looking for a place where you can party all night and take great memories along, then dont forget to keep this restaurant on your mind. Apart from the huge variety of alcoholic drinks and drool-worthy food, the view that you get from this restaurant is nothing less than a paradise.
Specialty: Coconut ice cream
Location: Beachside Rd, Mirissa, Sri Lanka
Google Rating: 4.1/5
Price Range: INR 208 – INR 1,596
6. Barista

If youre not the type of person whod want to indulge in hard drinks, then the best way to enjoy your time in the city is by making a visit to Barista. A hot cup of cappuccino along with your favorite dish can never go wrong. Visit this place during the morning hours and give a fresh start to your day before plunging into an unforgettable experience that waits for you in the city!
Specialty: Red velvet pastry with coffee
Location: Sriramya, Galle Road, Mirissa 81740, Sri Lanka
Suggested Read: 6 Best Places To Visit In Mirissa For An Exciting Sri Lankan Vacay
7. Papa Mango

A die-hard party lover would want to come back to this place time and again. Such is the vibe of this restaurant! Youll find various party animals at Papa Mango, tourists as well as locals. This place gives you a peek into the cultural as well as social life of the Sri Lankans. If youre traveling with your partner, then make sure you come to this place and spend some quality time here.
Specialty: Sea Food
Location: Bandaramulla temple, A2, Mirissa, Sri Lanka
Google Rating: 4.2/5
Price Range: INR 208 – INR 1,249
8. Roti Shop Mirissa

Roti Shop Mirissa is one of the best restaurants to try local food in Sri Lanka. They have fantastic seafood on display attracting visitors to come to the restaurant. With excellent service, this basic restaurant with authentic food is really affordable. They bring fresh vegetables every day from their own organic garden. Apart from serving authentic seafood which arrives every morning from Harbour Mirissa, the restaurant also serves a number of Chinese and European dishes.
Speciality: Seafood
Location: Udupila Road, Mirissa 81740, Sri Lanka
Google Rating: 4.5/5
Price Range: INR 416 – INR 1,943
9. Adora Mirissa Beach Restaurant &Bar

Adora Mirissa Beach Restaurant is a must-visit restaurant when in Sri Lanka. They serve amazing fresh roti and coffee. Other famous cuisines include Seafood, Asian, Sri Lankan. The owner of the restaurant is a nice person and very generous with advice and help. The place is vegetarian-friendly with a lot of vegan options. You are sure to enjoy the simple yet delicious food at this restaurant located near the sea.
Speciality: Great Roti
Location: Adora Adora, Bandaramulla, Mirissa 81740 Sri Lanka
Google Rating: 3.5/5
10. Mirissa Inn Restaurant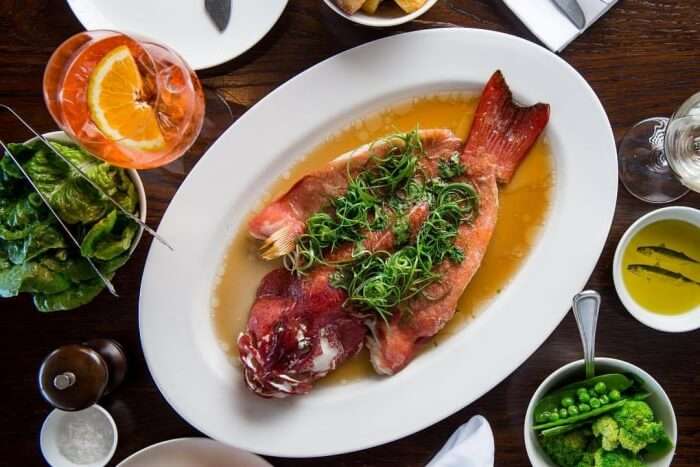 Mirissa Inn Restaurant tops the list of Mirissa restaurants for the amazing staff and service. Each cuisine they serve is unique – be it seafood or barbecue, Sri Lankan or Asian. Their most popular dish is well-cooked fish. The restaurant also serves alcohol. If you are not concerned about the look of the place rather yummy food is what matters to you, then do visit this place when in Sri Lanka.
Speciality: Great Roti
Location: Udupila Road, Mirissa 81740, Sri Lanka
Google Rating: 3.9/5
11. Palm Villa

Palm Villa offers great Sri Lankan food and is the best place to try local cuisine. The restaurant features outdoor seating and serves alcohol and table services will be provided to you. If you want to enjoy your food in a beautiful setting away from the hustle and bustle of the beach dont miss to pay your visit to this wonderful restaurant.
Speciality: Sri Lankan curry
Location: Matara Road, Mirissa 81740, Sri Lanka
Google Rating: 4.3/5
12. Little Tuna Sushi Cafe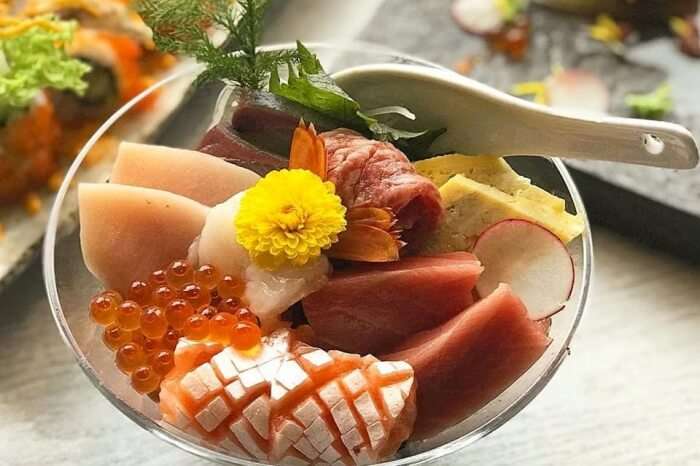 Located in a big garden on the river in Mirissa, Sushi Restaurant is an amazing place for sushi lovers. Relax in the cosy and colourful atmosphere and enjoy their homemade cheesecake and muffins and delicious Sushi. The cuisines they serve include Seafood, Japanese, Sushi and Asian. You can also rent one comfortable room at Little Tuna Mirissa and enjoy a pleasant stay.
Speciality: Sushi food
Location: Udupila Road | On the River, Mirissa 81740, Sri Lanka
Google Rating: 4/5
Price Range: INR 35,454 – INR 86,727
Further Read: 12 Exciting Things To Do In Mirissa For An Exciting Tropical Vacay!
After reading about the above-mentioned restaurants in Mirissa, you will be having an idea how every restaurant here is a perfect blend of nature as well as culture. Providing you with an opportunity to interact with the locals and a peek into the scenic beach views, the restaurants in this city will enhance your travel experience during Sri Lanka vacay and give you more memories to weave.
---
People Also Read
Restaurants in Trincomalee Restaurants In Dambulla Restaurants In Kandy