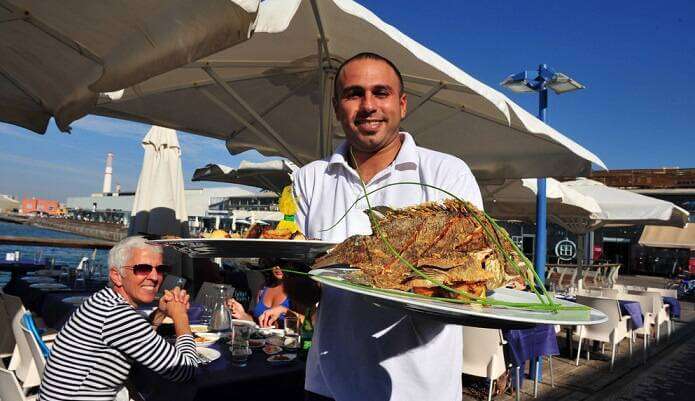 Tel Aviv is Israel's second most populous city after Jerusalem and is located on the Mediterranean coast making this city has 300 days of summer. The fun-loving and lively city is also known as "The White City" and is one of the top 10 beach cities in the world as per National Geographic. Tel Aviv is a city that never sleeps and is widely popular is a food haven for food lovers, especially vegans. Restaurants in Tel Aviv prepare various cuisines with food from almost 70 different nationalities, which means that you are in for a treat when you are holidaying here. No restaurant is similar as the chefs are known to be amazingly talented and creative who will provide you dishes that will change your whole outlook towards a good dining experience.
10 Best Restaurants In Tel Aviv In 2022
Here are the most famous restaurants to dine-in in Tel Aviv that are absolutely amazing and a must-visit for everyone who visits the city.
1. Messa

Make way to Messa for an exquisite dining experience in Tel Aviv. The fancy restaurant is a joint hard work of a number of leaders who swore to give their customers the experience of a lifetime. The Head Chef Aviv has made designed the menu that is very close to any houses kitchen in Tel Aviv by using the freshest and the most local ingredients. The restaurant offers Mediterranean and European food that is absolutely lip-smackingly delicious and can be enjoyed while sitting in a chic ambiance.
Timing: 12 PM to 3:30 PM
Location: Rehov HaArba'a 19, Tel Aviv, Israel
TripAdvisor Rating: 4.5 / 5
TripAdivisor Reviews
Must Read: 10 Top Things To Do In Tel Aviv For An Exceptional Vacation
2. Yoezer Wine Bar

Care for French cuisine in the beautiful streets of Tel Aviv? Book your table at Yoezer Wine Bar and enjoy authentic French food with a touch of Israeli twist. This gorgeous restaurant is located in the interiors of the narrow lanes of the city, the places showcase a well-preserved Ottoman-era structure with stone walls and arches. The menu mainly includes the fresh catch from the sea along with rustic French cuisine all made with local ingredients that give it a Mediterranean taste served in a manner that you would fall in love with all the amazing flavors. Apart from all this, you must try their monthly full-moon meal, a perfect excuse for a superior feast.
Timing: 12.30 PM -1 AM
Location: Yish Habirah 2, Clock-Tower Square, Ancient Jaffa
TripAdvisor Rating: 5 / 5
TripAdivisor Reviews
Suggested Read: At The Setai Tel Aviv, You Can Now Stay & Experience The Charm Of A 12th Century Fortress!
3. Baba Yaga

Once you have spent your day on the beach playing in the sea, make way to Baba Yaga for a delicious meal that curbs those hunger pangs. Seat yourself at the sitting area in the patio while enjoying the lovely music which adds life to the whole atmosphere. The restaurant serves a blend of European, Mediterranean and Russian food with the most phenomenal taste. The make sure to work only with the freshest of raw material to prepare their extensive menu. Make sure you visit Baba Yaga for an evening that is dedicated to just food and nothing else.
Timing: 12 PM to 11 PM
Location: Rehov Ha-Yarkon 12, Tel Aviv 6801110 Israel
TripAdvisor Rating: 4.5 / 5
TripAdivisor Reviews
Suggested Read: 10 Tel Aviv Museums That Will Leave You Intrigued
4. Kitchen Market

Situated in a picture-perfect place, Kitchen Market is truly a haven for foodies all over the world. The restaurant is always bustling with happy customers who are here for yet another amazing experience. With a contemporary fusion menu, you would be enjoying some of the world-class flavors that are made with passion and cooked to perfection. With the restaurant overlooking the Mediterranean, you will enjoy every minute spent here.
Timing: 12 PM to 3:30 PM
Location: Hanger 12 Nemal Tel Aviv, Tel Aviv 63506 Israel
Cost for two: INR 1391 – INR 3478 approx
TripAdvisor Rating: 4.5 / 5
TripAdivisor Reviews
Suggested Read: 7 Incredible And Classic Places Near Tel Aviv For A Perfect Vacay
5. Herbert Samuel

Feast on a delicious meal at one of the best restaurants in the city of Tel Aviv which will be recommended by every local you ask. Located at a spot that will take your breath away, Herbert Samuel provides a stunning view across the sea. Make sure to work on your appetite before coming here for a meal as everything is so delicious that you want to wipe every last drop of food on your plate. Enjoy there tapas-style dishes that are something that this place is famous for. This elegant restaurant is your answer to all of your cravings for food with impeccable taste and fine dining experience.
Timing: 6:30 PM to 11 PM
Location: 4 Ha-Shunit, Herzliya 4655504 Israel
Cost for two: INR 3,478 – INR 5,565 approx
TripAdvisor Rating: 4 / 5
TripAdivisor Reviews
6. Mashya

If you are a breakfast lover, then Mashya is the place for you where you can hog on some amazing food. This vegetarian-friendly restaurant has the most professional staff that caters to all your needs and requirements while giving you an unmatched experience.
Timing: 12:30 PM to 4 PM
Location: 5 Mendele Mokher Sfarim Mendeli Hotel, Tel Aviv 6390705 Israel
Cost for two: INR 2087 – INR 4174 approx
TripAdvisor Rating: 4.5 / 5
TripAdivisor Reviews
Suggested Read: 10 Hip And Historic Hostels In Israel Perfect For Exploring Its Cities
7. Salaam Bombay

Been eating Mediterranean food for a long time and miss your own desi food? Well, worry not as Tel Aviv houses some very amazing Indian restaurants with the most authentic flavorings. This reasonably priced but high on flavors place has very minimal decor with a comfortable seating area. Their service is quick and they serve pretty large portions, so large that if your appetite is not much, you might end up sitting there for hours trying to finish it. But if you require second helping, they are happy to serve you more delicious Indian food that will transport you back to India.
Timing: 12:00 PM to 4 PM
Location: 124 Allenby Street, Tel Aviv Israel
TripAdvisor Rating: 4.5 / 5
TripAdivisor Reviews
Suggested Read: Honeymoon In Israel: The Beginning Of A Lifelong Romance
8. Bocca Bocca

Looking for a place to chill? Visit Bocca Bocca this really chilled out place to try one of the best Italian and street food in Tel Aviv. This kosher restaurant serves unpretentious food that can be truly enjoyed with every bite you take. They are focaccia bread is very popular and is a must-try.
Timing: 10:00 AM to 6 PM
Location: HaCarmel 40, Tel Aviv Israel
TripAdvisor Rating: 5 / 5
TripAdivisor Reviews
9. Dosa Bar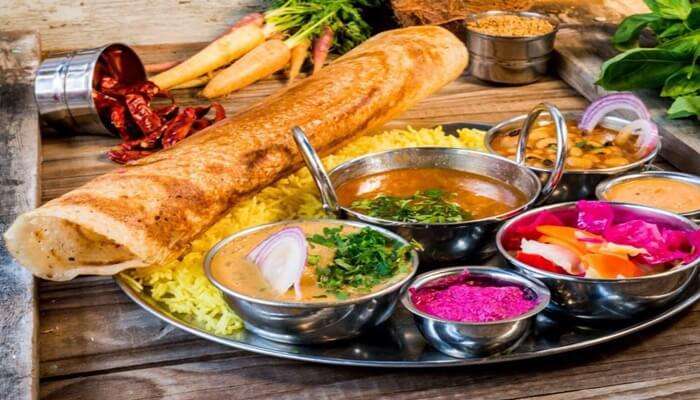 The only vegan and best kosher restaurant in Tel Aviv, Dosa Bar is a great restaurant for all the Indians looking for food home away from home. With simple decor and friendly staff, they go big on flavors and the options to order from. The place is actually owned by an Israeli who makes delicious south Indian. They have a huge variety of dosa that you can either enjoy with tea or with yummy, thick lassi. Dosa Bar is definitely a must-visit if you are looking for Indian restaurants in Tel Aviv.
Timing: 12:00 PM to 11 PM
Location: Rehov Ben Yehuda 188, Tel Aviv Israel
TripAdvisor Rating: 4.5 / 5
TripAdivisor Reviews
Suggested Read: 10 Things To Do In Israel: Know Why It's On Every Wanderer's Bucket List
10. OCD

With a constantly changing menu, OCD is one of a kind restaurant in Tel Aviv. You don't come to OCD looking for food, you come to OCD for the experience. OCD is very popular for its stunning decor, exceptional service with accommodating staff and of course their food. Everything is prepared well in advance with most creative flavors and twists and while the food is served they explain and tell you about the dish. One bite and you would have a tsunami of flavors in your mouth heightening up your senses. Planning to go here? Make sure that you book your table well in advance as there are hundreds of requests they get each month.
Timing: 7 PM to 12 AM
Location: 17 Tirtsa, Tel Aviv 6811559 Israel
Cost for two: INR 1,461 – INR 1,461 approx
TripAdvisor Rating: 5 / 5
TripAdivisor Reviews
Further Read: 12 Perfect Wedding Venues In Israel For Your Happily-Ever-After!
Your vacation ain't a vacation if you don't visit these best restaurants in Tel Aviv since the city is a major food hub where cuisines from all over the world are made and experimented. Though there aren't any Michelin star restaurants in the city there is a bunch of them who truly deserve it. So make sure that when you book your trip to Tel Aviv with TravelTriangle, you take out a day just to try these amazing places with delightful food.
People Also Read
Restaurants In Egypt Restaurants In Jordan Restaurants In Jerusalem