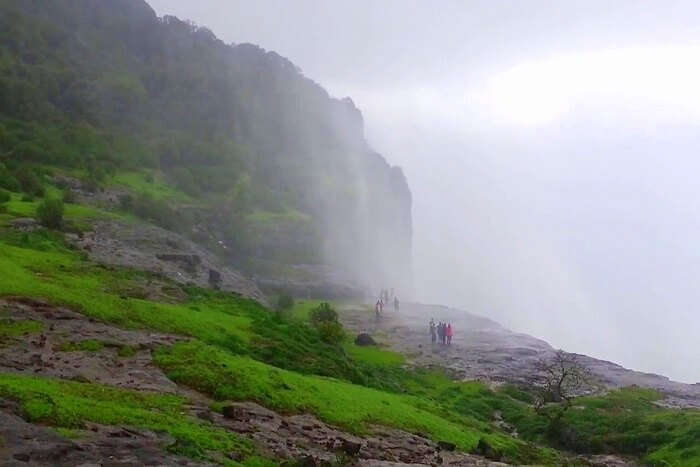 Out of all the fascinating wonders of nature that humans have been able to discover throughout, a reverse waterfall in Naneghat is surely one thing that has left us all in great awe! Well, if you didn't know it before, may be this will be your next weekend getaway near Mumbai. Naneghat or popularly known as Nana Ghat, is a majestic mountain range in Maharashtra near the Konkan coast and Deccan plateau. The serene mountain pass in Maharashtra makes for a stunning view and what's more is that you can enjoy a day trip here with your folks.
For those of you who are still wondering how this cascading beauty defies gravity, well, it does not. The simple reason behind this reverse effect is the strong force of the winds that push the water upwards. So, while it is highly necessary that you carry warm clothes while you visit, don't forget to carry an umbrella in case it starts to rain.
Things To Do At Naneghat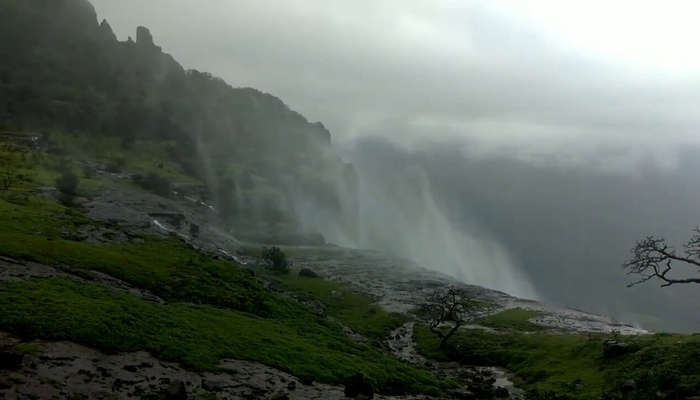 Image Courtesy: YouTube
A mountain range like Naneghat calls for a trek. Be it for the first-timers, or the regular ones, a trek all the way to the reverse waterfall feels nothing less than a feast to your eyes and food for your soul. An ideal time to visit this serene site is around the time of monsoon when the force of the cascading water is strong enough to put on a good show! It takes approximately 5 hours to cover the entire trek including both ways. You can add a treat to your soothing trek is the combination of Bhajiyas and tea at the Dhaba located near the waterfalls.
Must Read: 20 Road Trips From Mumbai That Must Be On Every Traveler's Bucket List In 2021
How To Reach Naneghat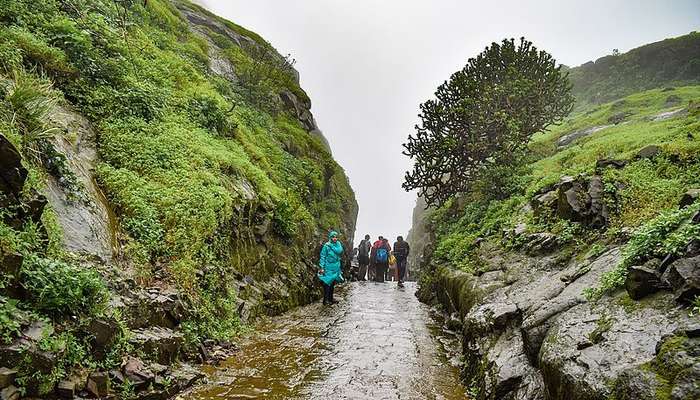 Image Source
You can board a bus from Kalyan bus stand and get down at Junnar. From there, you can easily reach Naneghat by road. Alternatively, you can also opt for guided tours from Mumbai and Pune that start from INR 750 per adult.
Don't forget to carry some essential medicines along with a few warm clothes as it might get a little cold due to the strong winds near the mountain range. Also, carry an umbrella, some power packed snacks and a water bottle as you might feel thirsty and hungry if you go for a trek till the waterfalls.
Further Read: These Mumbai To Goa Special Summer Trains Will Now Make Your Journey In 2021 Hassle-Free
From the quaint corners of the remote villages to the surreal hill stations with offbeat peaks, India's tourist destinations never fail to amuse the travelers. So, what are you waiting for? Plan a trip to Maharashtra for an ultimate holiday experience amid the scenic views and charming landscapes with your loved ones like never before!
Frequently Asked Questions About Reverse Waterfall
Q. What is a reverse waterfall?
A. Reverse Waterfall is a waterfall that flows in reverse directions. One of the most popular reverse waterfalls in India is located in Naneghat in Maharashtra.
Q. How can I reach Naneghat?
A. The nearest railway station to Naneghat is Kalyan Railway Station. If you are heading here via bus then get down at Junnar and hire a taxi to Naneghat.
Q. What are the best weekend gateways near Mumbai?
A. There are numerous beautiful and adventurous weekend gateways near Mumbai. The best among them include Karnala Bird Sanctuary, Karjat, Matheran, Lonavala & Khandala, Alibaug, Raigadh, Kamshet, and Igatpuri.
Q. How can I reach Naneghat from Mumbai by train?
A. If you are heading to Naneghat from Mumbai via train then you need to deboard the train at Kalyan Railway Station and from there board a bus or hire a taxi to Naneghat.
Q. Is there any reverse waterfall in India?
A. Yes, there is a reverse waterfall in India which is located in Naneghat in Maharashtra.
Q. What can I eat near Naneghat Falls?
A. There are numerous local food stalls outside Naneghat Falls. You can try Vada Pav, Pav Bhaji, Misal Pav, Pooran Poli, Ragda Pattice, Stuffed Eggplant, and numerous other delicious local recipes.
Q. Why is Naneghat famous?
A. Naneghat is quite popular for its ancient pass that works as connectivity between Junnar town and Konkan Coast. Currently, the place is gaining popularity because of its reverse waterfall. However, the place is not much explored and its impeccable beauty is worth exploring.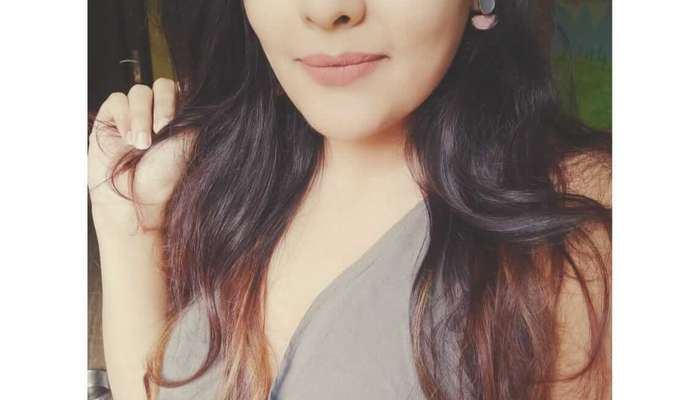 Comments
comments