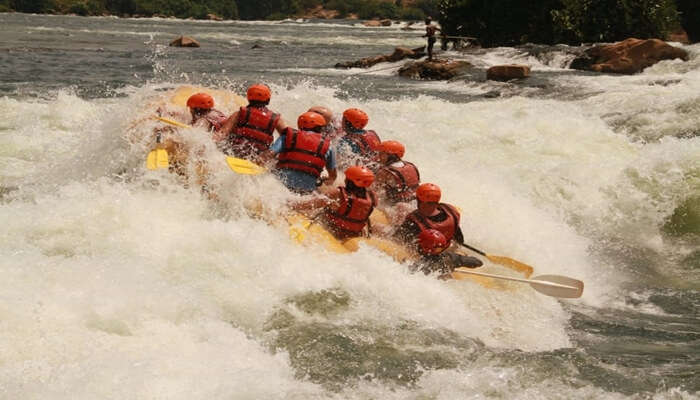 Image Source: peakpx.com
Chikmagalur is a quaint hill station in Karnataka. Being located around the Western Ghats, this hill town experiences beautiful weather almost the entire year. To the north of Chikmagalur is the Baba Budangiri ranges and the Mullayanagiri Peak is also a top attraction here. The pristine Hebbe Falls in the coffee plantation region provides a stunning view of the lush landscape. Apart from all the gorgeous sightseeing locations, there is something more that you can do in Chikmagalur. That is the white water river rafting.
It is one of the best things to do here and the crystalline River Bhadra facilitates good rafting routes. The river passes through some of the densest forest, Kudremukh National Park. On this amazing Bhadra river, you will experience a coveted lining of hills, which are covered with appealing vegetation. In today's blog, we are going to discuss more information about rafting in Bhadra river Chikmagalur.
Best Time For River Rafting In Chikmagalur

The rafting season in Chikmagalur is usually in the months of June and October. This is the time when the river is gushing with good levels of water, making it absolutely perfect for rafters to experience a thrilling ride. Due to the heavy rainfall in Chikmagalur in the month of August and September, you should avoid going for a river rafting trip during these two months. Only highly trained and skilled rafters can manage the tide and gushing waters of the Bhadra river during this time of the year. Other than that, you will experience beautiful weather in both June and October.
These two months are refreshing and really enjoyable when you are in Chikmagalur. The temperature of Chikmagalur ranges between 16°C to 25°C in these two months of June and October. Thus, you will have no problem with travelling to different places when you are here during these times.
However, a lot of people visit Chikmagalur in March and April as well for white water rafting. But, it is really hot during both months, with the temperature reaching 32°C in some places. That is why we recommend you to plan a Chikmagalur to Bhadra river rafting in the months of June and October for the good.
Suggested Read: 27 Exciting Things To Do In Chikmagalur On Your 2022 Vacay In Karnataka!
Best Places For River Rafting In Chikmagalur

We have already mentioned that the best place where you can get the perfect white water river rafting in Chikmagalur is the Bhadra river. This crystalline river gushes down from the Western Ghat mountains and makes its way through different landscapes in various regions. The continuous 7-8 km stretch of the Bhadra river opens for rafting. It has about 4 to 5 rapids that have been categorized as class 3 and above. That means you will really have to work hard in order to pass through them safely as a team.
The excitement on the 8-person oar assisted rafts, will give you an unforgettable experience. River Bhadra originates from Gangamoola which is near Kudremukh, in the Western Ghats range, and it flows east through the southern part of the Deccan Plateau. It confluences with its different tributaries at Somavahini near Hebbe, Thadabehalla, and Odirayanahalla. River rafting in Chikmagalur is most popular on this river.
Suggested Read: 5 Best Places To Visit In Chikmagalur In May To Absorb The History Of Karnataka!
Average Cost Of River Rafting In Chikmagalur

The cost of Chikmagalur depends on which time of the year you are visiting this place, the duration of the rafting, and on which course you are going to go for the trip. Usually, the average cost of rafting in the Bhadra river Chikmagalur is anywhere between Rs.1800 to Rs.3500. The prices can also vary according to the tour agency.
Suggested Read: 38 Best Places To Visit In Chikmagalur In 2022 That Are No Less Than The Northern Hills
Important Tips For Rafting In Chikmagalur

If you are planning for a river rafting in Chikmagalur, then you need to take a look at these important tips for a safe experience.
Always speak to the tour agency before planning any trip for river rafting in the Bhadra river. You need to be well aware of all the routes and characteristics of the river at different points in the region.
Make sure to choose a licensed and verified river rafting tour operator. Check on the internet and consult with other people in order to find the best rafting agency for the best experience and safety.
You need to check whether your operator has provided all the necessary safety gear and equipment or not. That includes a heavy-duty helmet, gloves, life-saving jacket, goggles and such other things. It is important to gear yourself properly in order to stay safe all the time.
Know the proper swimming techniques whenever you are going on a rafting trip. In case the raft tumbles over, you will have to swim to safety by yourself. The swimming techniques will help you to not remain dependent on anyone.
You can make use of a good sunscreen in order to prevent your skin from getting tanned while you are rafting in the sun for a long time. You can also wear a full-sleeved shirt in order to do so.
Suggested Read: 6 Resorts Near Chikmagalur That Provide Space For Recreation And Rejuvenation In 2022!
What To Pack For Rafting In Chikmagalur

Whenever you are going river rafting, there are a lot of things that you will need to pack. For those who are travelling to Chikmagalur to Bhadra river rafting, take a look at these items that are really essential for your trip.
You will need good river shoes whenever you are going on a rafting trip. It is crucial that you get good grip and support while wearing the shoes so that you do not slip while walking on wet surfaces.
Constant sun and wet conditions can harm your skin big time. That is why you must pack a sunscreen lotion. It soothes burned skin and provides the right kind of protection that you need.
Always carry an extra plastic bag for storing all of your wet clothes in one place. If you keep your wet clothes in the same bag as your dry clothes, they will become moist. Hence, you need to carry a separate plastic bag for the purpose.
Also, pack some warm clothes and a lightweight jacket so that you can keep yourself warm after a cold rafting trip.
Further Read: 12 Amazing Places To Visit In Chikmagalur In June That Will Re-Energize You In 2022!
If you are headed on a vacation in Karnataka, then you should definitely add river rafting in Chikmagalur on your list. The quant hill station located in the verdant greenery of Western Ghats provides the best of adventure and peaceful isolation both of which are much preferred on a holiday. When your adrenaline levels start dropping, you know what to do.
People Also Read:
River Rafting In Coorg River Rafting In Kolad River Rafting In Rishikesh