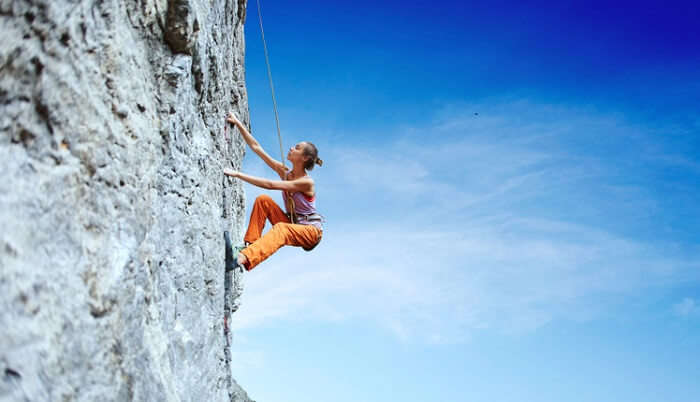 Rock climbing is an adventure that involves climbing up, down, or across natural rock formations or artificial rock walls. It involves physical & mental strength, and adventurers seek to take such expeditions more often these days. India is a hub of adventure freaks as the diversity and enormous alternatives of thrilling activities favor daring minds to have enthralling experiences with their favorite sport. Gifted with incredible rock formations, including Yana Rocks, Peninsular Gneiss, Hampi Boulders, Gilbert Hill, and many more, the country provides spectacular encounters to rock climbers. If you are interested in knowing the top destinations for rock climbing in India, here are the famous sites and exquisite thrills offered.
7 Best Places for Rock Climbing in India
From snow-covered formations to man-made boulders, the following are the most popular places for rock climbing in India:
1. Sar Pass

Sar Pass is in the Parvati Valley of Himachal Pradesh. Being surrounded by thick forests, meadows, and snow-covered mountains, the place serves to be an exciting escape for nature lovers. This rock climbing expedition involves a short trek that begins from Kasol and unravels the terrains of Tila Lotni and Biskeri Ridge, taking you to Kheerganga, from where the mountain climbing challenge takes you to the frozen lake called Sar.
Location: Himachal Pradesh
Height: 14,000 ft
Level: Difficult
Malana Trek: A Pretty Journey On The Road Less Travelled In Parvati Valley
2. Malshej Ghat

If you are looking for the best experiences of rock climbing in India then Malshej Ghat is certainly an ideal place for you. Snuggled in the Western Ghats, Malshej Ghat is nearly 120 km from Mumbai and Pune and serves to be an exciting escape for adventure enthusiasts. This mountain pass is home to lavish greenery and gives a chance to witness hidden waterfalls, temples, and caves. October to March is the best time for rock climbing in Malshej Ghat.
Location: Maharashtra
Height: 2,297 ft
Level: Moderate to Difficult
3. Hampi

Hampi, the bouldering capital of India hosts one of the best rock climbing experiences. The terrains of Hampli are blessed with numerous granite boulders and you can rent a bicycle to reach the site and undertake rock climbing expeditions. The ideal time for rock climbing in the region is during dry months, that is between October and February.
Location: Karnataka
Height: 1,481 ft
Level: Moderate
26 Most Riveting Places To Visit In Hampi That Are A Must
4. Paithalmala

Paithalmala is a serene hamlet in the Kannur district. The village is around 1372 m above sea level and, being the highest geographical peak in Kannur, hosts enthralling rock climbing experiences. It shares borders with the Kodagu forests of the Western Ghats. As you climb the top of Paithalmala, the observatory tower awaits for you to offer panoramic vistas of the surrounding region. This gorgeous village is undoubtedly amongst the best places for rock climbing in India.
Location: Kerala
Height: 4,500 ft
Level: Moderate to difficult
5. Badami

Badami features rock climbing over bolted routes as the steep and rugged terrains of the region host adventures that allure adventure freaks from near and far. Known to be the Mecca of Rock Climbing, the sandstone cliffs of Badami give you a chance to get involved in free climbing, rappelling, and bouldering. You can also sneak peek at the ancient temples on your way. The best time to plan excursions in this region is between November and March.
Location: Karnataka
Height: 1,923 ft
Level: Moderate
14 Mystical Places To Visit In Badami, Karnataka That Need Your Attention
6. Shey Rock

Shey Rock is a monzogranite in the Ladakh region. It serves to be the training ground for rock climbing by the military. There are several white rocks, and you will see a few Buddhist carvings along your route while reaching the top of cliffs. Shey Rock comprises over 40 channels to reach the top. Most of the cliffs here face southeast, making the warmest months of summer the best time to plan adventures.
Location: Ladakh
Height: 11,000 ft
Level: Moderate to difficult
7. Miyar Valley

Miyar Valley, located amid Pir Panjal and Zanskar Range, is one of the popular destination for rock climbing in India. Over 50% of its terrain comprises glaciers. Toro Peak in Miyar Valley hosts one of the most challenging expeditions, and professionals visit the place to feel the adrenaline thrust as they climb through the extreme grounds of Miyar Valley.
Location: Himachal Pradesh
Height: 13,800 ft
Level: Difficult
23 Best Trekking Places In India: Your Month-Wise Trekking Guide Is Here
Parvati Valley, Damdama Lake, and Ramnagara are other famous places for rock climbing in India. If you are planning getaways to any of the above-mentioned top destinations, then check out exclusive adventure tours offered by TravelTriangle and get an itinerary designed according to your preferences.
For our editorial codes of conduct and copyright disclaimer, please click here.
Frequently Asked Questions about Rock Climbing in India
What are the best places for rock climbing in India?
The following are the most popular places for rock climbing in India:
1. Malshej Ghat - Maharashtra
2. Hampi - Karnataka
3. Lado Sarai - Delhi
4. Shey Rock - Ladakh
5. Miyar Valley - Himachal Pradesh
6. Badami - Karnataka
Is rock climbing hard for beginners?
Rock climbing is not quite challenging for beginners. If you can climb a ladder then you can go rock climbing. The challenge depends upon the climbing routes and bouldering issues, ranging the expedition between easy, moderate, and difficult. Initially you can start with easy challenges.
What are the best places for rock climbing in Delhi NCR?
If you are staying in the National Capital or the surrounding areas, then you can head to the following places for an amazing rock climbing experience:
1. Boulder Box - Climbing Centre
2. Climb Central Delhi
3. Aravalli Biodiversity Park Rocks
4. Delhi Rock
5. Indian Mountaineering Foundation
Where can I go rock climbing in Himachal?
Himachal hosts an enthralling rock climbing experience. The following are the famous places in Himachal for rock climbing:
1. Patalsu Peak - 4500 m
2. Shitidhar Mountain - 4600 m
3. Friendship Peak - 5289 m
4. Beas Kund - NA
5. Mount Hanuman Tibba - 5932 m
6. Mount Deo Tibba - 6001 m
7. Mount Ladakh - 5345 m 8. Seven Sisters - 4500 m
Is it safe to rock climb in Ladakh?
Nun Peak, Kun Peak, Stok Kangri, Gulap Khangri, Matho West, Kantak, etc. are the popular peaks in Ladakh for rock climbing. However, there are a few things that must be kept in mind before planning an expedition to the tough terrains of Ladakh:
1. Keep proper time for acclimatization
2. Check the weather forecast before heading for your expedition
3. The best time of climb depends upon the peak you are planning to climb. It's wise to be informed about the pros and cons of the region
4. Always indulge in sport under the supervision of professionals
People Also Read:
Rock Climbing In Europe Rock Climbing In Singapore Rock Climbing In Israel