Located on the banks of the River Tungabhadra, Hampi is a small yet enchanting temple town bounded by the intriguing historical ruins of Vijayanagara city in the state of Karnataka. With a host of tourist places to see in Hampi, this dreamworld made of boulders, monoliths, and ruins of ancient edifices is a delight for tourists, and thus is considered among best places to visit in Karnataka.
The various engrossing places to visit in Hampi see a perennial influx of history-buffs, families, and photography enthusiasts. The status of UNESCO World Heritage Site further accentuates the eminence of Hampi as one of the most popular historical and religious tourist places in India.
13 Must Visit Places In Hampi
While at this heritage land, make sure to not miss out these places and witness the architectural beauty of Hampi.
1. Vijaya Vittala Temple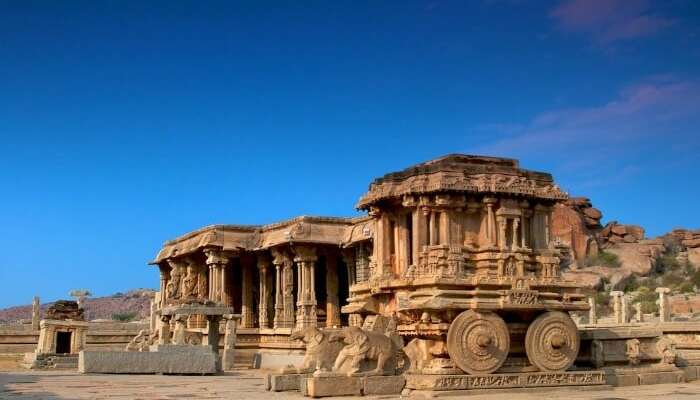 Vijaya Vittala Temple is a 15th-century structure that is also considered as the largest of all historical structures in Hampi. This humungous temple is dedicated to Lord Vittala- an incarnation of Lord Vishnu- and is a must-visit amongst all Hampi tourist places.
The extraordinary stone chariot, arrays of huge pillars in the temple halls and intricate sculptures are the true embodiments of bewitching architecture of centuries old Vijaya Vittala Temple.
Timings: 08:30 am to 5:30 pm (all days)
Entry fee:
INR 10 for Indian nationals and US $5 for foreign nationals
Video camera fee- INR 25
Still camera fee- Nil
Visit duration: Approximately 2 hours
Tip: Visit as early as possible to avoid crowd and to witness best views of the temple.
---
South Weekend Holiday Packages On TravelTriangle
A trip to South India has a lot to offer – from tranquillity of forests to charm of sizzling beaches and from lost kingdoms to chills of a hill station. Visit Kerala, Coorg, Ooty, Mysore, or Kodaikanal. Book holiday packages inclusive of airport transfers, cab, resort, sightseeing, and meals.
---
2. Sri Virupaksha Temple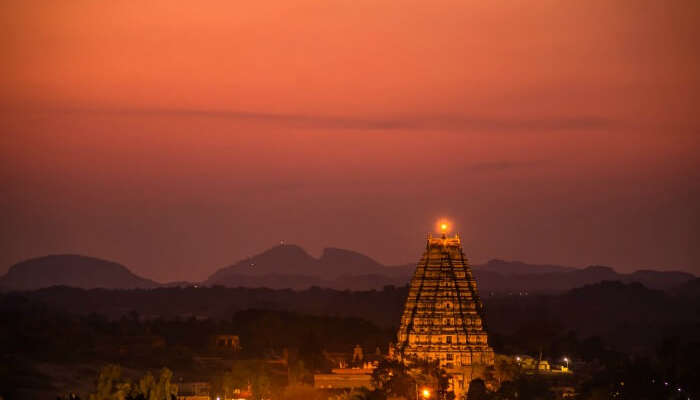 Believed to be the oldest functioning temple in India, Sri Virupaksha Temple is a 7th-century Hindu temple dedicated to Lord Virupaksha, an incarnation of Lord Shiva. The temple is also considered as one of the most significant religious places to visit in Hampi and attracts a huge number of pilgrims from all over India.
The sprawling campus of the Virupaksha temple houses a huge courtyard, huge gateway towers, and other old-style structures that will leave you in an awe of its immense grandeur.
Timings: 06:00 am – 6:00 pm (all days)
Entry fee:
INR 5 for Indian nationals and US $5 for foreign nationals
Video camera fee- INR 500
Still camera fee- 50
Local guide fee- INR 50
Shoe safekeeping- INR 1
Visit duration: Approximately 1.5 hours
Tip: Hire a guide to show you around the major attractions of this temple including the underwater Shiva Temple within Sri Virupaksha Temple complex.
3. Hanuman Temple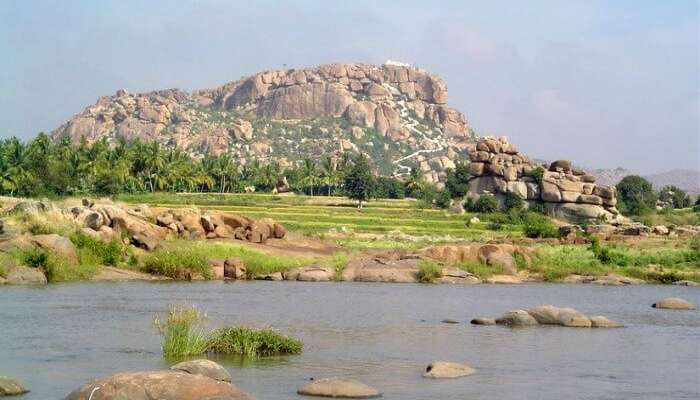 Hanuman Temple is another famous religious site located on the top of the Anjaneya Hill which is considered as the birthplace of Lord Hanuman. About 4 km from Hampi village, one has to cross a river using a small boat with paddles and then climb up the stairs to reach the Temple.
The serene and picturesque ambience of this temple offers mesmerizing views of sunrise and sunset, making it one of the perfect places to see in Hampi and around.
Timings: Open all days dawn till dusk
Entry fee: None
Visit duration: Approximately 30 – 45 minutes
Tip: Beware of the monkeys in the temple premise and do not tease the animals.
4. Hemakuta Hill Temple Complex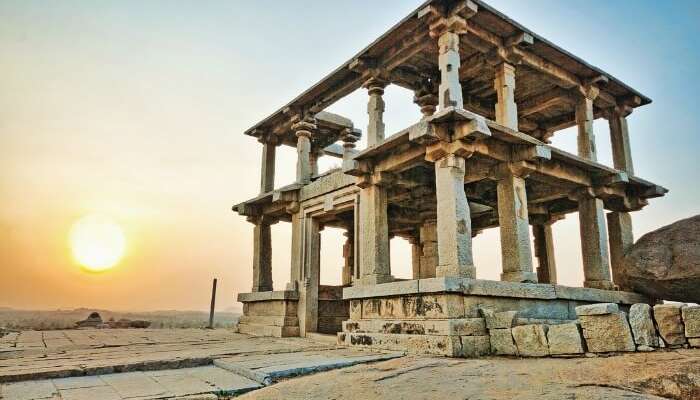 Image Source
Hemakuta Hill is a wonderful place lined by a number of Hindu temples, ruins of fortified walls, and broken pathways. Mula Virupaksha Temple in Hemakuta Hill Temple complex is one of the most prominent places to visit in Hampi.
Timings: Open all days from sunrise till sunset
Entry fee: Nil
Visit duration: Approximately 3-4 hours
Tip: Don't miss the sunset view from the Hemakuta Hill.
5. Sasivekalu Ganesha Temple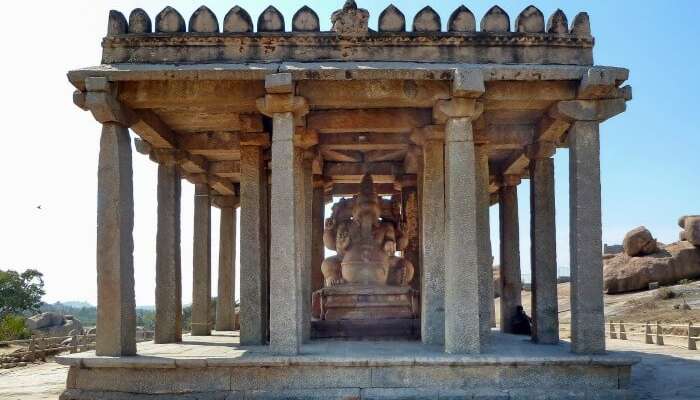 Located on the south side of the Hemakuta Hill, the Sasivekalu Ganesha Temple derives its name from the resemblance between Ganesha's belly and a mustard seed which is locally known as Sasivekalu. It houses a 2.4-meter statue of Ganesha spectacularly carved out of a boulderstone depicting a snake around Lord Ganesha's stomach. The history of the magnificent pavilion that surrounds the statue of Ganesha dates back to 1506 A.D. making this temple a famous tourist attraction in Hampi.
Timings: 06:00 am to 6:00 pm (all days)
Entry fee: Nil
Visit duration: Approximately 45 minutes
Tip: Visit Kadalekalu Ganesha located on the northern slope of Hemakuta Hill.
Must Read: 20 Most Famous Historical Places In India: You Think You Know Them Well Enough?
6. Lakshmi Narasimha Temple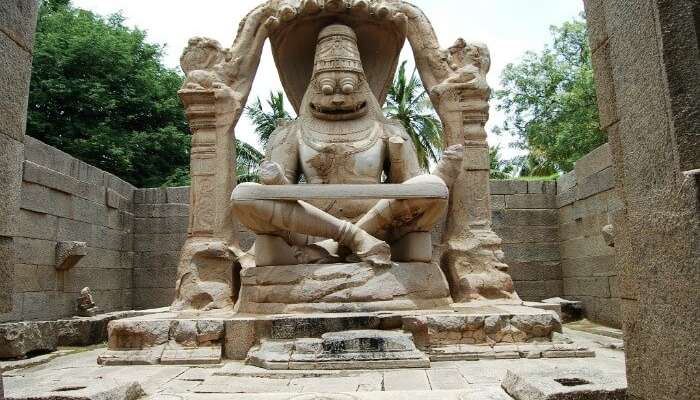 Within the ruins of Hampi, the Lakshmi Narasimha Temple- also known as Statue of Ugra Narsimha- is the largest monolith statue in Hampi. This 6.7-meter high statue was built in 1528 A.D. which was vandalised in 1565 during a Mughal raid over Vijayanagara Kingdom. The statue of Lord Narasimha- an incarnation of Lord Vishnu and a half man, half lion- depicts the deity sitting in a cross-legged position in its fierce form.
Timings: 06:00 am to 6:00 pm (all days)
Entry fee: Nil
Visit duration: Approximately 1 hour
Tip: Carry battery backup for your camera as the place is quite photogenic.
7. Queen's Bath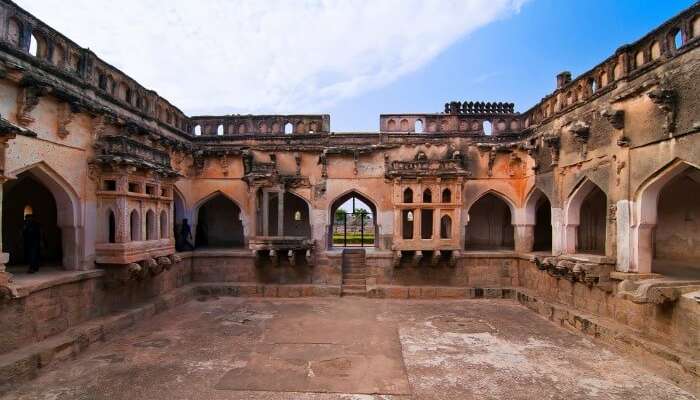 Probably, a royal bathing complex for the erstwhile king and his wives, this majestic and enormous ancient building sets the clock back and is one of the major places to see in Hampi. The beauty of the ruins of Queen's Bath gets to you the moment you lay your eyes on the unbelievable architectural style of this ancient royal pool.
Huge courtyard in the front with a dome-shaped roof, balconies with small windows, and a rectangular pool made of bricks in the middle with open blue sky greet you at the Queen's Bath in Hampi.
Timings: 06:00 am to 6:00 pm (all days)
Entry fee: Nil
Visit duration: Approximately 30-45 minutes
Tips: Carry adequate cash with yourself. Purchase stone-carvings and sculptures made by local artists here.
8. Riverside Ruins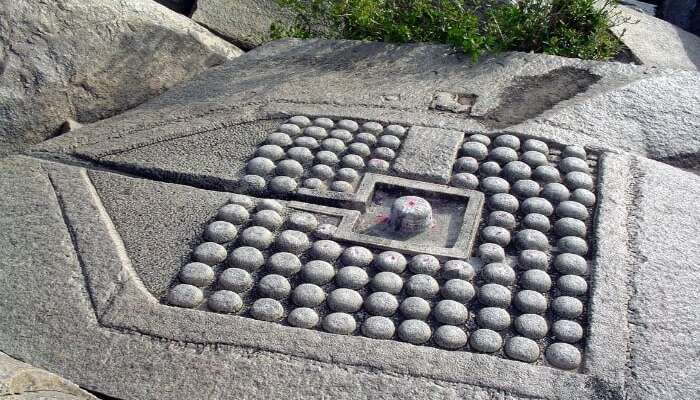 An array of 108 Shiva Lingas carved on the flat rocky surface and a finely rock-carved sculpture of Lord Vishnu in a reclining position make Riverside Ruins one of the most enticing places to visit in and around Hampi. A number of small shrines, statues, pavilions, and carved artefacts within this cluster of ruins make it a perfect place for photographers and historians.
Timings: 06:00 am to 6:00 pm (all days)
Entry fee: INR 30
Visit duration: Approximately 30-45 minutes
Tip: Hire a local guide to help you explore the Riverside Ruins
9. Hampi Bazaar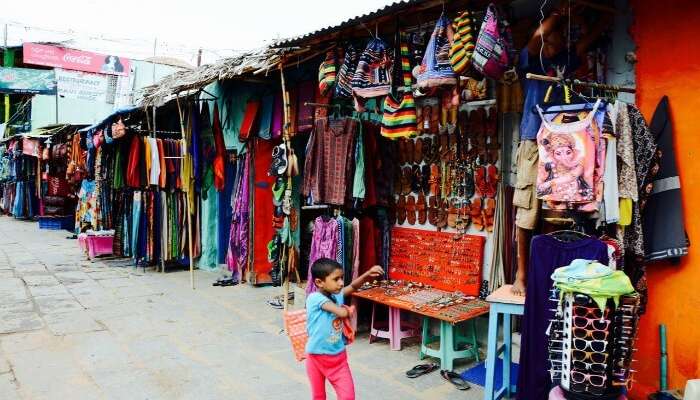 Located in the foothill of Matanga Hill, Hampi Bazaar is one of the popular Hampi sightseeing places. It is an ancient street stretching over a kilometer and lined with ruins of pavilions.
Hampi Bazaar once used to have bustling shops, restaurants and residences on both sides of it. At one end of the Hampi Bazaar, you can find a huge Nandi bull with a photo gallery on the other side. The lavish pavilion in front of Nandi bull statue plays host to famous annual Hampi Bazaar.
Timings: 06:00 am to 11:00 pm (all days)
Entry fee: Nil
Visit duration: Approximately 1-2 hours
Tip: Explore the tourist spots of Hampi Bazaar on a rented bicycle.
10. Archaeological Museum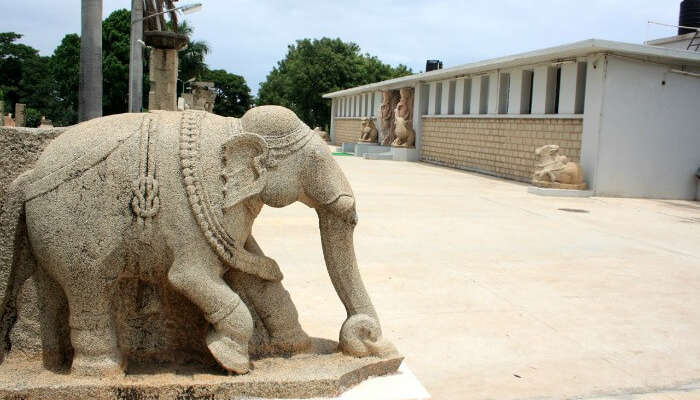 The Archaeological Museum in Hampi is one of the most noteworthy Hampi tourist places having four different art galleries that house wide variety of artefacts. Ancient coins, statues, paintings, metal plates, armoury and sculptures of various Hindu deities can be found here. All the four sections of this museum are worth exploring and a treat for history-buffs and kids.
Timings: 10:00 am to 5:00 pm (all days, except Friday)
Entry fee: INR 5/per person (Free entry for children under the age of 15 years)
Visit duration: Approximately 1.5- 2 hours
Tip: Do not click pictures outside the museum as photography is allowed only in the open lawn outside the art galleries.
11. Matanga Hill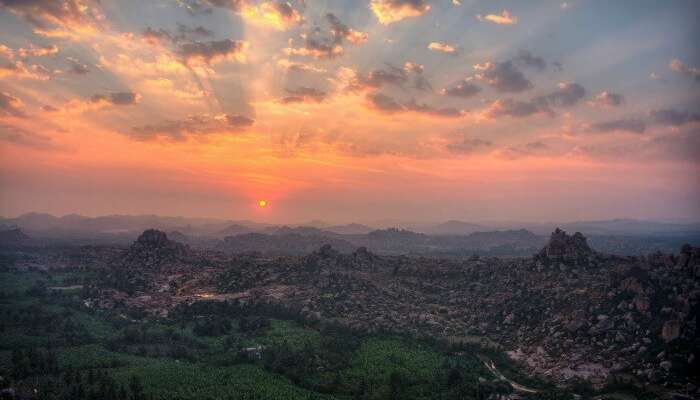 Matanga Hill offers panoramic views of historical ruins of Hampi and its surroundings. After trekking up the hill for around 30 minutes, you will find Veerabhadra Temple sitting right at the top of Matanga Hill. This temple has a rooftop, which is unarguably the best place to witness sunrise and sunset over the lovely landscape of this historical Hampi town.
Timings: Dawn to dusk (all days)
Entry fee: Nil
Visit duration: Approximately 3 hours
Tip: Carry mini torch/flashlight as Matanga Hill and the paths leading up to the hilltop aren't well lit.
12. Daroji Bear Sanctuary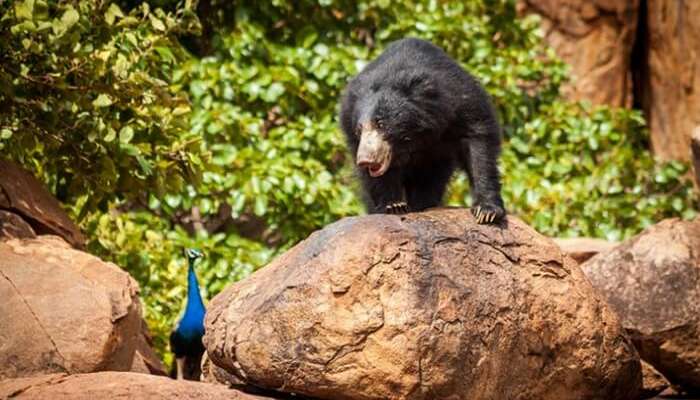 Daroji Bear Sanctuary is a protected forest area where you can witness lovely Indian Sloth bears strolling around or climbing up the trees or playing around with each other. Established in 1994, this sanctuary also houses leopards, hyenas, jackals, spotted deers and various other species of animals and plants making it one of the most favourable places to see in Hampi for nature and wildlife lovers.
Timings: 06:00 am to 6:00 pm (all days)
Entry fee:
INR 50 per person for Indian national
INR 300 per person for foreign national
Parking fee-INR 500 per car
Visit duration: Approximately 3 hours
Tips: Wear good sports/hiking shoes. Also carry adequate drinking water with you. You can see bears marching down from nearby hillocks in the evening.
13. Tungabhadra Dam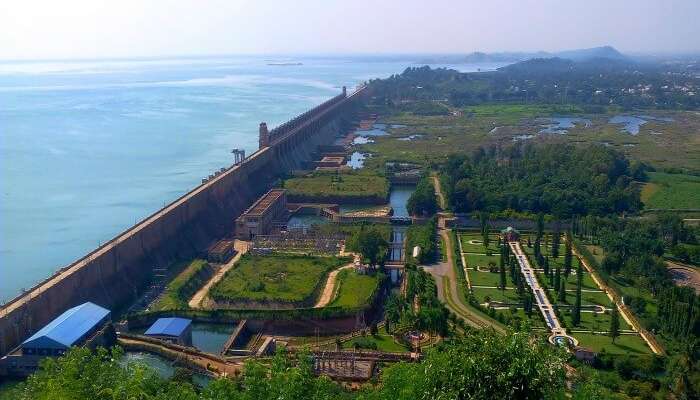 Image Source
Among famous attractions in Hampi and surrounding places to visit, the Tungabhadra Dam pure natural bliss. With lovely flamingos playing around the beautiful garden on one side of Tungabhadra Dam, it's the best place to take out your camera for some great shots.
Timings: 08:30 am to 6:30 pm (all days)
Entry fee: Nil
Visit duration: Approximately 1.5 – 2 hours
Tip: Watch out for the beautiful music fountain that starts around 7:00 in the evening.
What Is The Best Time To Visit Hampi?
The best time to visit Hampi extends from October to February when most number of tourists visit Hampi as the weather is pleasant and great for sightseeing.
The month of January/February also is an ideal time to visit Hampi, owing to the cultural extravaganza that takes place in Hampi Utsav.
How To Reach Hampi?
By Air- Hubli Airport and Belgaum Airport are two major domestic airports located at the distances of 144 km and 215 km from Hampi, respectively. Bangalore Airport is the nearest international airport which is about 350 km from Hampi.
By Road- Hampi is among beloved weekend getaways from Bangalore and is well connected to Hospet, Hassan, Mysore and other nearby cities by road as buses ply regularly. Tourists traveling to Hampi by road can also avail taxis that are available from nearby towns and cities.
By Train- Hospet Junction- the nearest railway station to Hampi, is about 13 km away.
How to get around in Hampi?
One can hire a bicycle or a bike for full day available for rent at State Tourism Centre in Hampi at a nominal charge of INR 50 and INR 200, approximately.
Tourists can find accommodation facilities in main market area of Hampi with basic facilities. However, finding hotels in Hospet- a small town just about 13 km from Hampi, is the best practical option.
Suggested Read: 10 Legendary Lost Cities In India That Were Later Discovered
Hampi Map
The aforementioned places to visit in and around Hampi, give you every reason to skip mountains and beaches. Go on, comment and let us know!
Further Read: 20 Ancient Lost Cities Of The World That Were Eventually Discovered
Frequently Asked Questions About Places To Visit In Hampi
Q. Is Hampi worth visiting?
A. If you are a history buff who likes to explore the heritage relics, then Hampi should definitely be on your list. The scenery of Hampis feels right out of a history book. It is a place for free souls and hippies. Enjoy the nature scenes of the place, camping under the stars, and taking a boat ride on the river. Hampi can be so much fun when you do it right.
Q. What is there do in Hampi?
A. There are so many things to do in Hampi. For starters, visit each an every temple and ruins Hampi is famous for. All those relics that you see on Indian rupee notes are from Hampi. The charming town is located by the banks of the Tungabhadra River. Taking a coracle ride on the river is one-of-a-kind experience. You will feel free-spirited in hampi. Such is the nature of this place. You should also attend the Hampi Utsav that is a celebration of color and culture.
Q. How do you cover Hampi in 2 days?
A. You can easily cover Hampi in 2 days. Just get a scooter or a bike on rent and roan around Hampi on your leisure. Start with Virupaksha Temple, Vijay Vittala Temple, and hill temple Complex on Day 1. Visit the Hampi bazaar to buy some souvenirs from your vacation. On day 2, you can cover Queen's Bath, Hazara Rama Temple, Stepped Bank. If you have time, you may cover a few more attractions in Hampi before you leave.
Q. How many days are sufficient for Hampi?
A. Two days are sufficient to visit this World Heritage Site. The place is full of historic monuments and to visit the places nearby two days are sufficient.
Q. When is the best time to visit Hampi?
A. October to February is the best time to visit Hampi as the temperature is pleasant to explore the city. One can also visit during the monsoon season but should be careful as it gets quite slippery.
Q. Is Hampi safe to travel alone?
A. Hampi is quite a safe place for solo travelers. As far as the safety of female solo travelers are concerned, one should be cautious in any part of the world.
Q. Where should I stay in Hami?
A. Some of the best Hampi hotels are Kishkinda Heritage Resort, Clarks Inn Hampi, Hotel Gowri and Thilak Home Stay to enjoy a luxurious stay.
---
Looking To Book A Holiday Package?
Book memorable holidays on TravelTriangle with 650+ verified travel agents for 65+ domestic and international destinations.
---
Comments
comments