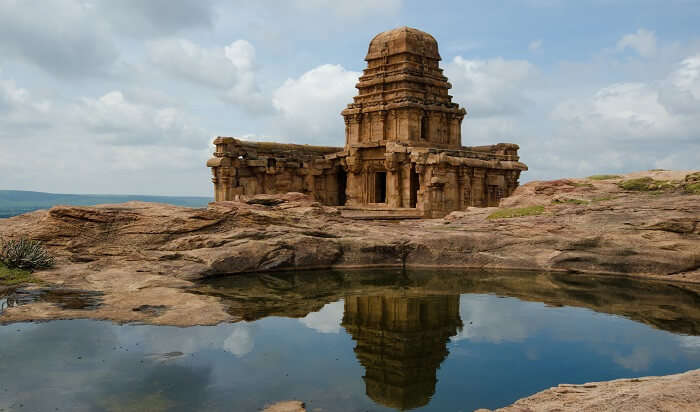 Nested in the rocky red sandstone with tranquil Agastya Lake surrounding it, Badami in Karnataka will definitely steal your breath away. This is a heart melting landscape founded by the Chalukyas and has earned a great significance in the history. Explore the intricate Dravidian architecture and magnificent stature of the monuments through the numerous places to visit in Badami.
Compare any other place with Badami, but you will not find any such historic place as it completely nails the Karnataka tourism. Carved over 1200 years ago, the impressive caves in the cliffs and the sculptures will invoke a sense of respect towards Indian architecture.
The best months to explore Badami lies from July to March. Moreover, the temperature variations all throughout the year is quite minimal. The range of rainfall fluctuates between average to heavy while the winters ­­­­­are quite mild in nature.
14 Best Places To Visit In Badami
Badami may be a small town but there is no dearth of attractions to visit here. Make sure you cover each and every place mentioned below and click ravishing photos.
Magnificent Badami Cave Temples 
Alluring Bhutanatha Group Of Temples 
Traditional Mallikarjuna Group Of Temples 
Mesmerizing Badami Fort 
Glorious Archaeological Museum 
Surreal Agastya Lake 
Enigmatic Mahakuteshwara Temple 
Beautiful Aihole Banashankari Temple 
Enchanting Pattadakal 
Marvelous Malegitti Shivalaya Fort And Temple
Beautiful Akka-Tangi Falls
Ancient Lower Shivalaya Sanctuary
Mysterious Ravana Pahad
1. Badami Cave Temples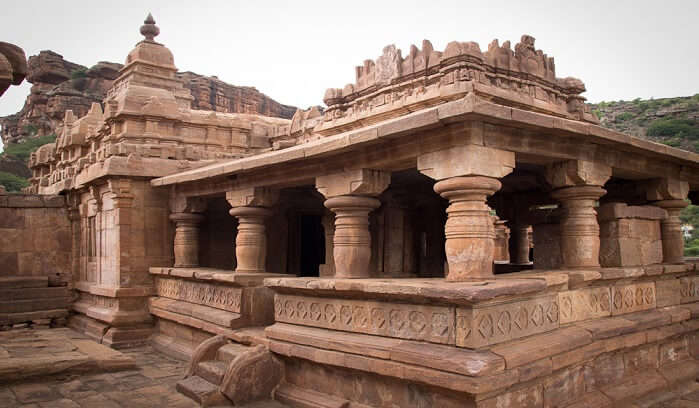 Badami Cave Temples is one of the outstanding tourist places in Badami owing to its engrossing rock-cut architecture. The carvings of the Chalukyan temple represent excellent craftsmanship that is truly appreciable. Bordered by the stalks of lotus, the beautiful images of the trio Vishnu, Brahma and Shiva are engraved into the ceilings of these temples.
Talking about the beauty of the four cave temples in Badami, they are a mixture of South Indian Dravidian and North Indian Nagara architecture. The cave temple is extremely beautiful and is dedicated to Lord Shiva. Shimmering in the red sandstone, this cave incorporates a hall along with many columns and a temple. Moreover, the ceilings and pillars are adorned with paintings of ardent couples. In this temple, Lord Vishnu is pictured as 'Trivikarma', wherein he puts one foot on the ground which represents his control over the universe. However, the other foot is proclaiming governance over the sky.
Time: 9 am–5:30 pm
Tip: Photography allowed
Location: Badami, Bagalkot District, Karnataka
Entry fees: NA
Ideal duration: 2 to 3 hours
Best Time: Throughout the year

 15 Top Hill Stations In Karnataka To Rejuvenate Yourself
---
South Weekend Holiday Packages On TravelTriangle
---
2. Bhutanatha Group Of Temples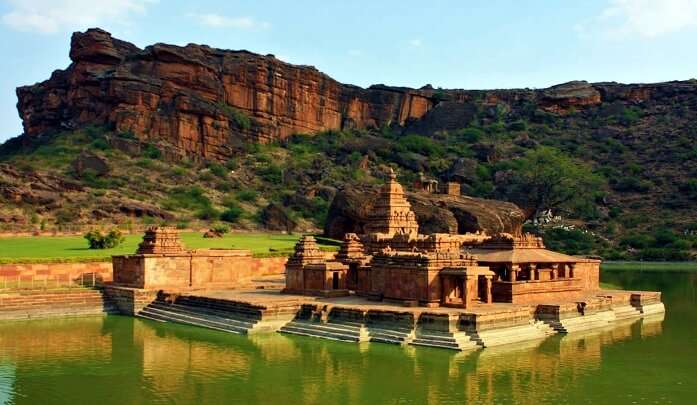 Crafted out of soft sandstone, these temples were built by the Badami Chalukyas in mid of the 7th and 11th centuries. This temple is an excellent demonstration of Badami Chalukyan architecture which is a perfect fusion of North and South style. You will completely be speechless by gawking at the stone sculptures and the structures carved out of stone. The glistening of the temple with the warm and refreshing rays of sun enhances the beauty of the overall structure.
If you really want to witness the sunset at Badami, then the temple of Bhutanatha is an ideal place to visit. The yellowish touch of the last rays of the sun cannot be described in words. Further, it is one of the most romantic sunset spots in India and if you are visiting this place with your better half, then it's like the cherry on the cake. This is one of the beautiful sightseeing places in Badami to add to your checklist.
Location: It's in Badami town, Bagalkot, Karnataka
Tip: Photography allowed
Time: It's open from 6.00 am to 7.00 pm
Entry fees: NA
Ideal duration: 2 to 3 hours
Best Time: NA
3. Mallikarjuna Group Of Temples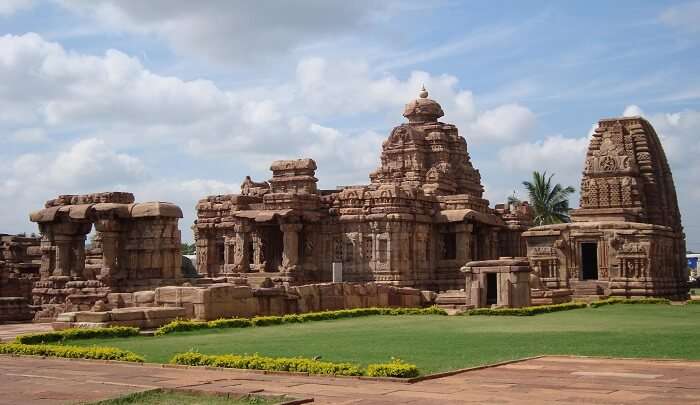 Positioned right adjacent to Bhutanatha Group Of Temples, Mallikarjuna Group Of Temples is a unique structure with its pyramidal shape. This temple is also built by Badami Chalukyas and is dedicated to Lord Shiva. Enveloped with small shrines, this temple has a strong impact on the historical buildings in this heritage town. This is one of the most popular sightseeing places in Badami, Karnataka.
Fashioned with Phamsana style, these temples were constructed during the era of Kalyani Chalukyas and Rashtrakutas. The smooth rock surfaces can be seen on the outer walls of the sanctum. The inner part of the tower is built in typical Rashtrakuta style of architecture. The plain inner walls and pillars along with angled eaves across the roof will absolutely stun you.
The pyramid-shaped superstructures top up this shrines and are made up of closely placed horizontal tiers. One can enjoy the charming view of blue-green Agastya Lake outside the temple accompanied with beautiful pictures of the gigantic rocky hills of Badami.
Timings: 5:30 am–1.00 pm & 3.00 pm –7.00 pm
Tip: Photography allowed
Location: Badami, Bagalkot District, Karnataka
Entry fees: NA
Ideal duration: 2 to 3 hours
Best Time: NA

This Private Island Homestay In Karnataka Is A Treasure & You Won't Doubt It!
4. Badami Fort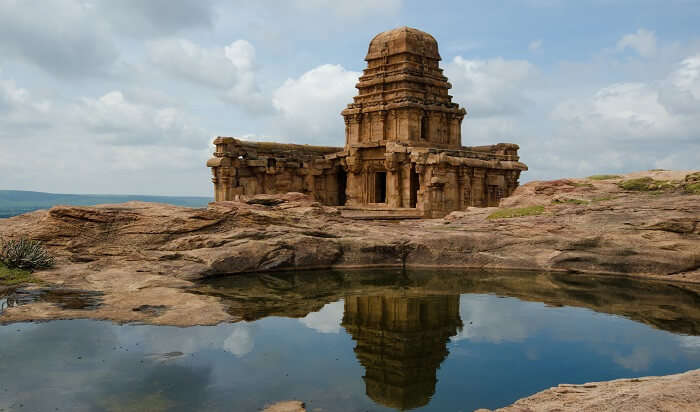 Badami Forts is a renowned archaeological attraction in Badami that is perched on top of the hill and is 2 km from the main town of Badami. This fort was constructed by Chalukyan King Pulakeshi and is one of the excellent visiting places in Badami with respect to history.
Chalukyan rulers hailed Badami Fort that was plundered and ruined by the Pallavas. The walls of the fort were rebuilt and many structures were added to this fort later on. The location of this fort is absolutely stunning as it offers a gorgeous view of the entire town of Badami and its architectural marvels. Moreover, this fort is encircled by double fortification walls thereby ensuring proper security. A statue of Nandi (Lord Shiva's Bull) is available at the entrance of this fort. At the centre of the fort, there is masjid like structure that was constructed by Tipu Sultan. This silent fort has witnessed many attacks yet it stands tall with grace and aplomb.
Timings: 10:00 am to 5:00 pm (closed on Friday)
Entry Fee: INR 05
Tip: Photography allowed
Location: Badami, Bagalkot District, Karnataka
Ideal duration: 2 to 3 hours
Best Time: NA
5. Archaeological Museum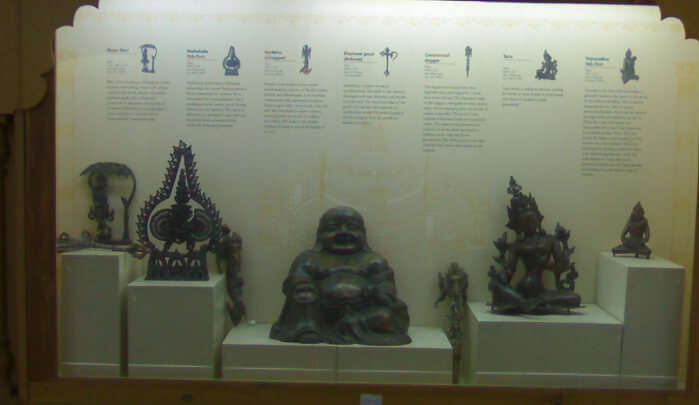 Located at the footsteps of Badami Fort, Archaeological Museum is just one kilometre away from Badami Bus Station. With Lake Agasthya on the northern side, this museum is a treasure house wherein many fabulous artefacts are preserved. Shiva's bull near the museum gate will greet you as you enter this museum. Established in the year 1979, the museum comprises of many inscriptions and historic materials. Consequently, it was transformed into a full fledged museum in 1982. Prehistoric stone implements & sculptures, inscriptions, architectural marvels and hero stones are preserved in this museum. Further, exhibits of Shiva in different forms are available here.
Timing: 9 am to 5pm (Closed on Friday)
Tip: Photography is prohibited.
Location: It's located at the foothills of the northern hill containing the northern fort, near to Pallava Narasimhavarmman's inscription
Entry fees: NA
Ideal duration: 1 to 2 hours
Best Time: Throughout the year

 Ecotourism Found New Meaning As Karnataka Unveiled 30 Foot Tall Canopy Walk
6. Agastya Lake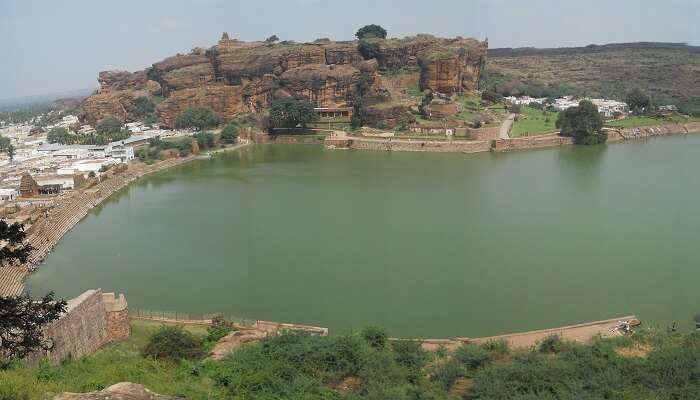 Positioned one km away from the Badami Bus Station, this beautiful lake was constructed way back in the 5th century. The localities reveal that this lake holds great spiritual and healing significance.The major crowd puller here is the divine and sacred water body (Kund) called Pushkarini. It is believed that the Pushkarini was brought on earth by Garuda, the mythological vehicle of Lord Vishnu.
One of the excellent places to visit in Badami, this lake is deemed to wash away your sins when you dip in this holy water. There are beautiful Bhootanatha Temples on the eastern side while the southwest part emphasizes on the cave temples. It may not be an ideal place for swimming but you can capture the scenic view of gorgeous hills and several historical monuments behind the lens of your camera.
Location: Badami, Karnataka
Timings: NA
Entry fees: NA
Ideal duration: 2 to 3 hours
Best Time: NA
Tip: Photography allowed
7. Mahakuteshwara Temple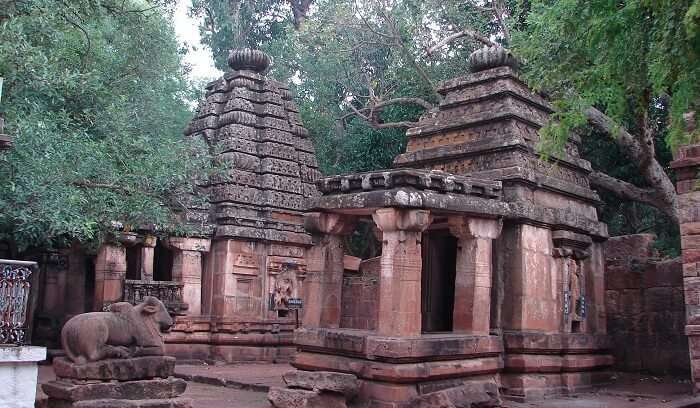 Bordered by hills, the holy Mahakuteshwara Temple is dedicated to the Shaiva Culture. Constructed to honor Lord Shiva, this place is exhibiting the intricate art of Dravidian style. Have a glance over the sculptures and carvings of this place wherein excellent artistic intelligence is showcased. Being one of the outstanding tourist places in Badami, Mahakuteshwara Temple is a fabulous piece of art with excellent carvings.
Timings: 6:00 am – 6:00 pm
Time duration : 1 – 2 hours
Location: Badami-Mahakoota, Badami, Karnataka
Entry fees: NA
Best Time: NA
Tip: Photography allowed
 Monsoon In Karnataka: Here's 15 Places You Must Visit During Monsoon
8. Aihole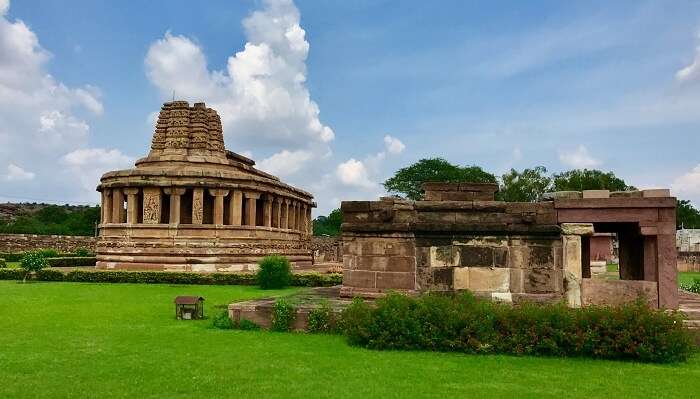 This is a famous temple complex of Karnataka which is a home to around 125 Chalukyan temples and ancient monuments. The Aihole is a medieval centre which is located at Bagalkot and also stands for the position in the UNESCO World Heritage site. Resting amidst the sandstone hills and villages, this was once the capital of the Chalukya Dynasty. In the present day this temple is known as one of the prominent centres for temple architecture and intricate stonework.
Ideal Duration: 2-3 Days
Best Time: Oct-Mar
Location: It's at Bagalkot, Karnataka, and located 46 km away from Badami
Time: It's operating from 6.00 am to 5.30 pm
Entry fees: NA
Tip: Photography allowed
9. Banashankari Temple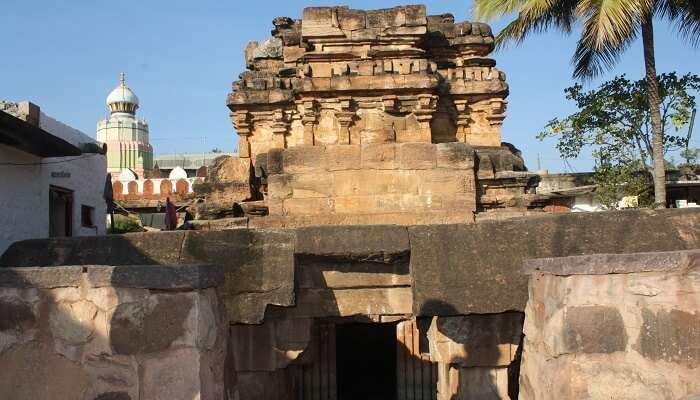 Also known as Banashankari Amma Temple, this magnificent temple is located at Cholachagudda near Badami. This is counted as one of the famous shrines in Karnataka which is solely dedicated to the Hindu culture. The temple is of strong importance among the locals and it maintains harmony and unity in the city.
Timings: 7AM-7PM
Time Required: 1-2 Hours
Entry Fee: No Entry Fee
Location: It's at S Kariyappa Road, Kanakpura Main Road, Sarbandapalya, Banashankari Temple Ward, Bangalore, Karnataka
Best Time: NA
Tip: Photography allowed
 5 Magnificent Homestays In Belgaum For Your Next Getaway In Karnataka
10. Pattadakal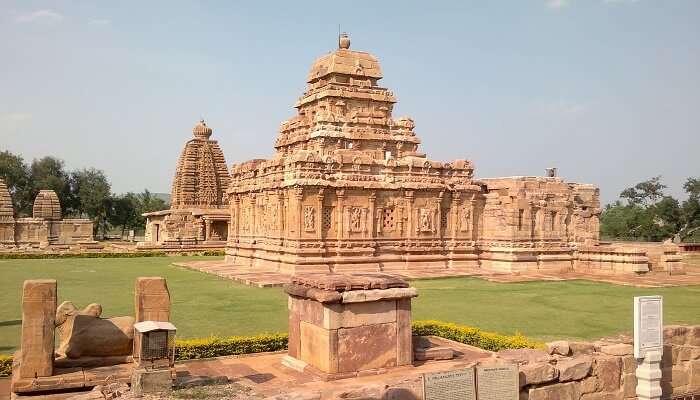 One of the prestigious UNESCO declared World Heritage Sites in Karnataka, the Pattadakal is one of the religiously important places for Hindu and Jain Temples. Located at the banks of River Malaprabha, this place reflects the rich heritage of the 4th century. Lord Shiva is worshipped inside this temple and the architecture showcases the beautiful blend of North and South India.
Best Time To Visit: Oct-Mar
Ideal Duration: 1-2 days
Location: Bagalkot district, Karnataka
Time: NA
Entry fees: No entry fees
Tip: Photography allowed
11. Malegitti Shivalaya Fort And Temple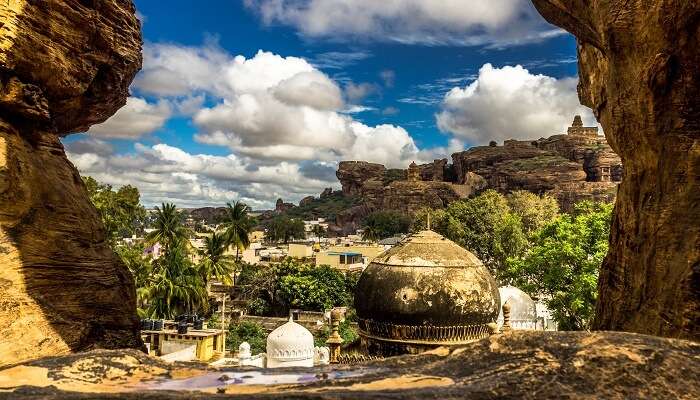 The Malegitti Shivalaya Fort is a marvelous example of the ancient Chalukya architecture which is reflected in the form of elegantly carved rock-cut temple situated at the top of Badami. This was built in the 7th century and gives the perfect glimpse of the Dravida style which was used early Chalukya architecture which makes it one of the best places to see in Badami. 
Ideal Duration: Less than 1 hour
Timings: 6AM-6PM
Location: Badami, Bagalkot District, Karnataka
Entry fees: Free entry
Best Time: NA
Tip: Photography allowed
 Top 10 Tourist Places Near Jog Falls To Witness The Impeccable Beauty Of Karnataka
12. Beautiful Akka-Tangi Falls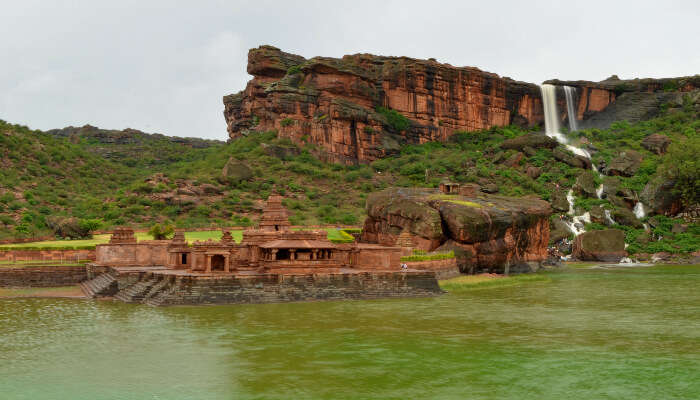 Image Credits: Wikimedia Commons
If you are fond of adventure then you must surely visit one of the popular tourist places in Badami that is the beautiful Akka-Tangi Falls. You are going to experience a splendid environment as the place is surrounded by the cool weather as the water flows from a height which is indeed a marvellous site to watch. Akka-Tangi Falls happens to be the first fall of the Sharavathi river which makes visiting it among the best things to do in Badami.
Location: Badami, Bagalkot District, Karnataka
Time: it's open from 9.00 am to 5.30 pm
Entry fees: No entry fees
Ideal duration: 2 to 3 hours
Best Time: October to February
Tip: Photography allowed
13. Ancient Lower Shivalaya Sanctuary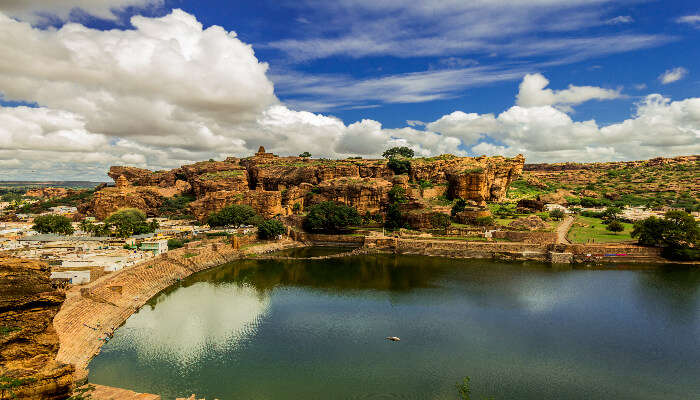 Image Credits: Wikimedia Commons
The lower Shivalaya Sanctuary is considered to be one of the famous tourist places in Badami. The sanctuary comprises a hall, medium porch and a double-side sanctuary. The sanctuary is beautifully laid with a lotus-petaled pathway which contains a Brahmanical image. You will indeed be amazed by the ancient shrines, dome and stupa.
Location: Badami, Bagalkot District, Karnataka
Time: It's open from 10.00 am to 5.00 pm (Friday closed)
Entry fees: No entry fees
Ideal duration: 1 to 2 hours
Best Time: In the evenings
Tip: Photography allowed
 20 Temples In Karnataka That Are All About Grandeur That You Must Visit In 2023
14. Mysterious Ravana Pahad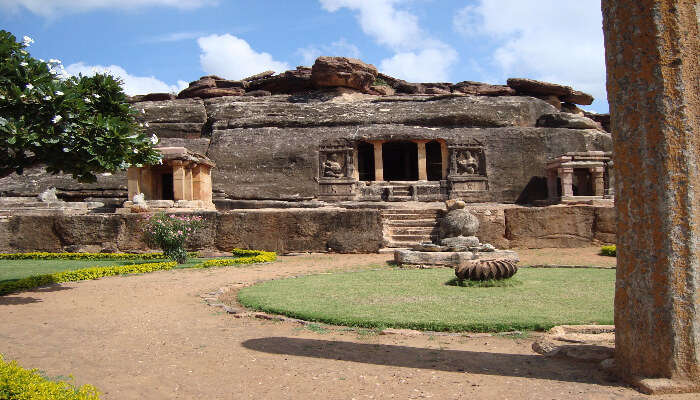 One of the spectacular ancient tourist places in Badami is Ravana Pahad where you will get to see the caves which are sculptured beautifully and drawn dramatically. This makes Ravana Pahad as the famous Badami tourist places for the tourists to visit. The Pahad was built in the 6th century and has been dedicated to Lord Shiva.
Location: Badami, Bagalkot District, Karnataka
Time: It's open from 6.00 am to 5.30 pm
Entry fees: No entry fees
Ideal duration:2 to 3 hours
Best Time: March to May
Tip: Photography allowed
It's high time to pack your bags and take a vacation to Karnataka where you should check out all these places to visit in Badami. There is no other place like this and you will be thankful to yourself that you planned a short getaway to this offbeat place in Karnataka. Each one of these places are gems. Do not forget to take your camera along and take astounding shots of these attractions. Badami which is a short place in Karnataka will leave you mesmerized by its excessive history, ancient temples, forts, historical places and architecture. Tourists get to witness the popular rock-cut cave temples which will give you deep insights in the archaeological findings. If you want to encounter the finest of Badami then do plan your visit between October and February as you will get to experience soothing climate.
For our editorial codes of conduct and copyright disclaimer, please click here
Frequently Asked Questions About Places To Visit In Badami
What is the best season to visit Badami?
The ideal time to visit Badami is post-monsoon and winter i.e. from July to March. This place receives heavy to average rain showers. Also, the winters are mild and there are variations of temperature throughout the year.
How many days are required to visit Badami?
One to two days are required to explore the tourist places of Badami. Apart from this, you can also visit nearby fabulous destinations like Hampi, Aihole, and Pattadakal.
What are some must-visit places & things to do while visiting Badami?
Badami is home to several historic places like Boothanatha Temple, Banashankari Temple, Mallikarjuna Temples, Badami Fort, Cave 1, Cave 2 and Cave 3. If you are planning to visit Badami, make sure you add all these places to your checklist.
Why is Badami famous?
Badami being the capital of Badami Chalukyas from 540 AD to 757 AD is famous for its archaeological monuments. Moreover, these magnificent structures represent Dravidian architectural styles.
Is Badami worth visiting?
If you truly want to explore the beauty of Indian architecture, then Badami is worth visiting. The miniature carvings and the elegance of the temples will definitely impress you. Also, the view of the famous lake is totally fascinating. There is no dearth of places to visit in Badami, so make a proper checklist and make sure you explore all of them.
Who built Badami?
Pulakeshin I established Badami and the architecture was observed by the Chalukyas. Also, this place is acknowledged for being the ancient kingdom of the Chalukyas.
Who built Badami caves?
Pulakeshin I of the Chalukya dynasty founded this city in the year 540 AD and made his capital. Kirtivarman, the son of Pulakeshin I succeeded him and built the cave temples.
How many caves are there in Badami?
The cave temple in Badami is the finest example of the Chalukyan style of architecture. Carved out of sandstone, this temple boasts fabulous rock-cut architecture. Moreover, there are a total of four cave temples with excellent carvings and sculptures.
What is another name of Badami?
Badami is an excellent tourist destination that has great historical importance. The mythological name of this place is Vatapi. Moreover, it is the regal capital of Badami Chalukyas and is famous for rock-cut temples.
---
People Also Read:
Places to visit in Madurai Places to visit in Parwanoo Places to visit in Malappuram