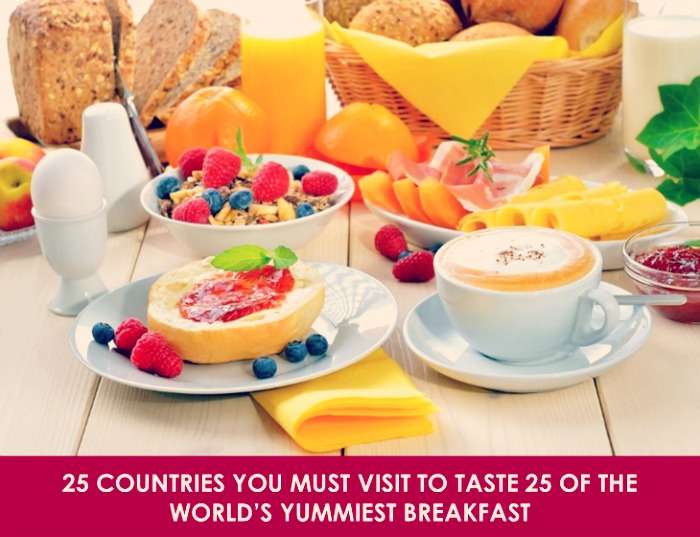 What can be a better head start for a gloomy morning than a spread of scrumptious breakfast? From fresh fruits to delectable donuts to umpteen egg recipes, breakfasts are meant to be grand, succulent and satisfying. But wait! The same old morning meal can obviously be a bore. So how about having bites from around the world?
So here, I bring to you a luscious list of 25 countries you must visit to have 25 of the yummiest breakfast. This year, Travel for taste! Ready for a gastronomic ride? Read on:
1. London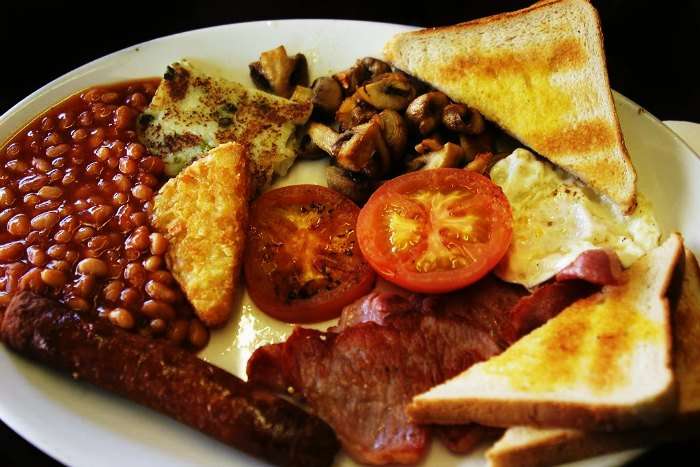 London gaye and full English breakfast ni kia to kya kia?! Well, a full English breakfast is something to swear by in London. A plate full of sausages, eggs, bread toast, mushrooms, salad is something that won't let you come back home without a bloated stomach.
---
Looking To Book An International Holiday?
Book memorable holidays on TravelTriangle with 650+ verified travel agents for 65+ domestic and international destinations.
---
2. Cuba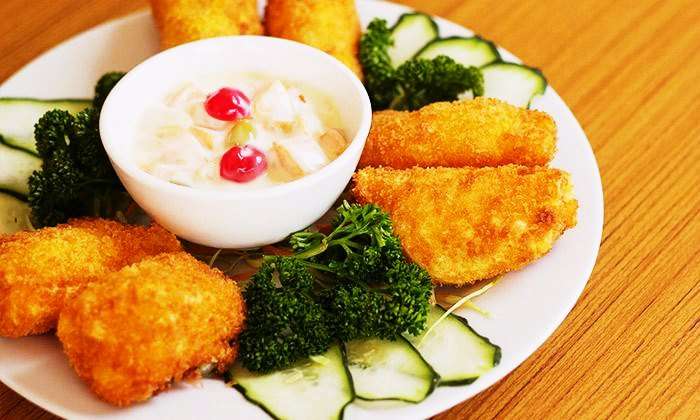 Yummy! Seems irresistible right? It undoubtedly is! You may call these little things momos or dumplings, whatsoever, a plate full of these meat filled balls along with a bowl of awesome sauce served with healthy broccolis certainly makes for a delicious meal to start your day in Cuba.
3. Iran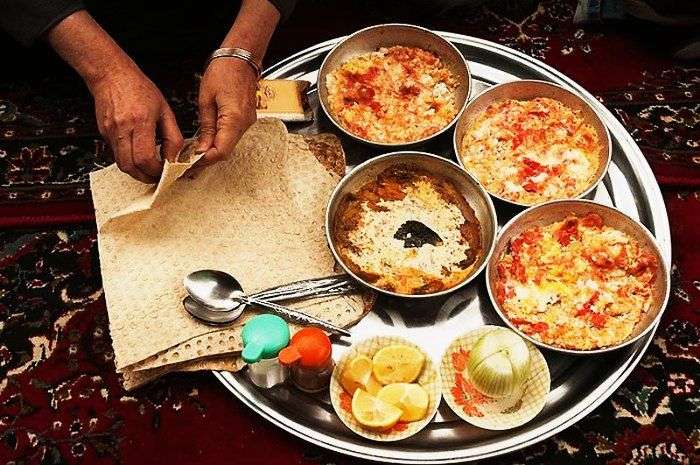 Well this Iranian plate with a special dish, which they call Halim, isn't just scrumptious but nutritional as well. Prepared with wheat and cinnamon, Halim also includes butter and sugar, healthy ingredients which are cooked along with ragged meat in big pots. Plus you get the famous Iranian omelet, one thing you ought to try. A perfect combination of health and taste!
4. Spain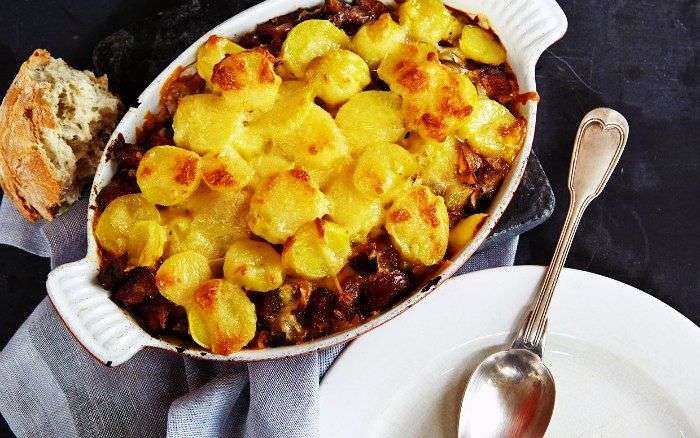 Turn blind eye to tortillas? You're just torturing your taste buds buddy. Morning breakfast in Spain includes a big bowl of Yukon golds along with chopped onions as well as chorizo and Manchego. All this is topped with yummy egg custard making it even more palatable. Giving it a healthy company sits the baby spinach and grape tomatoes salad blended in red wine.
5. Iceland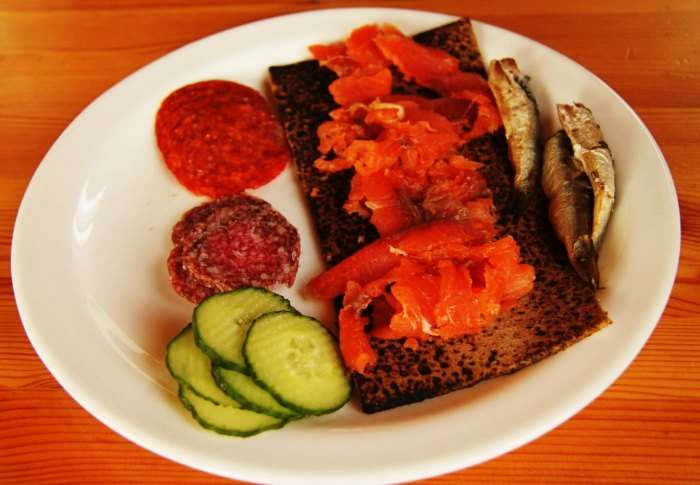 People in Iceland love to commence their day with salmons and lamb goulash. This plate contains it all including vegetables and salads. I bet you wouldn't have felt this lucky being a non-vegetarian ever before, right? Go, grab your plate.
Must Read: 15 Experiences Not To Miss On Your Euro Trip
---
Planning your holiday but confused about where to go? These travel stories help you find your best trip ever!
Real travel stories. Real stays. Handy tips to help you make the right choice.
---
6. Sweden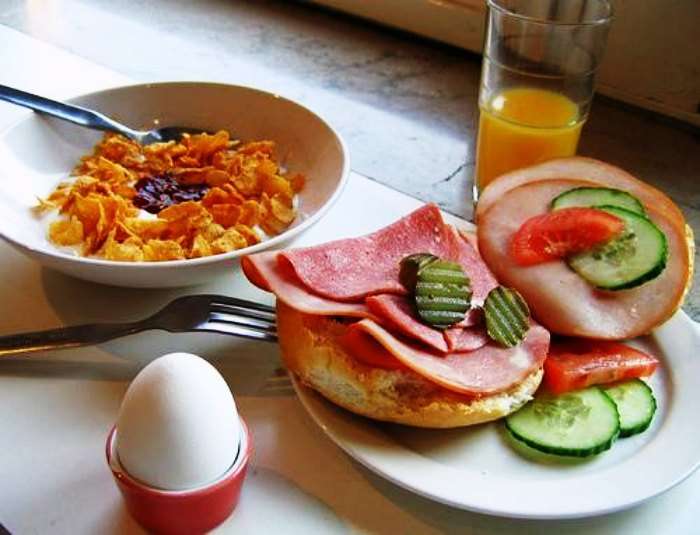 Meat slices along with fresh veggies spread nicely on half cut pancakes surely make for a healthy and fulfilling breakfast. Along with it there is a pot full of oats and a glass of fresh juice to make your breakfast even more scrumptious. This Swedish breakfast menu is no less than a treat for your eyes and stomach!
Must Read: 14 Strange and Unconventional Retreats For The Ultimate Wanderer
7. Poland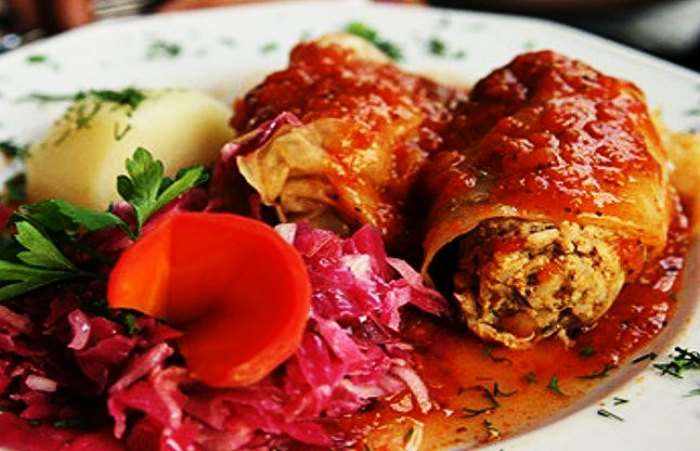 Feeling like tasting a spoonful? Well, then Poland is the place to satisfy your desire. These cabbage rolls known as 'Golabki' add life to the breakfast table. It is the most common dish prepared in Poland. Meat along with rice is wrapped perfectly inside boiled cabbage leaves, after which these packets are baked with light tomato sauce. This plate full of colors is a great way to start your day.
8. Russia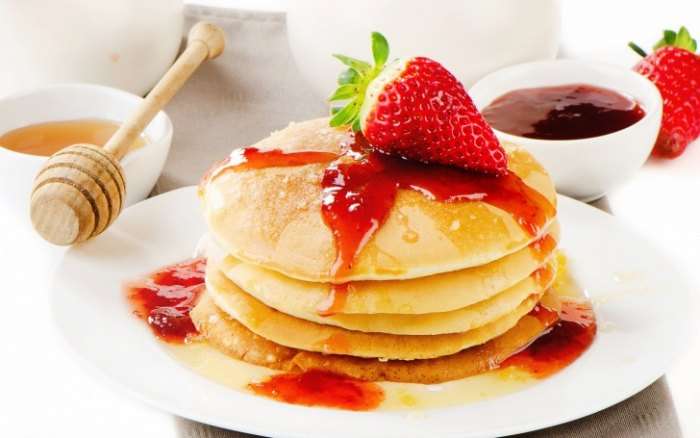 You may be wondering what kind of dish is this. Just a berry and slices of bread!? Well, breaking news – that's not bread. Russians call this umpteen breakfast 'oladi'. This oladi is like pancake or Yorkshire pudding. It is a soft, hot, and slightly fried dish that is enjoyed by the residents with jam, berries or honey. Still don't wanna try it?
9. Australia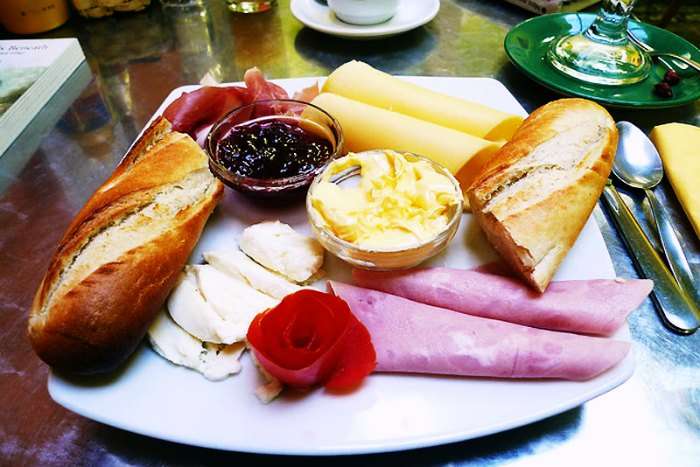 Only one thing dominates your plate in Australia, Vegemite. Get hold of any Australian traveler, and you will find a jar of this sticky brown stuff in their backpack. Served with subs, this tasty treat is something you can't stay away from.
10. Malaysia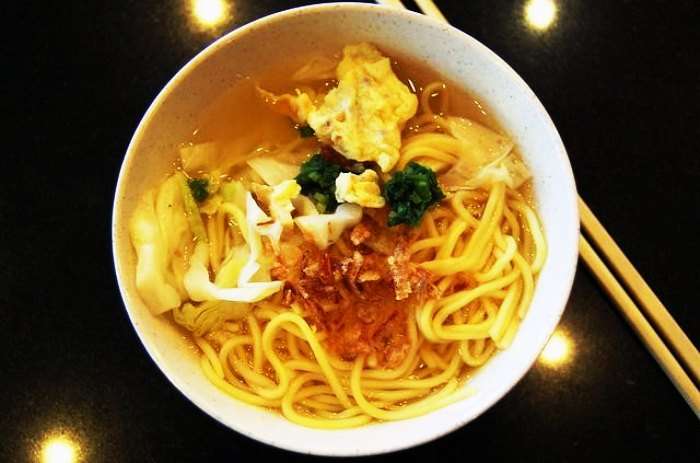 Malaysia – Oh! What a bowl full of taste! Malaysians are crazy for this breakfast which includes noodles mixed well with chopped veggies and egg along with different spices. This breakfast certainly calls for everyone who is fond of noodles.
Must Read: 20 Beaches With Water So Clear You Would Want To Splash Right In!
11. France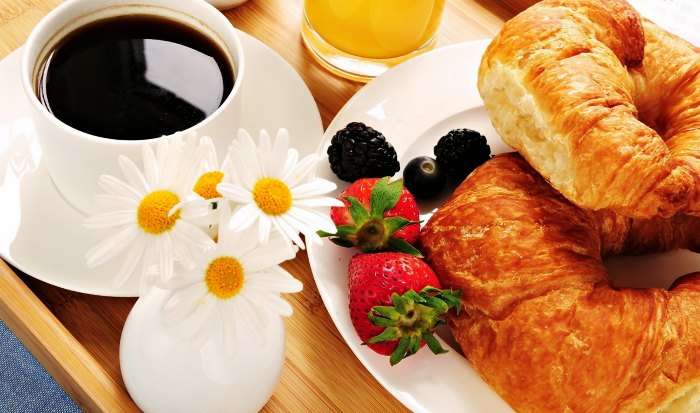 French have a very lavish breakfast that they call 'a la francaise'. It has butter as well as jam spread over bread toasts. They enjoy it with a hot cup of coffee to kick start their day.
Must Read: 22 Best Honeymoon Destinations in Europe In May, June and July
12. Mexico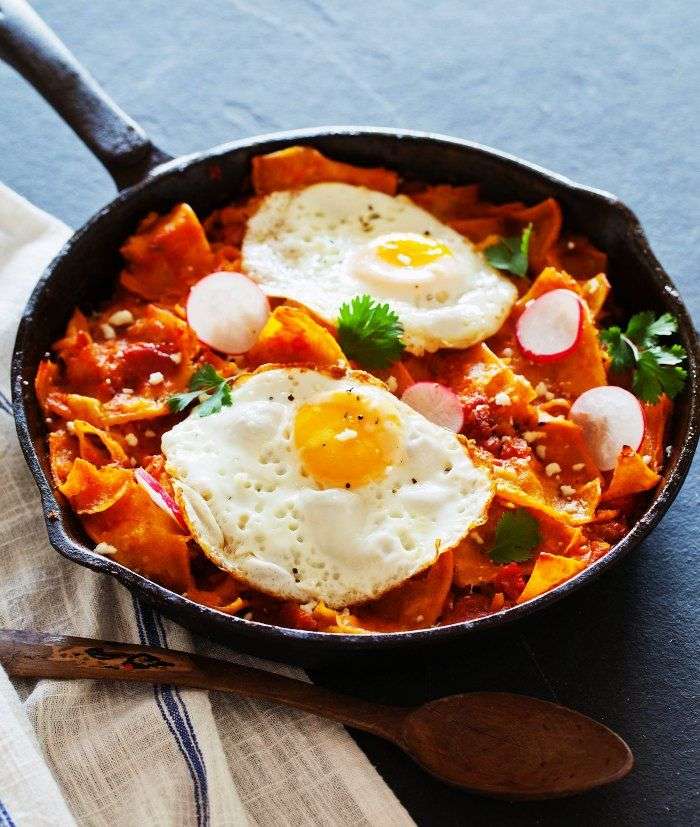 Oohh la la! This Mexican dish seems to take our hearts away. Isn't it? Called the Chilaquiles by Mexicans, this dish has tortilla chips festered in mole. This dish is so palatable that it surely deserves a stomach full try.
13. Pakistan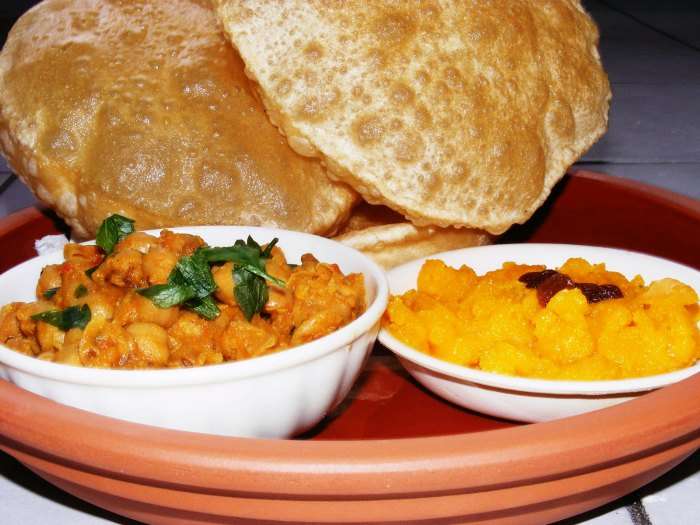 Poori Bhaji or Poori Halwa lies at the heart of every Pakistani. This delectable dish includes round, fluffy breads made from wheat dough and a bowl full of spicy potato stew. To add to the taste, there's some halwa, a sweet dish loaded with clarified butter and dry fruits.
Must Read: 40 Indian Snacks Which Can Turn You Into a Local From a Tourist!
14. Israel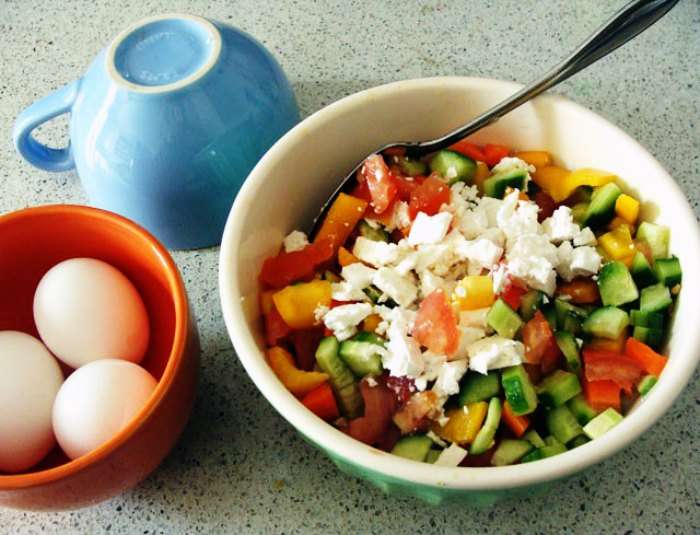 This awesome Israeli salad contains all fresh vegetables like tomatoes, cucumbers, tahini, olives, eggs simmered in tomatoes, hummus, etc. This dish is available in every hotel when you visit Israel. It will quench away your hunger and provide you essential nutrients as well.
15. America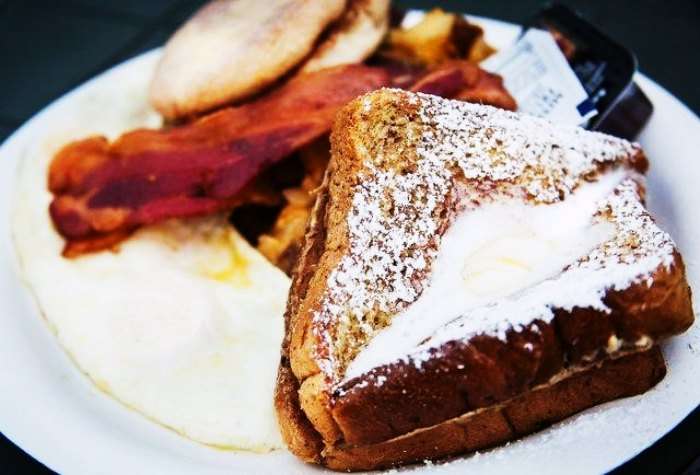 Americans just die for a healthy and good breakfast. They can skip any meal but breakfast. For them it should not only be tasty but fulfilling as well. This French toast with egg spread all over presents for them exactly what they need. If you are nutrition and taste freak at the same time, this breakfast has been cooked especially for you.
16. Scotland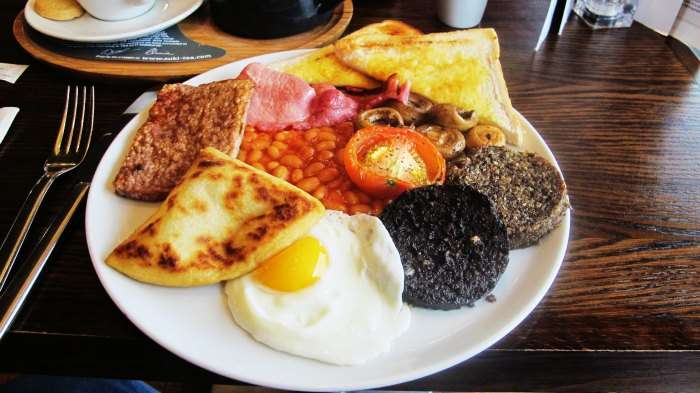 This Scottish breakfast plate is laden with fried eggs along with back bacon, black pudding and buttered toast along with baked beans. This dish is well enjoyed with a hot cup of tea.
17. Denmark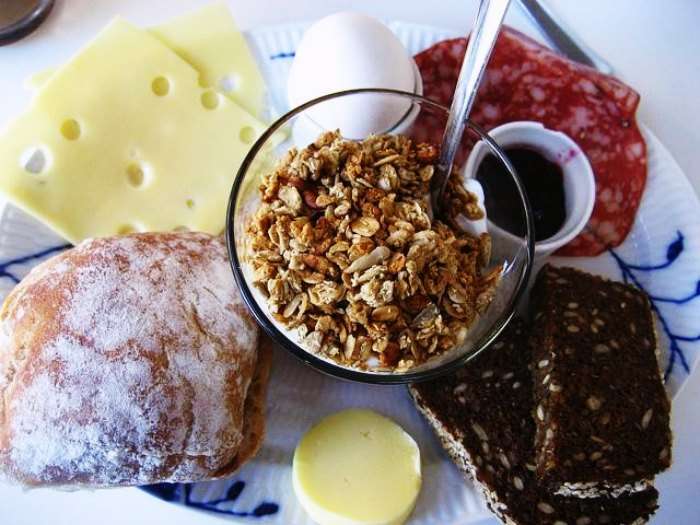 Rye bread, salami, honey, jam, and pate make for perfect breakfast table in Denmark. The table may sometimes have chocolates as well. This is just an awesome sight when you see such items placed before you on the dining table.
Must Read: 8 Things You NEED On Your European Packing List
18. Portugal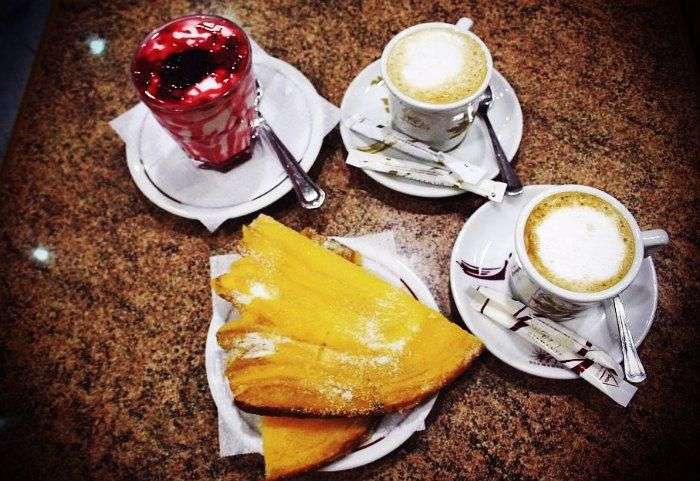 This sugar topped pastry of custard along with Portuguese cappuccino make for a wonderfully tasty breakfast. Whenever you plan to go to Portugal make sure you surely have it for your breakfast.
19. Germany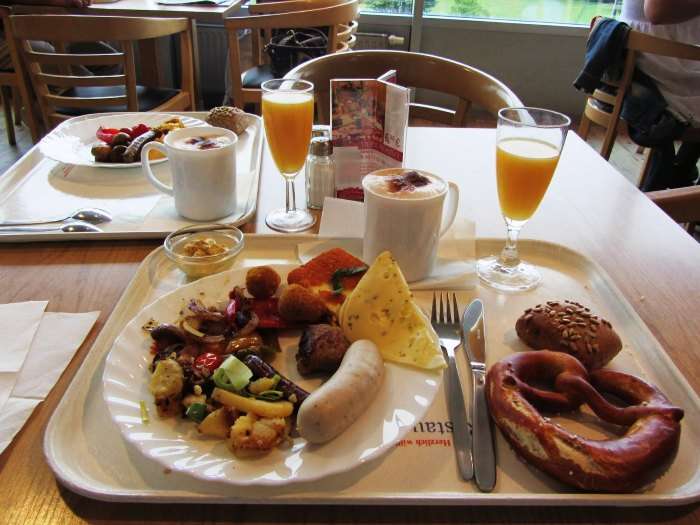 Such a tempting breakfast table decorated with all healthy items- meat, juices, salads and what not! Having this breakfast in German style would certainly make you feel special.
Must Read: 12 Things You Don't Need On Your European Packing List
20. Alaska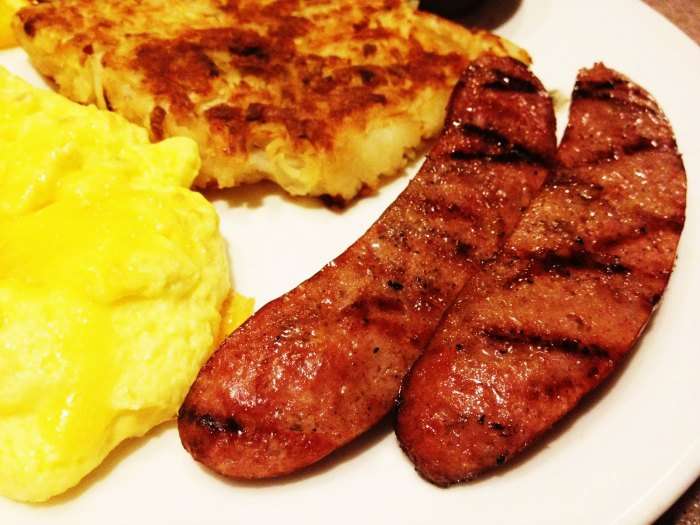 Can you go to Alaska and even endeavor to miss this breakfast dish made up of pancakes, with eggs cushioned all over and delicious reindeer meat pieces on the side? No, you can't, right? And why miss it when you can have it at a very reasonable price out there in Alaska. A must-try.
21. Turkey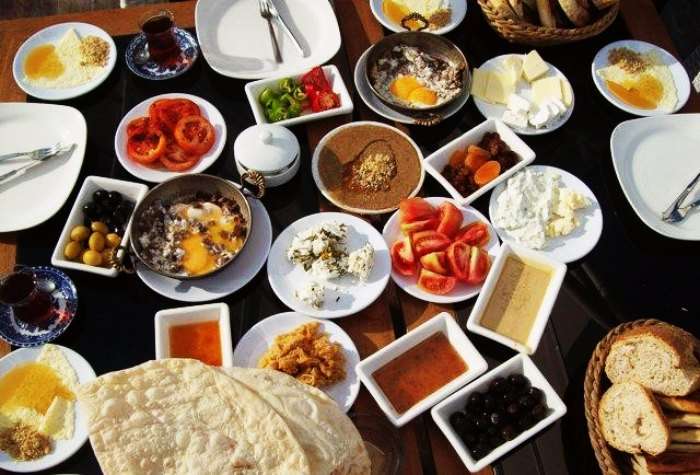 Wow! A number of plates on a table and all of them having something good to eat. Yumm! From healthy vegetables salad to jam, Turkish tea and sausage, everything is available when you have breakfast in Turkey. I think Turkey definitely deserves a visit! Don't you?
Must Read: 15 Things Turkey Does Better Than Anywhere Else
22. Venezuela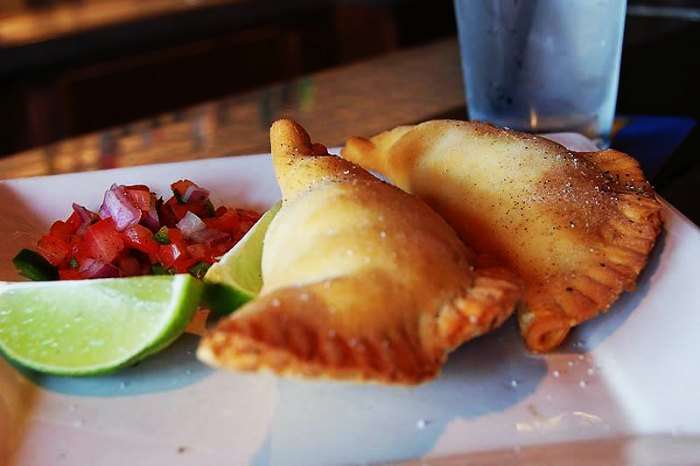 Mouthwatering, eh? Well, this dish tastes better than what it looks. People out there call it Empanada, fried pastry made with wheat flour is what it actually is. A bite and you'll find a whole bunch of interesting ingredients like onion, minced beef or chicken, herbs, etc. melting into your mouth. Deserves a try.
Must Read: 10 Real World Destinations That All Disney Lovers Must Travel To
23. Netherlands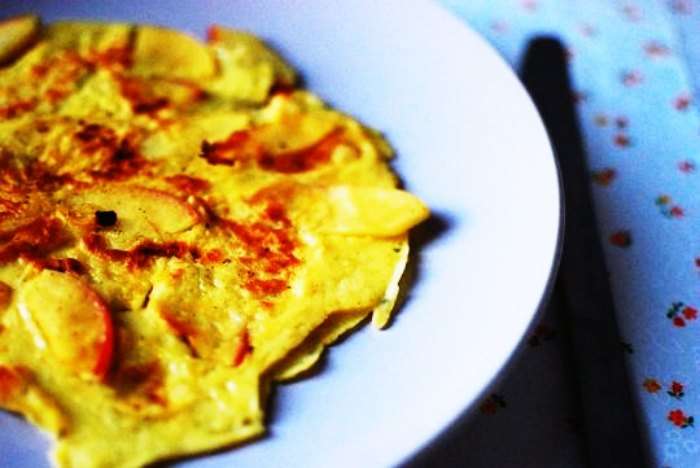 Any fruit can make for the healthiest breakfast ever. Netherland people are smarter; they have it every morning but do so in style! Here is a sweet and salty dish in a plate containing apple pancakes, served with some dense syrup called "stroop". Trust me guys, you would never had such a stylish fruit dish ever.
24. Hawaii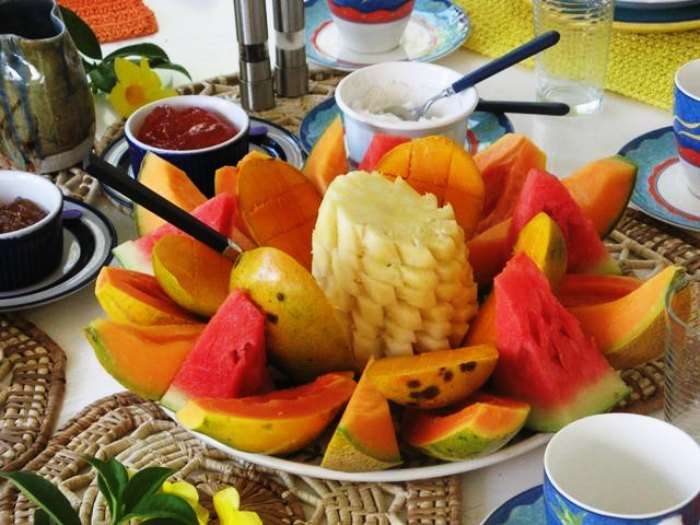 Ah! What can be healthier than beginning your day with a plenty of juicy fruits. Yes, people in Hawaii prefer to fill in their growling stomachs with these fruits every morning. It keeps them fresh and healthy all day long. So, while planning to visit Hawaii rest assured your health won't suffer a bit. You will return back fitter than ever.
25. Brazil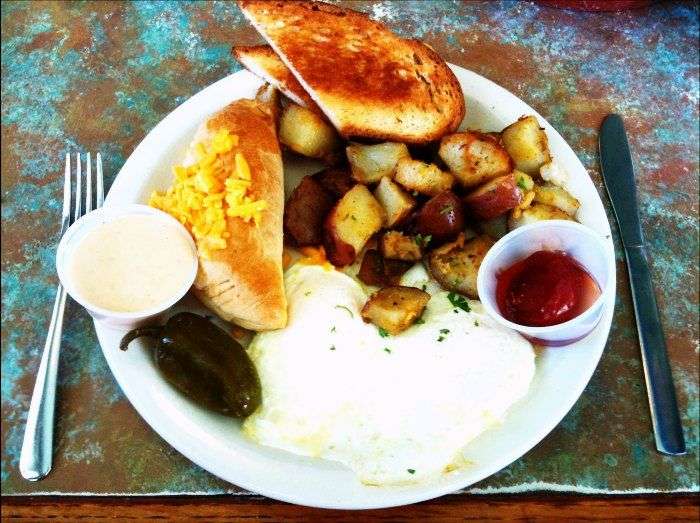 Here it comes, a Brazilian plate full of meat, corn beef, tousled egg whites, and bread toasts with cheese. Going to Brazil and not giving your tongue a taste of it and your teeth a good bite of it would not be fair, right! Yeah! This is the best breakfast meal you can have in Brazil.
So, these were some of the best breakfasts from around the world. You live once guys, why leave these beautiful places unexplored and their delectable dishes untasted! Pack your bags and prepare your taste buds for the most satiating journey ever!
Further Read: 14 Highway Dhabas in North India for Your Hungry Soul
Like this post? Hit the share buttons.
---
Looking To Book A Holiday Package?
Book memorable holidays on TravelTriangle with 650+ verified travel agents for 65+ domestic and international destinations.
---