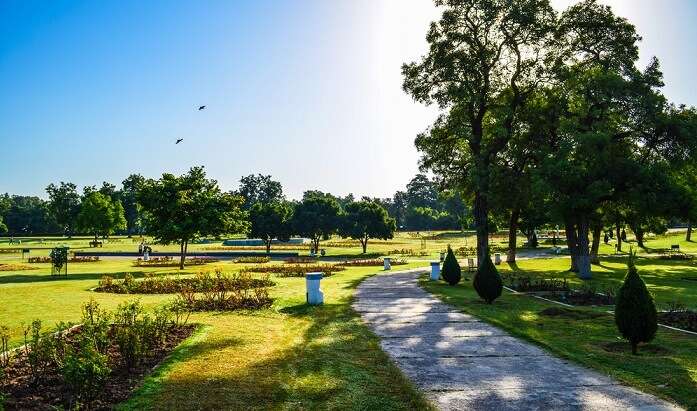 Filled with the sight and sweet aroma of over 1,600 different species of roses, the Rose Garden in Chandigarh is a blooming exhibit of nature's endless beauty and the largest garden of its kind in all of Asia. Officially known as the Zakir Hussain Rose Garden, the garden is named after the former president of India and is spread over an area of 30 acres. The garden also has 32,500 varieties of trees and medicinal shrubs that include the likes of Bel, Bahera, Harar, Camphor, and Yellow Gulmohar.
A sight for sore eyes, this attractive garden is decked up with an opulent variety of flowers neatly planted in carved-out lawns and flower beds that are maintained regularly by the Government of Chandigarh. Replete with colorful flowers in every direction and some misty mountains in the backdrop, this garden is the perfect place to relax, which is why it is one of the most popular tourist attractions in Chandigarh, especially among nature lovers.
Quick Links To Navigate Rose Garden in Chandigarh
Basic Info Of The Rose Garden In Chandigarh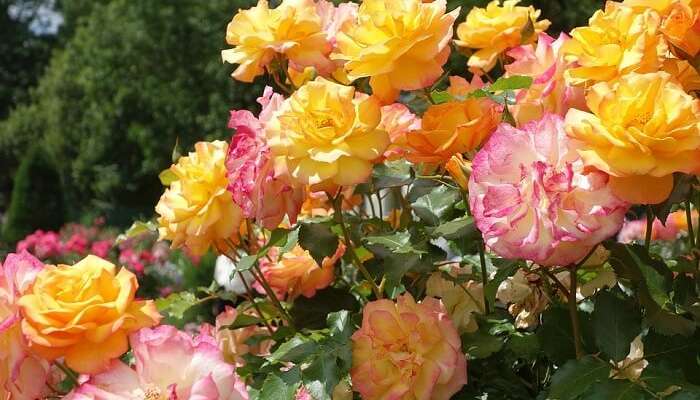 Image Source
Rose Garden Chandigarh location: Jan Marg, 16B, Sector 16, Chandigarh, 160016
Rose Garden Chandigarh timings: 6 AM – 10 PM
Rose Garden Chandigarh ticket price: INR 50/- per person
Established in: 1967
Rose Garden USP: 1,600 different species of roses
Ideal duration of visit: 1-2 hours
Rose Garden Chandigarh Map
Rose Festival Chandigarh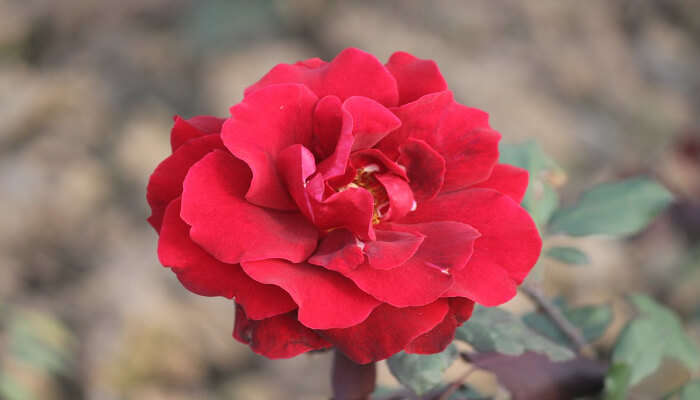 Planning for a vacation to Chandigarh? You must explore Zakir Hussain Rose Garden Chandigarh. It is one of the gardens where you will get to experience endearing roses and be mesmerized with the aroma of the beautiful roses. Here is an interesting fact about Zakir Hussain Rose Garden Chandigarh that Chandigarh Tourism Administration every year hosts a Rose festival in the last week of February. The festival is celebrated with amazing pomp, show and grandeur. Get hold of the events conducted during the festival like Gardening, Landscaping, Photography, Bonsai, Rose Prince and Princess. You can relish some amazing snacks like lassi, milk, ice cream, burger and patties at Verka Booth.
Design and Architecture of Rose Garden Chandigarh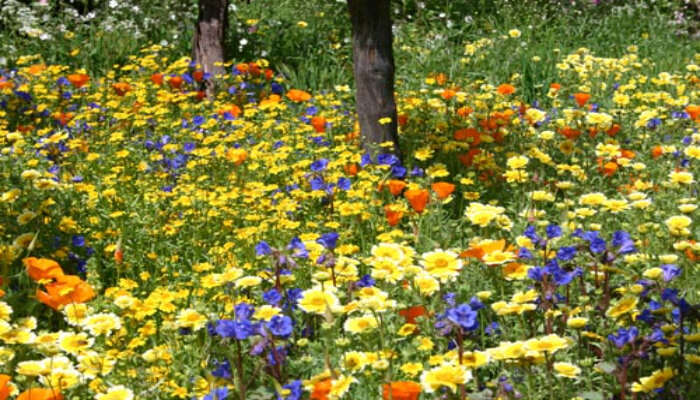 At the entrance of Rose Garden Chandigarh, it will seem as if you have entered in no less than a paradise. The setting of the garden is amidst the lush green surroundings, some fresh air where locals prefer to jog or do physical exercise. As you take a walk round the garden you will witness the beautiful roses where the varieties of roses are named after some eminent personalities like Lal Bahadur Shastri, Queen Elizabeth and John F. Kennedy. You can also get a brief overview of the flower being hanged near the flower. The sculpture of the complete garden is done with trees like Camphor, Hara, Bahera, Gulmohar and other medicinal plants.
Best Time To Visit Chandigarh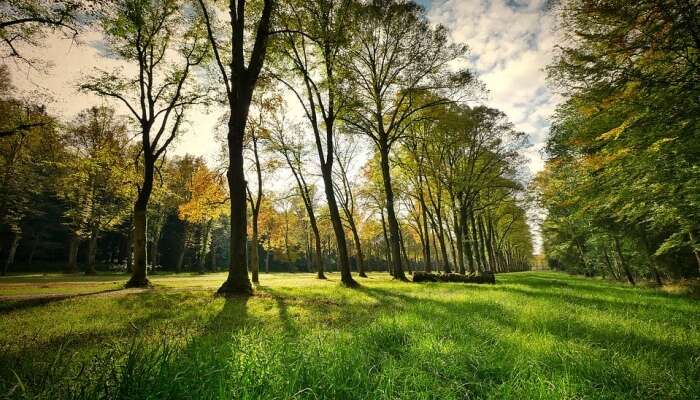 The best time to plan a holiday in Chandigarh is between the months of October to March. The Chandigarh weather during this period is pleasant and favorable for sightseeing in this city. While the temperature stays at a moderate 20-30 degree Celcius, it starts to drop rapidly at night owing to the replete greenery in this city. In the month of January, the minimum temperature staggers to a whopping 2 degrees Celcius many times.
While the nearby cities are blazing in the summer months, Chandigarh enjoys a comfortably warm and somewhat pleasant summer season courtesy its lush greenery, the presence of a cool lake, and the city's close proximity to the hills. The monsoon rains additionally bring in some relief in July, bringing down the temperature considerably. However, if one wants to visit Chandigarh when it's not crowded, they should take a trip in August or September.
Best time to visit Rose Garden in Chandigarh – The ideal time to visit the Rose Graden is between mid-January and March. During this time, the roses and other plants are in full bloom. Also, the Rose Festival is held inside the garden premises during these months.
Suggested Read: Shopping In Chandigarh: 8 Places To Spend Your Money Without Giving A Second Thought!
Things To Do At The Rose Garden In Chandigarh
There are several things to do at the Zakir Hussain Rose Garden for people from all walks of life. See which of these activities you'd like to indulge in while you're there:
1. Go Picnicking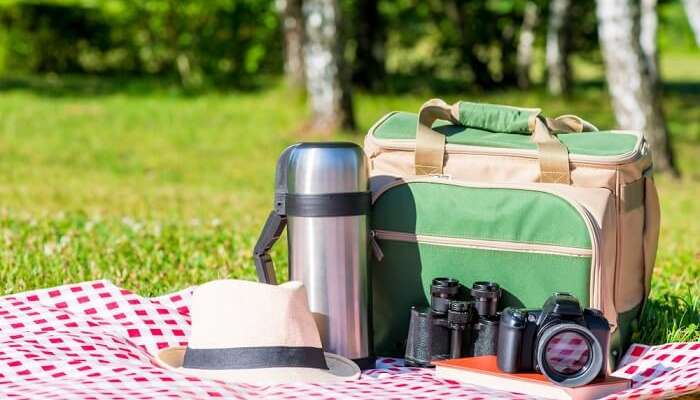 What could be a better place to have a picnic with your friends and family than a lush garden filled with colorful roses. The enormous park with its well manicured rose beds, thick canopies of tall trees for shade, and ample space for kids to play around, making it the perfect place for a relaxing family picnic. However, one should make sure that they do not litter if they bring food items inside the park for the purpose of having a picnic.
Suggested Read: 8 Beautiful Resorts Near Chandigarh For A Rejuvenating Retreat
2. Take A Stroll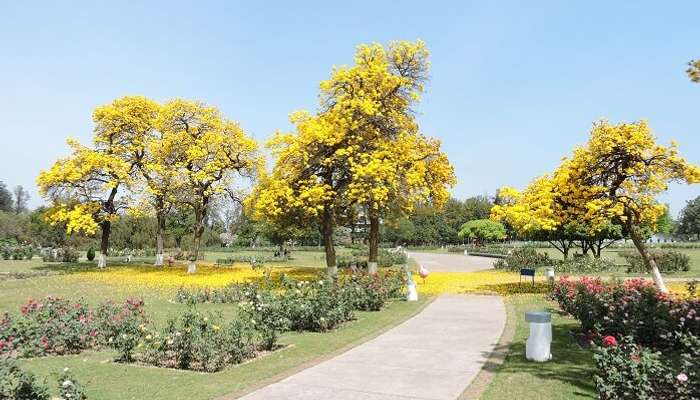 The garden has various entrances as well as a parking facility for vehicles and bicycles. There are several outlining and intersecting trails in the park alongside the long stretches of green grass where people can walk, jog, or ride a bicycle. There are also plenty of benches placed under the shade of the trees for people to sit and relax. These long stretches and curved walking paths spread all over the park are perfect for a morning or evening walk or jog for visitors.
Suggested Read: Chandigarh Airport Is Undergoing Changes & Will Remain Non- operational From May 12-31
3. Attend The Rose Festival In Chandigarh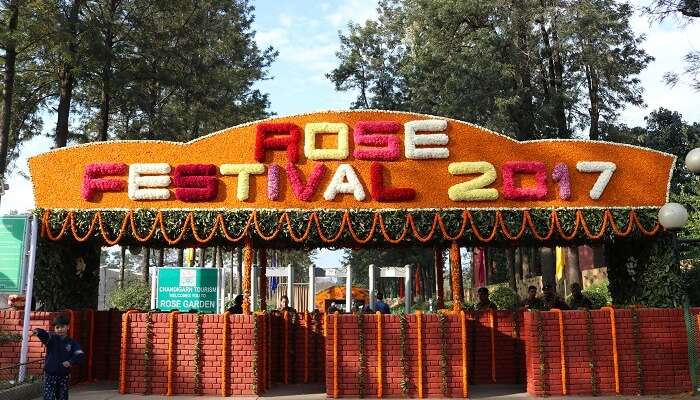 Image Source
The Rose Festival is a famous calendar event of Chandigarh held in the month of Februrary every year when the roses in the garden are in full bloom. Organised by the Chandigarh Administration in association with Chandigarh Tourism Department, the fiesta hosts a variety of engaging events ranging from a photography exhibition, a flower display show, a beauty show, dance performances, and lots more. Food stalls, unique, decorations, and upbeat music dominate the scene during this mega celebration of nature. The Rose Festival in Chandigarh is among the oldest in the city and is organised on a huge scale, attracting over 20,000 people from all over the country each year.
Suggested Read: No Kidding, Chandigarh To Shimla In Just 20 Minutes By A Heli Taxi!
4. Witness The Musical Fountain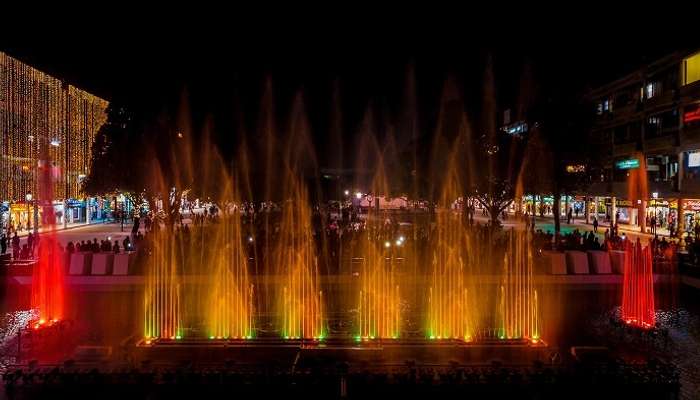 Located smack in the middle of the market of Sector 17 in Chandigarh, this fountain lights up every night. Though it's not as extensive as other musical fountain shows around the world, it still is a fascinating sight for onlookers who gather around to watch the water dance around to the rhythm of music with a spectacular display of lights. The show lasts for about 30 minutes and is absolutely free of cost! It's a great experience for locals and tourists who visit this market, and many of them especially gather around the fountain at night to witness this vivid feat.
Suggested Read: Nightlife In Chandigarh: 20 Best Places To Experience Night Scenes Of The City
Tips For Visiting The Chandigarh's Rose Garden
Do not pluck the flowers at any cost.
Do not litter. Keep the garden premises clean. Use bins to discard waste.
Visit early in the morning or before sunset to fully enjoy the beauty of this garden (the park opens at 6 AM according to the Rose Garden Chandigarh timings).
Further Read: 7 Wedding Venues In Chandigarh For A Beautiful Wedding In 'The City Beautiful'
The Zakir Hussain Rose Garden in Chandigarh surely is one exciting avenue that you just can't miss on your holiday in Chandigarh. Don't forget to put it down in your itinerary when you sit down to make one. And while you're at it, check TravelTriangle's range of customized tours for a hassle-free and comfortable trip experience with your near and dear ones.
Disclaimer: TravelTriangle claims no credit for images featured on our blog site unless otherwise noted. All visual content is copyrighted to its respectful owners. We try to link back to original sources whenever possible. If you own rights to any of the images, and do not wish them to appear on TravelTriangle, please contact us and they will be promptly removed. We believe in providing proper attribution to the original author, artist or photographer.
How To Reach Chandigarh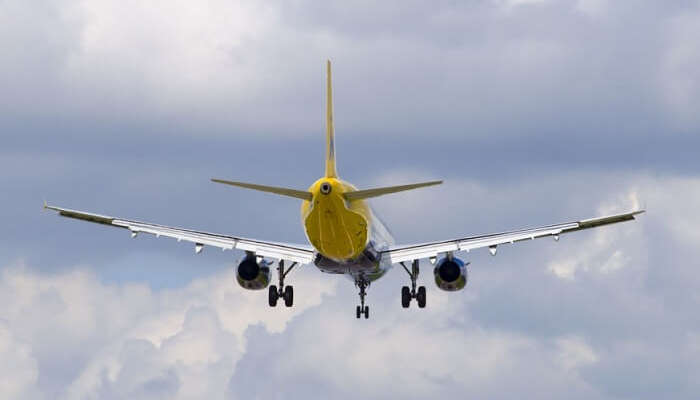 Chandigarh is well connected to other cities of India and easily accessible by various means of transport.
By Air – Chandigarh manages daily flight traffic of Indian Airlines and Jet Airways to and fro Delhi as well as bi-weekly flight traffic to and fro Amritsar. There is also a weekly flight to and fro Leh from this city. It takes not more than 50 minutes to get to Chandigarh from Delhi by air. The airport is situated merely 11 km from the main city, and one can easily get a cab or tuk-tuk to anywhere they wish to go in the city upon checking out.
By Rail – The Chandigarh Railway Station is just 7 km away from the city center and is well connected to the major towns and cities of India like Delhi, Jaipur, Bikaner, and Jodhpur.
By Road – With a smooth road network, Chandigarh is connected to almost every city and town in northern India. You are sure to enjoy a road trip to Chandigarh through the pretty fields of Punjab! If you're looking for a rather economical means of road transport, you can hop into any of the frequent AC buses plying to Chandigarh from Delhi, Haryana, Himachal, Jammu, Rajasthan, and other cities of Punjab.
Once you're in Chandigarh, getting to the Rose Garden is child's play. You can easily reach this garden located in sector 16 by either hailing a taxi, hopping into a shared tuk-tuk or getting on any of the local buses that run in Chandigarh. Since the garden has a dedicated parking space for cars and bicycles, you can conveniently get here by personal transport as well.
Frequently Asked Questions About Rose Garden In Chandigarh
Q. Who built Rose Garden in Chandigarh?
A. The Rose Garden in Chandigarh was built by M S Randhawa. He was the first chief of Commissionaire of the city. The garden is named after Zakir Hussain.
Q. In which sector is Rose Garden located?
A. The Rose garden is located in sector 16 in Chandigarh.
Q. What is the best time to visit Rose Garden?
A. The best time to visit the Rose Garden is August and November. This time is perfect for strolling in the garden and the flowers are also blooming.
Q. What are the best things to do in Chandigarh?
A. Some of the best things to do in Chandigarh are visiting Rock Garden, shopping at Elante mall, strolling at the Garden of fragrance and more.
Q. Is Rock Garden open on Monday?
A. Yes, Rock Garden is open on Monday.
Q. Which is the best place for shopping in Chandigarh?
A. Sector 17 in Chandigarh is very popular as a shopping hub.
Q. What is Rock Garden famous for?
A. Rock Garden is one of the most famous places in Chandigarh. It is known for its sculptures and scenic beauty. Many people visit the garden throughout the year.
Q. Which is the best month to visit Chandigarh?
A. October to March are the best months to visit Chandigarh. The average temperature of Chandigarh during this time remains 20 to 30 degree celsius.
Q. Is it safe to visit Chandigarh?
A. Yes, it is very safe to visit Chandigarh. The crime rates are low and the locals are warm welcoming.
People Also Read
Law Garden In Ahmedabad Tulip Garden Srinagar Dutch Garden In Surat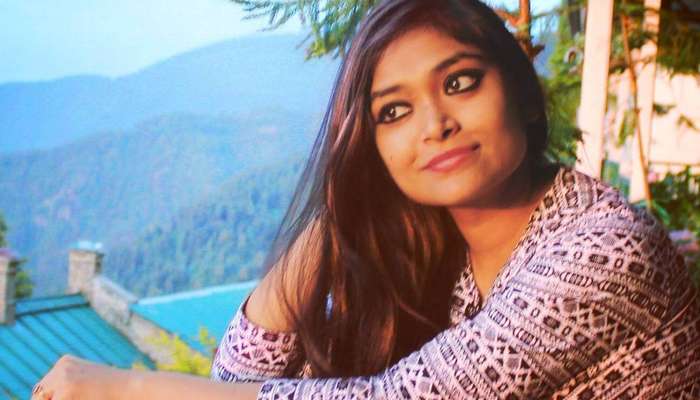 Comments
comments