Nepal is a home to incredible views of enormous peaks of Himalayan mountains, magnificent temples and pristine hilly villages. But beyond the picturesque beauty, the south of Nepal is adorned with a chain of wildlife reserves and national parks which are a home to abundant range of flora and fauna.
Whether the travelers want to spend a night at the luxury setting of the jungle lodge or explore the dense jungles on a safari, the experience of safari in Nepal is incredible.
9 Must-Visit Places To Experience The Safari In Nepal
For the nature buffs, here are 9 Nepal wildlife safari experiences where they can take a close glimpse of the wild beasts and enjoy the thrill of walking amidst the lush-green jungles set against the backdrop of the pristine mountains of Nepal.
1. Chitwan National Park

Just settled in the vicinity of Kathmandu and Pokhara, Chitwan National Park is a home to the conserved Rhinoceros. This is the first protected area of Nepal and holds a three decades long heritage of nature conservation. This national park has successfully run the Rhinoceros conservation project and in the year of 2016, the national park celebrated its two consecutive years of 'Zero Poaching Year'. This Nepal elephant safari has a plethora of elephants as well. While at the national park, one can easily spot elephants, gharial crocodiles, deer and vultures apart from rhinoceros.
Location: Subarnapur 44200, Nepal
How To Reach Chitwan National Park: The easiest way to reach the national park is by taking a bus from Kathmandu or Pokhara.
Opening Hours: 8AM-6PM
Best Time To Visit: October-March
Suggested Read: Visit The Bardia National Park To Experience Nepal's Absolute Wilderness
2. Tiger Tops Tharu Lodge

While Chitwan National Park is the shelter to the endangered rhinos, the Tiger Tops Tharu Lodge gives the nature lovers an abode to stay in the vicinity of the safari park. This lodge gives a wide-range of jungle safari in Nepal options within the boundaries of this place along with a chance to spot elephants and other shy animals. The Tiger Tops lodge offers an unusual safari ride through the jungle on an ox cart which is much quieter than a motorised safari and also less disruptive to the wildlife.
Rating: 4.7/5
Tariff: INR 21,300 onwards
Location: Kawasoti 44600, Nepal
Website | Review
Suggested Read: Nepal Nightlife: 10 Hotspots Of 2022 That Are Perfect For Your Evening Escapades
3. Barauli Community Homestay

Another incredible accommodation option to experience the rawness of the jungles is the Barauli Community Homestay. This place creates a space to interact with the local Tharu people and live their lifestyle. A complete definition of the home away from home, this city safari in Nepal ensures to give their tourists a chance to witness closely the Nepali culture by staying close to the local people.
Rating: 4.4/5
Tariff: INR 1,160 onwards
Location: Kumarwarti, Nepal
Website | Review
Suggested Read: 12 National Parks In Nepal: Imagining A World Of Splendid Natural Artwork!
4. Bardia National Park

Bardia National Park is considered as the best kept treasure of Nepal which is located at the edge of Terai region. Spread across a region of 968 Kms, this national park is the largest in the country. The national park is a home to abundant flora and fauna which includes the sal forest, grassland and savannah. Whereas on the other hand while on spree to spot the wildlife, the sightings of Bengal tiger can't be missed as it is the king of Bardia. Apart from that the national park also shelters Asian elephants and an abundant number of one-horned rhinoceros.
Location: Bardia,Bheri,21800, Nepal
How To Reach Chitwan National Park: The nearest airport from the national park is Nepalganj airport in Banke district from where one can take a jeep to reach Bardia national park.
Opening Hours: 9AM-8PM
Best Time To Visit: Mid-September To Mid-December
Suggested Read: 5 Magnificent Waterfalls In Nepal Every Traveler Must Visit While At This Trekker's Paradise!
5. Koshi Tappu Wildlife Park

For the travelers who like to capture the beauty of the birds, then Koshi Tappu Wildlife Reserve is the best place to go in Nepal for that long awaited bird safari. The park is an ideal blend of rivers, ponds, wetlands and paddies. Approximately a 90 minutes walk, this 6kms arena will give a glimpse of an abundant number of various species of birds living within its boundaries.
Location: Bairawa 56713, Nepal
How To Reach Koshi Tappu Wildlife Park: The Biratnagar airport is the nearest airport from where one can take a bus or taxi to reach the wildlife reserve.
Best Time To Visit: October-May
6. Parsa Wildlife Reserve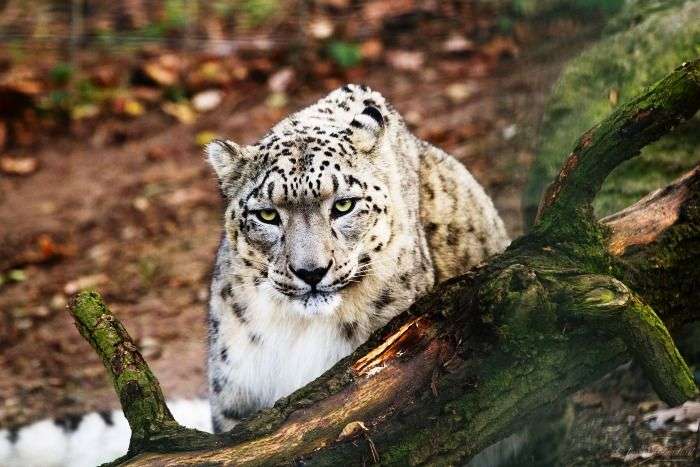 Parsa Wildlife Reserve offers locals and foreigners several avenues for adventure. There are a wide variety of plant and animal species available here like sloth bear, leopard, snakes like king cobra, etc. It is located in close proximity to Chitwan National Park. It has an area of 499 square feet with sal trees growing on the fringes of the reserve.
Best Time To Visit: May-September
Location: Inner Terai lowlands of south-central Nepal
Entry fee: INR 62 per person
7. Shuklaphanta Wildlife Reserve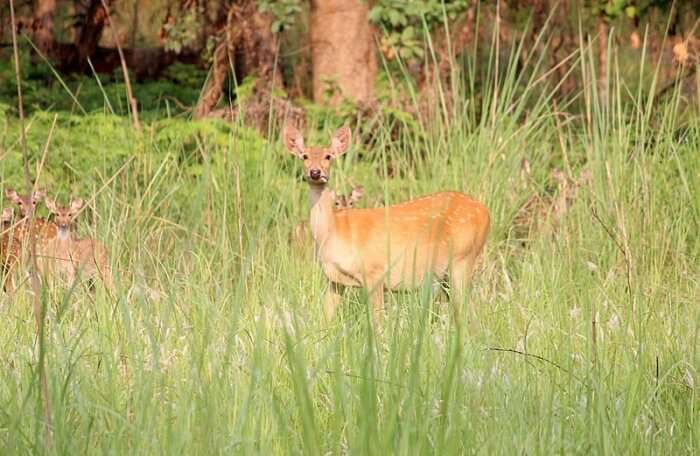 The highlight of this area is the vast population of swamp deer and also the rare Bengal Florican. Other species of animals and plants spotted here include kraits, Indian python, and rattlesnakes. You can explore the entire reserve within a span of 3 hours on a safari. It will go down as one of your most memorable experiences in Nepal.
Best Time To Visit: October-March
Location: Mahakali, 10400, Nepal
Timings: 6 AM – 6 PM
8. Sagarmatha National Park

Sagarmatha National Park is situated at the height of 9700 feet above sea level. This park is known for snow leopard sightings in the months of March, April, and May. Other animals that you will come across on your safari journey include serow, weasel, maren, and langur monkeys.
Best Time To Visit: October-November
Location: Province no. 1, Nepal
Timings: Open 24 hours
9. Makalu Barun National Park

Makalu Barun National Park is relatively well-known among all the national parks of Nepal for being the world's only protected area with an elevation gain of more than 8,000 metres, enclosing tropical forest as well as snow-capped peaks. The remote park offers spectacular views of the rugged Himalayan peaks, high waterfalls, more than 3,000 species of rare flowering plants and over 600 wildlife species, making it a trekker's paradise.
Best Time To Visit: March-May
Entry Fee: INR 100 per person for Indians, INR 1000 for foreigners
Further Read: A Comprehensive Guide For Exploring Makalu Barun National Park In Nepal
Are you ready to experience a vacation amidst the wildlife? If yes, then don't waste your time and book your customised Nepal holiday with TravelTriangle and scan and capture the glimpse of the wild beasts from just a feet's distance!
Frequently Asked Questions About Safari In Nepal
Where can I see wildlife in Nepal?
Nepal is home 185 species of mammals which you can find in the dense Terai jungles.
What dangerous animals live in Nepal?
Nepal is home to several dangerous predators such as tigers, leopards, marsh crocodiles, gharials, and black bears.
Which animal is only found in Nepal?
Spiny babbler is a rare species of bird found only in Nepal.
---
People Also Read