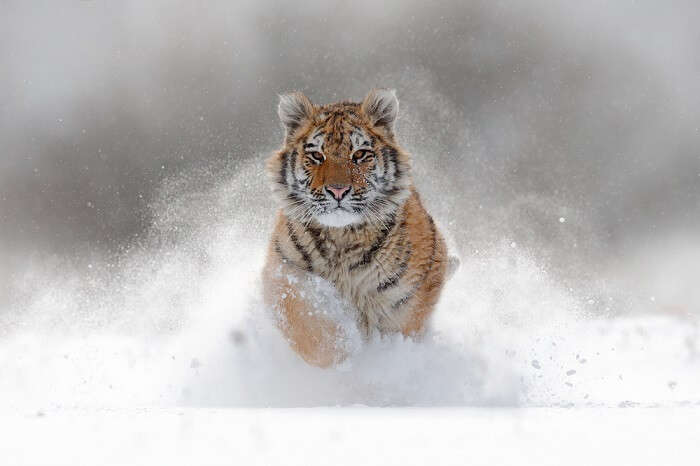 If you are interested in safari tours, wildlife site seeing and some adventurous thing, then this safari tour guide will be of great help to you. Russia is the world's number one country in terms of occupied area. But this occupied area has so many things to do, to explore and to experience. Let us, first of all, know about the different species of animals which a person would get to see experiencing the Safari in Russia.
Roaming around in the Far East side of Russia would be a great adventure, and it would be an opportunity to explore the world of the dangerous and rare species of animals like the Siberian Tiger and many other species of birds and wild animals. Another endangered wildlife species is the Amur Tigers. There are less than 500 Amur Tigers left in the whole world, and from these 500, a huge number of them are placed in the safari in Russia. These two types of tigers are considered to be the main attraction for people towards the Safari Park in Russia.
Places To Visit For Safari In Russia
The World Wildlife Safari in Russia is world famous. People come from all over the world to visit the safari in Russia as it is an excellent attraction of Russia. There are many species of animals which a person could get to see only in the Safari Park in Russia.
1.The Safari Park of Russia

When we talk about the safari parks, then the first destination which comes in a person's mind is the Safari park in Russia. The park is divided into three different areas. These different areas are:-
Siberian Tigers and hoofed animals
Birds and wild animals of Primorye
Amur leopard Park.
The park offers shelter to the different species of animals and treatment is provided to these animals in case of injury or any accidental situations. After taking care of them, they will be left in the forests to live their rest of life. Living conditions are similar to the conditions in the forests.
There are various animals which are visible in this safari like Siberian Tigers, Amur Tigers, wild boars and many species of deer like Sika deer, Roe deer, and Red deer. There are some rare existing animals also like Amur or Far-Eastern Leopard which are on the verge of extinction, and there are only 50 of these species alive on this planet.
Despite the immense size of Russia, the majority of the country experiences two seasons – summer and winter – that implies that timing your visit is straightforward. Walkers watch polar bears walking icecaps, can cross stretches of tundra sunlight themselves and also ascend sand slopes – all at precisely exactly the nation. A brief interchange is between summer and winter, and that is due to substantial and extremely low temperatures. Summer gives the chance of planting wildlife at the Far East of Russia, while birdlife fills the heavens and also the salmon run turns the oceans reddish together with sparks emerging from hibernation to split the property together with reindeer, wolves, and moose.
There is a specified time to visit any place. Similarly, there is a particular time, and one should know when to go to Russia on safari. According to people, winter is the best time to visit safari in Russia. In the winter season, there is snowfall, and the whole place gets covered with snow. Due to this reason, people could find the footprints of the Siberian Tiger very easily while if a person visits in the summer season, then it would be very difficult to get a glimpse of the rare Siberian Tiger.
Must Read: 15 Interesting Things To Do In Moscow: Trekking, Opera, And More In 2022
2. Durminskoye Reserve of Siberia

Best time: November – March
The tiger tracking shore at the Durminskoye Reserve of Siberia occurs at the depths of winter close Khabarovsk, a city in the south-west corner of Russia. Accompanying tracker Alexander Batalov, you're going to be involved in conservation work leading to the Tigers' breeding season. Employed at the snow and freezing temperatures – for maintaining the ones paw prints needed – that safari is for its intrepid adventurer. Researching the creatures' sprawling habitat from the foot, ski-doo and 4×4, your odds of visiting the biggest of all big cats at the flesh could be lean, however by putting up remote camera cubes and assisting Alexander in tracking the spot, you're going to be causing the security and continuing success of these creatures that are endangered creatures, that can number as much as 400 from the great outdoors.
Suggested Read: 10 Best Hotels In Moscow That Redefine Luxury Like None Other!
3. Kamchatka

Best time: May – September
Despite lying latitudes to the UK, the Kamchatka Peninsula occupies long winters on account of this effect of Arctic winds and also sea currents, leaving the property. The weeks between May and September offer the temperatures. However, the sheer size of Kamchatka means its climate is changeable based on the area of the visit. Generally, people can think about highs which range from 15 to 20 °C together with lows hitting below freezing, through summer time.
Kamchatka might possibly be larger than the UK; however, its own inhabitants figures only 330,000 people, nearly all of whom reside in its tip at the main city of Petropavlovsk. As a result of huge tracts of un-developed tundra which lie between its populations' centers, helicopters are the easiest solution. When shooting into the heavens even, it might be well worth packing lots of layers. When temperatures could drop to as little as -25 °C, Kamchatka bears hibernate throughout the months. Despite going at November in their dens and emerging March, the ideal time to find these beasts is to coincide with the yearly salmon conduct that does occur in rivers throughout and streams around the world. This time offers an ideal chance to set off on a fishing adventure to the bears. Kurile Lake in special can be a prime locale for seeing those two wonders encounter.
Further Read: With The Red Square Turning White, Snowfall In Moscow Hits A 100-Year High!
The season of Peak birdwatching is from May to early June, and the Commander Islands is one of the best locations for sighting the seabirds. There are also Steller's sea lions and Kamchatka brown bears also visible during this time. This collection of 17 islands and rocks is found 100 miles away from the eastern shore, which implies cooler summers than people enjoyed on Kamchatka, but additionally creates the Hawaiian Islands home of colonies of Kamchatka. Puffins, auklets, albatross, and cormorants are found in great amounts, while sightings of this Steller's sea eagle – boasting a wingspan up – is guaranteed to become a highlight of every trip to Moscow
---
Looking To Book An International Holiday?
Book memorable holidays on TravelTriangle with 650+ verified travel agents for 65+ domestic and international destinations.
---