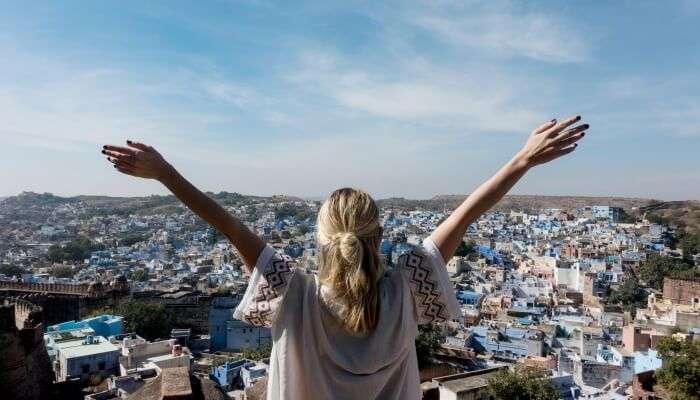 "Life is either a daring adventure or nothing at all."
You have to step out of the house to have memorable adventures. If you are too scared about your security, then don't worry because it is totally understandable. However, you should not let fear stop you from having fun and new experiences in life. All it takes is a single solo trip to get you hooked on travelling and you won't be able to stop at just one trip.
Safety is the main concern for solo females and couples while travelling. They want to have a kind of experience that makes them happy when they remember it. Nobody needs the reminder of eyes ogling at you or people frowning upon you just because you are having fun.
This is why we bring to you a list of safe places in India to travel so that you can have an ecstatic experience on your vacation. These places are where you can let your hair down and enjoy your time without being worried about everything.
5 Safe Places in India to Travel for Solo Women
If you are wondering which safe places are there to travel alone as a woman in India, then here are a few options approved by solo female travellers.
1. Mcleodganj

Surrounded by the lofty Dhauladhar Ranges, Mcleodganj in Himachal Pradesh is one of the safest place to travel right now in India. A spiritual retreat, this place is where Dalai Lama took shelter when he fled to India. The peaceful ambience and Tibetan flags fluttering in the air gives you no cause to worry. One can easily roam around the streets and enjoy local delicacies. There are a variety of top-notch cafes where you can relax and gorge on delicious food.
Places to visit: Bhagsu Falls, Namgyal Monastery, Dharamkot
Things to do: Trekking, Shopping, Sampling local cuisine
How to reach: Catch an overnight bus from Delhi to Dharamshala. Majnu ka Tila is where the bus usually starts from.
15 Best Mcleodganj Homestays Ideal For Your Next Vacay In The Hills
2. Rishikesh

The 'yoga capital of India' poses as one of the cheap and safe places to travel in India. Located by the banks of the river Ganges, one can find a backpacking hostel at just INR 500 and enjoy a single meal at less than rupees hundred. Watching the serene evening Aarti will instantly put you at ease and make all your worries go away.
Places to visit: Laxman Jhula, Beatles Ashram, Triveni Ghat, Ragunath Temple
Things to do: Watch evening Aarti, river rafting, bungee jumping
How to reach: There are a number of overnight buses from Delhi to Rishikesh. You could also take a train to Haridwar and then a bus to Rishikesh.
3. Hampi

When making a list of safe places in India to travel, count Hampi as one. A UNESCO heritage site, Hampi is famous for its ancient rock temples and historical structures. People love to visit this place because of its laid-back and hippie vibes besides beautiful scenery. If you are a woman, you can let your hair down and easily roam around the town.
Places to visit: Virupaksha temple, Achyutaraya Temple, Matanga Hill
Things to do: coracle ride, heritage walk
How to reach: Take an overnight bus from Bangalore to Hampi. You could also take a train from Bangalore to Hope, nearest railway junction to Hampi. Take an auto ride from Hospet to Hampi.
Guide To Hampi Temples: Relishing Ancient Era Temples And Historic Sites
4. Gokarna

If you want to enjoy a beach vacation on your own, then there is no better place than Gokarna. One would argue that Goa is better but they are wrong. Gokarna is what Goa used to be in 80's with all its hippie and laid-back vibes. There is less tourist crowd as compared to Goa. The town is small. So, wandering around isn't a problem. Head to the beach for a swim anytime you want. It is one of the best and safe places to travel alone in India.
Places to visit: Om Beach, Half Moon Beach, Kudle Beach
Things to do: boat ride, beach trekking, scuba diving, yoga class
How to reach: The best way to reach Gokarna is by taking a train from either Mumbai or Goa.
5. Pondicherry

If you want to experience the colonial charm of the bygone British era, then Pondicherry is one of the safe places in India to travel alone. Known for its picturesque coastline and French and Portuguese colonies, Pondicherry paints quite a colourful picture. The charming French cafes and Instagram-worthy lanes make an excellent reason to visit Pondicherry. If you wish to seek some peace and enlightenment, then you can head to Auroville, a universal town where people from all walks of life live together in harmony. You can plan a day visit to Auroville on your trip to Pondicherry.
Places to visit: Promenade Beach, Sri Aurobindo Ashram, Auroville, Arikamedu
Things to do: Cycling, scuba-diving, photowalk
How to reach: Chennai is the nearest airport to Pondicherry. You could take a bus from here.
25 Restaurants In Pondicherry 2022 That Will Satiate All Gastronomic Cravings
5 Safe Places In India To Travel For Couples
The reason these places are safe for couples Is that there is no malevolent activity at night as one might worry about. Most of these places are calm and quiet at night. You can enjoy that candle-lit romantic dinner without any disturbance in the background.
6. Manali

Manali is indeed among the safest tourist places in India, especially for couples who want to enjoy some quality time in the mountains. Why not when the surroundings are so beautiful? There is an ample number of lush resorts in Manali that will pamper you with impeccable service and luxuries. As far as activities are concerned, you could plenty in Manali. Walking on the Mall Road, morning in Solang Valley, and hiking up the mountains are just a few of the things.
Places to visit: Hidimba Devi Temple, Manikarnika Gurudwara, Vashishta Bath Springs
Things to do: Zorbing, trekking, shopping
How to reach: Take an overnight bus from Delhi to Bhuntar. Hire a taxi for Manali from Bhuntar.
7. Munnar

Munnar has already carved out a place in every couple's heart because of its lush greenery and invigorating surroundings. Riding through the rolling tea plantations and chasing waterfalls are some of the most romantic things to do in Munnar. It doesn't matter if one of you is a tea lover and the other is a coffee lover because you can enjoy them both here.
Places to visit: Eravikulam National Park, Anamudi, Mattupetty Dam
Things to do: Tea tasting, rock climbing, ayurvedic spa
How to reach: The nearest airport to Munnar is. Hire a taxi to cover the distance.
Munnar In December: A Pocket Guide For A Tour Down This Charming Kerala Town
8. Coorg

'Scotland of India', Coorg is one of the safest places in India to travel to. If you are a couple looking for ideas for a romantic getaway, then here is one right in front of you. Also known as Madikeri, Coorg offers majestic views of plantations and rice paddies from the top. It is known for a lot of things like Madikeri Fort, the ravishing falls, and the ancient Omkareshwar Temple. One can have some quality time with their spouse in peace.
Places to visit: Raja's Seat, Omkareshwar Temple, Abbey Falls, Madikeri Fort
Things to do: Hiking to the waterfall, watch a sunrise, take a tour of coffee estates
How to reach: Mangalore is the nearest airport to Coorg.
9. Kumarakom

There is no safer or more beautiful place than the backwaters of Kerala. Kumarakom, a village on Vembanad Lake makes an idyllic location for a safe couple's getaway. Staying on a houseboat for a couple of days is the best experience you can have on your Kerala vacation.
Places to visit: Kumarakom Bird Sanctuary, Aruvikkuzhi Waterfall, Chavara Bhavan, Mango Meadows theme park
Things to do: Watch a Kathakali performance, take a houseboat ride, enjoy a rejuvenating spa
How to reach: Kottayam is the nearest railway station to Kumarakom (16 km)
5 Resorts Near Kumarakom That Reek Of Luxury And Calmness From Every Nook!
10. Sikkim

If there is an ideal destination for a honeymoon, then it has to be Sikkim. A couple could cuddle up like a bundle and enjoy the mesmeric views of the Himalayas from the window. The sunrise and sunset look more romantic here than in any other place. People are very hospitable, warm, and friendly. The culture is so colourful and vibrant. How can one not feel safe in such a place?
Places to visit: Pelling, Lachung, Yumthang Valley, Yuksom
Things to do: Drive to Nathula, Visit Gurudongmar Lake, Rafting in Teesta, Seek enlightenment at the monasteries
How to reach: Bagdogra is the nearest airport to Sikkim.
So, these were a few safe places in India to travel where you can walk around and enjoy sightseeing without a care in the world. Whether you are a solo female traveler or a couple on a romantic vacation, these places are your safe bet. However, one must still be cautious and aware of his surroundings no matter which place one is in. Plan a trip to any of these destinations in India and make sweet memories to cherish for a lifetime.
For our editorial codes of conduct and copyright disclaimer please click here. 
Frequently Asked Questions About Safe Places In India To Travel
Which are the best places to travel alone in India?
Rishikesh, Gokarna, Varkala, and Pondicherry are just a few of the safe places to travel alone in India. No matter whether you are alone or travelling with a partner, you can carefree enjoy your vacay at these destinations.
Is Nainital safe for girls?
Yes, absolutely. Nainital is one of the safe hill stations to explore. The security is tight and people are really nice and helpful. There is no cause for worry if you are travelling alone to Nainital. However, one must be careful and wary of their surroundings.
Is Munnar safe for girls?
Munnar is a safe destination for girls. However, it is suggested that you travel to Munnar in a group or as a couple. Since it requires a long road journey, you might feel bored if you are alone.
Is Kerala safe for solo female travellers?
Even though there is no specific concern, one should be wary of their surroundings when visiting Kerala or any other place for that matter.
Is Munnar safe for couples?
Yes, Munnar is a safe place to visit for couples. In fact, it is very popular among honeymooners due to its picturesque scenery and tranquil environs. People in Munnar are very nice and helpful.