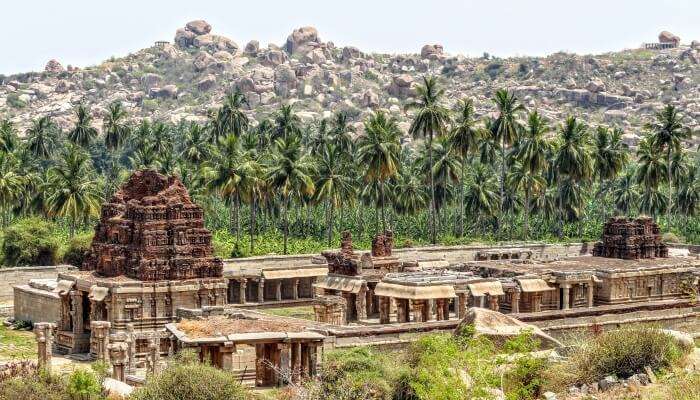 Although a small village yet popular globally, Hampi in the southern Indian state of Karnataka is historically as well as a spiritually important location in India. The presence of several ancient temples at a single place making it a holy site. The reins of the Hampi temples and monuments which were built during the Vijayanagar Empire period in the Medieval Ages still exist since the 13th century. As a tourist, you find much to explore history and religion here. Besides knowing the golden history of this region, you come across many temples which are architectural wonders from the past era.
Visit Hampi to re-impose your faith and worship in the temples that still stand as a reminder of the great medieval era architectures. Located in the Tungabhadra River banks, Hampi village had been declared a World Heritage Site by UNESCO in the year 1986, owing to its historical significance. Travelers to Hampi comprise visitors who are keen to explore the monuments, evaluate history and most importantly seeking to worship in the ancient temples. This historic village is rushed by the devotee cum tourists throughout the year.
Best Time To Visit Hampi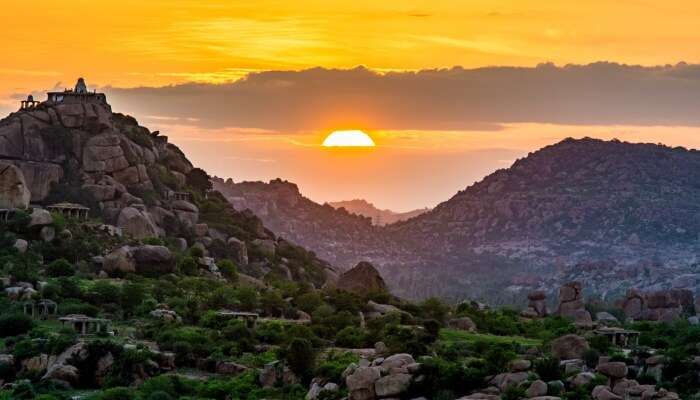 Winter is usually the best season to travel to Hampi as the weather remains the most pleasant one to explore this area on foot during wintertime. Therefore, November to March remains an ideal time to travel to this location. As summers are usually extremely uncomfortable and harsh, it is not advisable to visit here during that time. All monuments and especially temples are located at certain distances from each other therefore travelers are supposed to walk to a considerable amount to visit all the sites. One should explore this region during the winter.
Suggested Read: 12 Things To Do In Karnataka That Will Make Your Trip A Super Thrilling One!
Cultural Festivals In Hampi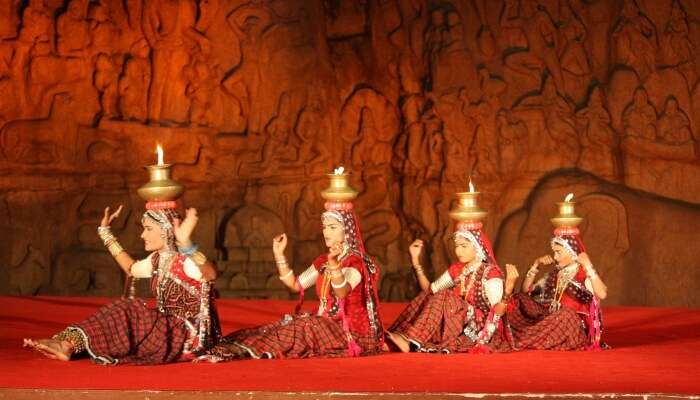 Those interested in experiencing local culture in-depth can plan a visit to Hampi around the time of the local festivals especially the annual Vijaya Utsav held in the November month. It is an ancient annual celebration that dates back to the period of the Vijayanagara Kingdom. One more notable festival here is Purandara Festival. It is celebrated during January/February month to honor Purandara who was a famous poet/musician from the medieval period.
'Phalapuja Festival' in December celebrates the marriage of Lord Virupaksha with Devi Pampa. Lord Virupaksha was the guardian deity of the town of Hampi. The 'betrothal' is also celebrated during March/April along with a chariot procession with much pomp and show. These celebrations are worth exploring here as tourists and devotees.
Suggested Read: 33 Romantic Honeymoon Places In South India For 2020 That Cast Utter Magic
Religious Significance Of Hampi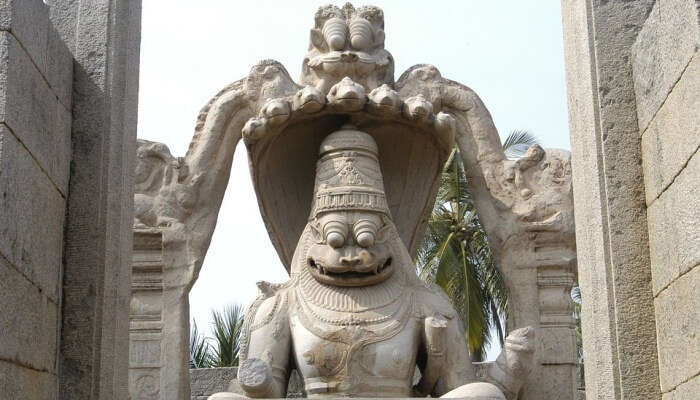 Although there is a multitude of historical monuments in Hampi, it's most famous and well-known that remain in the global limelight are beautifully built temples. Some most famous ones include Virupaksha Temple, Vitthala Temple, Monkey Temple and Achyuta Raja Temple amongst others. The architectural beauty of all the temples equally describes the rich leaflets of Indian history. The mingling of the unique history of this region besides religious significance due to the presence of many ancient temples make it a location of global repute.
Must Read: 23 Most Riveting Places To Visit In Hampi
6 Famous Temples To Visit In Hampi
Here is a comprehensive guide on the 06 famous temples you must visit in Hampi.
1. Virupaksha Temple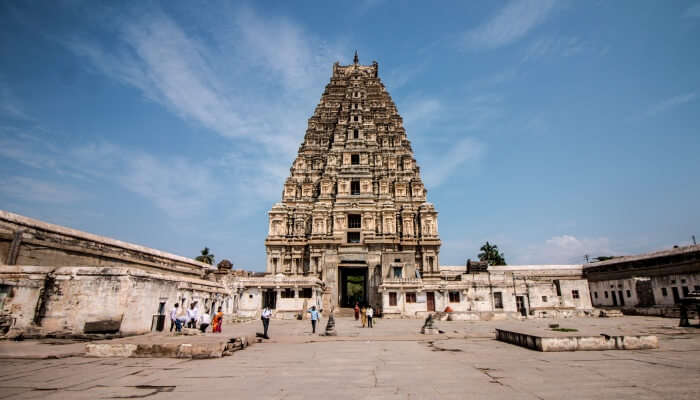 Unarguably, most famous among all the monuments at Hampi village, Virupaksha Temple is also popular as the Pampapathi Temple. Located on the banks of the Tungabhadra River, this temple belongs to a set of ancient monuments named Pattadakal Temples that spread to almost all parts of Karnataka. These temples manifest a unique blend of Hindu and Jain architectural styles. This centuries-old temple has a recorded history of about a thousand years.
This temple is dedicated to Virupaksha, a divine form of Lord Shiva and the one who was also the guardian deity of Hampi. As the myth goes on, Pampa, daughter of Brahma did penance to gain the hand of Lord Shiva or Virupaksha here. There are three towers in the magnificent architecture of this temple.
Within the temple premises, smaller shrines are dating back to the 12th century. The walls of this temple are adorned with the carvings of Lord Shiva and Lord Vishnu as well as other popular mythological representations from the epic Mahabharata and Ramayana.
Suggested Read: Hampi Ranked Second In New York Times 'Places To See In 2019', Making India Proud
2. Vitthala Temple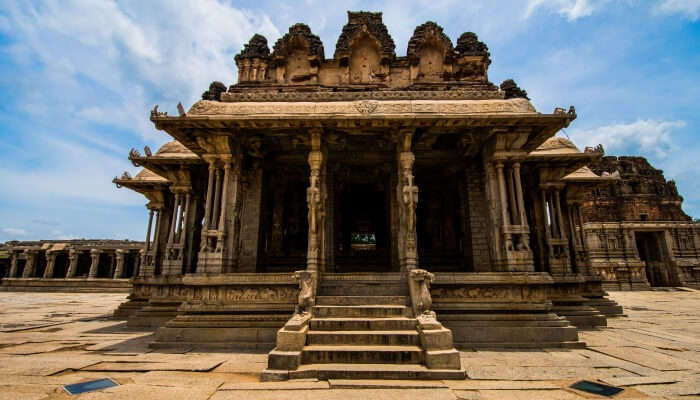 The famous temple complex of Vitthala Temple is an iconic architecture in Hampi. Its beauty lies in the fact that it is shaped like a chariot. The intricate carvings of it which adorn its chariot shaped design appeal to all devotees and tourists. Right behind the chariot is the temple that has beautiful carvings over it.
Dedicated to Lord Vitthala or Lord Vishnu, this temple is visited by devotees throughout the year. Apart from the famous stone chariot, other smaller temples within the complex further appeal to the worshippers to explore the history of this region while worshipping here as devotees. It remains one of the must-visit locations in Hampi, Karnataka.
Suggested Read: Hampi Utsav 2017: 10 Reasons You Must Be A Part Of The Festivities
3. Monkey Temple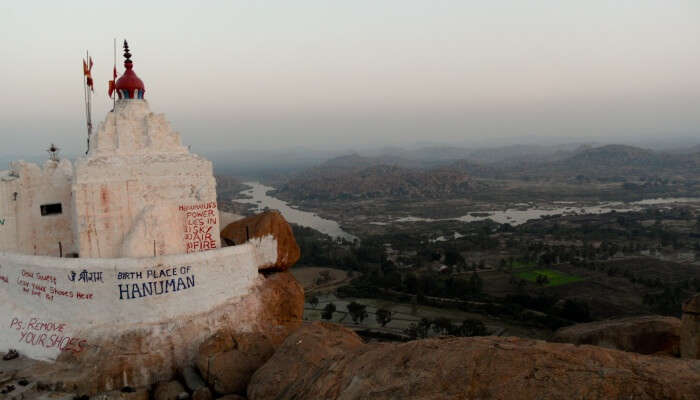 As the name suggests, Monkey Temple or popularly known as the Yantradharaka Hanuman Temple houses the deity of Lord Hanuman. It is situated at the highest location, therefore, this temple has to be approached by climbing several stairs. Since this temple had been built at the top of the Anjanadri Hill, one needs to be physically fit to climb all the way up to visit there. It is believed that this place is the birthplace of Hanuman.
The natural beauty around it is another plus point for the worshippers to enjoy the serene atmosphere. It is said that the first idol of Hanuman had been installed by Sri Vyasaraja here who was a royal priest of the Vijayanagara Kingdom. Non-worshiping travelers too keep flocking here to know about the region's glorious past.
Suggested Read: 20 Mesmerizing Hill Stations In South India That Are A Must Visit In 2020
4. Lakshmi Narasimha Temple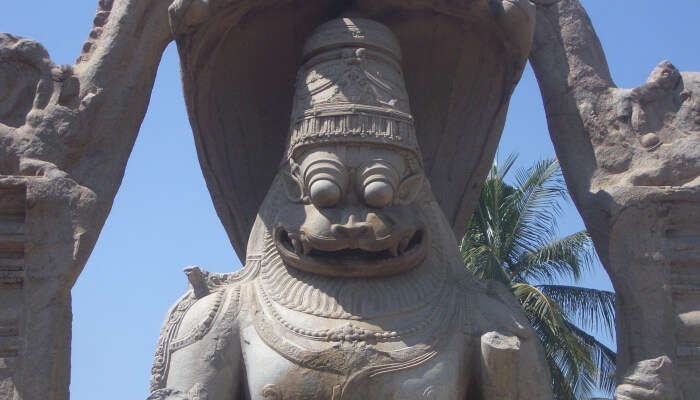 This temple is dedicated to Narsimha – an Avatar of the Lord Vishnu which is a part lion and part man beside the Goddess Lakshmi. The notable attraction here is the huge statue of 'Narasimha' seated upon the seven snakes. At the nearby location is an idol of Lakshmi. Worshippers keep flocking to this temple throughout the year.
Suggested Read: 13 Offbeat Destinations In India In December That You Must Explore This Year!
5. Achyutaraya Raja Temple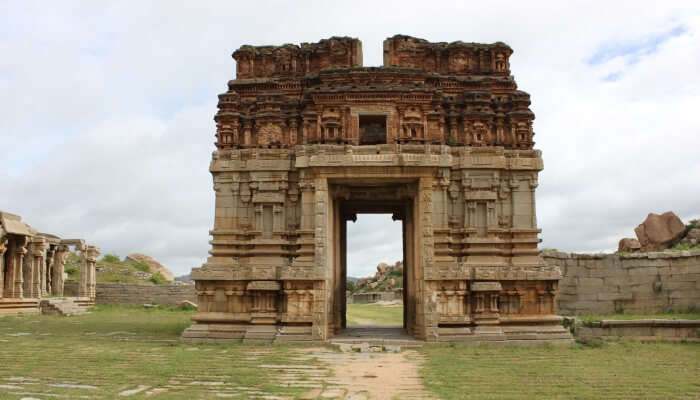 This temple is another magnificent example of the Vijayanagara architecture in the Southern Indian region from ancient kingdoms. The temple is situated a little away from the rest more popular monuments of Hampi and in the valley of the Matanga Hills.
As Matanga Hills offer a beautiful view of the surrounding landscapes, visitors enjoy nature's bounty while they worship here. It doesn't attract too much footfall either as compared to rest structures. Temple's deity, Lord Tiruvengalanatha is another form of Lord Vishnu which is worshipped by the devotees.
Suggested Read: 7 Mystical Places To Visit In Badami, Karnataka That Need Your Attention In 2020
6. Krishna Temple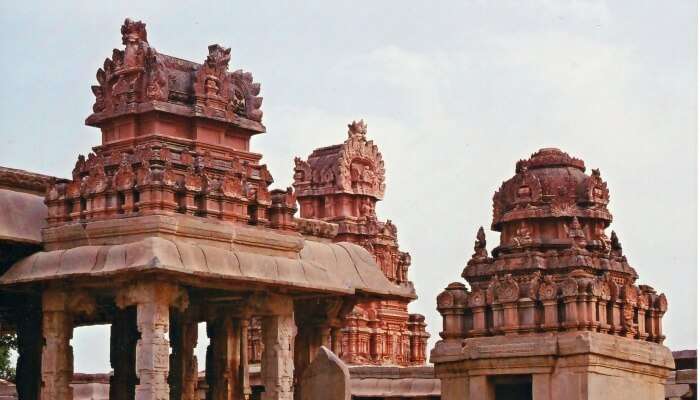 Krishna Temple in Hampi had is another most popular site for a spiritual tour to the place. Built-in the medieval era, it is situated in what used to be the Vaishnava Township centuries ago and which had been established to give them the same opportunity as the Saivas in the Virupaksha complex. It is believed that Krishnadevaraya had installed the idol of Krishna here that had been brought from one of the kingdoms he had defeated then. It was aimed at enlarging his 'kshetra' (field). The structure shows exquisite carvings and ornamentations. Worshippers and tourists find much to explore in and around this temple.
Suggested Read: 9 Historical Places In Karnataka Every History Buff Should Visit In 2020
How To Reach Hampi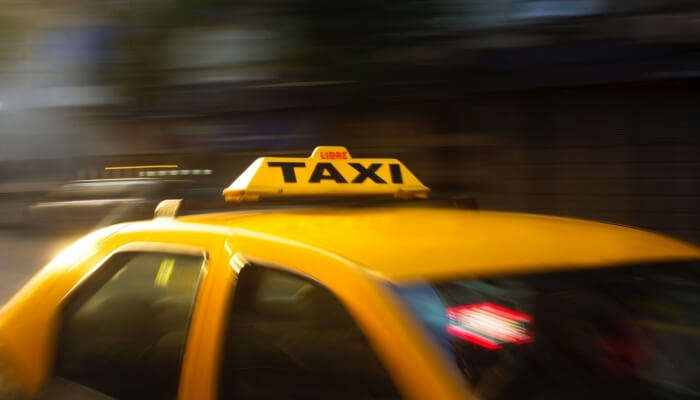 Hampi, as an important and popular historical location, is well connected by the Railways, Roadways, and Airways. The nearest town Hospet has located approximately 13 km from the Hampi historic site. It is the closest railway station to Hampi from where you can book a taxi or take a bus. Several buses ply from different routes to Hampi to connect it with all other locations.
The International Airport at Bengaluru metropolitan city is at a distance of 300 km from Hampi. However, one more airport namely, Belgaum Airport is a little closer at about 270 km. Since Bengaluru is a metropolitan city, it is well connected to all the major cities by air. You can take a bus or taxi for Hampi from even Bengaluru.
Hampi is well connected by road to the rest towns and cities of India. Buses and Taxis can readily be found to ferry you to the site in Hampi with ease.
Further Read: 7 Major Airports In Karnataka For A Safe & Joyful Trip In The Air
All Hampi temples have been preserved for centuries to retain the glory of the past. Considered a focus of historical study as a major tourist attraction besides its importance as a holy site, this area spreading over 26 square km conglomerating several old medieval ruins including ancient temples are worth visiting at least once in a lifetime. For your vacation in Karnataka, do keep Hampi in your itinerary to ensure a memorable travel experience.
Frequently Asked Questions About A Guide To Hampi Temple
Q. Are Hampi temples exclusively meant for the believers of the Hindu religion?
A. Being the Hindu temples, they are holy to the Hindus who come and worship at this site but a large chunk of people following other faiths too arrive here. They explore the enchanting architectural richness of these medieval monuments as travelers and so do some of them worship here to showcase religious harmony.
Q. When should I travel to Hampi?
A. Hampi can be traveled anytime throughout the year but it is better to avoid the summer season. September to April months is best suitable for a trip to Hampi.
Q. What are the most popular temples of Hampi I must visit?
A. There are many temples in Hampi but the most famous ones include Virupaksha Temple, Vitthala Temple, Monkey Temple and Achyuta Raja Temple which you must visit during a trip.
Q. Is Hampi the birthplace of Hanuman?
A. There is a belief that Monkey Temple or popularly known as the Yantrodharaka Hanuman Temple is the location where Hanuman took birth.
Q. Can I join locals in Hampi to participate in their festivals?
A. The annual festivals like Vijaya Utsav in November and Purandara Festival in January/February and several others o local nature are worth exploring. They portray the cultural significance of the region. Tourists are encouraged to participate in them.
Comments
comments