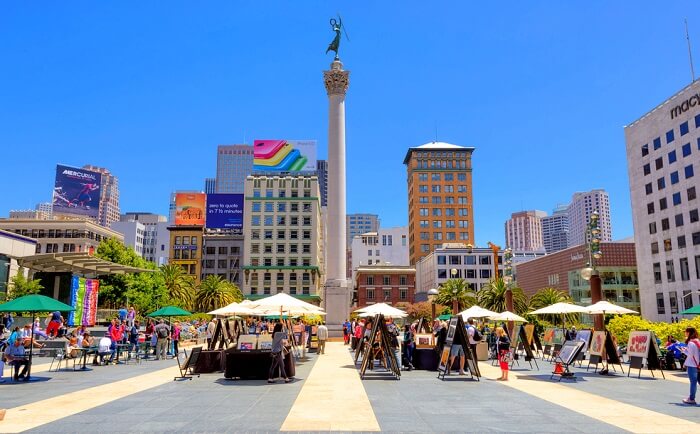 If shopping is a therapy, San Francisco is every Shopaholic's paradise!
Known mostly for its mind-boggling architecture and lip-smacking culinary delights, the City by the Bay is actually a haven for Shopaholics. Be it its famous Union Square or its popular Haight Street, the city has got everything from personal fashion to home decor. But where exactly should you shop and why? Well, this handy San Francisco shopping guide will help you with it all.
All you have to do is, stop by at these popular places during your trip to the U.S., loosen your pocket a bit, and bring home the city's best style and art!
10 Ultimate Places For Shopping In San Francisco
While there are innumerable places to stop and shop in the city of San Francisco, here are the 10 most famous ones that will truly pamper the Shopaholic within you!
1. Union Square
A top favorite amongst both locals and tourists, this outdoor shopping mall is literally known as the heart of the city. Be it the top-notch luxury stores or the local boutiques, this place has got it all. You can walk here for hours and believe us, even when you've bought what you wanted, you wouldn't feel like going back. So, there's no doubt that at Union Square, San Francisco shopping experience is absolutely one of its kind!
Timings: 9:00 AM to 12:00 AM
Location: 333 Post St, San Francisco, CA 94108, USA
Website
2. Haight Street
Suggested Read: 10 Beautiful Places To Visit In San Francisco That Ought To Be On Your Itinerary
Part of the famous Haight Ashbury District, the Haight Street is a must visit place if you're looking for cool shops in San Francisco. This place has got all the high-end vintage stores like Held Over and John Fluevog Shoes that will take you back to the era of the 1960's. From unique retro-style outfits to the most classic boots, you can shop all at once if you're roaming around this street.
Timings: NA
Location: San Francisco, CA, USA
3. Westfield San Francisco Centre
If you're looking for an exquisite shopping mall, San Francisco wouldn't disappoint you there either. Located at just a short distance from the Union Square, the Westfield San is an indoor mall that houses more than 200 famous brands like Abercrombie & Fitch, Bloomingdale's, Club Monaco, H&M, Kiehl's, Nordstrom, and the Banana Republic. Apart from this, there are also a number of restaurants where you can relax with your loved ones and grab a bite once you've shopped your heart out.
Timings: 10:00 AM to 8:30 PM from Monday to Saturday, and 11:00 AM to 7:00 PM on Sunday
Location: 865 Market St, San Francisco, CA 94103, USA
Website
4. San Francisco Premium Outlet
Suggested Read: 10 Best San Francisco Beaches: The Most Dramatic Havens Of The City
Shopping at outlet malls is definitely a great way to satiate your desires without loosening your pocket. So, for outlet shopping, San Francisco Premium Outlet is one place in the city that you must put on the top of your trip itinerary. Located some 60 km away from downtown San Francisco in the Livermore Valley, this place boasts over 180 iconic brands whose collection will sweep you off your feet, but the prices definitely wouldn't!
Timings: 10:00 AM to 9:00 PM from Monday to Saturday, and 10:00 AM to 7:00 PM on Sunday
Location: 2774 Livermore Outlets Dr, Livermore, CA 94551, USA
Website
5. Hayes Valley
Home to art galleries and antique shops, Hayes Valley is one place that is known for being the most unique San Francisco shopping area. It is located near the San Francisco Ballet and Symphony, and offers an exquisite collection of everything that you would want to put up in your home. If you too believe in 'always repair, never restore' like the stores here do, then head out straight to this street.
Timings: NA
Location: Hayes Street, San Francisco, CA, USA
6. Fillmore Street
Suggested Read: San Francisco Nightlife: Best Places To Eat, Drink, Dance, And Repeat!
Housing 12 tree-lined blocks of elegant stores, this street is famous for offering both luxury and cheap shopping in San Francisco. If you're a lover of the antiques, you can visit Mureta Antique and if you like everything fancy, you can head to Heidi Says. But irrespective of which store you visit, we can vouch this place would win both your heart and money!
Timings: 11:00 AM to 8:00 PM from Monday to Saturday, and 11:00 AM to 7:00 PM on Sunday
Location: Between Jackson and Eddy Street, Pacific Heights, San Francisco, CA
Website
7. Stonestown Galleria
One of the best places for shopping in San Francisco, Stonestown is a mall that would help you tick every item off your wishlist, all at once. From H&M to Nordstrom and Pandora to Brookstone, it has got all the renowned brands under one roof. And not just that, this place has also got innumerable entertainment and food options. So, when you think you need a break, just pick a corner and seize the day!
Timings: 10 AM to 9:00 PM from Monday to Saturday, and 11:00 AM to 6:00 PM on Sunday
Location: 3251 20th Ave, San Francisco, CA 94132, USA
Website
8. Chinatown
Suggested Read: 10 San Francisco Hotels You Can Make Your Temporary Abode
A popular neighborhood for discount shopping, San Francisco's Chinatown is an exquisite place to shop for colorful souvenirs and gifts. But, there's more to explore here than just this. The friendly hawkers offering lip-smacking delicacies would ensure that you see a different city within the city and shop like there's no tomorrow. So, irrespective of what your shopping motto is, make sure you take out some time and stop by here for a while.
Timings: 11:00 AM to 7:00 PM
Location: Grant Avenue, San Francisco, CA 94108
Website
9. Embarcadero Center
Irrespective of whether you have an intent to buy something or not, this place has got the most number of cute stores in San Francisco that would compel you to stop and shop. With more than 70 stores like Sephora, Banana Republic, Ambassador Toys, and more it has got something for everyone in your family. So, even if you do not wish to shop, don't stop yourself from exploring this place properly because it's definitely worth it.
Timings: 10:00 AM to 7:00 PM
Location: San Francisco, CA 94111, USA
Website
10. Chestnut Street
Suggested Read: 15 Spectacular Things To Do In San Francisco That Will Make You Want To Stay Here Forever

Located in the Marina District, the Chestnut Street is one San Francisco shopping area that might come across as very similar to the Union Street but actually isn't. It houses innumerable shopping and dining venues and offers the perfect space in the whole city if you're interested in only window shopping. Some of the renowned stores that you can check out here are Two Skirts, Marine Layer, Gap, and Taylor Stitch.
Timings: NA
Location: Marina District, Chestnut Street, San Francisco, CA, USA
Website
So, now that you know where to shop and what to buy, make sure you also customize your USA holiday package with TravelTriangle so that you have enough time to pamper the Shopaholic within. Happy shopping!
Comments
comments