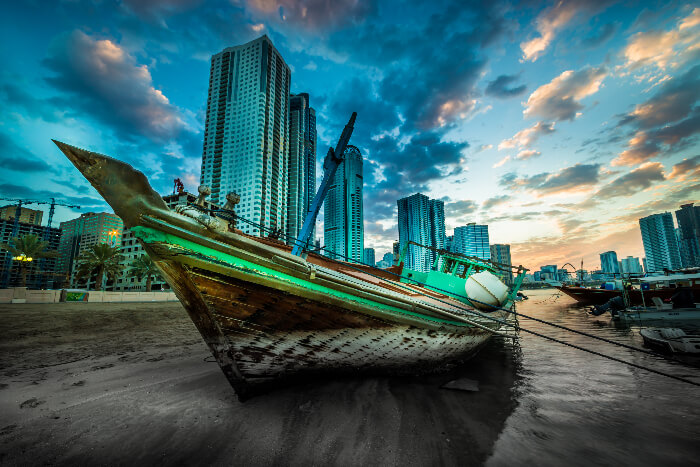 Renowned for its glitz and glamour, United Arab Emirates is sought after by visitors for its astonishing urbane creations and multiple technological wonders. With its 1000 km of coastline, UAE also has many natural marvels up in her sleeve. The UAE offers charming seaside spectacles that relax the body, tranquilizes the mind and uplifts the soul.
The beaches in United Arab Emirates offer its guests soothing sights encompassing vast stretches of sand, lovely sunsets, and serene sunrises. Accompanied by pacifying sounds of gentle lapping of waves, the top sea beaches in UAE are the idyllic getaway spots to unwind and enjoy. Let's see some of the beautiful beaches in United Arab Emirates and find out what they have to offer.
1. Al Mamzar Beach Park, Dubai
Image Source
Lying close to Dubai International Airport in Deira district, Al Mamzar Beach Park in Dubai is oval-shaped surrounded by 5 beach sections on the outside and 55000 square meters of green lawns on the inside. Visitors flock here to enjoy relaxed time at beaches laced with 1600 palm trees and 300 coconut trees.
Plenty of sumptuous meals at different restaurants and snack bars await you here. People can revel in water sports like jet-ski and play surface games like the basketball court, football pitches, volleyball courts, and zip-lining.
Entrance Fee: 5 AED
Timing: 8:00 am – 11:00 pm
Amenities: Lifeguards, changing rooms, showers, sun loungers – umbrellas for rent, barbecue areas with sheltered tables, grassed picnic areas, gardens, beach cabins rental, and private chalets for hire
Activities: Swimming pools, restaurants / food kiosks / snackhouses, water sports, jet ski, kids games, skate park, and an amphitheater for musical events
Good to Note: Mondays & Wednesdays Ladies Day

Suggested Read: Dubai Summer Surprises 2018: Be A Part Of UAE's Hottest Fiesta Before It Ends!
2. Jumeirah Public Beach, Dubai
Image Source
Boasting in its frontage Dubai's iconic buildings, such as Burj Al Arab, Wild Wadi Water Park, Madinat Jumeirah and Jumeirah Beach Hotel, Jumeirah Public Beach in Jumeirah certification for observing strict international standards, Jumeirah Public Beach remains in great demand as it does not have an entry fee.
With its mesmerizing stretch of golden sand, the shady cluster of palm trees, and soothing grassy areas, it is one of the most desirable beaches in United Arab Emirates. Visitors throng the beach for relaxing in the sun, swimming, cycling, jogging or, in other words, simply chilling out.
Entrance Fee: None
Timing: 7:30 am – 5:30 pm
Amenities: Lifeguards, shower, and bathroom facilities
Activities: Desert garden, children's playground, cafés, barbecue areas, and sports facilities

3. Marina Beach, Dubai
Image Source
Blending skyscraper-dotted skyline with turquoise-waves embracing sandy stretch, Marina Beach offers contrasting but stimulating experiences to the visitors. With its immaculate beaches, enchanting blue waters, indulgent ambiance and stunning skyline, Marina beach sensuously allures people to partake in its many relaxations and enticements.
The presence of an array of cafes, jogging tracks, colorful shops renders an intensely inviting aura to its idyllic atmosphere. Activities such as a ride on the camels demurely swaying on the sand dunes and night walk with scintillating scenes of Marina skyline make it as one of the most unique beaches in United Arab Emirates.
Entrance Fee: None
Timing: 24 hours
Amenities: Lifeguards, wash, and change rooms
Activities: Jogging and camel ride

Suggested Read: UAE Tourism Holds An Exclusive Abu Dhabi Week In Kochi And Kolkata For Indian Travelers!
4. Saadiyat Public Beach, Abu Dhabi
Image Source
With its Spellbinding blueness of waters and intoxicating whiteness of sand, Saadiyat Public Beach offers wholesomely profound relaxation with its weekly beach yoga classes. Lying in the vicinity of Park Hyatt Abu Dhabi, it regales its guests with eco-friendly water sports as well as beach cafes. To create a trouble-free ambiance, it provides amenities like showers and changing rooms.
Visitors can immerse themselves in the intensely calm environment, watching the magical blue sky, hearing the softly lapping sea waves and feeling the cooling fresh sea-breeze by reposing into one of the 300 sun loungers available here for rent.
Entrance Fee: DHS 25 per adult and DHS15 per child aged six-12
Timing: 8:00 am – sunset
Amenities: Lifeguards, wash and change rooms, sun loungers, umbrellas, towels, and lockers
Activities: Windsurfing, sailing, and beach café

5. Corniche Beach, Abu Dhabi
Image Source
Awarded with the coveted Blue Flag Status for its taintless and secure ambiance, Corniche Beach in Abu Dhabi imbues your senses with the calm of the turquoise sea, the vivacity of palm trees and gardens and enchanting sight of Lulu Island and the lackadaisical waves disappearing into the distant horizon.
Utilizing its facility of 600 sun loungers and 27 cabanas, visitors can bask in the overwhelming serenity of the beach and rejuvenate themselves.
Entrance Fee: DHS 10 per adult and DHS 5 per child under 12
Timing: 8:00 am – 8:00 pm
Amenities: Lifeguards, wash and change rooms, sun loungers, umbrellas, towels, and lockers
Activities: Cafés & restaurants, volleyball, and beach football

6. Al Khan Beach, Sharjah
Holding the honor of being the first beach in Sharjah, Al Khan Beach in Sharjah offers more than the visitors can accommodate in their visit making it one of the most happening beaches in United Arab Emirates. Enjoying the prime location in the proximity of Sharjah Aquarium, the beach bursts into dynamism with a variety of adventuresome activities, such as kayaking, kitesurfing, parasailing, banana boat rides, the adventurous flyboard ride and much more.
For sports level, the beach provides volleyball and beach tennis courts. Its major attraction is the floating aqua park where people can climb an iceberg, go down the slides or get propelled 3 meters in the air off the human catapult.
Entrance Fee: 5 DHS per person over 6 years of age
Timing: 7:00 am – 8:00 pm
Amenities: Lifeguards, wash & change rooms, sun loungers, umbrellas, towels, and lockers
Activities: Water sports, beach sports, Aqua Park, cafés, and restaurants

These are a few of many awesome beaches in United Arab Emirates. Considering the flawless condition, pristine natural environment and engaging activities and facilities, a visit to these beaches is worth every dime you spend in getting there.
Further Read: 7 Best Abu Dhabi Beaches That Are Perfect For Soothing Your Mind, Body & Soul
Comments
comments