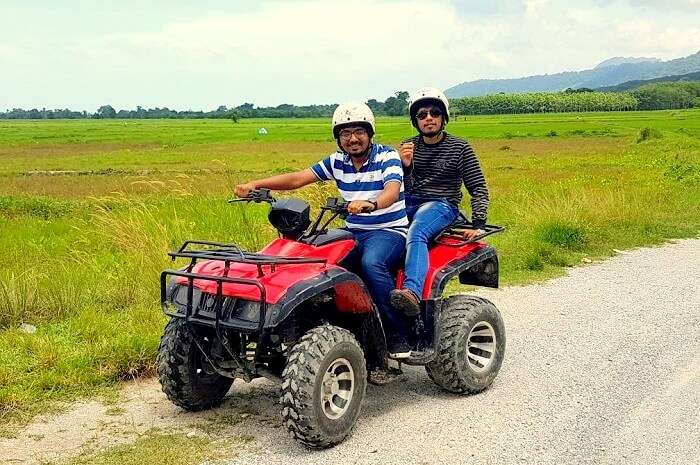 Shamik traveled along with his lifelong buddy on an inpsiring 5 nights/6 days adventure trip to Langkawi and Penang. With a perfectly timed vacation, they were able to enjoy the thrilling activities like scuba diving, snorkelling, cable car, and trekking on an economical budget.
My friend and I wanted to go for an adventure trip in Southeast Asia, and for that, we had a few destinations in mind. We preferred not to visit a densely populated city with a lot of tourists like Bangkok, Kuala Lumpur, or Pattaya.
 10 Best Things To Do In Langkawi That Make It A Traveler's Paradise
Therefore, a trip to Langkawi aligned perfectly with our requirements of doing adventure on a budget, and relaxing at a lovely island destination. Another reason why we picked Langkawi was that during the holy month of Ramadan, the influx of local tourists in Malaysia is low.
A few of my friends recommended that I use the services of TravelTriangle to book a Langkawi tour package. Their trust in TravelTriangle as an online travel marketplace compelled me to compare their package costs with other travel companies. As it turned out, TravelTriangle helped me in getting an attractive package at a very economical price from 'Holidays 2 Cherish' agency.
Trip Cost: INR 59,000
Trip Duration: 5 nights/ 6 days
Inclusions: Transfers, accommodation, breakfast, sightseeing, coral island tour, and visa
Exclusions: Airfare, meals, adventure sports, and travel insurance
I could feel and anticipate the adrenaline rush of all the exciting adventure sports we had planned to do. On our part, there was no pre-trip anxiety or nervousness, only excitement simmering on the surface for the thrills that awaited us.
Here is a brief look at the itinerary we followed on our trip to Langkawi
Day 1: Flight from Mumbai- arrive in Langkawi at 10 am- head for ATV ride- Mangrove Island tour- check into hotel
Day 2: Breakfast- trip to crocodile farm- visit to langkawi sky bridge- return to hotel
Day 3: Breakfast- coral island tour- scuba diving and snorkeling- return to hotel
Day 4: Breakfast- full day underwater world tour- visit to atma alam art gallery and langkawi square- return to hotel
Day 5: Breakfast- ferry to penang- check into hotel- visit to upside down museum- return to hotel
Our best adventure activities on a trip to Langkawi and Penang
 10 Blissful Beaches In Malaysia
Adventure activities in Langkawi and Penang were delightful and thrilling. Despite the reasonable prices, we didn't see many adventure sports enthusiasts in Langkawi. The low tourist influx gave us leverage to bargain for activities like scuba diving, mangrove island tour, and crocodile farm tour.
Listed below, are the top picks of our adventure activities in Langkawi and Penang
1. Scuba Diving at Coral Island
Duration: 60 mins
Cost: INR 2,200
On our day trip to Coral Island, we decided to dive into the clear blue waters of the Langkawi archipelago. The visibility in the water was high, and we were lucky enough to spot different kinds of fishes and even an octopus.
2. Crocodile farm tour in Langkawi
Tour Duration: 2 hours
Cost: INR 780
Crocodile Stunt Show: 11 am and 2:45 pm
On the second day, we took a short trip to the Crocodile Farm in northwest Langkawi. A huge farm sprawled over 20 acres that bred over 1000 alligators and crocodiles. First, they took us on a tour of the farm and explained the purpose of its existence.
Later, the trained staff gathered everyone, as he fearlessly fed fish to a massive swarm of crocodiles. Finally, we moved on for the crocodile stunt show where the trained staff wrestled a fully-grown crocodile.
3. ATV Extreme in Langkawi
Duration: 90 mins
Cost: INR 2250
The very first thing we did after landing in Langkawi was to go for a thrilling ATV ride. Yes! We were so excited that we even delayed our check-in for adventure sports.
We purchased tickets for the highest package of ATV riding which gave us 90 minutes to go around the rugged terrain. With the lush green hills of Langkawi in the background, the ATV experience was also a treat for the nature lover inside me.
4. Mangrove Island/Eagle Feeding Tour
 8 Most Popular Beach Resorts In Malaysia
Cost: INR 4500 per boat
Duration: 3 hours
On the first day, we hired a boat in Langkawi to take us around the Mangrove Islands that border Thailand and Malaysia. The best part of the tour was when had the opportunity to feed eagles. Also during the boating excursion, we saw a spectacular cave was home to hundreds of bats.
5. Penang Hill Trek
Cost: Free
Distance: 4-5 km
Duration: 2 hours (uphill)
On the final day, we decided to trek through the jungle to reach the top of Penang Hill. We cut through dense forest cover and passed by the Botanical Gardens at the halfway mark. Once we reached the top, we got rewarded with a breathtaking view of the city of Penang.
Interesting Places for Sightseeing in Langkawi and Penang
41 Amazing Malaysia Tourist Attractions For An Adventure Of A Lifetime In 2022
Along with all the adventure activities, our Langkawi tour package covered a few excellent places for sightseeing during our free time.
Underwater World, Langkawi: We took a half-day tour of Malaysia's largest aquarium that had a 3D theater and an underwater tunnel.
Atma Alam Art Gallery, Langkawi: We visited this illustrious gallery that displayed and sold traditional Batik artwork.
Upside Down Museum, Penang: We traveled to this fun and light-hearted museum which was built in such a way that, it appeared the visitors were walking on the ceiling.
The experience of traveling on an adventure packed holiday through TravelTriangle turned out to be memorable. Most of the times on our Langkawi tour package, my friend and I were the only ones doing the adventure sports at a particular place.
The timing of our trip to Langkawi was perfect due to the holy festival of Ramadan. At each place, both of us had plenty of extra time for ourselves to enjoy the thrills of exciting adventure activities in Langkawi and Penang.
 Top 3 Places To Visit On A Romantic Trip To Malaysia
The hotel in Langkawi with its sea-side view was perfect.
The first time experience of scuba diving was a special moment for us.
Tips for travelers:
Book adventure sports only after reaching Langkawi. People with decent bargaining skills can easily bring the price down by 30%.
Langkawi is the perfect place to shop as the entire island is duty-free.
Plan your trip wisely to save on accommodation costs and tourist rush. Sometimes there is a small window in the peak season where tourist flow is less.
Want to experience adventure activities on a budget? Book your Malaysia adventure package  and enjoy the thrills of Langkawi!
---
Looking To Book An International Holiday?
Book memorable holidays on TravelTriangle with 650+ verified travel agents for 65+ domestic and international destinations.
---