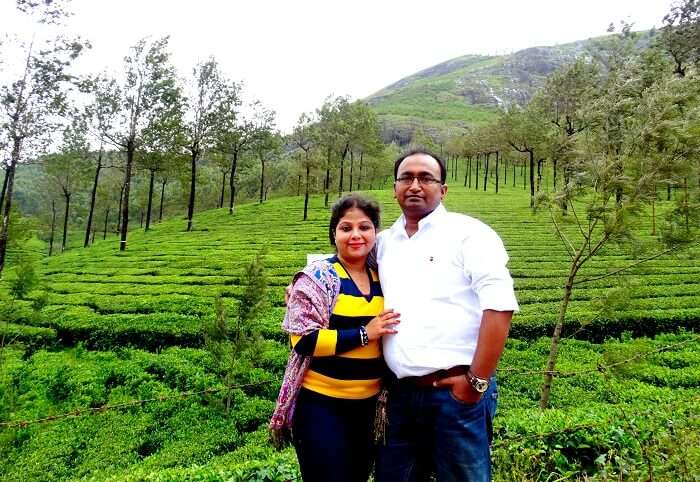 Sharmishtha Paul talks about her trip to Kerala that she took with her husband Suvankar. She elaborates on their amazing journey and tells us why Kerala is natural paradise on Earth. She booked her package from TravelTriangle for INR 30,300 and it included their hotels, transport, and sightseeing. Let us hear her interesting account.
Our holiday to Kerala was an amazing one. Although initially going to Kashmir, my husband and I chose to cancel our program since there was some disturbance in the valley. However, we were not going to give up and hence decided to go to Kerala instead, for we wanted to see its beautiful lush greenery and hills. As it turned out, our last minute decision was a great one!
We booked our package to Kerala from TravelTriangle which we had found via a Facebook ad. The whole process of booking and customizing our package was smooth and easy and it wasn't long before we were sorted with our itinerary and plan.
All we had to do now was to wait for the trip to happen!
Day 1: Witnessing the lush and green in Munnar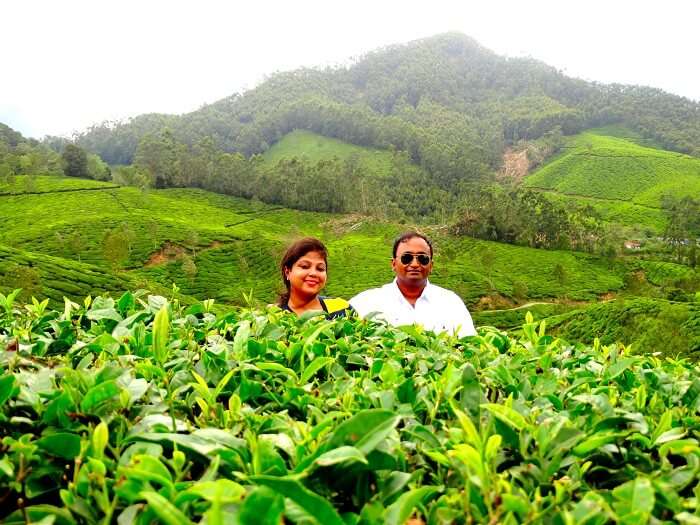 We boarded our flight to Kerala from Delhi and reached our destination – Cochin, as per the scheduled time. Upon our arrival at the airport, we could easily locate our driver for the journey and thus the trip began.
We were happy to find out that our cab had been upgraded and that we were going to complete our long journey to Munnar more comfortably.
On our way to Munnar, we stopped by at various places to see natural waterfalls and other natural points of attraction. Everything looked extra beautiful and green in the aftermath of the rains and we were impressed by how clean and well maintained the roads were.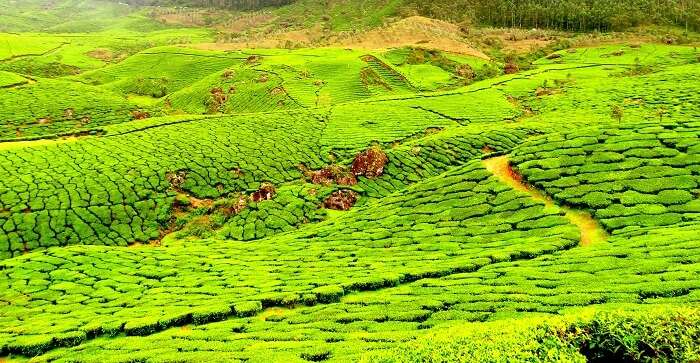 We reached our resort – 'Great Escapes Resort' in the evening and it was an excellent property. The tree house that was booked for us here was amazing and staying at such a unique resort was truly an awesome experience.
Day 2: Sightseeing in Munnar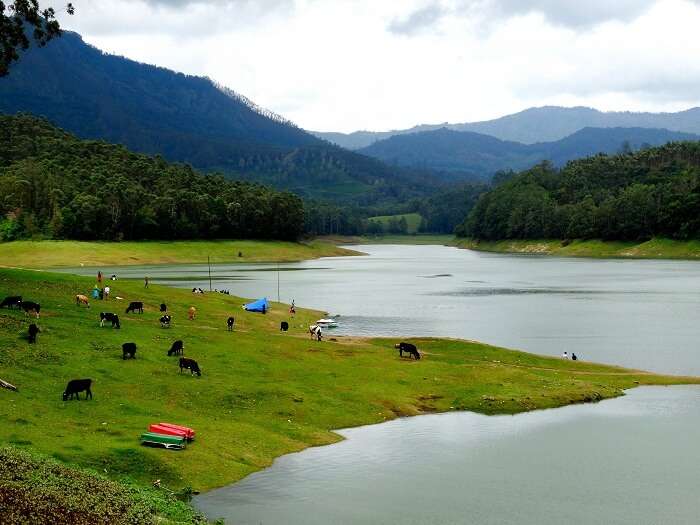 Suggested Read: 37 Amazing Things To Do In Kerala For An Incredible Holiday
This was a day meant for sightseeing in Munnar and we really had a good time today. We visited tea gardens, a spice plantation, and other scenic spots and even did an elephant ride which was fun.
Indulging ourselves in the lush green nature of Munnar was an enjoyable experience and we totally loved the chilly vibes of the hills here.
In the evening, we returned to our resort, relaxed for a while and then called it a night.
Day 3: Houseboat and backwaters ride in Alleppey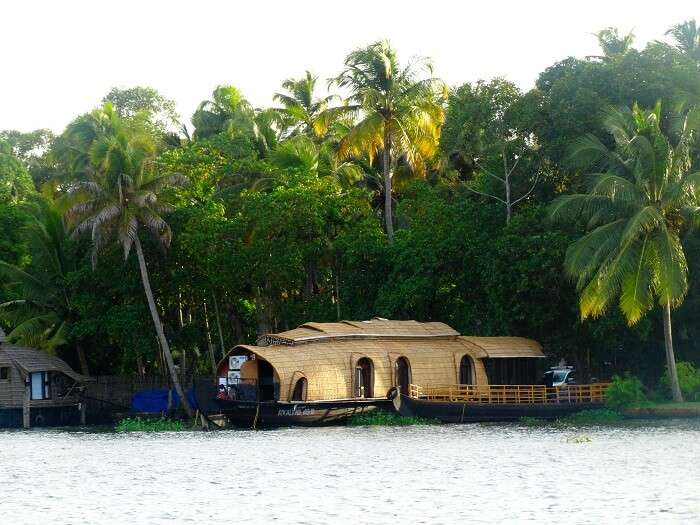 Suggested Read: 57 Best Places To Visit In Kerala For A Vacation To Remember
Day 3 in our itinerary for Kerala was meant for a houseboat stay in Alleppey. So after a delicious breakfast at the resort, we set out for our journey to Alleppey.
Upon our arrival in Alleppey, we were taken to the spot where our houseboat was anchored and we fell in love with the boat at the very first glance. It was well maintained and good looking and post our check in, we were even allocated a cook and driver for convenience.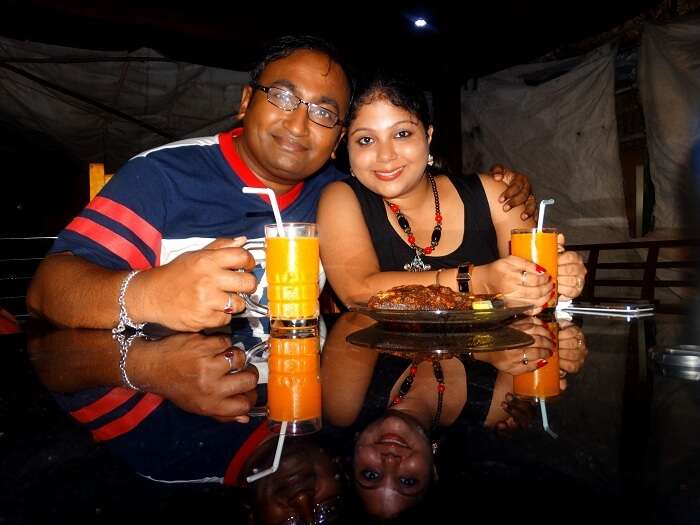 In the evening, we went for the backwaters ride and it was a mindblowing experience. Gliding through the waters of Alleppey amidst the serene and lush greenery was a soothing activity and by the time it ended, we were truly relaxed and in awe of the nature in Kerala.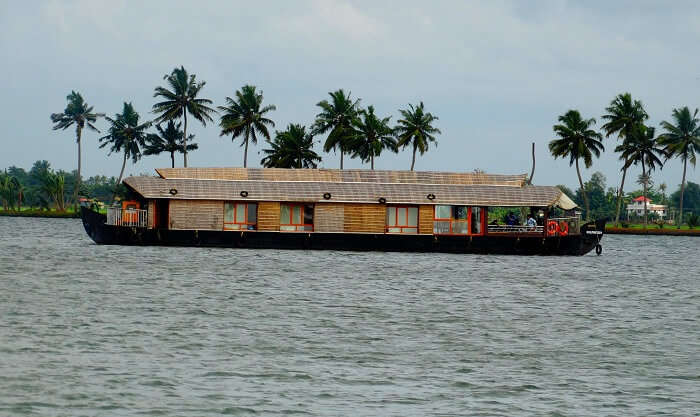 Our overall experience in the houseboat was excellent and we loved the hospitality, comfort, and serenity that it offered.
Day 4: Exploring Kovalam on our own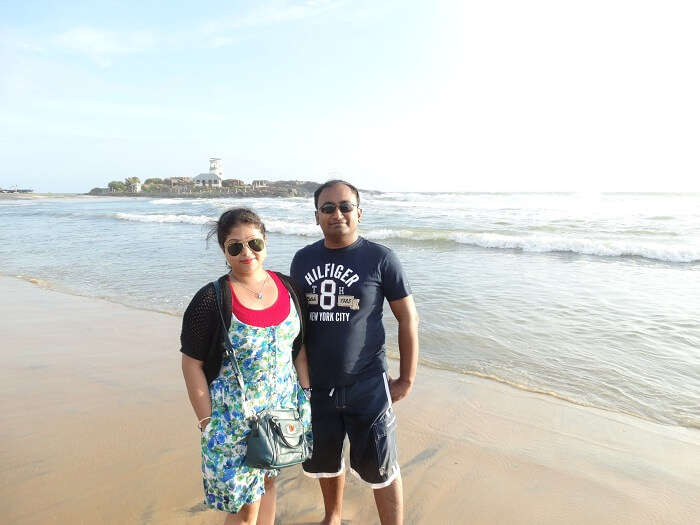 Suggested Read: 13 Best Kept Secrets of Kerala That Locals Have Been Keeping To Themselves
This was the day we were to visit the beautiful beach town of Kovalam. Upon our arrival in Kovalam, we checked into our resort and then went to explore the beach town on our own. It was a fun experience and we loved the whole coastal vibe of the place.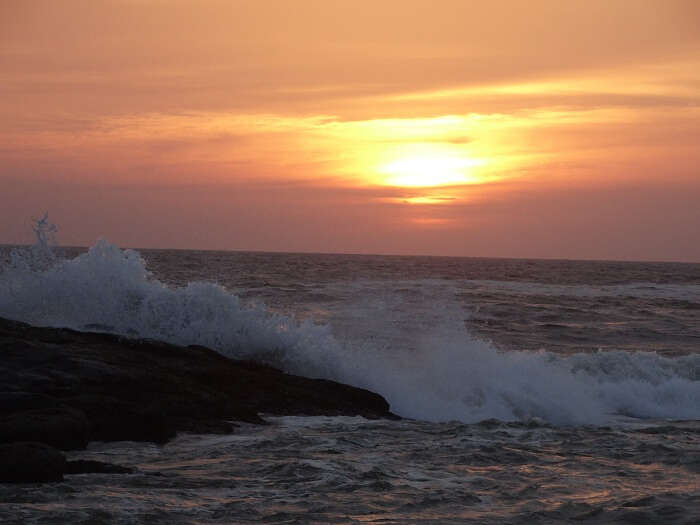 Although we could not go to the beach since there was a high tide, we did have a blast in this serene and peaceful destination.
Day 5: Visiting the southernmost point of India – Kanyakumari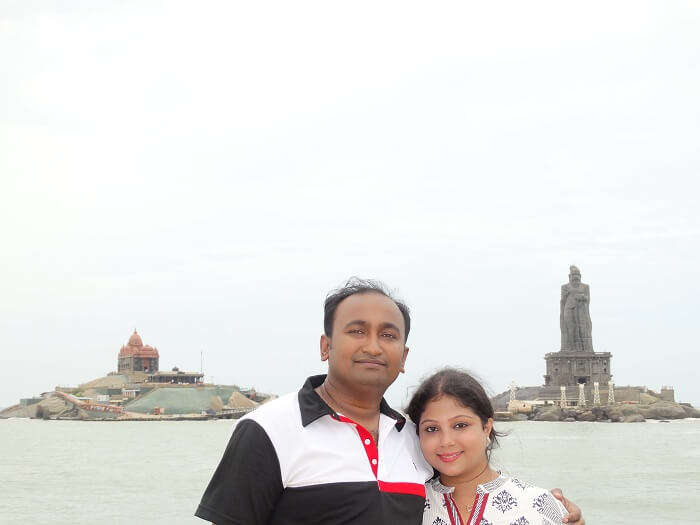 We were earlier sceptical about going to Kanyakumari from Kovalam but then since we had traveled so far, we decided to do it. So we requested our travel agent once gain for transport and it was taken care of.
It took us 2-3 hours to reach Kanyakumari and once we had found a nice hotel to check into, we set out for sightseeing on our own.
Apart from the famous local spots in the town, we visited the Vivekananda Rock Memorial and it was a great experience.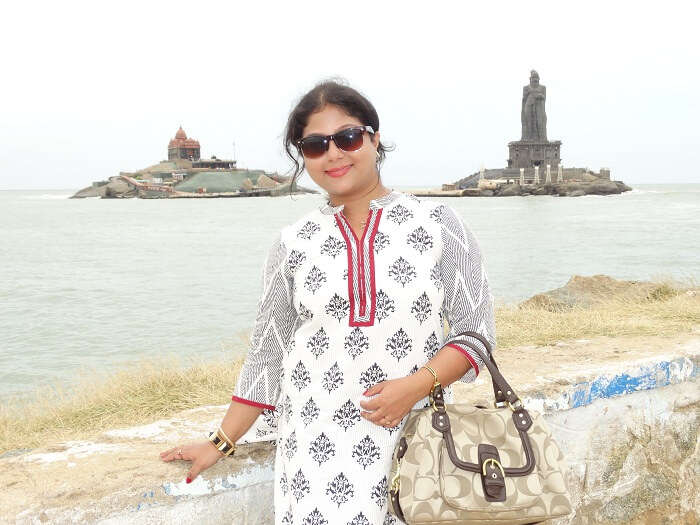 My husband and I explored some more parts of the town post which we returned to our hotel and called it a night.
Day 6: Poovar Beach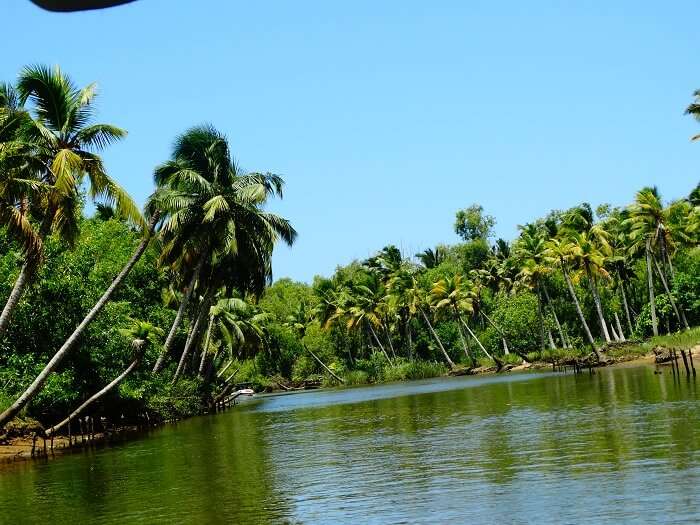 Suggested Read: 12 Festivals In Kerala To Experience The Rich Traditions Of God's Own Country
This was the day we visited the Poovar Beach as part of our package to Kerala and it was an exciting experience.
We did the river safari here and it was simply amazing. Our boat took us to a point where the river met the sea and we could see the sand in the middle at that point. This point is also known as the Golden Sand Beach and we loved how everything around us was so silent and serene. The Mangrove trees provided us an excellent scenic background and it almost appeared as if we were on the set of the 'Anaconda' movie.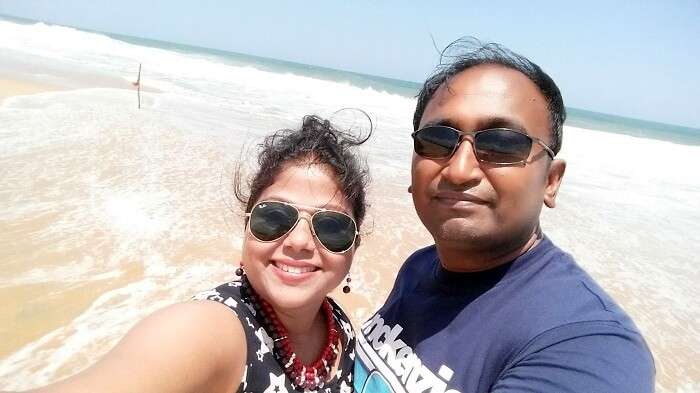 We were taken to various points on our tour like the Junction Point, Elephant Point and more. Activities like elephant ride and elephant feeding were also available and there were floating restaurants and resorts all around.
It was a fantastical experience and we really could not believe our eyes when we saw floating resorts for the first time.
We also saw many migratory birds here and they looked magnificent. The statue of Mother Mary marked the end point of our ride and the beginning of Tamil Nadu.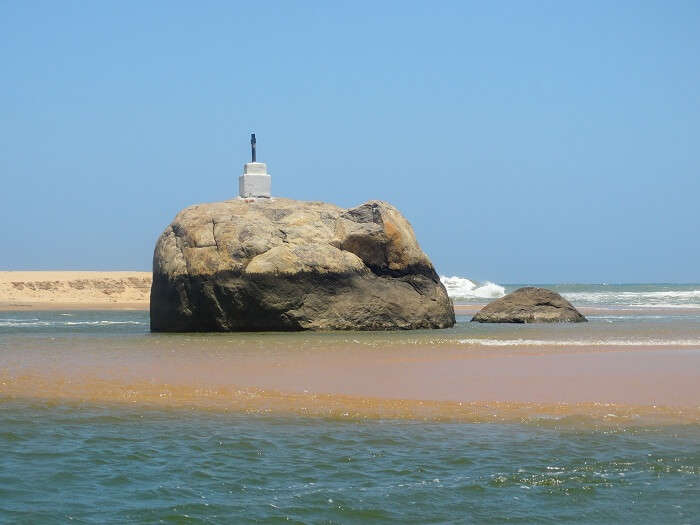 We were done with the river safari by 2 and proceeded to Trivandrum Airport soon after that. Our flight to Delhi was at 6PM and we were on time to catch it.
Kerala was an awesome experience for us. Everything from the service to the hotels to the transport arrangements and sightseeing booked via TravelTriangle was amazing and more than satisfactory. We loved the lush green ambience of Kerala and it was more refreshing than what we had expected. We made some beautiful memories in Kerala and those memories in the lush green scenic backgrounds of Kerala will always be cherished.

High Points:
The weather, sightseeing, and overall ambience of Munnar
Backwaters and houseboat experience in Alleppey
The serenity of Kovalam and Kanyakumari
Poovar Beach and river safari
Tips for future travelers: Munnar and Alleppey (houseboat) are two places that are a must visit for everyone visiting Kerala.
Feel the love of nature in Kerala! Experience an amazing holiday and rejuvenate your senses!