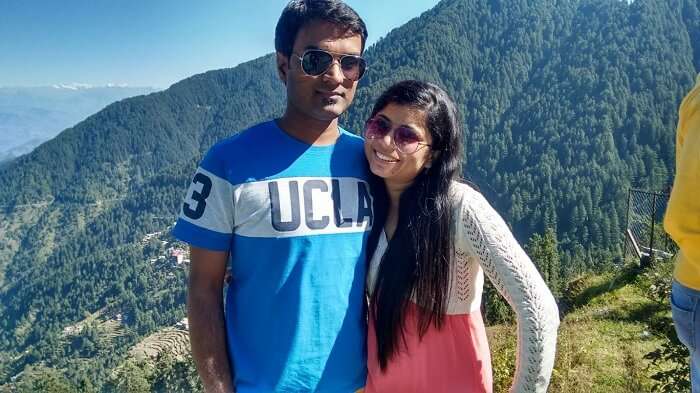 Shivani Sharma talks about her trip to Dalhousie and McLeodganj. She travelled with her husband and 11 of her friends. This 3 day trip included her hotel and a private cab. She elaborates on her experience to these two destinations and her feelings after seeing nature's glory in the sweet company of friends.
Social Traveler

I am a social traveler and it has always been that way, so when my friends and I decided to go on a short trip, we knew, it had to be an exciting place, somewhere in the hills.
Initially deciding on Dharamshala, I was however disappointed to find out that it was already jam packed due to a cricket match that was to be held there. So after a lot of brainstorming and coffee, my friends and I ultimately decided to go to Dalhousie and McLeodganj, our second best preference in the list. And mind you, I wasn't disappointed!
Bags Packed, off we go!

Finding trustworthy and economical packages in a short time can be a headache for me, for I don't really have a background in organizing trips, but thanks to the simple intuitive website of TravelTriangle and its agent Baldev, my problem was solved! I chose the best quote and itinerary, packed my bags, and was off to the hills, ready for an adventure. Me, my husband, and our friends.
Day 1 – Dalhousie: Traveling, Eating, Talking and much more.. Living!

Sleepy yet super excited, I left at 10 PM in the evening from Gurgaon and reached Dalhousie by 3PM next day. There was a lot of traffic due to the weekend rush, but I didn't mind for I was in the company of loved ones. Dalhousie for lack of better words was, mesmerizing! The weather was pleasant, people were friendly and the overall essence of the place was very rejuvenating. After checking in at our hotel, me and my friends went out to explore the scenic surroundings that the city held. I was delighted to visit a beautiful church that resembled a lot like the one I had previously seen in Goa.
There is something about enjoying hot momos in the cold weather and I made sure that we all did justice to that thought. The mall road was bustling as usual, but that didn't deter the foodie in me to stay low. Later that night, after a lot of hogging, and talking till wee hours, I realized the true meaning of living in the present. It was a revelation!
Day 2 – Khajjiar: Soaking in the winter glory and some love

The second day was a like a Bollywood movie, it had action, passion, emotion, and drama! I with my gang, set out for sightseeing in Khajjiar, a beautiful plateau surrounded by pine and deodar trees, but it wasn't until I reached the Khajjiar Kalatop Sanctuary that my adventure began. With narrow paths and lush green scenery around us, trekking here was an unforgettable experience.
I was delighted to witness the magnificent sunset with its orange hue. Naturally, we clicked a lot of pictures and now when I look back, I think this was the part that was enjoyed most by all of us. Another special moment that captured my heart was when my husband and I sat atop the hill and watched the sun go down, slowly turning its colour from yellow to orange, etching those moments in our heart, forever. I will always cherish those few minutes I spent with him.
Day 3 – Mcleodganj: Exploring new places and ourselves!

An enriching day both mentally and spiritually. This was the final chapter of our journey, and before heading home there was one place left in our bucket list – Mcleodganj! True to its fame, this place had heavenly weather and lively faces. I particularly loved the Bhagsunag waterfalls, where, of course, the photo sessions happened. Our highlight of the falls was when me and my girls discovered a pool formed by the waterfall on our own. It was an accidental discovery, but I felt good, for now, I had a story to tell!
Next was the monastery with which I felt a deep and meaningful connection. Inspired by simple living and high thinking, I shared a few stories of mine with my friends who were equally interested in Buddhism and its teachings.
Finally, it was time to head home.
Happiness is the key

I have been to many trips during my life, with schoolmates, college buddies, and office colleagues, but none of them were this great. And from all the journeys across various destinations, what I have learned is that, in the end, only happiness matters. And this trip, made me happy.
Highlights – Awesome street food (including momos and hard to find Maggie), sunset view from Kalatop, Bhagsunag waterfall, and the monasteries at McLeodganj.
Low points – The hotel wasn't good; it could have been much better.
Tips for future travelers – Don't go during peak season as you might miss on good hotels.
Looking for your own personal adventure? Your next weekend getaway is just a click away.
---
Long Weekend Trips Starting @ Rs 3499/-
Take a trip to spend the upcoming long weekend with your buddies.
✓ Stay at 4 star rating hotels with local sightseeing, meals and transfers.
✓ Travel in AC coach round trip (from Delhi).
✓ All Inclusive Deal– Camping, Jeep Safari & Trekking as per itinerary
✓ Sign up NOW to celebrate the long weekend out of town!
---