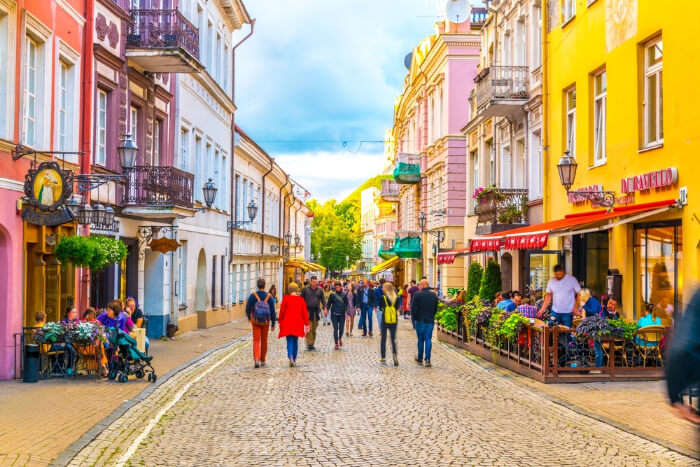 Lithuania is a country which holds a lot of surprises despite its small size. There are several cities in here, which have shopping malls and centers where you can buy everything from clothes by main brands to artifacts and designer clothes by local designers. If you are thinking about what to bring from Lithuania, then, the options are limitless with all the varieties of markets which sit here.
10 Best Places For Shopping In Lithuania
Here's a list of some of the top places to shop in Lithuania for a soul-satisfying experience while you're holidaying there. Take a look!
1. Kaunsas

This was the most important trade center in the 15th century. Kaunsas has a lot of unique things which include the Devil's museum and more. Here everyone can buy a figure of a daemon. Kaunsas also has a pretty large selection of jewelry as well and the number of entertainment and shopping centers here are many shops for shopping in Kaunas Lithuania will let you find many places which sell paintings, tapestries, clayware, sculptures, embroidery, toys made from flax and wood, Lithuanian pies and linen summer dresses. But that's not it, you will also find tinctures which are composed of berries, herbs and such. All of these things make for excellent souvenirs.
Location: Kansas, Lithuania
What to buy: Daemon figures, paintings, clayware, toys and more.
Must Read: Tour Du Mont Blanc: A Complete Guide To Trek Through The Magical Beauty Of Europe
2. Palanga Resort

This is truly a paradise for who appreciate amber. This is a stone which can be used as an amulet or other jewelry to become a masterpiece of art. If you want to see and know more about amber, then there is a whole museum dedicated towards it in Palanga. The amount of sun stone is really excessive in this city, so much so that it can be found just walking along by the seashore. Tourists can buy straw hats, figurines of mythical heroes, embroidered lampshades, religious symbols, handwoven belts, ashtrays, mugs and more in here to take back home.
Location: Palanga Resort, Lithuania
What to buy: Amber items
3. Alytus

Lithuania's sparkling wine is really famous and almost all of it comes from this town. Their amount of varieties found in here is just mind boggling and all of them have the ability to surprise you with its unconventional tastes. Try out some and take some back home to surprise them. But wine isn't all that this town makes, you will also find tinctures here, like the Triarios Devinares which is made up of 27 different types of herbs and it has a high alcoholic content- almost 75%. But the list doesn't end here as you should definitely buy Sakotis here, which is the national came. This cake is uniquely cooked and sold so that it becomes easier to take away.
Location: Alytus, Lithuania
What to buy: Wine, tinctures, Sakotis
Suggested Read: 8 Day Trips From Monaco To Make The Most Out Of A Trip To Europe
4. Senasis Kuparas

Here you will find a unique collection of reproductions of the works of famous painters, original Russian icons, furniture, silver and a lot more varieties of souvenirs. The owners of this market place believe that every period brings with it something different and if it is, then it can be sold on the ground floors of 14 Dominikonu street, where this is located. The venue was opened in 1982 when the number of antiques demanded that they are shown. This place is reliable and it is also said that it is the best amongst the southeastern and Eastern Baltic States.
Location: 14 Dominikonu street, Lithuania
What to buy: Paintings
5. Kalvariju Turgus

This is one of the best places to go shopping in Vilnius, Lithuania if you want some organic items. This is one of the biggest vegetable markets in the city of Vilnius. Turgus means market in Lithuanian, and like markets are all over the world; you will find yourself in the midst of a great opportunity to bring out your bargaining skills. You can find in-season vegetables and fruits in here, which are purchased from local farmers and growers. Apart from this, you can also find cheese, meat, clothes, baked goods, and other household items as well. Prices here are generally budget friendly, but the quality isn't sacrificed for that.
Location: Kalvariuj g. 61, Lithuania.
What to buy: Fruits and vegetables.
Suggested Read: 10 Best Monaco Travel Tips For A Smooth Journey In The Mesmerizing European Land
6. Hales Turgus

Finding some good quality fruits and vegetables in Vilnius is easy thanks to the number of markets in here. Situated in what was a transportation building, this market sells both imported and local vegetables, fruits, meat, dairy, nuts, grains and much more. The prices here are cheap and apart from organic products, you can also find discounted clothing, household items, and other knockoffs for really cheap prices. But you don't have to wait to go home and then cook your purchase, there are some bakeries and restaurants which offer amazing food. The market is open from Tuesday to Sunday from 7 am.
Location: Pylimo g. 58, Lithuania.
What to buy: Organic products, household items.
7. Tymo Turgus

While vegetables and fruits are found in every market over here, but this market specializes in selling eggs, cheese, meat, and baked goods apart from fruits and vegetables. All these are organic and locally produced. The prices here are definitely higher, but the quality is top notch since all these are freshly made, freshly picked and seasonal. Here you will also find products which you will have difficulty finding in other markets like kale, wild strawberries, asparagus and other types of berries. The market is open from 11 am to 3:30 pm, every Thursday.
Location: Right on the corner of Aukštaičių g. and Maironio g, Lithuania.
What to buy: Eggs, cheese, rare vegetables and fruits
Suggested Read: 10 Best Day Trips From Luxembourg For A Perfect European Holiday
8. Blusturgis

This is a weekly flea market, which is found in Vilnius. Here you can buy items like toys, clothes and other such items. The market is held every Sunday at Dance Bar from 12 PM. You can find both expats and locals coming here to purchase handmade and local items from a variety of vendors. If you are lucky, you can get some good discounts but of course, you will have to bargain a little for it.
Location: Šermukšnių g., Lithuania
What to buy: toys, clothes and handmade items
Suggested Read: 11 Fascinating Things To Do In Slovenia On Your Trip To Europe
9. Gariunu Market

It is situated around 20 minutes, outside of the main city center, but this is a massive flea market, which sells car parts and tires apart from food and clothes. Prices here are pretty similar to those found in supermarkets. This flea market is open the whole week, except on Mondays. Here's a tip: make sure to visit the place early so that you can get your choice of the items put on sale. The market opens at 7 am.
Location: Gariunu g. 70, Lithuania
What to buy: Car parts and tires, food, clothes.
10. Cathedral Bookstore

This bookstore sells albums, books, DVDs, CDs and also postcards about the country along with its capital Vilnius. The DVDs and CDs contain Lithuanian folk music apart from classical, religious and children's music. Apart from these, you can also find works of professional painters and folk artists like sacral sculptures of Angela, pensive Christ, saints. They also have souvenirs made from clay, linen, metal, wood, and amber in here. Visitors can find literature in various languages along with other items of handicrafts like devotionals, managers, and sculptures which were created in monasteries. The bookstore also organizes a lot of exhibitions as well.
What to buy: Books, postcards, CDs, DVDs, albums and such.
Further Read: Lithuania In Winter 2022: 10 Best Experiences That You Must Have For A Picture-Perfect Trip
Shopping in Lithuania is an experience. The shopping options here are unlimited and one can find anything in here for cheap. From books to car parts, it's all in here for you to buy back home. So, plan a trip to Europe and have a perfect holiday!
People Also Read:
Shopping In Estonia Shopping In Latvia Shopping In Poland
---
Looking To Book An International Holiday?
Book memorable holidays on TravelTriangle with 650+ verified travel agents for 65+ domestic and international destinations.
---