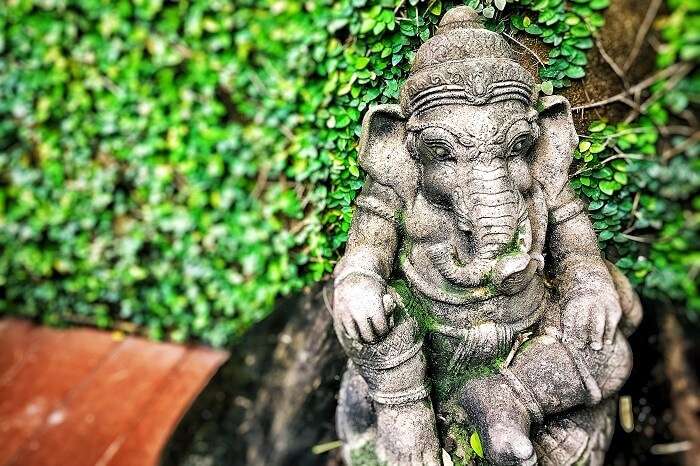 Shopping is the only constant that tops the to-do list of travellers irrespective of wherever they travel across the world. However, when it comes to the multicultural country of India, there is something special that every city has to offer and for which it is renowned across the world.  Similarly, the only place in South India which is the most famous for mouthwatering sweets, silk sarees, and sandalwood oil, is none other than the royal city of Mysore. Renowned for many more things, know about the best things to buy without which shopping in Mysore is totally incomplete.
Famous Shopping Items In Mysore
A trip to any place is incomplete unless one shops for the local and famous items there and shopping in Mysore reviews are positive, thanks to this amazing range of products that one can buy there.
1. Silk Sarees

Famous for its distinctive shine which is graced by the intricate zari work made of golden thread, the royal city is much famed for its silk sarees which are even recognized as Mysore silk. Though the history of silk sarees in Mysore dates back to the time when Tipu Sultan used to reign, it was only in the 20th century when the royalty of Mysore took premeditated efforts to boost saree shops in Mysore. And ever since, the beautiful six-yard saga has been very successful amidst the women across the world.
Where To Buy Silk Sarees: Formerly known as the Government Silk Factory, one can go saree shopping in Mysore at the Karnataka Silk Industries Corporation, and famous malls like that of Mall Of Mysore, and so on.
Must Read: 40 Things To Do In Mysore Perfect For Experiencing The City!
2. Mysore Pak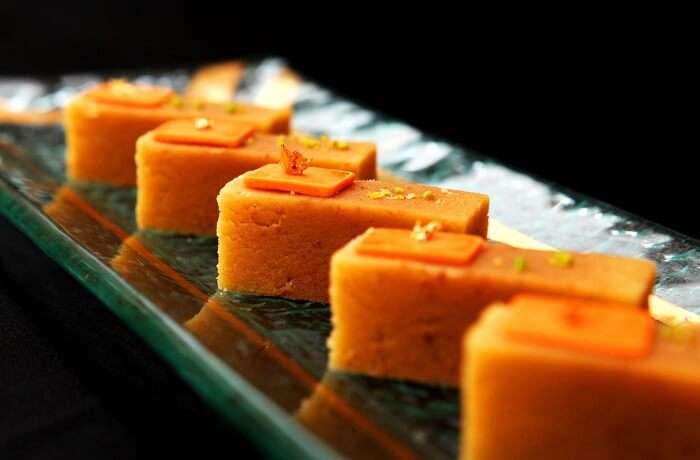 If at all there is any other specialty with which Mysore is considered to be synonymous, it is that of the famous sweet of Mysore Pak. Prepared with the simple ingredients of sugar, flour, ghee, and a lot of love, Mysore Pak is every bit of a sinful indulgence without relishing which, you wouldn't be doing justice to your trip to Mysore. With every bite that leaves you wanting for more, make sure you get a little packed while shopping in Mysore to take it back home.
Where To Buy Mysore Pak: While Guru Sweet Mart on Sayyaji Rao Road is one of the famous shopping places in Mysore to buy Mysore Pak, one can also choose to buy the sweets from Mahalakshmi Sweets located on the Devaraj URS Road, another one of the list of best shopping area in Mysore.
Suggested Read: 16 Super Amazing Weekend Getaways From Mysore For Your Trip!
3. Sandalwood Products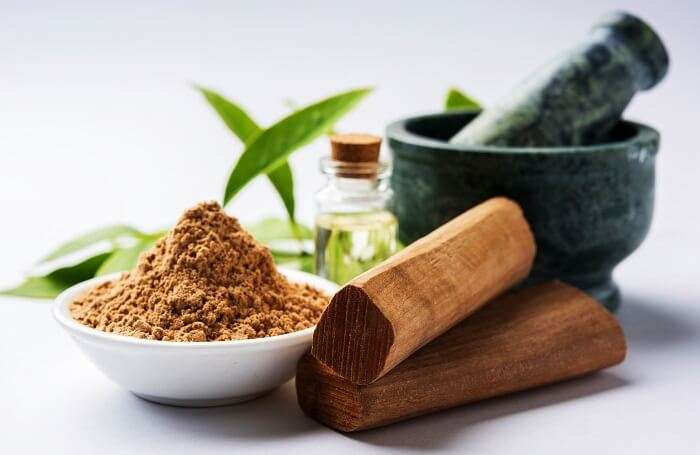 Owing to the dense forests of sandalwood trees that led to the inception of the Government Sandalwood Oil Factory in the year 1917, shopping in Mysore has been associated to sandalwood ever since. While the oil, perfumes, and the scented soaps are some of the famous shopping items in Mysore that are made of sandalwood, the travelers can also witness the whole process of how the oil is extracted from the trees at the factory itself.
Where To Buy Sandalwood Items: The Government Sandalwood Oil Factory located at Ashokapuram is the ideal place to buy sandalwood items while the Devaraja Market and Gandhi Square are also few of the best places to purchase products made of pure sandalwood.
Suggested Read: 15 Best Beaches Near Mysore One Must Visit To Chill And Relax Under The Sun!
4. Incense Sticks Or Agarbattis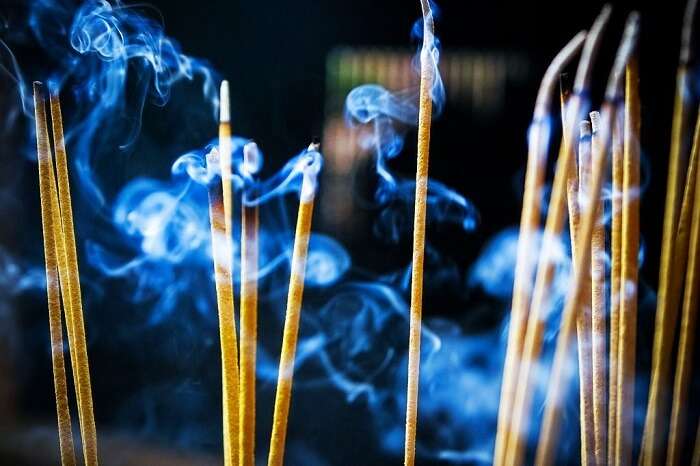 Of what seems like a thin layer of stick covered in coal, molded in spices, and dipped in fragrant oils and perfumes once dried, are the famous incense sticks. Just like big surprises come in small packages, these incense sticks are one of the items that make Mysore famous in the entire world. The incense or joss sticks or the Agarbattis as they're known worldwide, also come in a lot of fragrances such as jasmine, sandalwood, rose, lily, champak, and many more.
Where To Buy Agarbattis: Though Devaraja Market is the best place for shopping in Mysore for literally everything, one can also shop at the famous KR Circle for all types of Agarbattis.
Suggested Read: 15 Best Hotels In Mysore That Offer A Royalty-Like Stay For Every Type Of Traveler
5. Mysore Paintings

Dating back to times of the paintings which were once engraved in the Ajanta and Ellora caves, the famous paintings of Mysore are also popularly known as the Ganjifa paintings by the locals. From the Royal Palace of Mysore to numerous homes, these Mysore paintings have graced the beauty and charm of million walls worldwide. Depicting the ancient art & culture, age-old traditions, gods and goddesses, and many plots from myths and epics, these paintings are a must buy while shopping in Mysore.
Where To Buy Mysore Paintings: While one can adore the real paintings and works of eminent artists at the Mysore Palace, travelers can also buy these paintings from the famous Cauvery Arts and Crafts Emporium.
Suggested Read: 18 Gorgeous Waterfalls Near Mysore For Your Mini Break
6. Rosewood Artefacts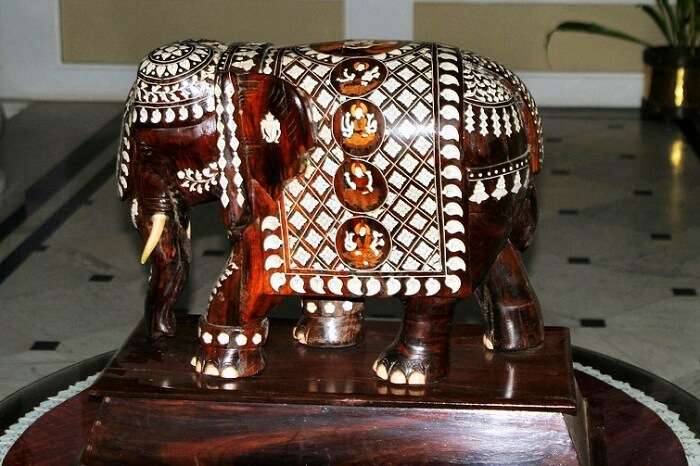 Just like sandalwood, another popular type of wood that surfaced during the time when Tipu Sultan reigned was that of rosewood. Although these artefacts can be traced while one indulges in street shopping in Mysore, the real and original inlay artefacts can be bought from the Government shops and emporiums. Crafted to perfection, these artefacts were intricately designed and decorated with precious items such as sandalwood, mother of pearl, horn, and ivory, etc. If you're looking for the most famous things in Mysore that you can buy for your family back home, this is a popular choice for many. 
Where To Buy Artefacts: Located on the famous Sayyaji Rao Road, the renowned Cauvery Arts and Crafts Emporium is the perfect place to purchase these artifacts.
Suggested Read: 35 Best Places To Visit In Mysore For An Amazing Trip
7. Stone Sculptures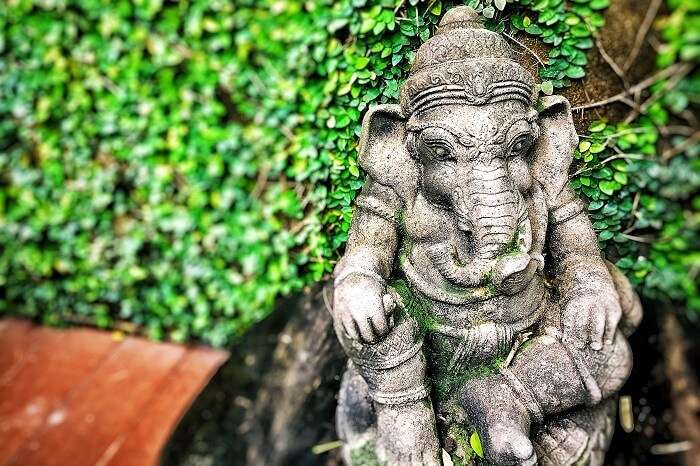 Mysore as a city has been pretty much inspired by arts and crafts from an age-old era which reflects in its offerings. While shopping in Mysore reminds everyone of the silk sarees, sweets, and sandalwood products, there also exists a form of craft which is as pure as the stone sculptures. To have brought such a form of art to life, the current artists and sculptors give all the credit to the famous sculptor – K Venkatappa, who was the pioneer in carving beautiful figurines out of the famous soapstones. It is a must for all the travelers to take away one such piece of brilliance while shopping at Mysore.
Where To Buy Stone Sculptures: One can opt to go on a royal walk of Mysore which comprises mainly of witnessing Mysore's culture of which, stone sculptures form a major part. Other than that, travelers can get hold of beautiful stone sculptures at the famous Mandi Mohalla located on the Ashoka Road in Mysore.
Suggested Read: 5 Best Cottages In Mysore For An Amazing Countryside Experience
8. Coffee Powder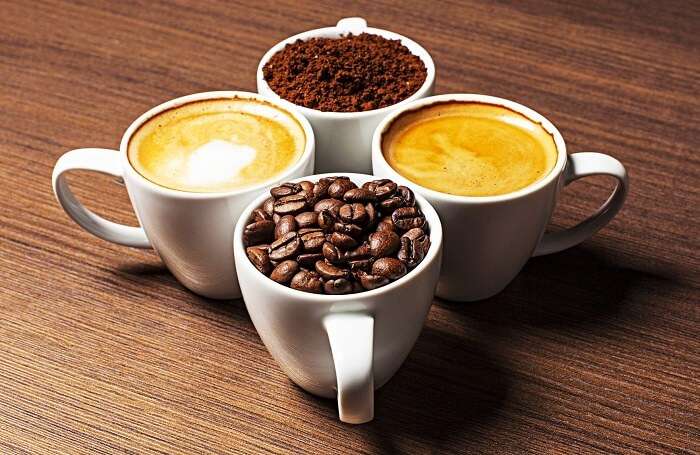 Arriving at any part of South India and not sipping on the locally made coffee is equal to not taking the trip at all. Standing second in line, the city of Mysore produces the best aromatic coffee after Coorg. With its huge network of wholesalers and retailers, it is a must for travellers to take back home either some of the locally made coffee powder or the ones that are brought from the nearby Coorg, Chikmagalur or Sakleshpur while shopping in Mysore.
Where To Buy Coffee In Mysore: One can get hold of the best coffee powder in Mysore at the famous Gandhi Square.
Suggested Read: 13 Churches In Mysore You Should Definitely Visit During Your Karnataka Tour
9. Channapatna Dolls And Wooden Toys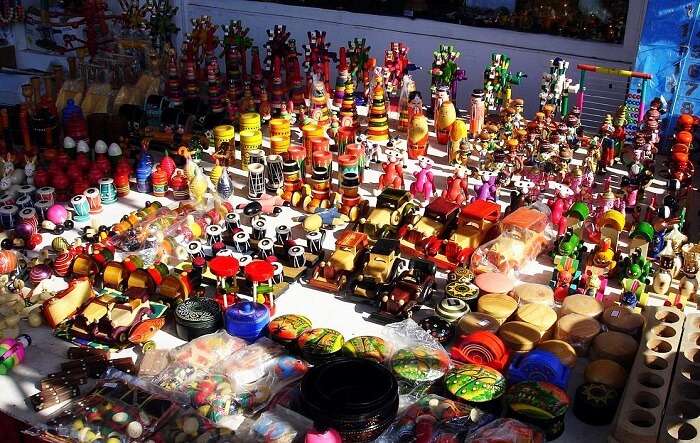 Located in between Bengaluru and Mysore, Channapatna is a quaint little town that is much famed for producing adorable little wooden toys. Like every other form of art and craft, the skills of making these fine polished wooden toys were taught by the Persian artists to the local craftsmen during the reign of Tipu Sultan. Ever since these toys have served as great souvenirs for those who enjoy shopping in Mysore and a great source of joy and entertainment to the kids. You can also spot them in some of the homestays in Mysore. 
Where To Buy Channapatna Toys: In the town of Channapatna in case you want to explore the origin of these toys. However, these toys are available throughout the markets of Mysore.
Suggested Read: 10 Hotels Near Mysore That'll Ensure A Great Stay Around The City
10. Khadi Cotton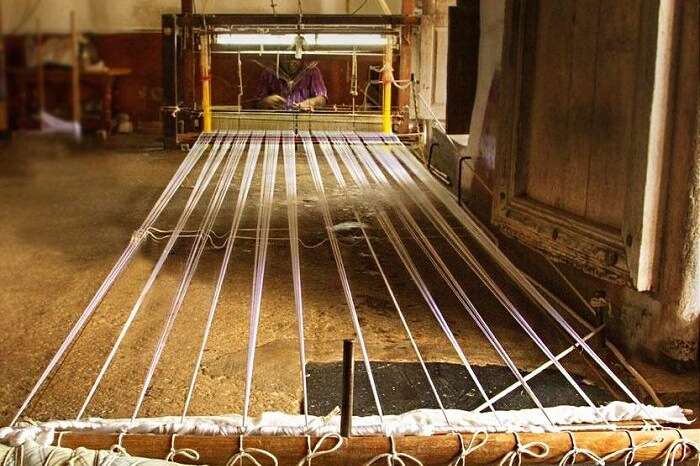 Not just for silks, but when it comes to clothes shopping in Mysore, the royal city is also famous in being a home to the production of the classic Khadi cotton as well. A fine fabric which is woven by sheer hands and by using the non-automated machines, one just cannot miss out on buying a piece of fine Khadi cotton while shopping in Mysore city for quality attires.
Where To Buy Khadi Cotton: Located at a distance of just 55 kilometers from Mysore, one can purchase fine Khadi cotton in the town of Melukote.
Further Read: 18 Gorgeous Waterfalls Near Mysore For Your Mini Break
Cannot wait to get your hands over these famous things to buy in Mysore? Then awaken your inner shopaholic and make sure you shop for these popular things on your next trip to Mysore with TravelTriangle and enjoy a complete experience on your vacation while having the best time giving a chance to let your shopaholic soul come out and explore! 
For our editorial codes of conduct and copyright disclaimer, please click here. 
Frequently Asked Questions About Shopping In Mysore
What things are to be kept in mind before traveling given the coronavirus situation?
Do keep in check the following things before planning a trip: Carry hand sanitizers, masks, tissues, and disinfectant wipes, book your trip well in advance, avoid contact with the surface, and maintain social distancing.
What is the best time to visit Mysore?
The best time to visit Mysore is July to February as those are the Monsoon and winter months for the city and you will be able to explore the city comfortably.The city experiences tropical climate throughout the year. However, it is still better to plan for months between July to February.
What can I shop for in Mysore?
Shopping in Mysore is a great experience. Coffee, Rosewood souvenirs, Mysore Pak, wooden toys, and incense sticks are some of the things that you can shop for in Mysore.
What is Mysore known for?
Mysore is known for its rich cultural heritage and majestic monuments and big buildings. Mysore is also known as the cultural capital of Karnataka because of its magnificent palaces and heritage structures.
Is Mysore a hill station?
Mysore is situated at the foot of Chamundi hill but it is not a hill station. Mysore is situated at an altitude of 770 metres from sea level. However, there are many great hill stations near Mysore that you can explore.
Is Mysore worth visiting?
Yes, Mysore is definitely worth a visit. If you are an art and history lover then Mysore will captivate you. Even if you are a tourist the charm of this place will attract you.
When is the Mysore Palace closed?
Mysore Palace is a national heritage site and is open everyday from 10 AM to 5:30 PM. Another fact about this place is that there is no entry fee or ticket that visitors require to see it.
What is the famous food of Mysore?
The famous food of Mysore is Idli, Chutneys, pickles, dosa and Shavige Bath. There are also many sweets from Mysore that are famous. Some of those are Jalebi, Payasam, Ladoo and more.
---
People Also Read:
Shopping In Khajuraho Shopping In Panchmari Shopping In Thrissur